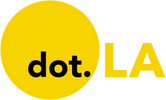 Get in the KNOW  
  on LA Startups & Tech  
X

Design, Bitches
Looking to Build a Granny Flat in Your Backyard? Meet the Firms and Designs Pre-Approved in LA
Sarah Favot
Favot is an award-winning journalist and adjunct instructor at USC's Annenberg School for Communication and Journalism. She previously was an investigative and data reporter at national education news site The 74 and local news site LA School Report. She's also worked at the Los Angeles Daily News. She was a Livingston Award finalist in 2011 and holds a Master's degree in journalism from Boston University and BA from the University of Windsor in Ontario, Canada.
07:10 AM | March 12, 2021
Adding a backyard home in Los Angeles is now nearly as easy as buying a barbecue.
Homeowners who for years have wanted to build a granny flat in their backyard, but dreaded the red tape, can now choose from 20 pre-designed homes that the city has already approved for use.
The shift, made official last week, will speed up a weeks-long process and bring more badly needed units to an overpriced market. It also has the potential to elevate the 14 startups and firms building the next generation of homes.
---
The designs for the stand-alone residences range from a 200-square-foot studio to a 1,200-square foot, two-story, two-bedroom unit. And many of the homes are filled with design flourishes, reflecting the diverse architecture of the city, from a house in the silhouette of a flower to one with a spiral outdoor staircase leading to the roof.
It's no surprise. The program was spearheaded by Christopher Hawthorne, a former architecture critic at the Los Angeles Times and now the city's chief design officer.
The firms are primarily local and startup architecture and design firms, while others are well-known with a history of building granny flats, also know as accessory dwelling units, or ADUs.
The standard plans avoid the Los Angeles Department of Building and Safety's typical four-to six-week review process and can allow approvals to be completed in as quickly as one day.
Some aspects of the plans can be modified to fit a homeowner's preferences. Eight other designs are pending approval.
Mayor Eric Garcetti believes by adding more such units, the city can diversify its housing supply and tackle the housing crisis. Recent state legislation made it easier to build the small homes on the lot of single-family residences. Since then, ADUs have made up nearly a quarter of Los Angeles' newly permitted housing units.
Because construction costs are relatively low for the granny flats – the pre-approved homes start at $144,000 and can go beyond $300,000 – the housing is generally more affordable. The median home price in L.A. County in January was $690,000.
Here's a quick look at the designs approved so far:
Abodu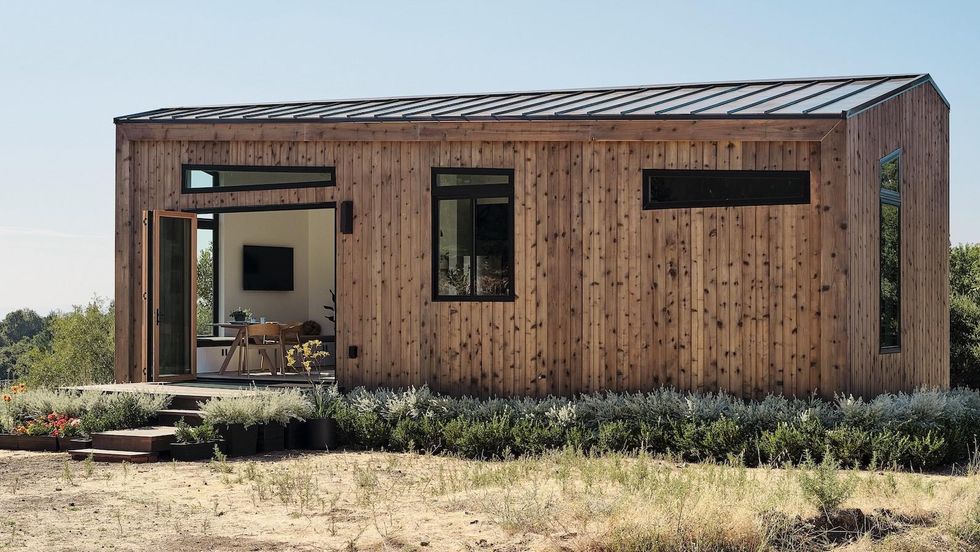 Abodu
Abodu, based in Redwood City in the Bay Area, exclusively designs backyard homes. In 2019, it worked with the city of San Jose on a program similar to the one Los Angeles is undertaking.
In October, it closed a seed funding round of $3.5 million led by Initialized Capital.
It has been approved for a one-story 340-square-foot studio, a one-story one-bedroom at 500 square feet, and a one-story, 610-square-foot two-bedroom.
The pricing for the studio is $189,900, while the one-bedroom costs $199,900 and the two-bedroom is $259,900.
Amunátegui Valdés Architects
Led by Cristobal Amunátegui and Alejandro Valdés, the firm was founded in 2011 and has offices in Los Angeles and Santiago, Chile. Amunátegui is an assistant professor at the Department of Architecture and Urban Design at UCLA.
The firm designs work in various scales and mediums, including buildings, furniture and exhibitions.
Its one-story, two-bedroom with a covered roof deck 934-square-foot unit is pending approval from the city.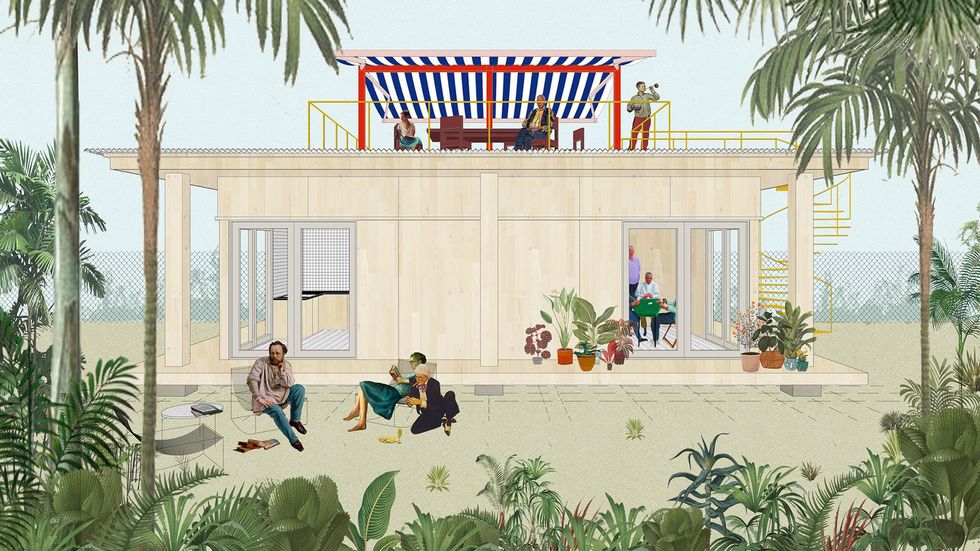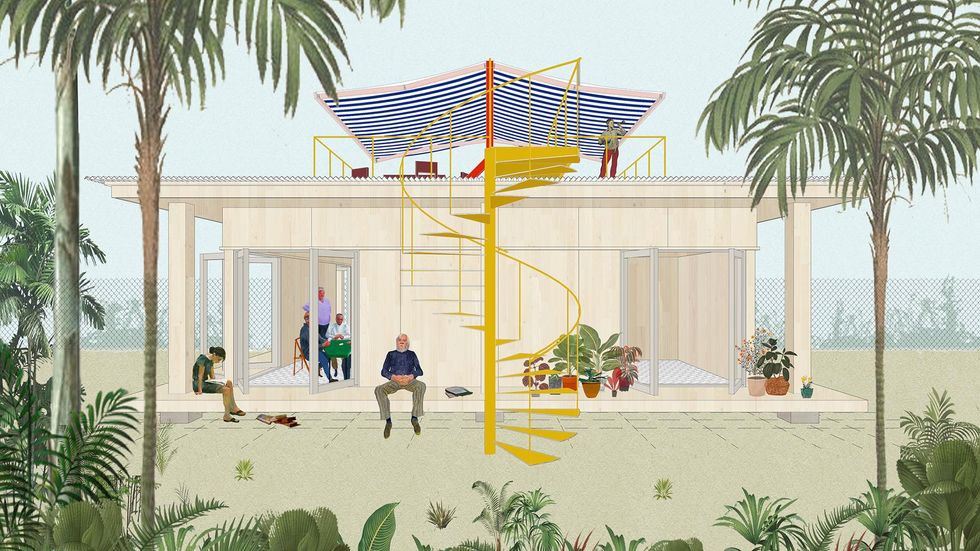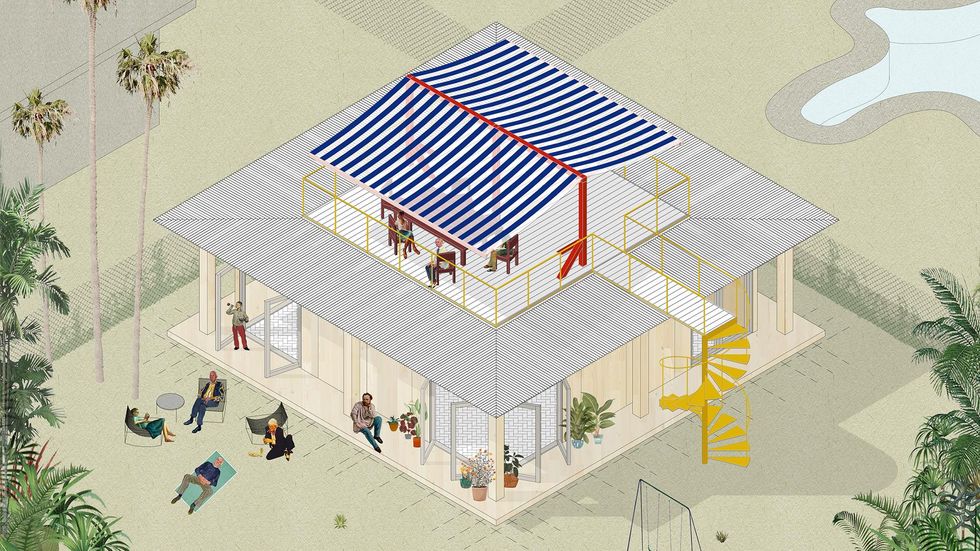 Connect Homes
Connect Homes has a 100,000-square foot factory in San Bernardino and an architecture studio in Downtown L.A.
It specializes in glass and steel homes and has completed 80 homes in California. Its designs have an aesthetic of mid-century modern California residential architecture.
It has two one-bedroom models pre-approved by the city, one is 460 square feet, which costs $144,500 with a total average project cost of $205,000. The other is 640 square feet, which costs $195,200 with a total project cost of $280,000.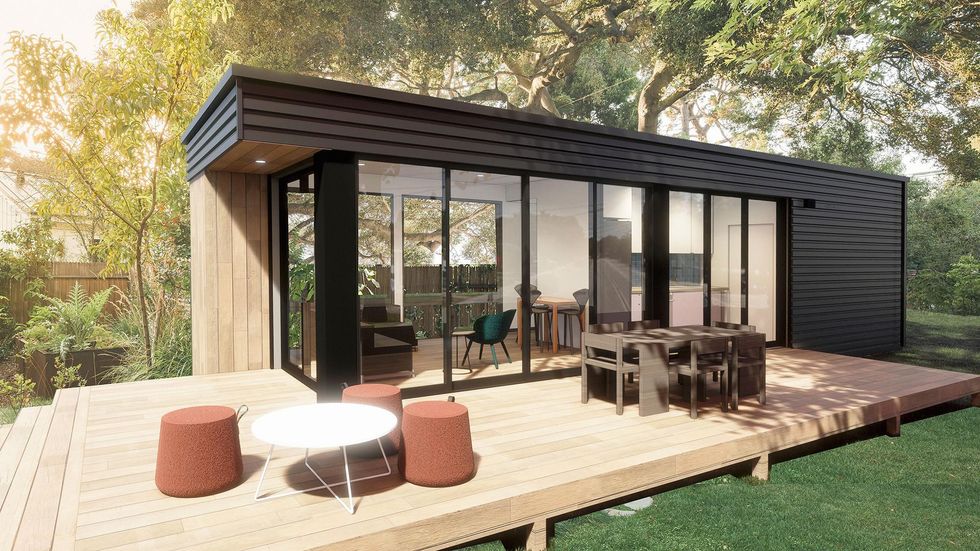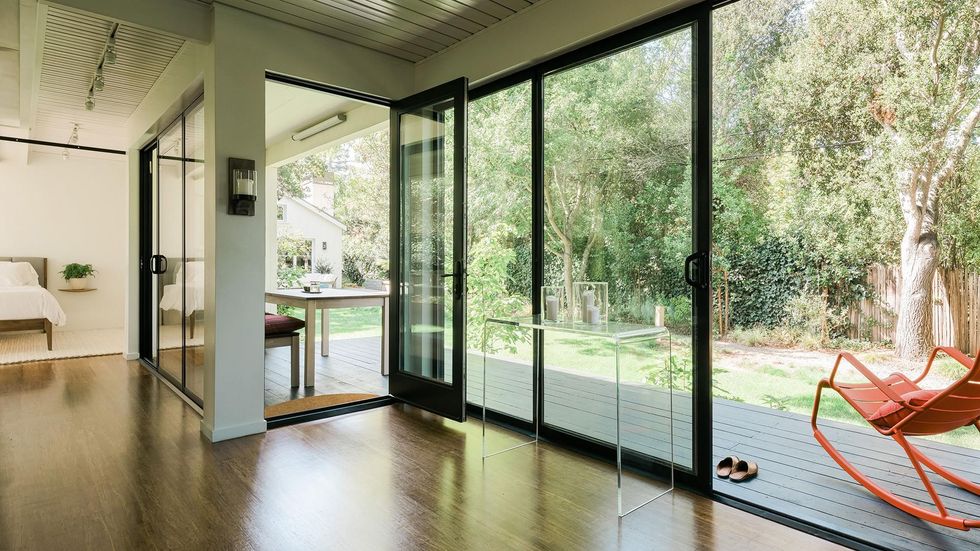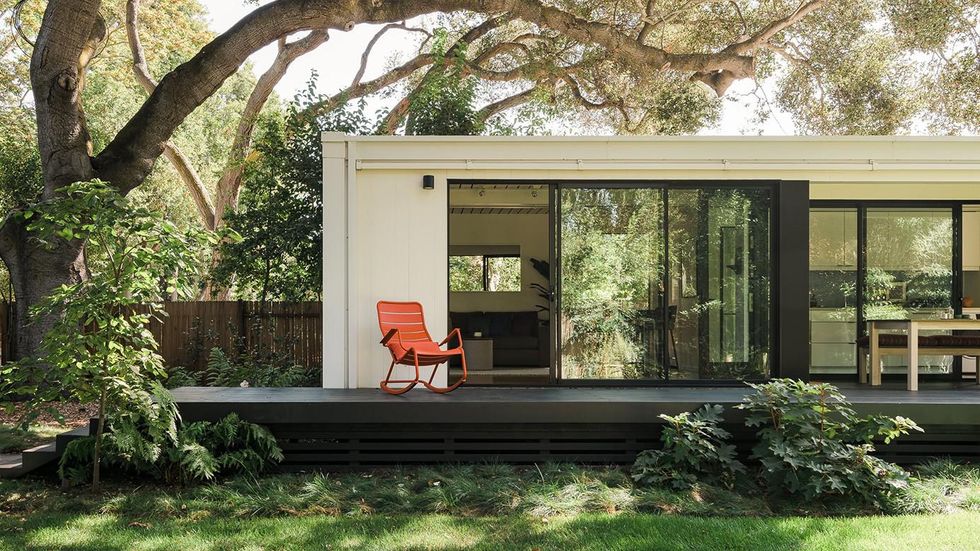 Design, Bitches
The Los Angeles-based architectural firm founded in 2010 describes itself as having a "bold and irreverent vision." Its projects include urban infill ground-up offices to single-family homes, adaptive re-use of derelict commercial buildings and renovations of historic landmarks.
Its pre-approved design, named "Midnight Room," is a guest house/ studio. Its bedroom can be left open for a loft feel or enclosed as a separate room. The design is a one-story, one-bedroom at 454 square feet.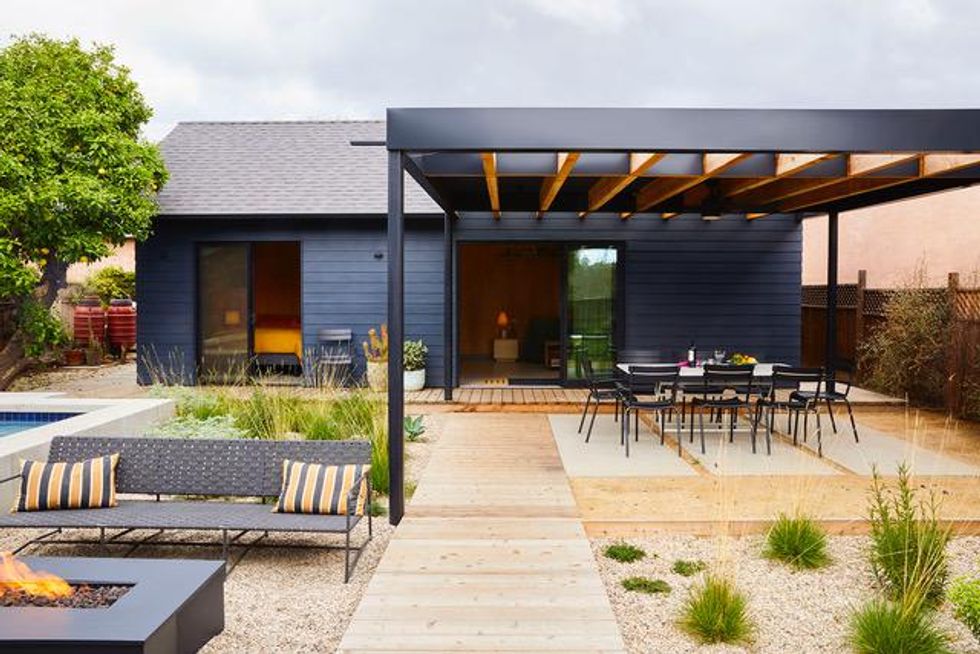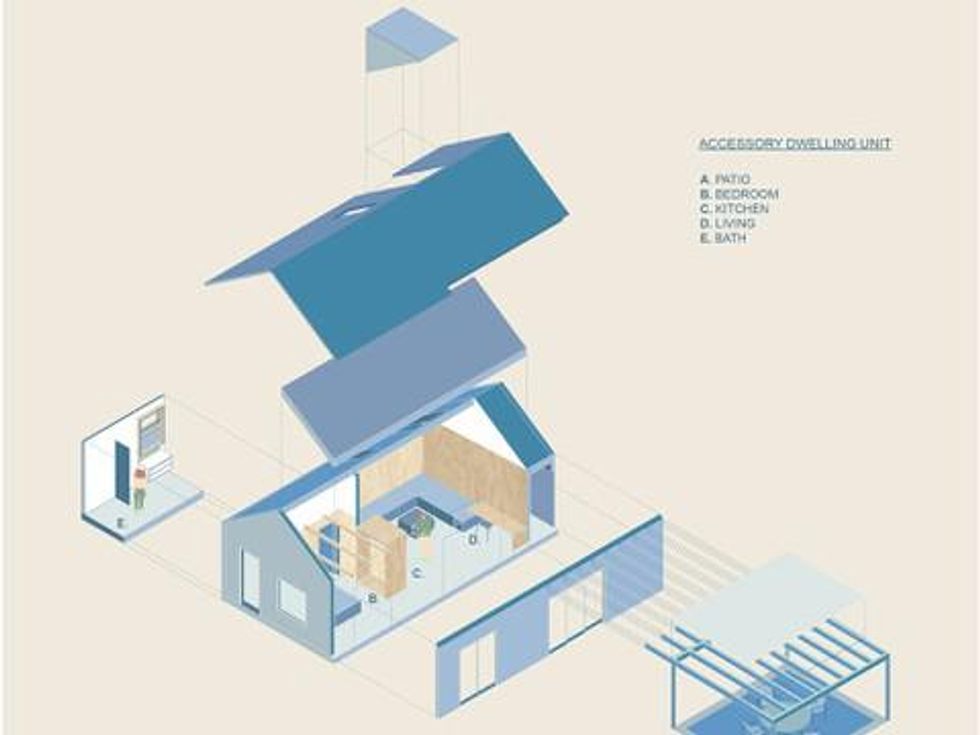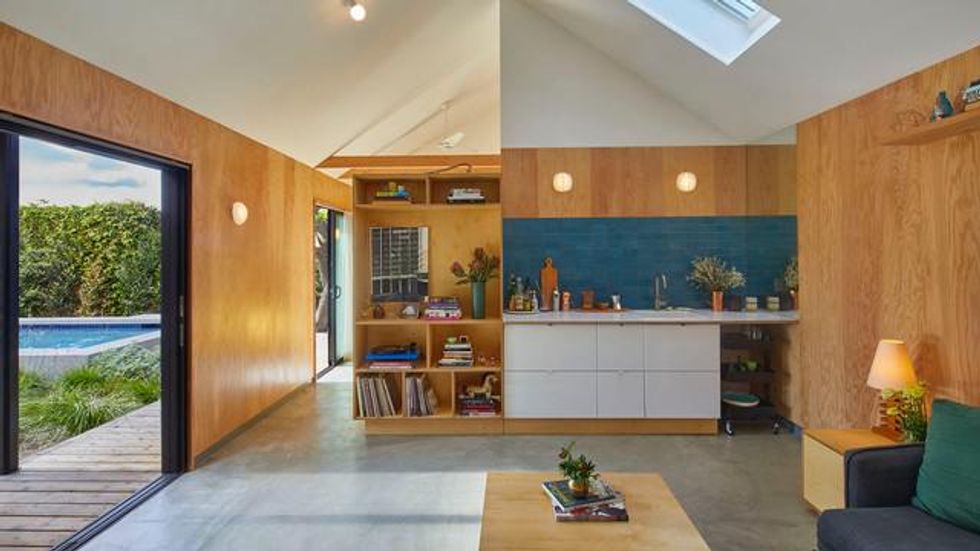 Escher GuneWardena Architecture
Founded in Los Angeles in 1996, Escher GuneWardena Architecture has received international recognition and has collaborated with contemporary artists, worked on historical preservation projects and more.
The company has been approved for two different one-story, one- or two-bedroom units, one at 532 square feet with an estimated cost of $200,000 and another at 784 square feet with an estimated cost of $300,000. The firm noted the costs depend on site conditions and do not include soft costs. Those could add 10% to 12% to the total construction costs.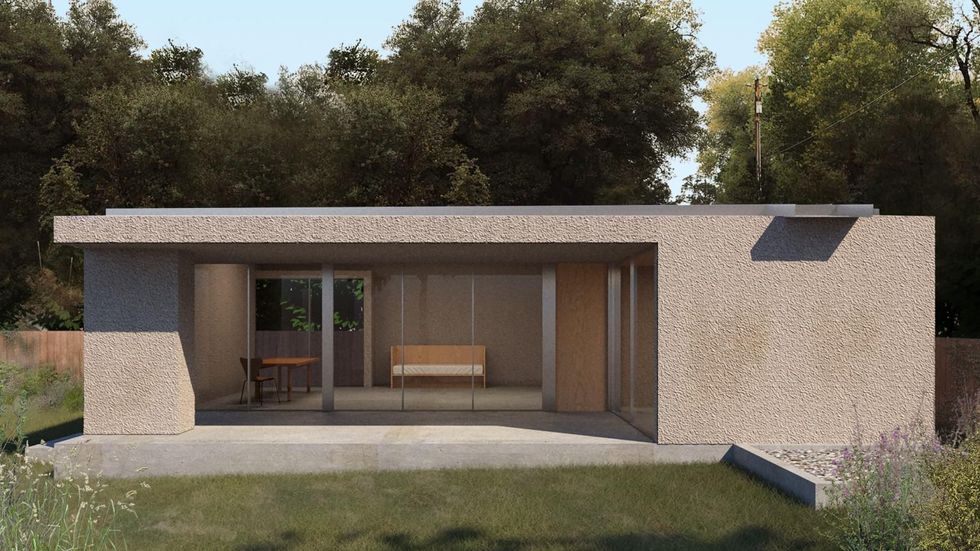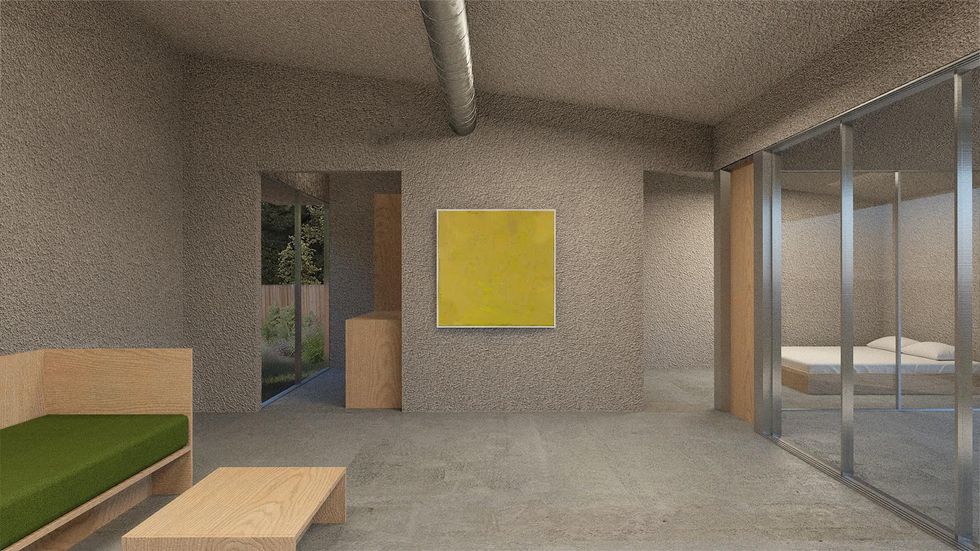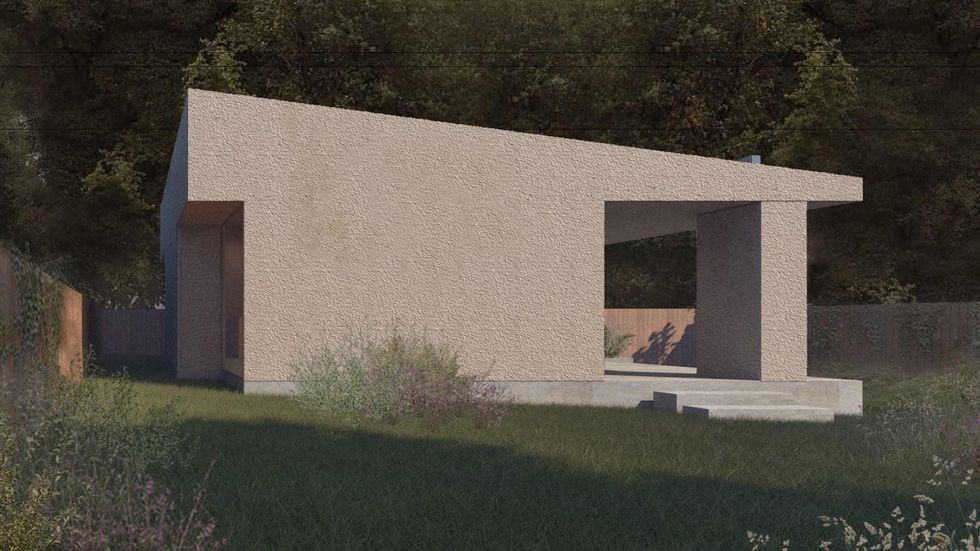 First Office
First Office is an architecture firm based in Downtown Los Angeles. Its approved ADUs will be built using prefabricated structural insulated panels, which allow for expedited construction schedules and high environmental ratings.
The interior finishes include concrete floors, stainless steel counters and an occasional element of conduit.
There are five options:
A one-story studio, 309 to 589 square feet
A one-story one-bedroom, 534 to 794 square feet
And a one-story two-bedroom, 1,200 square feet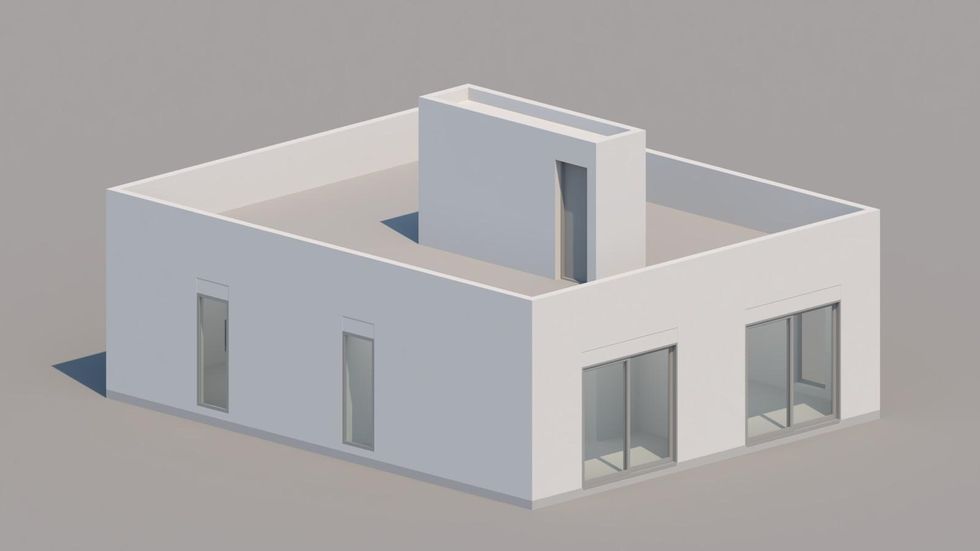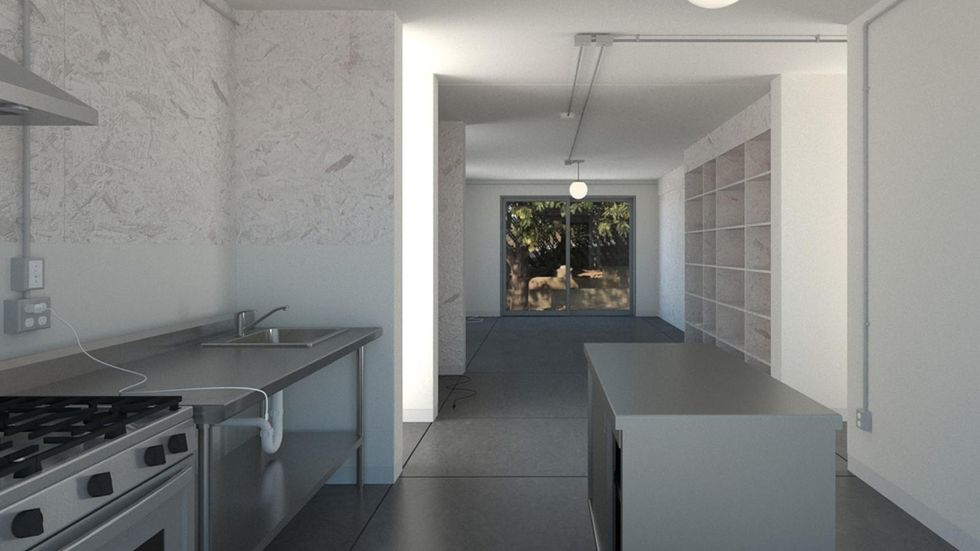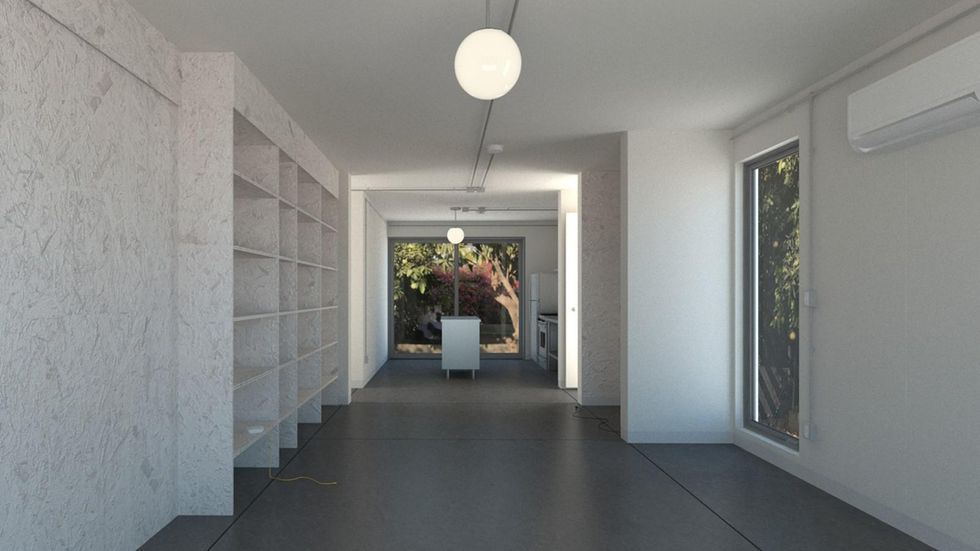 Fung + Blatt Architects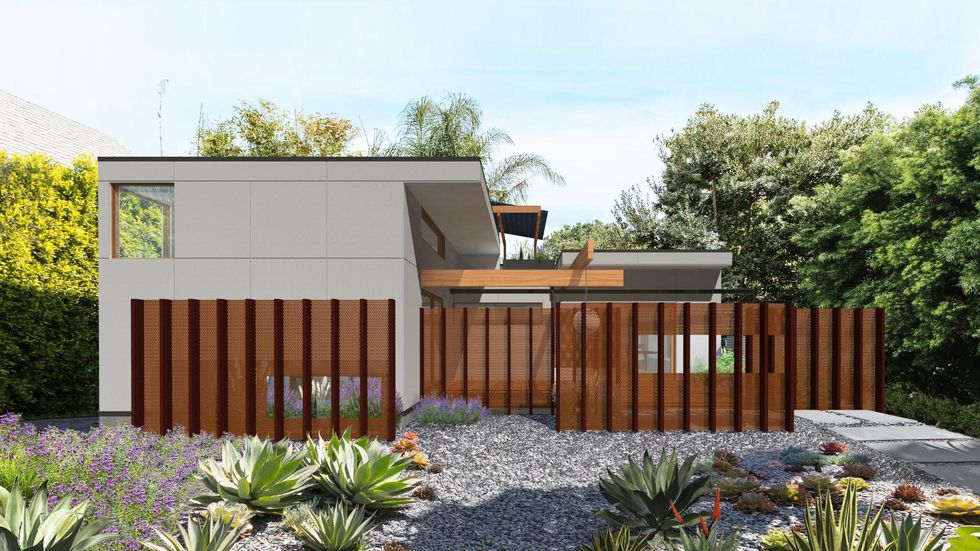 Fung + Blatt Architects is a Los Angeles-based firm founded in 1990.

The city has approved its 795-square-foot, one-story, one-bedroom unit with a roof deck. It estimates the construction cost to be $240,000 to $300,000, excluding landscape, site work and the solar array. Homeowners can also expect other additional costs.
Taalman Architecture/ IT House Inc.
The design team behind "IT House" is Los Angeles-based studio Taalman Architecture. Over the past 15 years, IT House has built more than 20 homes throughout California and the U.S.
The IT House ADU standard plans include the tower, bar, box, cube, pod and court.
The city has approved four options, including:
A two-story including mechanical room, 660 square feet
A two-story including mechanical room, 430 square feet
A one-story studio, 200 square feet
A one-story including mechanical room, 700 square feet
The firm also has another two projects pending approval: a 360-square-foot one-story studio and a one-story, three-bedroom at 1,149 square feet.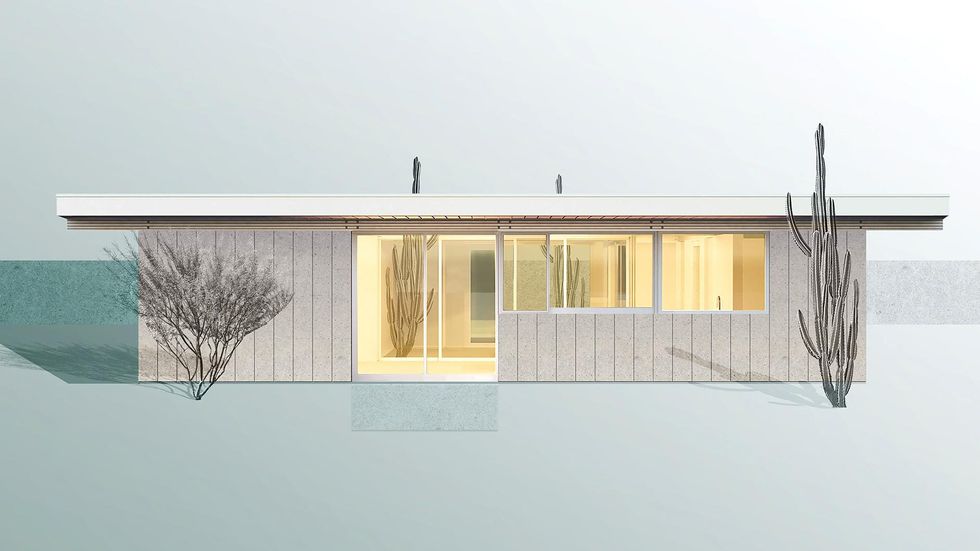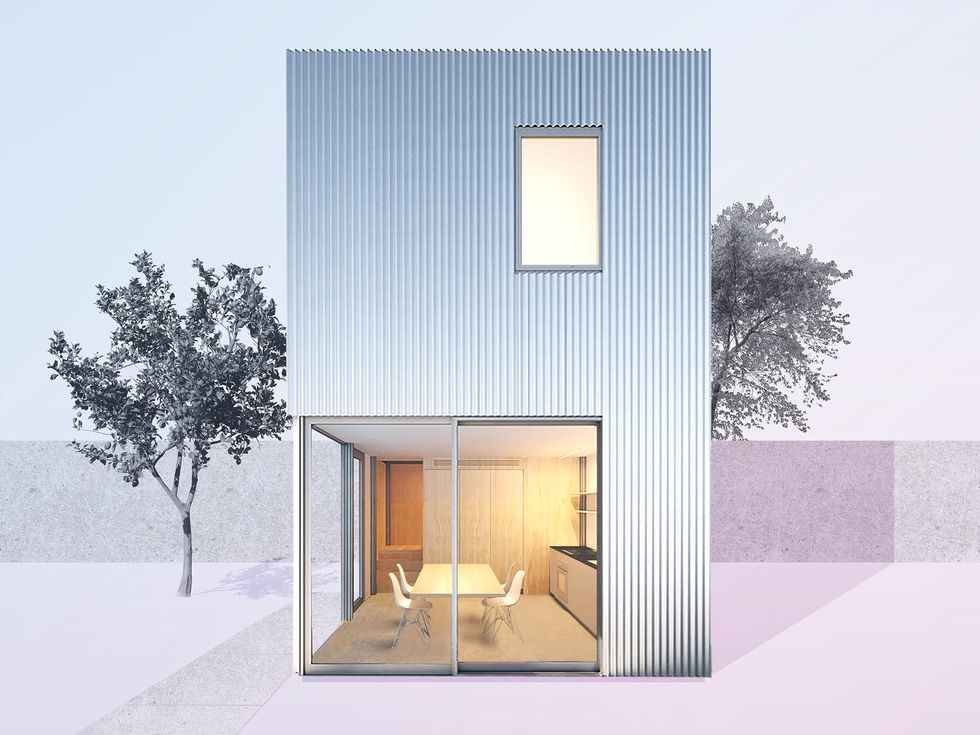 LA Más
LA Más is a nonprofit based in Northeast Los Angeles that designs and builds initiatives promoting neighborhood resilience and elevating the agency of working-class communities of color. Homeowners who are considering their design must commit to renting to Section 8 tenants.
The city has approved two of LA Más' designs: a one-story, one-bedroom, 528 square feet unit and a one-story, two-bedroom, 768 square feet unit. The firm has another design for a one-story studio pending approval. That design would be the first 3D-printed ADU design in the city's program.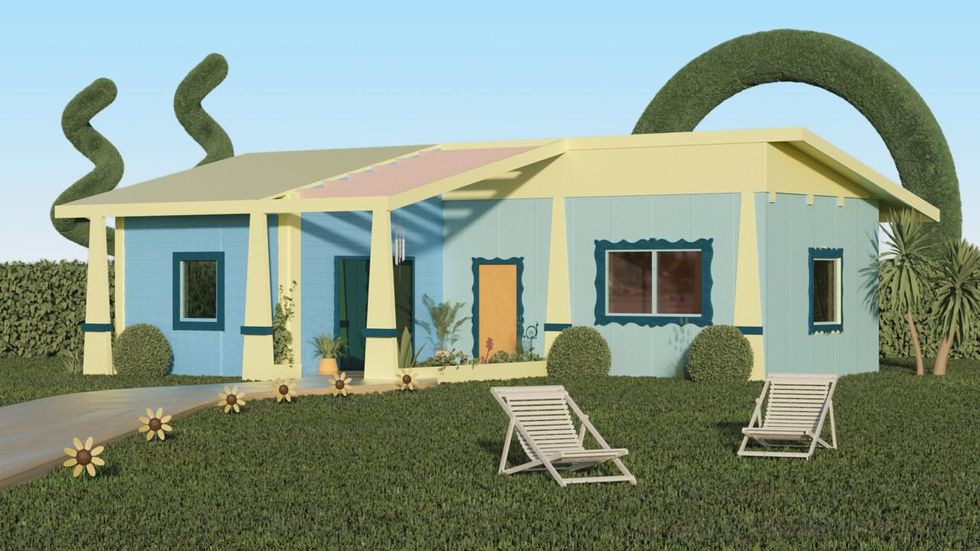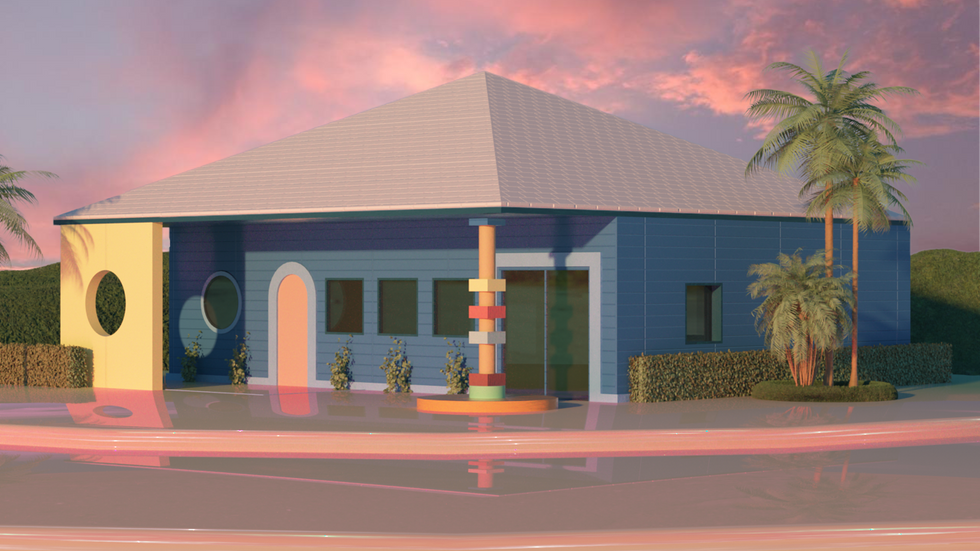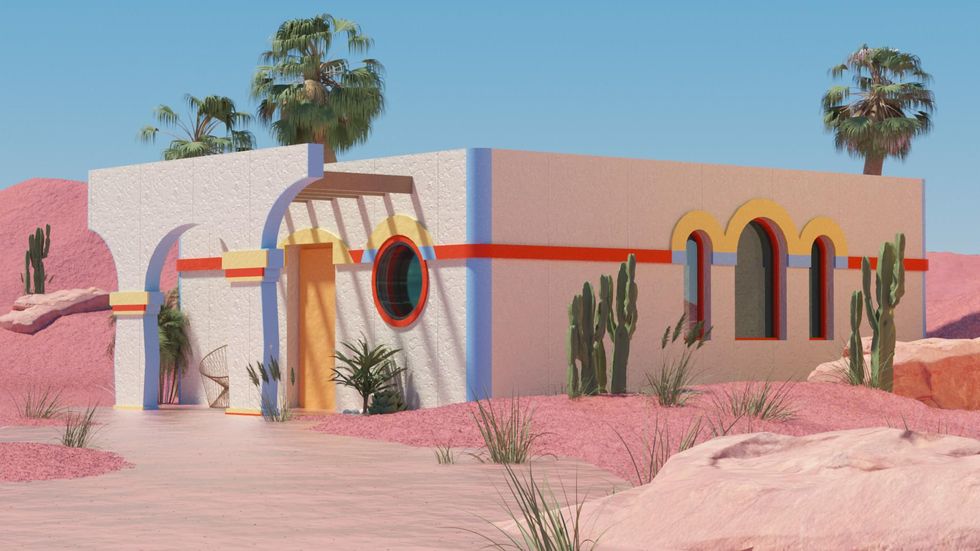 Jennifer Bonner/MALL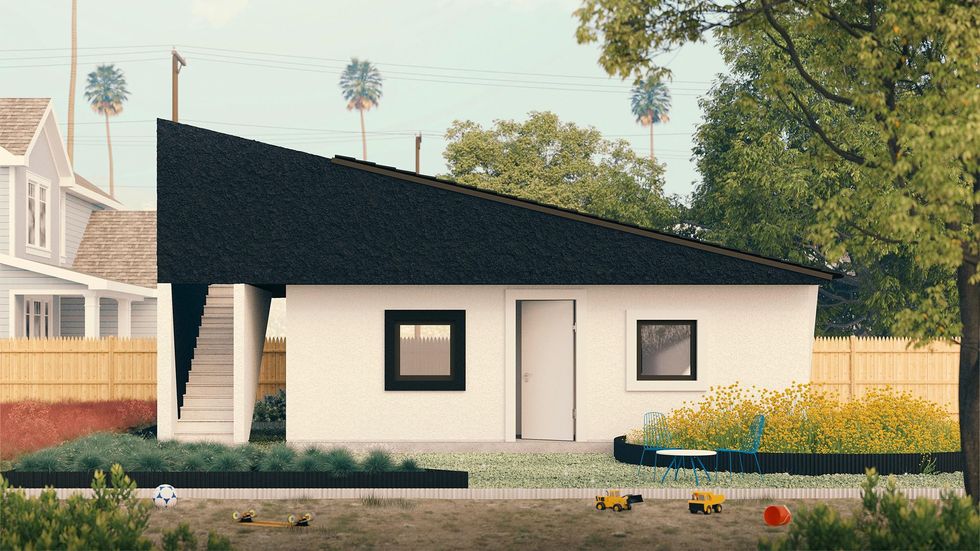 Massachusetts-based Jennifer Bonner/MALL designed a "Lean-to ADU" project, reinterpreting the stucco box and exaggerated false front, both Los Angeles architectural mainstays.
The design has been approved for a 525-square-foot one-story, one-bedroom unit with a 125-square-foot roof deck.
sekou cooke STUDIO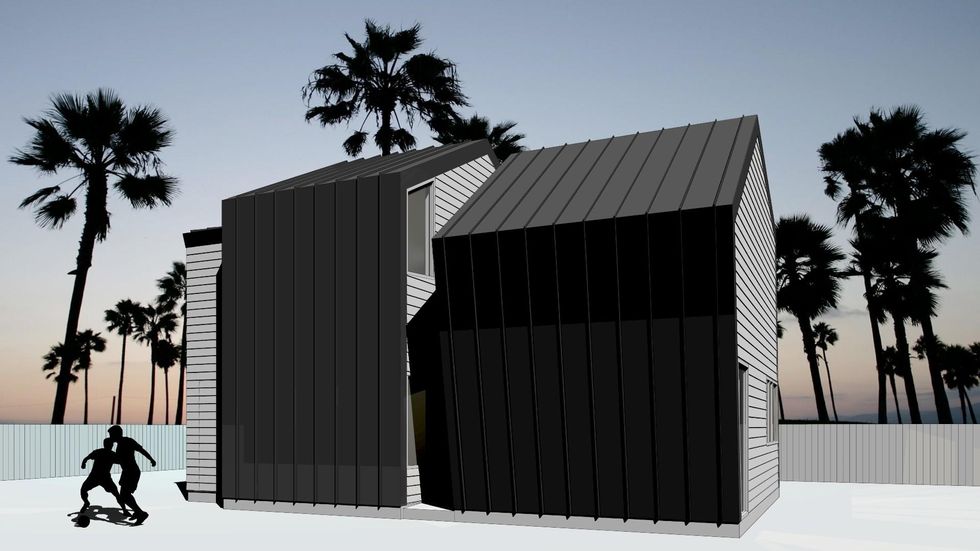 New York-based sekou cooke STUDIO is the sole Black-owned architectural firm on the project.

"The twisted forms of this ADU recalls the spin and scratch of a DJ's records" from the early 90s, the firm said.
Its design, still pending approval, is for a 1,200-square-foot, two bedroom and two bathroom can be adapted to a smaller one-bedroom unit or to include an additional half bath.
SO-IL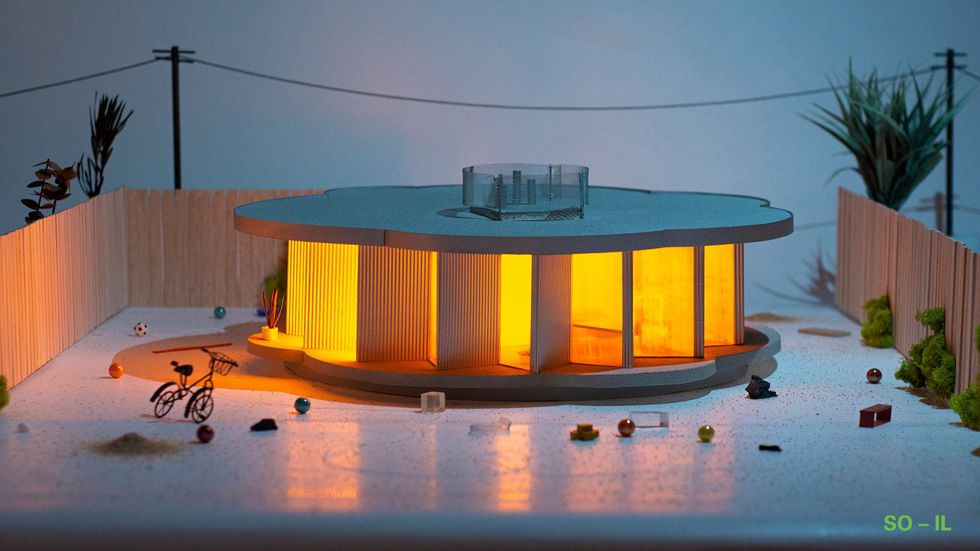 New York-based SO-IL was founded in 2008. It has completed projects in Leon, Seoul, Lisbon and Brooklyn.
Its one-story, one-bedroom 693-square-foot unit is pending approval. It is estimated the construction cost will be between $200,000 and $250,000.
WELCOME PROJECTS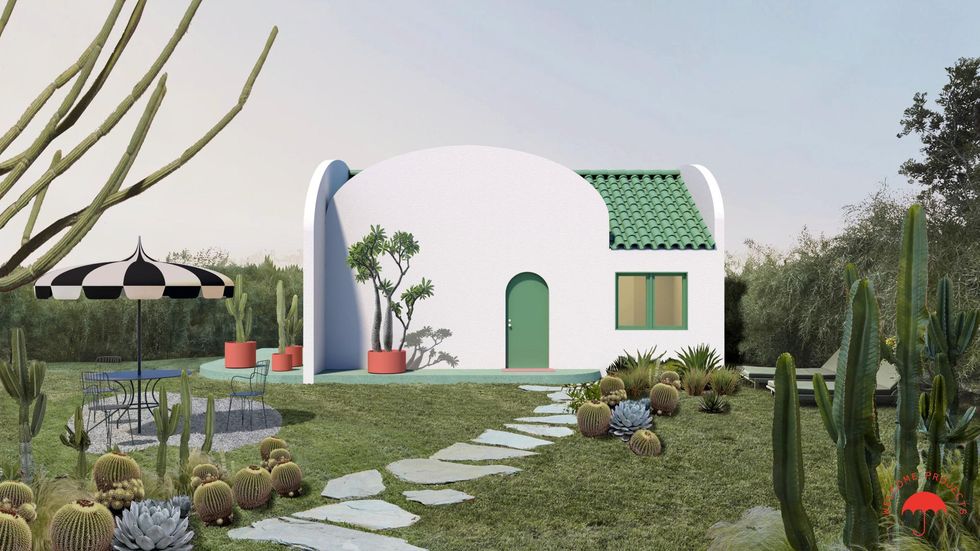 Los Angeles-based Welcome Projects has worked on projects ranging from buildings, houses and interiors to handbags, games and toys.
Its ADU is nicknamed The Breadbox "for its curved topped walls and slight resemblance to that vintage counter accessory."
It has been approved for a one-story, one-bedroom 560-square-foot unit.
wHY Architecture
Founded in 2004, wHY is based in Los Angeles and New York City. It has taken on a landmark affordable housing and historic renovation initiative in Watts.

Its one-story, one- or two-bedroom 480 to 800-square-foot unit is pending approval.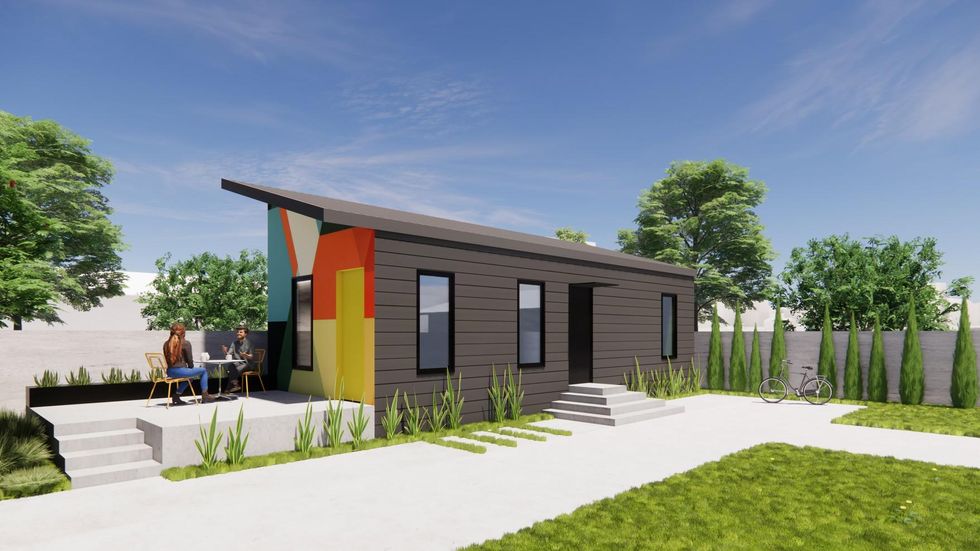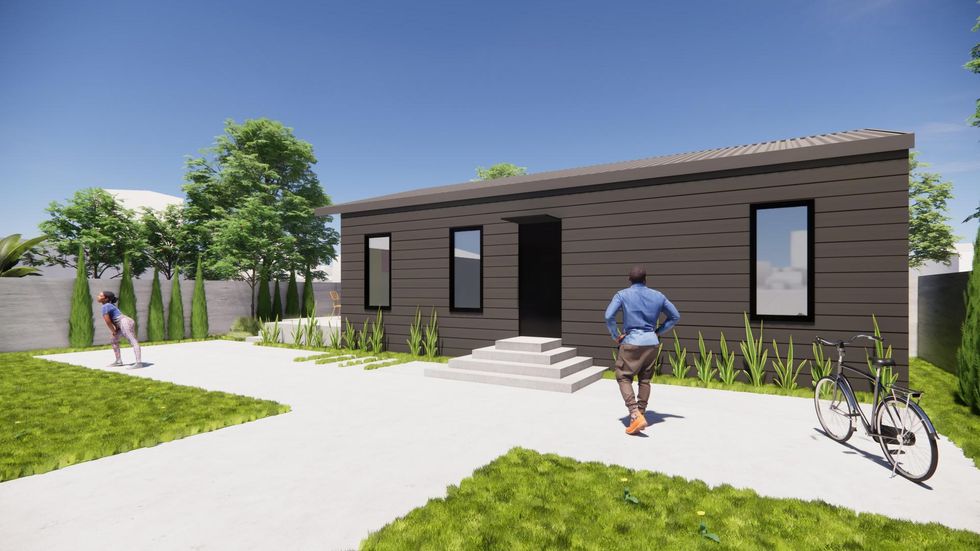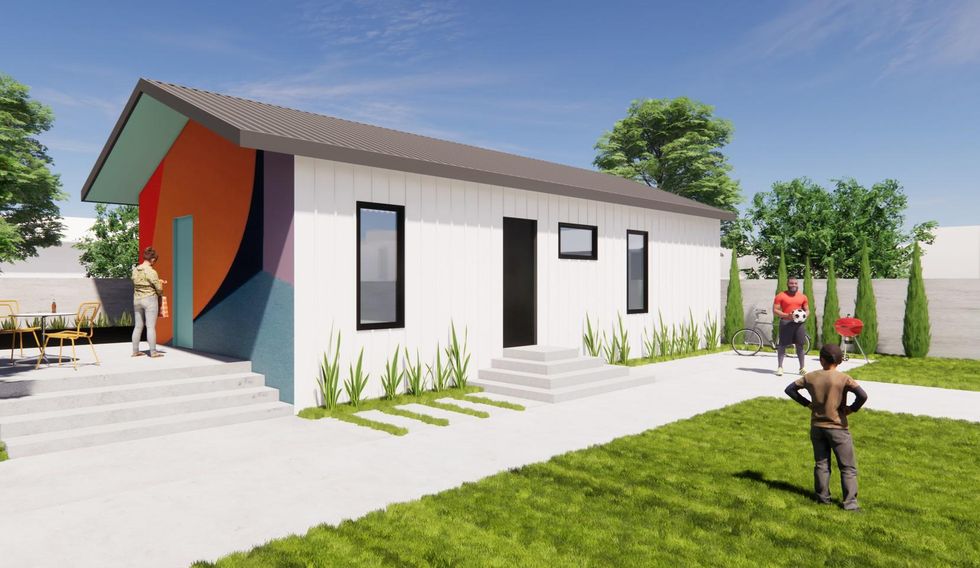 Firms that want to participate in the program can learn more here . Angelenos interested in building a standard ADU plan can learn more the approved projects here.
Sarah Favot
Favot is an award-winning journalist and adjunct instructor at USC's Annenberg School for Communication and Journalism. She previously was an investigative and data reporter at national education news site The 74 and local news site LA School Report. She's also worked at the Los Angeles Daily News. She was a Livingston Award finalist in 2011 and holds a Master's degree in journalism from Boston University and BA from the University of Windsor in Ontario, Canada.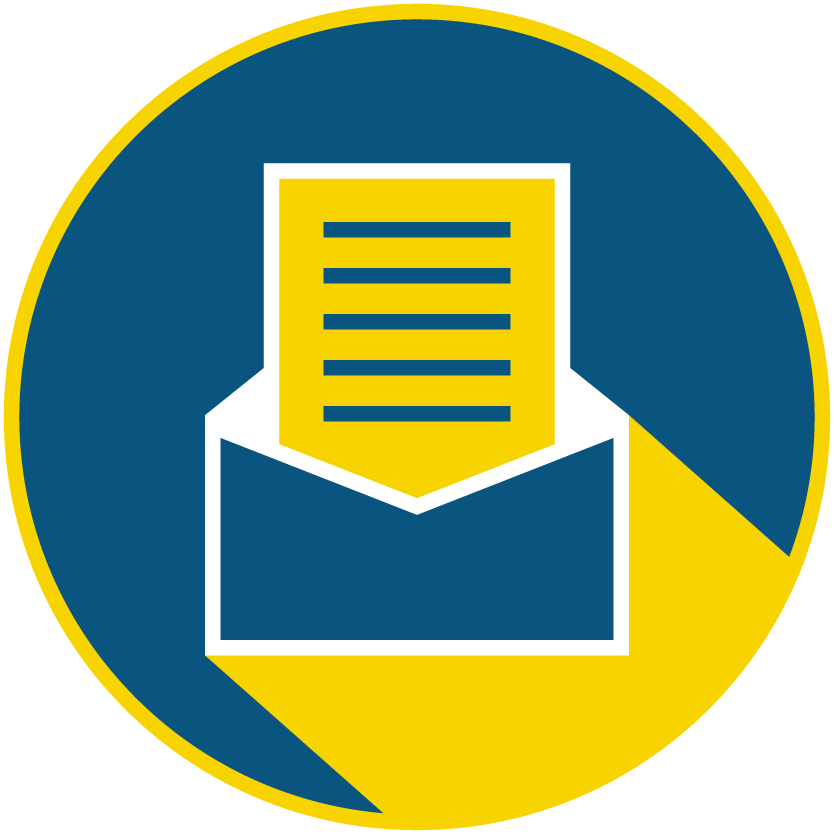 Subscribe to our newsletter to catch every headline.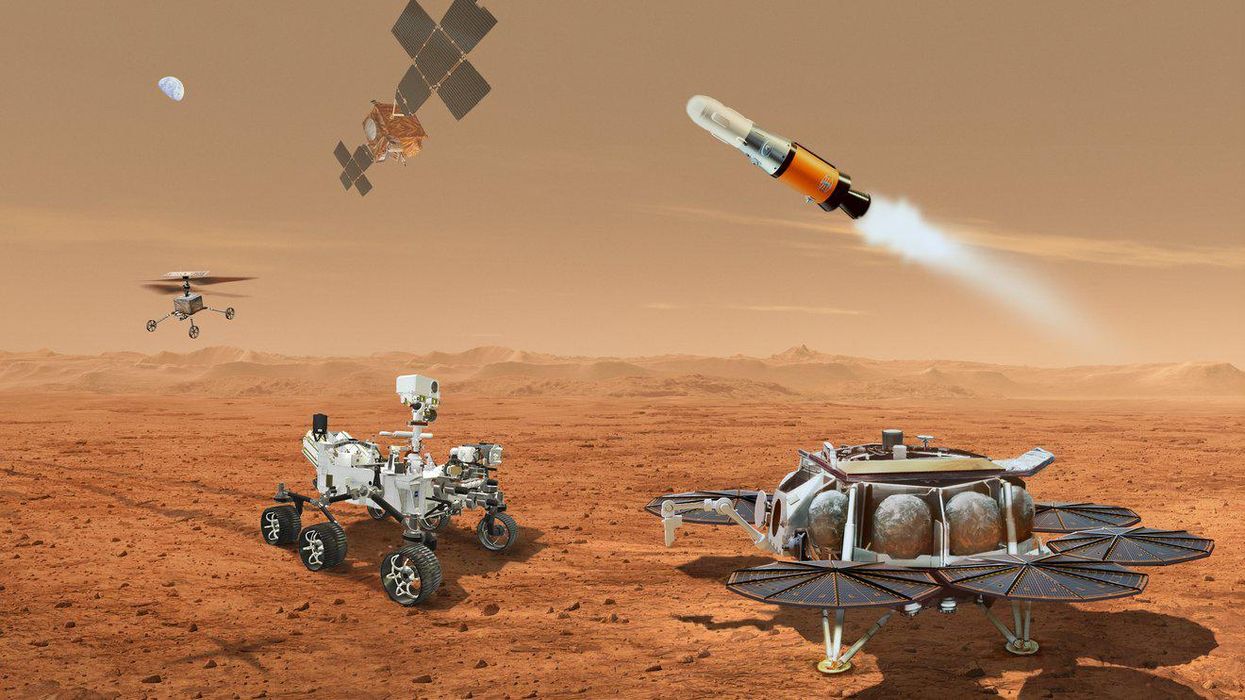 Courtesy of NASA/JPL-Caltech
NASA's Mars helicopter experiment worked so nicely they had to do it twice.
When NASA's Jet Propulsion Laboratory at Caltech in Pasadena landed its rover nicknamed Perseverance on the surface of Mars one year ago, it carried a prototype solar-powered helicopter named Ingenuity. The interstellar helicopter has since performed 29 flights on Mars following its historic first takeoff last April, providing scientists with valuable and previously never seen drone footage of the planet.
NASA has been sending four wheeled robots or rovers to Mars since it first landed the Sojourner in 1997. This new mission has two goals: exploring one of Earth's closest neighboring planets and also gathering samples to take home for analysis – part of the JPL's Mars Sample Return Program.
NASA said this week that the Perseverance Rover is currently collecting samples near Mars' Jezero Crater. But the JPL just decided the success of the early Ingenuity flights indicated it could do more testing and sample collection from the air.
Partnering with the European Space Agency, NASA and the JPL will swap the planned Sample Fetch Rover for two helicopters that are based on Ingenuity's design.
"There are some significant and advantageous changes to the plan, which can be directly attributed to Perseverance's recent successes at Jezero and the amazing performance of our Mars helicopter," NASA associate administrator Thomas Zurbuchen said in a statement Thursday.
The new mission is still in its conceptual design phase. In simplified terms, here's how the revised plan will go down: NASA's Sample Retrieval Lander will land on Mars, carrying a small rocket called the Mars Ascent Vehicle. The existing Perseverance Rover and new helicopters will collect samples of Martian soil and rocks and then put them into sealed tubes that the Mars Ascent Vehicle can ferry back to Earth, where scientists will eagerly be awaiting their arrival.
The Sample Retrieval Lander won't launch until at least summer of 2028, NASA said. We can't expect to see samples from that upcoming mission back on Earth until at least 2033.
That lengthy commute is a small trade-off considering the valuable information about the Red Planet that NASA could extract from the samples. It could go a long way towards, say, figuring out if we really could grow potatoes on Mars and sustain life on the planet.
Ingenuity was supposed to be just a test vehicle, but it outperformed the JPL's expectations. It has proven to NASA, and the larger world, that Mars helicopters are actually a viable way to gain valuable insights about Mars and—perhaps—our other neighbors in the solar system.
Samson Amore
Samson Amore is a reporter for dot.LA. He previously covered technology and entertainment for TheWrap and reported on the SoCal startup scene for the Los Angeles Business Journal. Send tips or pitches to samsonamore@dot.la and find him on Twitter at @Samsonamore. Pronouns: he/him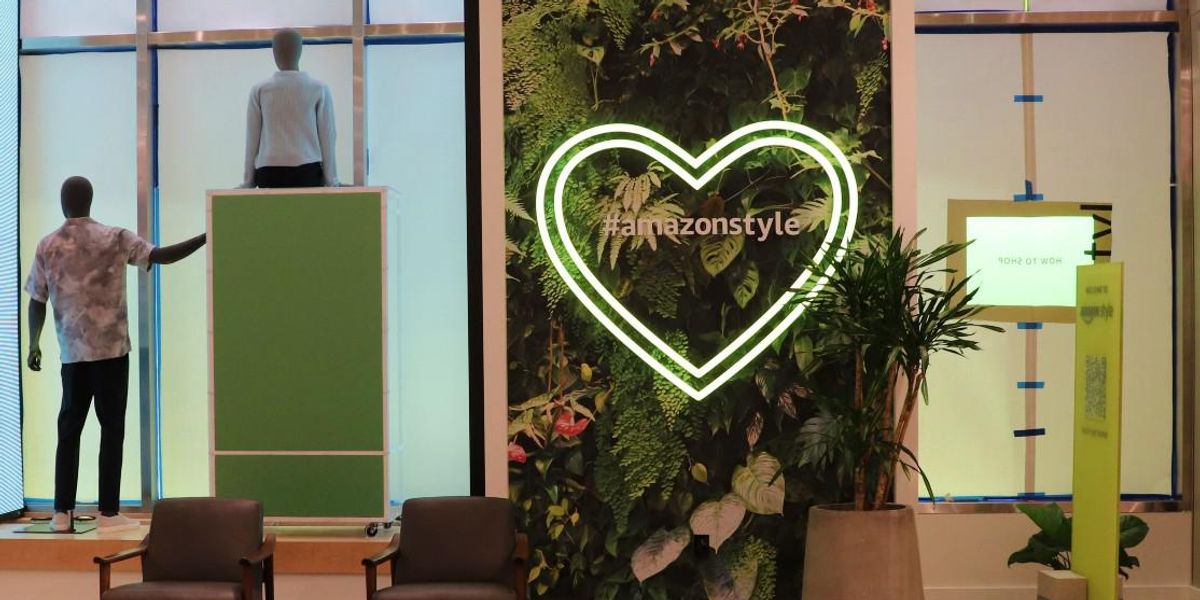 Image by Joshua Letona
Starting today, Glendale's most meme-able outdoor mall, The Americana at Brand, will be home to the Amazon Style store—the ecommerce giant's first foray into brick-and-mortar apparel retail. We got an early sneak peak inside the new digs (located on the corner with Sprinkles Cupcakes, next to H&M and the Apple store) and were able to try out some of its tech-enabled features, which—as ever with Amazon—seek to make the act of shopping as easy as possible.
1. It's Bigger Than It Looks—Even From the Inside

The floor is massive—laying out original products from Amazon's own apparel lines alongside name brands like Theory, Adidas and Calvin Klein, as well as several other lines that have up until now only existed online. But the actual store is much larger than the two floors that most customers will only ever see.
Amazon Style is just the front—the homepage, if you will—behind which a large warehouse facility keeps a gigantic surplus of inventory. A floor-to-ceiling glass window on the main floor gives shoppers just a peak behind the scenes, as employees help load industrial-sized elevators with racks of goods to send upstairs to the dressing rooms.
2. Online Shopping IRL

When perusing the store's bouquet of cottagecore maxi dresses, Kendall & Kylie blazers and, yes, a whole section dedicated to Y2K apparel, one doesn't just pick an item off the rack and take it with you while you shop. Instead, each rack has a barcode that you can scan via the Amazon Shopping app, which has your sizes pre-loaded from previous purchases. (You can opt for a different size if you choose.) That cues an AI-enabled algorithm to start searching through the store's warehoused catalog and zip the desired item over to the second floor, where the dressing room provides its own glimpse into the future of shopping.
The store also boasts a version of The Drop, an Amazon staple that allows online customers to shop entire influencer-curated collections for a 30-hour flash window.
3. Changing Stations of the Future—Today
Your phone also acts as your keycard to get into your personal dressing room. To prevent waiting, you are put in a virtual cue the moment you scan your first item; should the Amazon app prompt that your room is ready while you're still shopping, a tap of your screen allows you to hold your spot in the queue while freeing up the room for someone else. (And if your phone dies while you're waiting, Amazon says a Style employee on the floor will be happy to help you keep your place in line, or hook you up with a charge.)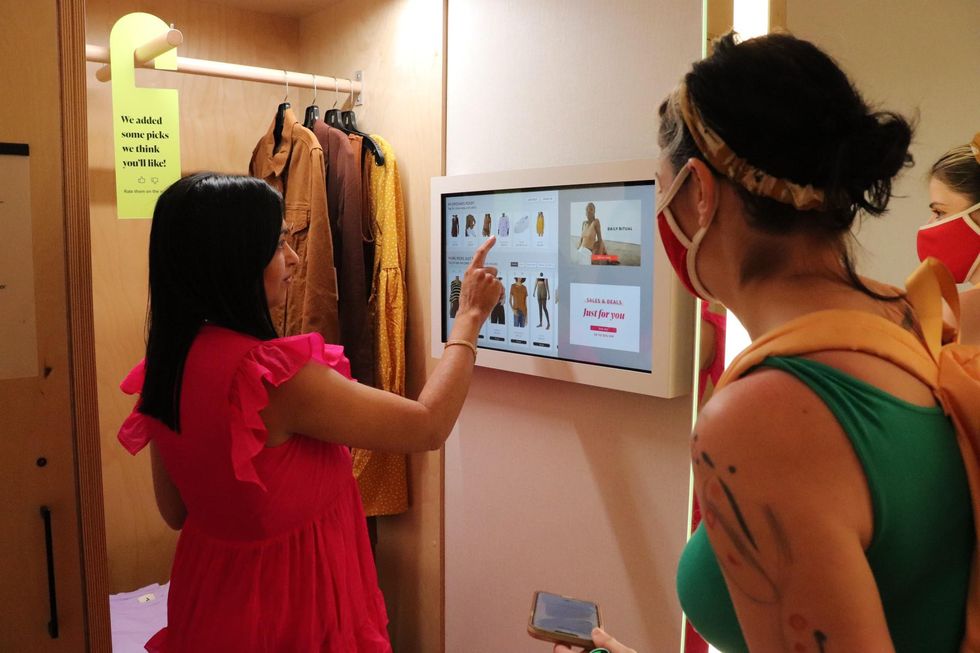 Amazon Style's dressing rooms offer a tech-enabled twist to trying on clothes.Image by Joshua Letona
The changing room is like its own parlor trick. Designed to look like a walk-in closet, one wall has a full-length mirror and a giant touchscreen while another has all the clothes you scanned in your style and size preference. Expect to see a few surprises in there, as Amazon's algorithm picks out other stuff you might want to try on based on your picks. It would be spooky if it wasn't so convenient—an IRL mashup of the online retailer's "Recommended Based on Your Purchases" and "Frequently Bought Together" features.
If an item doesn't fit quite right or you want to see how a skirt looks in blue instead of black, just tap the touchscreen to request a variant. Or an entirely new outfit, as the screen makes available everything in the facility. Then just bring it down to checkout—perhaps the wildest part of this ride.
4. Palming the Bucks
Checking out of Amazon Style's flagship store is what really blew my mind—although apparently it's because I haven't been to one of the Amazon Go, Amazon Fresh or Whole Foods locations where cashless checkouts have been an option in select stores since 2020.
I assumed you could just walk out the door with your purchase, because I watch "Saturday Night Live" sketches for news. While the Go payment option isn't available at Amazon Style, there are several checkout options to keep the experience as frictionless and non-cumbersome as possible.
One way is to take the clothes you want out of the dressing room and go directly to Amazon's palm-enabled checkout kiosks. That's right: Register on the spot for an Amazon One account, and you need merely to wave your hand over a little black device that reads your palm and charges your on-file payment method. It's super convenient for everyone except $10 boardwalk psychics, who just may be put out of business by such technology.
For the more traditional set, you still have the option of paying via credit card or cash.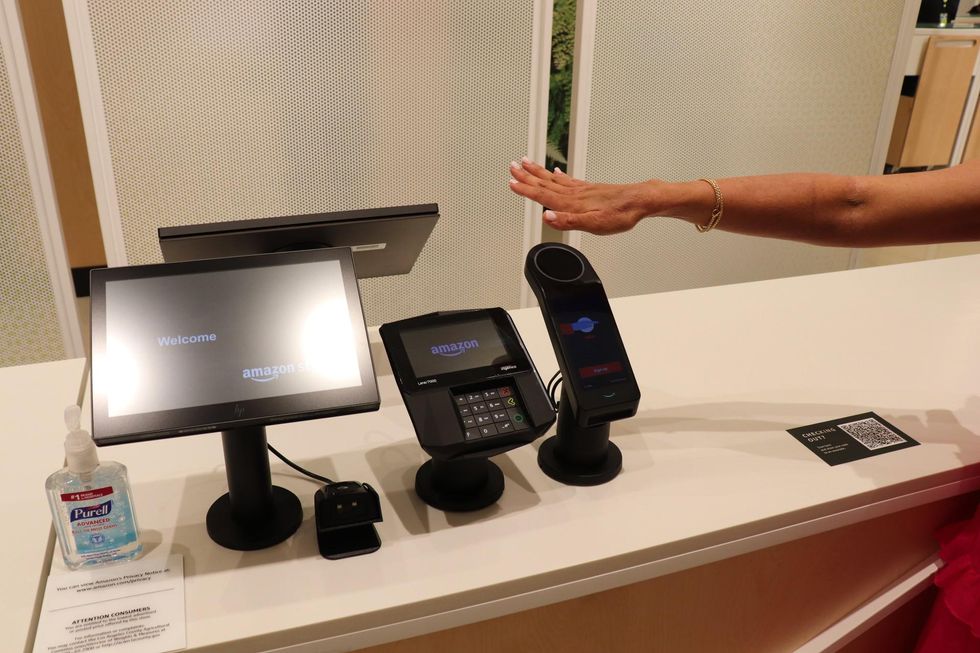 Shoppers can check out of Amazon Style with the wave of a palm. Image by Joshua Letona
5. Supply & Demand & Return
Amazon Style's brick-and-mortar location opens up a variety of new ways to shop, return and exchange clothing. For instance, you can order a load of clothes online and pick them up in the store; anything you don't want can be returned in the store without you ever having to print a shipping label.
See something you like but don't have time to try it on? Just scan the barcode, pick it up at the front of the store and pay on your way out without ever going into a dressing room.
The Amazon Shopping app also boasts a Deals feature, which automatically sorts for the best price on items to help customers either save money (or believe they are).
While Glendale is home to the only Style store so far, Amazon isn't ruling out more locations. With fewer retailers able to afford rents on America's main strips and shopping malls, Amazon's resources—and its unique position at the intersection of tech and retail—make it easy to envision more Style stores on the horizon.
Drew Grant
Drew Grant is dot.LA's Senior Editor. She's a media veteran with over 15-plus years covering entertainment and local journalism. During her tenure at The New York Observer, she founded one of their most popular verticals, tvDownload, and transitioned from generalist to Senior Editor of Entertainment and Culture, overseeing a freelance contributor network and ushering in the paper's redesign. More recently, she was Senior Editor of Special Projects at Collider, a writer for RottenTomatoes streaming series on Peacock and a consulting editor at RealClearLife, Ranker and GritDaily. You can find her across all social media platforms as @Videodrew and send tips to drew@dot.la.