Wheels Pulls Out of Culver City and West Hollywood
Maylin Tu
Maylin Tu is a freelance writer who lives in L.A. She writes about scooters, bikes and micro-mobility. Find her hovering by the cheese at your next local tech mixer.
06:00 AM | November 23, 2022
Last month, Helbiz announced that it had officially acquired Wheels, the West Hollywood-based startup founded by Joshua and Jonathan Viner, co-founders of Wag. But in Los Angeles, there were already signs that things were in flux.

In early August, Culver City announced that Wheels would no longer be operating within its boundaries. Then in September, Wheels also ceased operations in West Hollywood, pending adoption of sidewalk detection technology.
---
In the past, Wheels has prided itself on being the only shared e-scooter or e-bike operator to serve riders across the greater L.A. metro area — including the city of L.A., Santa Monica, Culver City and West Hollywood. There are 88 municipalities in L.A. County and each one controls its own shared micromobility program with different rules, regulations and fees. Beverly Hills does not allow scooters to operate or park within its boundaries, while the city of L.A. has six different operators competing for space in lucrative zones like Downtown and Venice (Lyft is out as of mid-November).
In a September city council meeting, West Hollywood announced a new sidewalk detection requirement for its three operators, Bird, Lime and Wheels. While all three have geofencing technology, sidewalk detection is more precise and meant to deter riders from riding on the sidewalk.
"[Wheels] didn't want to roll it out if it was going to be off by a couple of feet," said Coby Wagman, parking operations supervisor for West Hollywood. "That could be the difference between someone on the street, a bike lane or a sidewalk."
Once Wheels can demonstrate to the city that they have the technology, the company will be allowed to rejoin the Dockless Mobility Pilot Program.
But in Culver City, things are less certain.
According to Ryan Hund, a transportation planner for the Culver City Transportation Department, the city is currently evaluating their shared micromobility program to determine whether they will accept new applications.
"In order to operate in Culver City," he said via email, "Wheels would have to go through the same RFQ [request for qualification] process as any other potential operators."
Currently, Bird is the only operator in Culver City's shared micromobility program.
In an emailed statement to dot.LA, Wheels CEO Marco McCottry said that Wheels is planning to return to both cities eventually.
"We've had to make tough decisions in our business and operating in Culver City doesn't make sense for us at this time. We hope to work with [the] city to relaunch in the future. We look forward to returning to West Hollywood as they recently added a sidewalk detection requirement for operators which we will be demoing soon."
These strategic moves come at a rocky moment for shared micromobility. Bird just announced that it overstated revenue for the last two years, causing its stock to plummet. The company says it might not have enough cash to continue operations. Earlier this month, Lyft laid off 13% of its employees and last week it pulled all e-bikes and e-scooters from Santa Monica and L.A.
In an email, Juan Matute, deputy director of the UCLA Institute of Transportation Studies, said that Santa Monica's future shared micromobility program is the one to watch as companies start to drop out of the market.
"Investors subsidized scooter operations for years," he said. "Though some of this investment went into technology, most went into unprofitable competition because the company wanted to [be] the last standing."
Santa Monica will begin recruiting two operators for a three-to-five year term in January 2023.
Maylin Tu
Maylin Tu is a freelance writer who lives in L.A. She writes about scooters, bikes and micro-mobility. Find her hovering by the cheese at your next local tech mixer.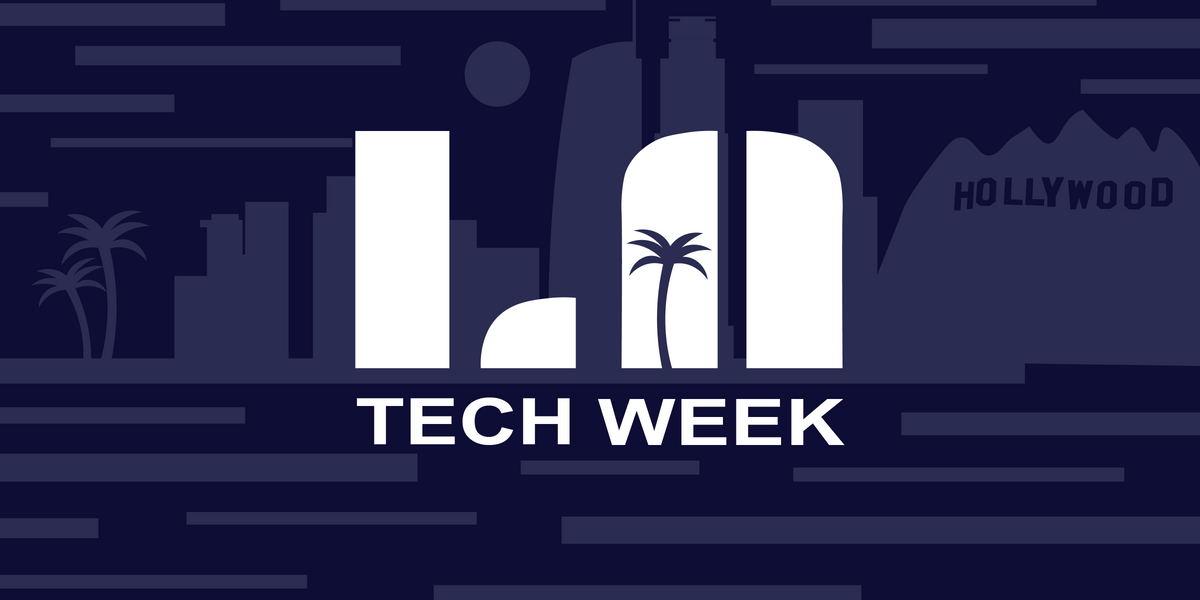 Evan Xie
L.A. Tech Week has brought venture capitalists, founders and entrepreneurs from around the world to the California coast. With so many tech nerds in one place, it's easy to laugh, joke and reminisce about the future of tech in SoCal.
Here's what people are saying about the fifth day of L.A. Tech Week on social:
Samson Amore
According to a Forbes report last April, both the viewership and dollars behind women's sports at a collegiate and professional level are growing.
In 2022, the first 32 games of the NCAA tournament had record attendance levels, breaking records set back in 2004, and largely driven by the new and rapidly growing women's NCAA tournament. WNBA openers this year saw a 21% spike in attendance, with some teams including the LA Sparks reporting triple-digit ticket sales growth, about 121% over 2022's total. In 2023, the average size of an LA Sparks crowd swelled to 10,396 people, up from 4,701 people.
Women make up half the population, but "also 50% of the folks that are walking into the stadium at Dodger Stadium, or your NFL fans are just about 50% women," noted Erin Storck, a panelist and senior analyst at Los Angeles-based Elysian Park Ventures.
Storck added that in heterosexual households, women generally manage most of the family's money, giving them huge purchasing power, a potential advantage for female-run leagues. "There's an untapped revenue opportunity," she noted.
In the soccer world, Los Angeles-based women's soccer team Angel City FC has put in the work to become a household name, not just in LA County but across the nation. At an LA Tech Week panel hosted by Athlete Strategies about investing in sports, Angel City head of strategy and chief of staff Kari Fleischauer said that years before launching the women's National Women's Soccer League team, Angel City FC was pounding the pavement letting people know about the excitement ladies soccer can bring. She noted community is key, and that fostering a sense of engagement and safety at the team's home venue, BMO stadium (formerly Banc of California Stadium), is one reason fans keep coming back.
Adding free metro rides to BMO stadium and private rooms for nursing fans to breastfeed or fans on the spectrum to avoid sensory overload, were just some of the ways ACFC tried to include its community in the concept of its stadium, Fleischauer said. She noted, though, that roughly 46% of Angel City fans are "straight white dudes hanging out with their bros."
"Particularly [on] the woman's side, I'd like to think we do a better job of making sure that there's spaces for everyone," Fleischauer told the audience. "One thing we realize is accessibility is a huge thing."
Samson Amore
Samson Amore is a reporter for dot.LA. He holds a degree in journalism from Emerson College. Send tips or pitches to samsonamore@dot.la and find him on Twitter @Samsonamore.
https://twitter.com/samsonamore
samsonamore@dot.la