Starships Were Meant To Fly: Astrolab's New Jeep-Sized Rover Gets a Lift from SpaceX
Lon Harris
Lon Harris is a contributor to dot.LA. His work has also appeared on ScreenJunkies, RottenTomatoes and Inside Streaming.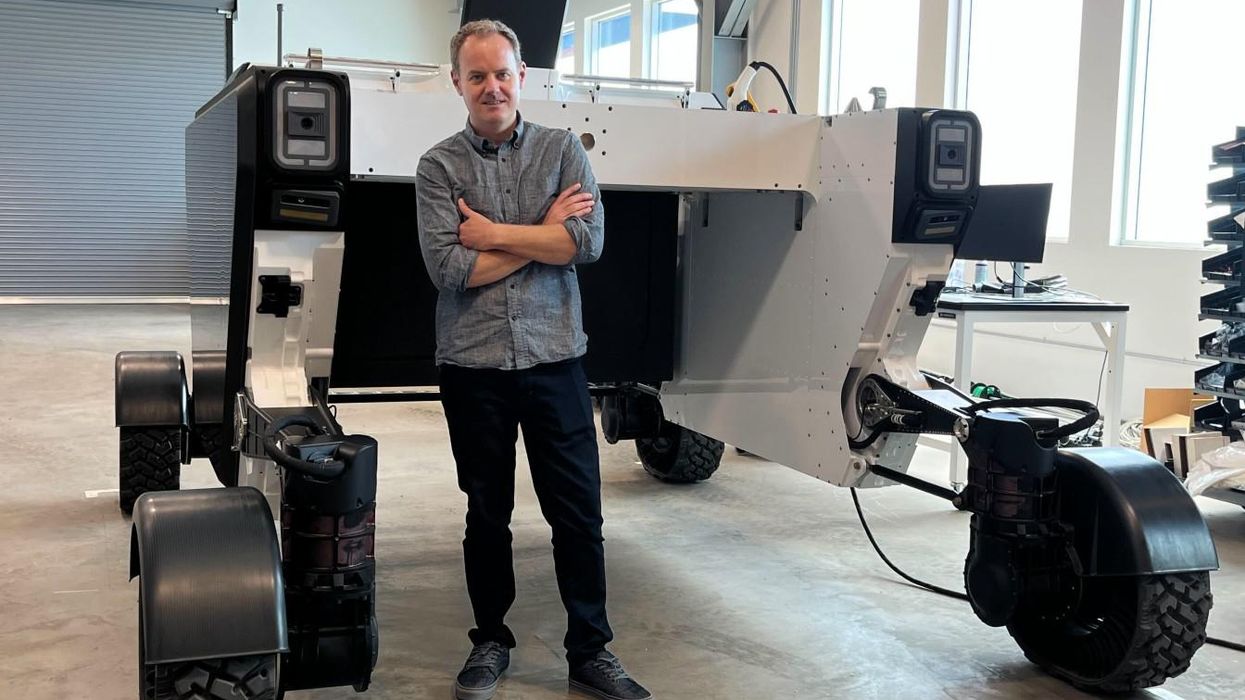 Photo by Samson Amore
This is the web version of dot.LA's daily newsletter. Sign up to get the latest news on Southern California's tech, startup and venture capital scene.
Local Los Angeles-area startup Astrolab Inc. has designed a new lunar vehicle called FLEX, short for Flexible Logistics and Exploration Rover. About the size of a Jeep Wrangler, FLEX is designed to move cargo around the surface of the moon on assignment. It's a bit larger than NASA's Mars rovers, like Perseverance, but as it's designed for transport and mobility rather than precision measurement, it can travel much faster, at speeds of up to 15 miles per hour across the lunar surface.
---
In the short-term, this "cargo" would be mostly scientific equipment, but down the road, it's possible that FLEX could also contribute to larger-scale projects, such as building out a "lunar infrastructure." Astrolab founder Jaret Matthews told The New York Times that his goal, ultimately, would be to serve as a kind of "UPS for the moon," providing a "local distribution solution" once private companies had figured out the logistical challenge of getting their products to the lunar surface in the first place.
To that point, Astrolab plans to get FLEX itself on to the moon with help from SpaceX. Specifically, the company's new giant spacecraft, Starship, which will reportedly be ready for uncrewed lunar cargo missions as soon as 2026. Matthews – an engineer by trade, and a veteran of both SpaceX and NASA's Jet Propulsion Laboratory – assured the Times that FLEX will be part of the very first SpaceX commercial cargo flight to the moon. For their part, SpaceX has not yet made any specific announcements about when this might actually be happening, and didn't respond to requests for comment.
Starship is the largest and most powerful rocket ever built, surpassing even NASA's own Saturn V and Space Launch System. It's unconventional in a few other ways as well. Starship is constructed from stainless steel, the first time this particular metal has been used in a space rocket since the 1950s. Steel is heavy, so launching a steel rocket into orbit requires more fuel than alternate metals such as aluminum or titanium. Nonetheless, SpaceX prefers steel as it apparently works better in extreme temperature conditions, such as during launch and atmospheric re-entry. The use of stainless steel also gives Starship a distinct, rather stylish silver appearance.
SpaceX's plans for the Starship megarocket lie not just in its massive size but reusability. Being able to launch heavy payloads into orbit and beyond without having to construct an enormous new rocket each time significantly lowers costs, and gives SpaceX a potential leg-up in terms of transporting satellites and spacecraft, along with cargo and even passengers on space tourism getaways.
The vehicle has flown a few times before, but only low-powered versions on quick roughly 6-mile trips above the Earth's surface. SpaceX had hoped to launch some early orbital tests in 2022 but faced numerous delays. The new goal – pending FAA approval – is to get orbital tests going in late April, which founder and CEO Elon Musk predicts have about a 50% chance of success. (Yes, this could potentially include one of Musk's personal favorite dates in the annual calendar: 4/20.)
Once FLEX arrives, it will actually rank among the first-ever American-made rovers to hit the lunar surface. Though NASA previously sent a famed "moon buggy" up there which astronauts used during the Apollo 15, 16, and 17 missions, and both the Soviet Union and China have deployed robotic rovers, the US has previously preferred to do its moon exploration in person. That's all about to change, though, with not only FLEX's debut, but NASA's Volatiles Investigating Polar Exploration Rover, or VIPER. This rover, about the size of a golf cart, will explore the area around the Moon's South Pole looking for water ice ahead of the arrival of the Artemis Program – and human astronauts – in 2025.
Astrolab isn't the only local company hoping to leverage SpaceX's Starship plans for its own purposes. K2 Space, founded by brothers Karan and Neel Kunjur, are developing large-scale "satellite buses," physical structures that can move and power entire spacecraft, which are about as large as any objects humans have ever attempted to blast into space. While previous efforts to innovate space travel on the commercial side have focused on making vehicles smaller, and thus cheaper to launch, K2 views the progress of SpaceX as a sea change, indicating that – one day soon – manufacturers will have a variety of "launch providers" for getting their products on to the moon and beyond.
Lon Harris
Lon Harris is a contributor to dot.LA. His work has also appeared on ScreenJunkies, RottenTomatoes and Inside Streaming.