Virgin Orbit's Assets Are Now the Property of Its Three Former Competitors
Samson Amore
Samson Amore is a reporter for dot.LA. He holds a degree in journalism from Emerson College. Send tips or pitches to samsonamore@dot.la and find him on Twitter @Samsonamore.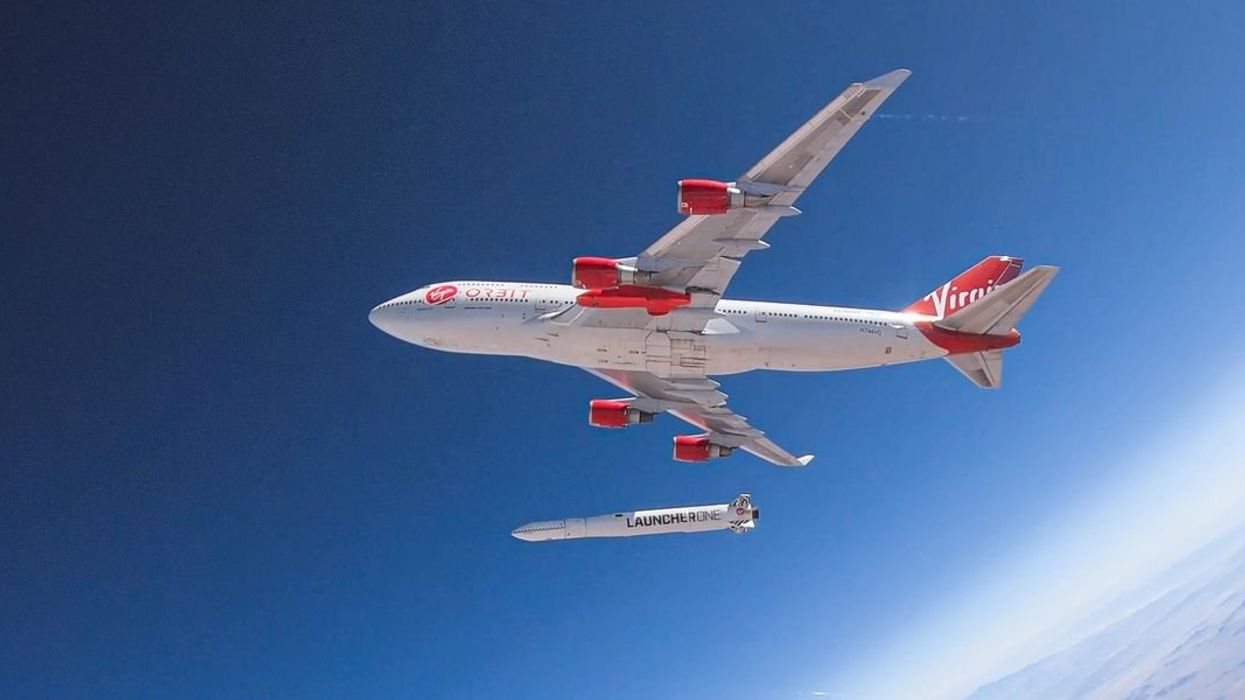 Image courtesy of Virgin Orbit
This is the web version of dot.LA's daily newsletter. Sign up to get the latest news on Southern California's tech, startup and venture capital scene.
Three Southern California aerospace companies located near Space Beach have purchased the assets and property of Virgin Orbit at a bankruptcy auction, effectively putting an end to the six-year-old satellite launch firm's operations.
---
Virgin Orbit spokesperson Alison Patch told dot.LA that no one has yet placed any bids to buy its six rockets or rights to the intellectual property, including the brand and visual assets.
Neighboring Rocket Lab paid $16.1 million for Virgin Orbit's 140,000-square-foot headquarters and manufacturing facility at 4022 E. Conant St. in Long Beach, plus several 3D-printers. Rocket Lab said it won't integrate Virgin Orbit's launch systems into its own.
"Securing the lease to the Conant Facility adds to our existing presence in Long Beach and provides co-located engineering, manufacturing, and test capabilities for our Neutron team," Rocket Lab CEO Peter Beck said in a statement Tuesday. Beck added, "with Neutron's design and development well-advanced, this transaction represents a capital expenditure savings opportunity to augment our production capability to bring Neutron to the launch pad quickly to serve our customers and their future success."
Stratolaunch, based in Mojave, paid $17 million for Virgin Orbit's modified Boeing 747 jet, which it used to attempt launching a rocket from the air. And Vast Space subsidiary Launcher paid $2.7 million for Virgin Orbit's lease at the Mojave Air and Space Port. The deal will also see Launcher take over some of Virgin Orbit's equipment, inventory and machinery including a rocket testing facility and aircraft hangar. Launcher and Vast declined to comment.
A liquidation agent called Inliper now owns Virgin Orbit's office equipment following a $650,000 purchase.
Virgin Orbit confirmed the deals on Tuesday, and said it expects a court to approve them by May 24. "Virgin Orbit's legacy in the space industry will forever be remembered," the company said in a statement Tuesday. "Its groundbreaking technologies, relentless pursuit of excellence, and unwavering commitment to advancing the frontiers of air launch have left an indelible mark on the industry."
Telecom billionaire Richard Branson created Virgin Orbit in 2017. The company went bankrupt roughly a month ago, after pausing all operations and furloughing about 750 workers on March 16.
Each of these deals highlights the rapid growth of Southern California's accelerating space industry.
Besides the need for more 3D-printers to make its rockets, Rocket Lab is quickly expanding and needs the extra space to build its larger Neutron rocket and execute on its packed slate of planned missions. These include building a factory in space for space construction firm Varda Space Industries; sending its twin Photon spacecraft to examine Mars' magnetic field; and sending a private exploration mission to Venus, among others. Rocket Lab is also working with NASA on its Artemis mission to send a woman and person of color to the Moon's surface by the end of 2024 on its reusable rockets.
Virgin Orbit used a modified Boeing 747 aircraft, nicknamed Cosmic Girl, to air launch its LauncherOne rocket to space from 35,000 feet. Most recently, the vehicle failed during a launch in January – this ended up being its final flight. Stratolaunch's strategy is similar; it uses a massive aircraft called the Roc to carry rockets and autonomous vehicles and launch them from midair – and that is likely why Stratolaunch wanted to buy Virgin Orbit's jet.
And Launcher's parent company Vast has the ambitious goal of launching a commercial space station with simulated gravity for interstellar tourism by 2025. Vast bought Long Beach-based Launcher in February and moved its headquarters to Long Beach shortly after the deal tripled its workforce. It's now in Virgin Orbit's neighborhood, and will need to absorb its testing and launch facilities in Mojave to meet that 2025 deadline.
The NASDAQ told Virgin Orbit it would delist its stock on April 4 after the company filed for bankruptcy. This hasn't yet happened, and Virgin previously said it planned to appeal the ruling; but given this auction, it's likely the company's securities won't remain on public markets. When it went public in January 2022 via a SPAC deal, Virgin Orbit was valued at $3.7 billion. Now, its assets are the property of three of its former competitors.
Samson Amore
Samson Amore is a reporter for dot.LA. He holds a degree in journalism from Emerson College. Send tips or pitches to samsonamore@dot.la and find him on Twitter @Samsonamore.
https://twitter.com/samsonamore
samsonamore@dot.la