Virgin Orbit's Swift Descent
Samson Amore
Samson Amore is a reporter for dot.LA. He holds a degree in journalism from Emerson College. Send tips or pitches to samsonamore@dot.la and find him on Twitter @Samsonamore.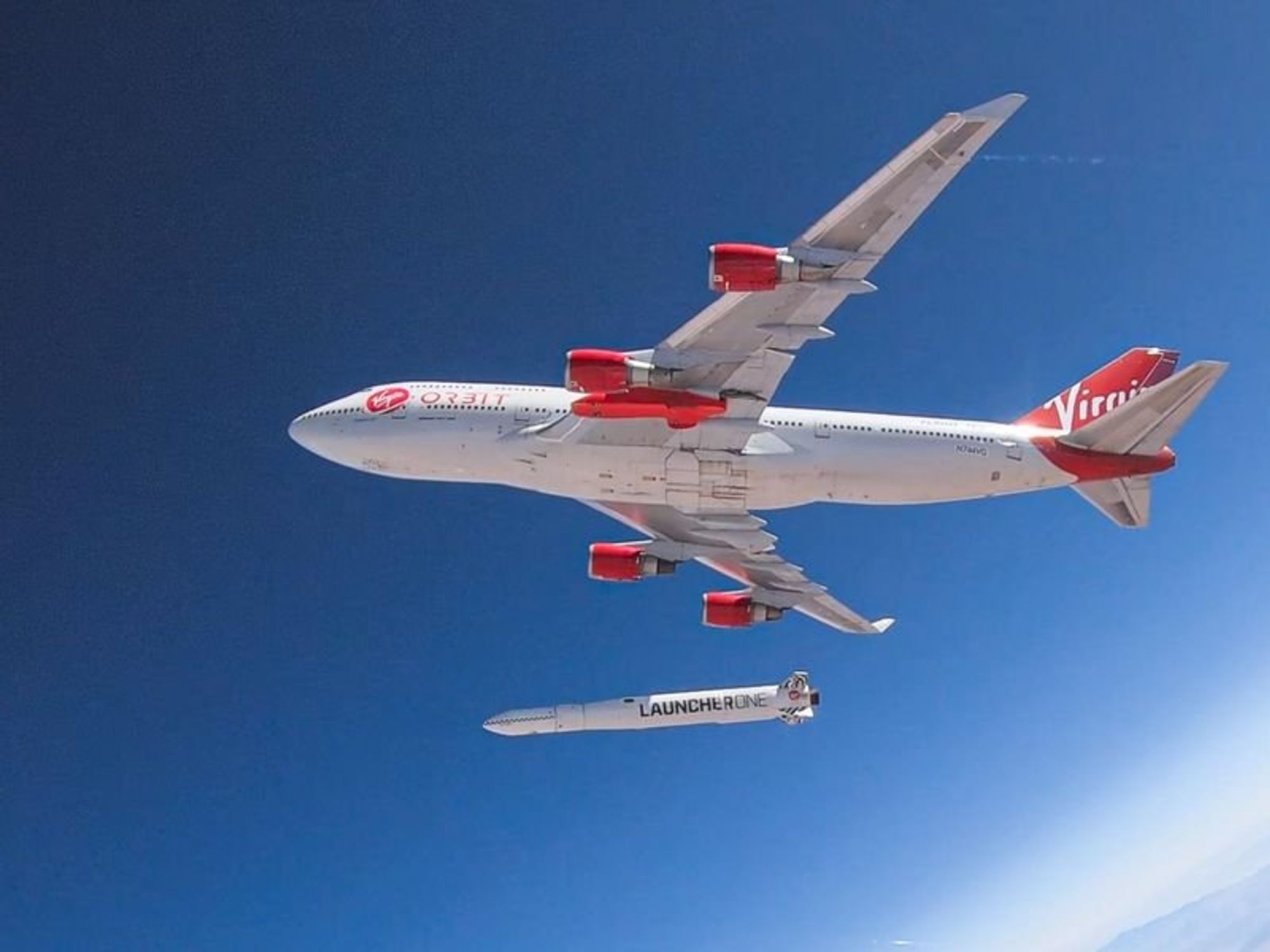 Image courtesy of Virgin Orbit
This is the web version of dot.LA's daily newsletter. Sign up to get the latest news on Southern California's tech, startup and venture capital scene.
Workers at satellite startup Virgin Orbit are reeling after learning they were furloughed, forced to stop work indefinitely since the company is fast running out of cash.
Virgin Orbit paused all operations March 16, furloughing all of its more than 750 employees. It's reportedly scrambling to avoid a bankruptcy filing. The company was founded in 2017 by billionaire Richard Branson.
---
Up to now, there's been a relatively limited number of space startups able to demonstrate a strong enough track record to threaten SpaceX's vice grip on government contracts. These include Relativity Space, which is gearing up for its third launch attempt of its first 3D-printed rocket this week. There's also Impulse Space, which will launch its first satellite to transport payloads in space on a SpaceX flight by the end of this year and is also partnering with Relativity to send a lander to Mars. And Long Beach-based Rocket Lab is also a player, having sent a reusable rocket into space on July 4 of last year.
But each of these companies has found the road to launch is often packed with speed bumps, and none have been able to truly challenge SpaceX's dominance of regular, affordable launches.
It remains to be seen how the fallout from Virgin Orbit's collapse affects its big sister company, Virgin Galactic. Virgin Orbit is technically a spinoff of Virgin Galactic – another space-focused pet project of Branson that's focused on commercial spaceflight (focused on human space tourism, rather than cargo).
Both companies are publicly traded. So far this year, Virgin Orbit's stock has tanked nearly 93%, and it's trading at barely $.50. In the last year, Virgin Galactic's stock has lost more than 56% of its value and Bank of America recently rated it a sell. When it went public through a SPAC deal in 2021, Virgin Orbit was valued at $3.7 billion.
So what went wrong? Here's a look at some of the reasons why Virgin Orbit failed.
Method of launch
Virgin Orbit hasn't sent a rocket to space successfully yet this year (it tried on Jan. 9 but scrapped the launch). That's partly because of its unorthodox system for launching them.
The company uses air launch – dropping the rocket from a retrofitted Boeing 747 at high altitudes and letting the rocket's boosters carry it the rest of the way to space. Branson touted this method as being more flexible and cost-efficient, because it meant Virgin Orbit wouldn't have to spend on pricey launchpad leases. But there's hidden costs, partly since Virgin Orbit has to maintain and fuel at least two crafts.
Air launching did work for several launches -- the company has four successful takeoffs so far, most recently in July 2022. But Virgin Orbit simply couldn't launch at the pace it needed to in order to make enough money to stay solvent.
Cost
The rocket business is expensive. This saga's made it clear even a billionaire founder can't pump cash into a floundering company forever.
Virgin Orbit isn't profitable; it lost $44 million in third quarter 2022, up from $38 million lost the year prior – compared to roughly $31 million in revenue.
CNBC reported that Branson's contributed at least $60 million of his own cash recently. He's thought to have spent at least $1 billion in total so far.
Virgin Orbit also retained Goldman Sachs and Bank of America to explore funding options ranging from minority investors to a full-on sale.
In 2022, Virgin signed an equity agreement with investors Yorkville Advisors, reportedly worth $250 million. But that deal wasn't an outright cash investment, it allowed Yorkville to sell shares to public investors. So, that $250 million is mostly a phantom sum. In January, ArsTechnica accurately predicted Virgin Orbit's monthly cash burn rate was $20 million, and that it would run out in March.
The government remains a reliable source of funding, though. If Virgin Orbit had made itself a viable competitor to other contractors, it might not be in this fiscal situation now. Virgin Orbit's had four successful launches so far, including one for the U.S. Space Force. But unlike SpaceX, it's failed to keep the feds from seeking other partners.
The overall economy
The fallout of Silicon Valley Bank's bankruptcy has sent tremors through the larger tech investing community, all but freezing what was otherwise a difficult market. Space companies tend to raise larger rounds, which makes the funding ask from VCs all the more difficult.
That said, the fact that companies like Virgin Orbit are backed by billionaires means they could have less risk than others relying on banks. But, as we noted above, even a rich man's pockets aren't infinite.
It remains to be seen whether the VC ecosystem will rise to the challenge of investing back into space startups that are risky bets and often don't guarantee immediate returns. But with growing operating losses, furloughed staff and talks of a buyout, Virgin Orbit might be the latest casualty of the chilling tech economy, and find itself.
Correction: An earlier version of this story misstated the number of launches Virgin Orbit has conducted. The company has undergone four launches since its founding. We regret the error.

Samson Amore
Samson Amore is a reporter for dot.LA. He holds a degree in journalism from Emerson College. Send tips or pitches to samsonamore@dot.la and find him on Twitter @Samsonamore.
https://twitter.com/samsonamore
samsonamore@dot.la