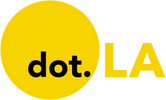 Get in the KNOW
on LA Startups & Tech
X
Justin Gordon
Justin Gordon
Justin Gordon is the founder of "Just Go Grind" and host of the "Just Go Grind Podcast," a daily show with more than 200 episodes featuring interviews with entrepreneurs and investors. He has an MBA from USC, is an aspiring runner with a 1:29 half marathon personal best, and wants to help one billion people in his lifetime.
On this week's episode of Just Go Grind, hear from Marlon Nichols, founding managing general partner at MaC Venture Capital, a seed-stage venture fund whose investments run from $1.5 million to about $2 million. Their focus is on emerging behavioral and cultural trends plus technology that enterprise will need to stay current.
How does the firm find what's new before anyone else? Marlon says it's their extensive network of people with their fingers on the pulse of pop culture — "from movie stars to movie makers to musicians and producers that are traveling the world and are seeing a ton of things, to relationships with some of the top global advertising agencies" — and once MaC VC hears a trend repeating, they investigate it to see if it's "real."
The decision making is collaborative at MaC VC, made up of co-founders from M Ventures and Cross Culture Ventures, Marlon's previous firm. Merging their companies made sense because they had been co-partnering on many investments, the partners had known each other personally for many years, and they wanted to create a larger investment fund and vehicle. They took six months to actively work together in order to gain confidence in their compatibility. Marlon says, "we wanted to source deals together, evaluate those deals together, learn each other's quirks and and habits, likes and dislikes, pet peeves — all those things." All this to build a firm that is a "multi-fund, multi-decade relationship."
On this episode, hear about how Marlon got into venture capital, what institutional limited partners are looking to invest in and what's next for MaC VC.
Marlon Nichols is a founding managing partner at MaC Venture Capital (formerly Cross Culture Ventures), which finds entrepreneurs who are building the future for the rest of America. He's a former Kauffman fellow and investment director at Intel Capital, where he launched Intel's $125M diversity fund. Marlon, with an extensive background in technology, private equity, media and entertainment, has a unique eye for global trends and shifts in consumer behavior. This has helped him capture high-potential investments, which include Gimlet Media, MongoDB, Thrive Market, Fair, LISNR, Mayvenn, Blavity, Pipe, Wonderschool and other companies that reflect overlooked markets. He serves on the board of directors for Ajua, Blavity, Finesse, Kauffman Fellows Program, LISNR, Ryff, Sote and Wonderschool. (from MaC website).

Laurel Moglen, dot.LA Sr. Podcast Producer and Editor, contributed to this article.
On this week's episode of Just Go Grind, hear from Nicole Clark, co-founder and CEO of Trellis, a research platform for litigators aimed at democratizing access to the law by making state trial court records and legal data more accessible. Trellis lets users search records in ways they wouldn't otherwise be able, including by subject, opposing counsel, judge and company.
Key Takeaways:
Trellis takes data from individual state courts and makes it searchable on a single interface. The platform also provides analytics on judges and litigation at the trial court level as well.
Clark says she was scared to take the leap to leave her law firm to fully commit to Trellis, but describes the desire to start the company as a compulsion, the pain point felt so obvious and important to solve.
Fundraising for Clark was extremely time-consuming. She recommends raising quickly in order to get back to running the business.
The growth trajectory for Trellis took off after they moved to a freemium customer acquisition model.
"You don't need to get your team perfect from day one. What you need to do is get a team that allows you to get to that next step. — and that next step." — Nicole Clark
Nicole Clark is the co-founder and CEO of Trellis. She previously worked as a litigator at various law firms. She graduated from Rutgers School of Law.

Want to hear more episodes of Just Go Grind? Listen on Apple Podcasts, Stitcher, Spotify, Google Podcasts — or wherever you get your podcasts.

From Your Site Articles
Related Articles Around the Web
On this week's episode of Just Go Grind, hear from Steve Massey, co-founder and CEO of the early-stage startup Prewitt Ridge, which was founded in 2019 to tackle the largest meta-problem in deep tech: systems engineering.
The company aims to reduce friction in collaborative design efforts by connecting critical data elements between engineering teams and offering git-like tracking of project-wide changes.
Key Takeaways:
Prewitt Ridge is trying to solve a digital engineering problem by building a tool that allows engineering teams to stay nimble for a longer period of time, while also allowing the teams to grow using IBM Doors or Java software tools and keep development fast paced without having to scale it too quickly.
Prewitt Ridge is venture backed.
Prewitt Ridge went through a TechStars accelerator program that was backed by the Air Force.
Prewitt Ridge has partnered with JPL and is currently rolling out its software inside NASA JPL to fill a niche on a couple of early-stage lunar lander missions.
It's looking to expand into commercial and direct-to-government partnerships.
"If we build the right tool, we will be able to capture enough of a segment of the market and transform engineering the same way that it has transformed software development." — Steve Massey
Steve Massey is the co-founder and CEO of Prewitt Ridge. Prior to that, he was at Slingshot Aerospace for two years where he led the development of their real-time edge analytics pipeline working with USAF and defense contractor customers. He also spent five years at SpaceX where he acted in a mission management and integration engineer role for multiple early Falcon 9 launches as well as led the avionics build for their Hyperloop pusher project.

Want to hear more episodes of Just Go Grind? Listen on Apple Podcasts, Stitcher, Spotify, Google Podcasts — or wherever you get your podcasts.

From Your Site Articles
Related Articles Around the Web