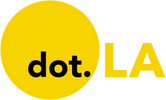 Get in the KNOW
on LA Startups & Tech
X
Sam Blake
Sam primarily covers entertainment and media for dot.LA. Previously he was Marjorie Deane Fellow at The Economist, where he wrote for the business and finance sections of the print edition. He has also worked at the XPRIZE Foundation, U.S. Government Accountability Office, KCRW, and MLB Advanced Media (now Disney Streaming Services). He holds an MBA from UCLA Anderson, an MPP from UCLA Luskin and a BA in History from University of Michigan. Email him at samblake@dot.LA and find him on Twitter @hisamblake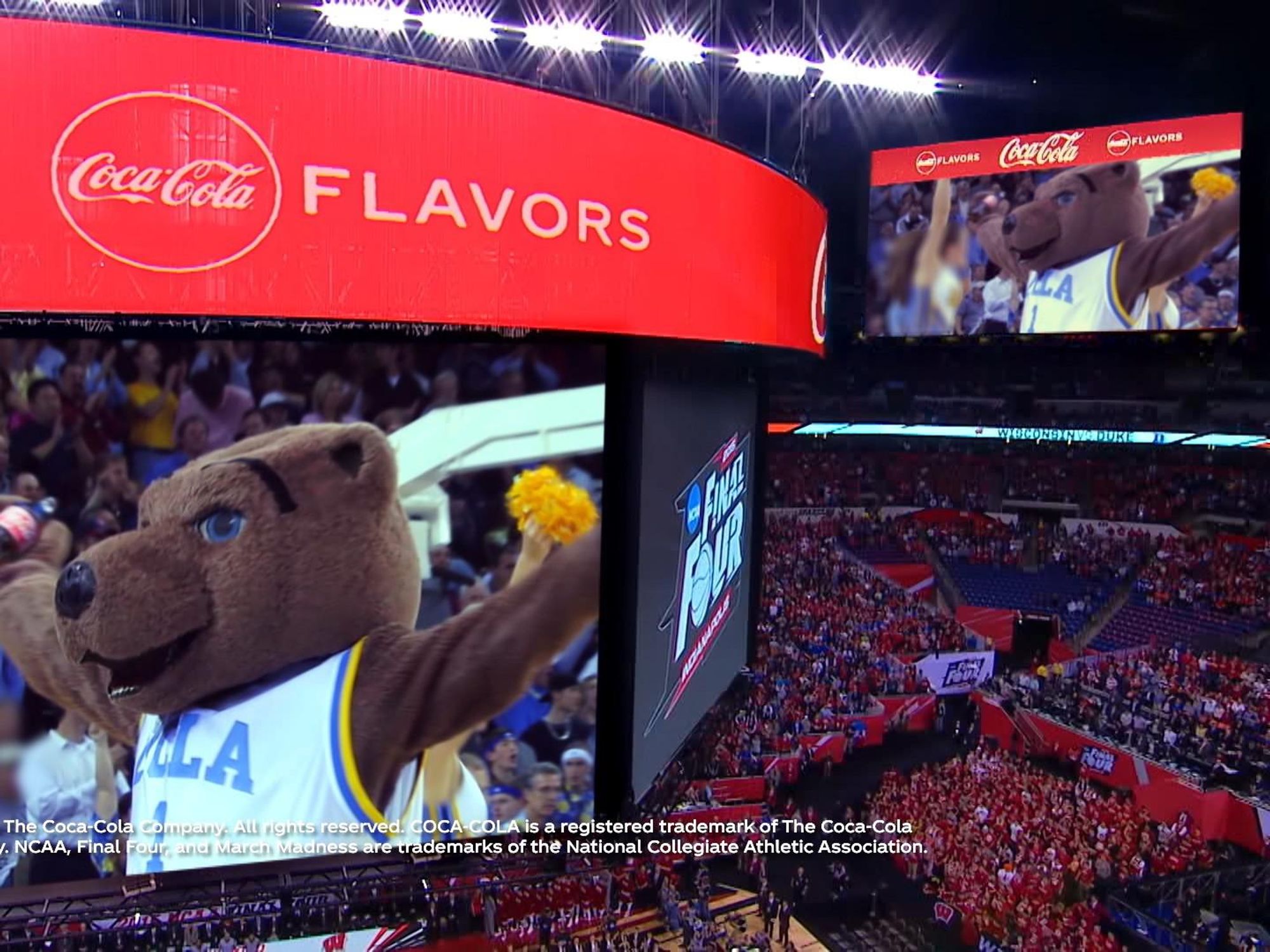 If you watched this year's NCAA basketball tournament, you may have unknowingly witnessed an early milestone from a company aiming to upend video advertising.
Ryff, a stealthy L.A.-based startup founded in 2018, helped Coca-Cola insert images of Coke bottles and banners into classic footage from past tournaments, like UCLA's 2006 finals run and North Carolina State's improbable championship in 1983.
---
We are delighted to share our work in support of the 2021 NCAA March Madness event together with UMWW, Warner Media… https://t.co/iGTgCtnWej

— RYFF Inc (@RYFF Inc) 1616445098.0
Ryff's ambitions are much grander than clever, nostalgic ads: chief executive and co-founder Roy Taylor wants to introduce on-demand digitized product placement across the entire entertainment industry.
Traditional product placement often requires complex upfront negotiations between brands and content producers, or using post-production techniques that can be costly and clunky. Ryff uses technology common in video games, where on-screen items can be swapped in and out at the push of a button, to quickly insert branded images into completed scenes. This approach distinguishes the L.A.-based startup, but could raise questions from creators who never set out to be brand ambassadors and viewers who will be unwittingly exposed to ads.
Taylor himself is reluctant to seek out too much publicity for fear of a backlash.

"We're in a slightly unusual position because we want all the publicity we can get, but only B2B," he said, meaning he wants brands and content-owners to hear about Ryff, but not necessarily viewers.

"We believe the general public, if they have a preference, veer towards being less comfortable with digital anything right now," Taylor said. He is adamant, however, that Ryff does not create "deep fakes."
"We do not change an original truth; I think that's wrong," he said. "I would never allow our technology to be used in a way which is nefarious."
In addition to its Coke campaign, Ryff has done a test campaign with Diageo, for which it inserted Baileys bottles into three Lifetime movies, as well as a handful of other brands and firms including Intel, Perfectamundo tequila and Dutch production company Endemol Shine. The startup has raised $8.6 million.
As linear TV viewership has declined, advertising dollars on the medium have stagnated. They have "proven relatively resilient, despite cord cutting," said media analyst Tony Lenoir of Kagan, because advertisers like being able to reach the customers that have stuck with cable, who tend to be relatively wealthy.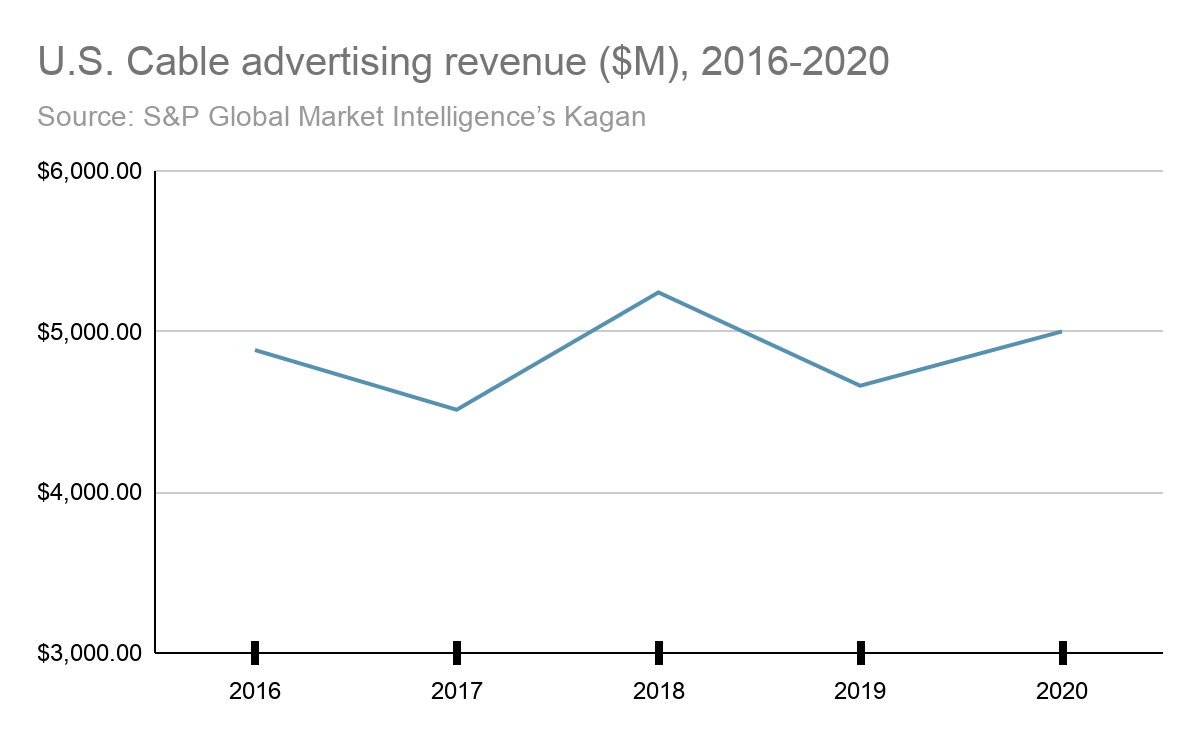 But TV ads have been in steady decline as a share of overall advertising spend. From 2015 to 2020 the share of TV ad-spend in the U.S. fell from 42% to 33%, with a further decline to 20% expected by 2025, according to MoffettNathanson, an independent research company focused on media and communications. Online advertising, which includes streaming, has picked up the slack, growing from a 27% share in 2015 to 52% in 2020, with an expected rise to 73% by 2025. Relatedly, eMarketer predicts that by 2024, there will be more households without a traditional pay-TV service than with it.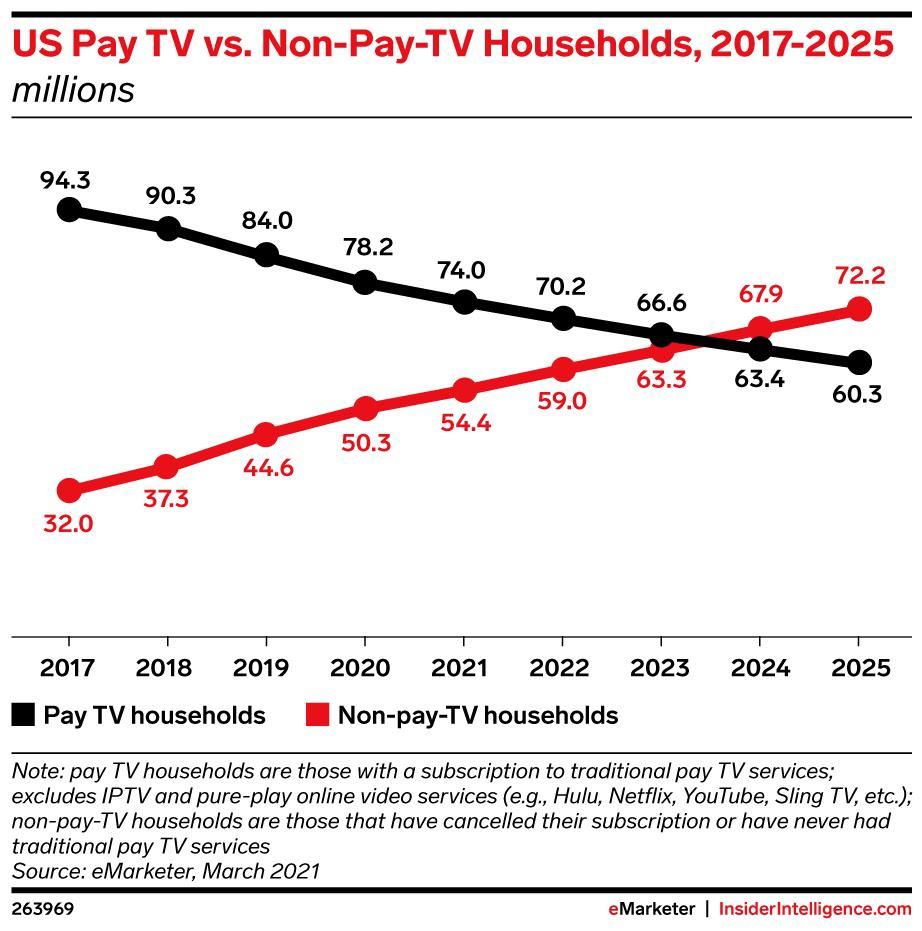 Taylor's investors think he and his 30-person team, split between L.A. and Cambridge in his native U.K., are well positioned to ride these trends.
"I think streaming platforms, because there's so many of them now, will need to identify new ways of generating revenue outside of growing the subscriber base," said Marlon Nichols, whose MaC Ventures participated in Ryff's $5 million fundraise in 2019, its most recent.
Ryff's biggest competitor is London-based Mirriad, which Taylor says uses technology that is less scalable. That could change, however.
"There is no such thing today as a product which cannot be replicated," he said.
Like any multi-sided platform — think Uber, Airbnb, etc. — Ryff will need to onboard users on both the supply and demand sides of the ad market. In other words, to achieve its ambitions of ushering in a new paradigm of advertising, Taylor needs to lure in more brands on the one side, and streaming platforms, studios and UGC video services on the other.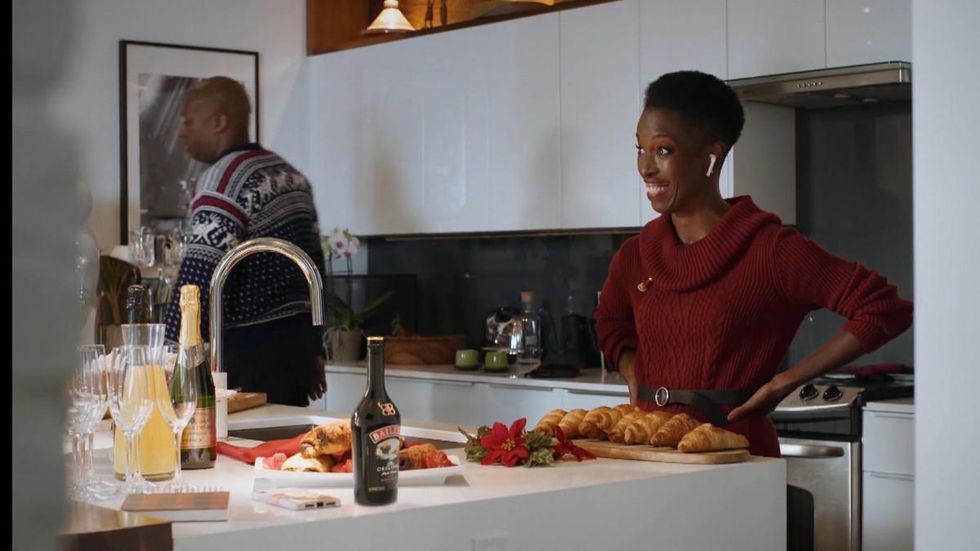 Ryff has done a test campaign with Diageo, for which it inserted Baileys bottles into three Lifetime movies.
How Ryff Works
To demonstrate his technology, Taylor pulls up a scene from a film he cannot disclose, of two men sitting on stools outside a restaurant, at a small table holding two empty glasses.
Using a combination of computer visioning and artificial intelligence, Ryff's "Placer" technology has scanned the entire film to identify opportunities like this for product placement. The tool, Taylor said, is trained to recommend product types that fit scenes contextually, culturally and creatively.
In the restaurant scene, that means the technology should know not only that a beverage bottle could fit, but also that it must be a brand that could be found in whichever country the scene is taking place. The product also must fit with the story's narrative; if both characters are teetotalers, the technology could suggest a soda brand, but not a beer.
"I took the notion that you could treat a frame of film or TV as a backdrop, like in a traditional theater," Taylor said. "You could take a 3D model and render it — that is, apply light and shade to it — and make it look as though it appeared in the backdrop; you could get them to match."
Ryff's automated suggestions are uploaded into a searchable database that brands can screen for myriad factors, including the time of day the scene takes place, specific actors in it and whether it contains certain activities like sports.
Taylor drew on his background at NVIDIA to create Ryff. The Silicon Valley company makes chips and graphic processing units. In the 1990s, he helped launch its European offices.
Will Advertisers and Content-Creators Riff on Ryff?
Analysts at PQ Media have pegged the brand-placement market at $20 billion worldwide, and forecast it to climb 9.8% per year through 2024, with the fastest growth occurring on digital platforms.
"It's a concept that was not possible in years past, just because the technology was not there to do this kind of scene analysis and to place in everyday objects in a realistic way," said Paul Erickson of market research firm Parks Associates.
Consumers today are less tolerant of ads than they once were, he points out. "People's tastes have changed."
As cable continues its decline and streaming picks up the slack, Taylor thinks that aversion will only grow.
"I don't believe in AVOD," he said, referring to streaming's ad-based monetization model.
But plenty of streaming companies are betting that traditional, interruptive advertising still has a place. HBO Max has announced plans to launch a lower-priced, ad-based tier later this year. ViacomCBS and NBCUniversal have both embraced multi-pronged streaming strategies that include monetization models ranging from free and ad-based to premium subscription-based.
As to whether pure-play subscription-based services might entertain Ryff's "placement-based" revenue opportunity, media analyst Dan Rayburn is skeptical.
"Based on the projections they've given Wall Street, these services think they can be profitable without ads," he said, adding that companies like Netflix have shunned advertising revenues, presumably based on their analysis that the benefits would be outweighed by the cost of turning off customers.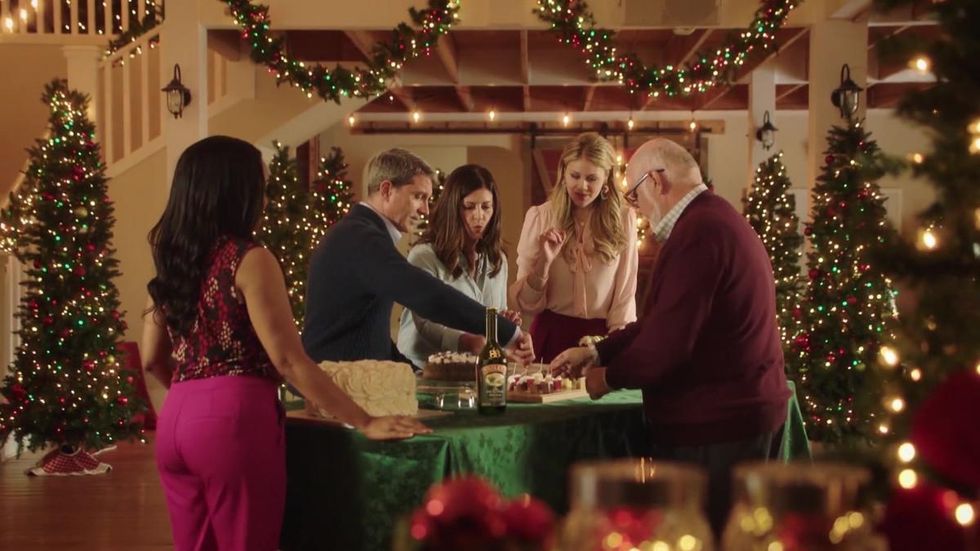 Ryff has done a test campaign with Diageo, for which it inserted Baileys bottles into three Lifetime movies
Rayburn also said that based on his research, streaming companies may bridle at serving viewers product placements that could feel inauthentic and thus devalue their content.
"Disney's not saying, 'Hey, we'll stick a Pepsi behind Disney content'," he said. "That's not a business model they want or a trend they want to start."
Taylor said content rights holders may yet be won over because they have the final say as to what goes in their scenes.
"They always have control–always," he said.
Even if customers and content creators are okay with what Ryff provides, it will still need to bring on more brands to grow. For its business model, the company charges brands a fee or takes a percentage of their payments to the content owners. Ryff would not disclose its revenue figures.
"Advertisers don't throw a lot of money around ideas where they don't know how to measure the ROI," said Rayburn, noting this may make it challenging for Ryff to bring on brands.
A report commissioned by Ryff about its Baileys campaign, done by third-party research firm Radicle, indicated that, from start to finish, the placement took three weeks, and that Diageo was pleased with the results.
Taylor thinks brands will warm to Ryff once they better understand its customer-targeting capabilities, saying he can help to ensure "we no longer promote meat products to vegetarians."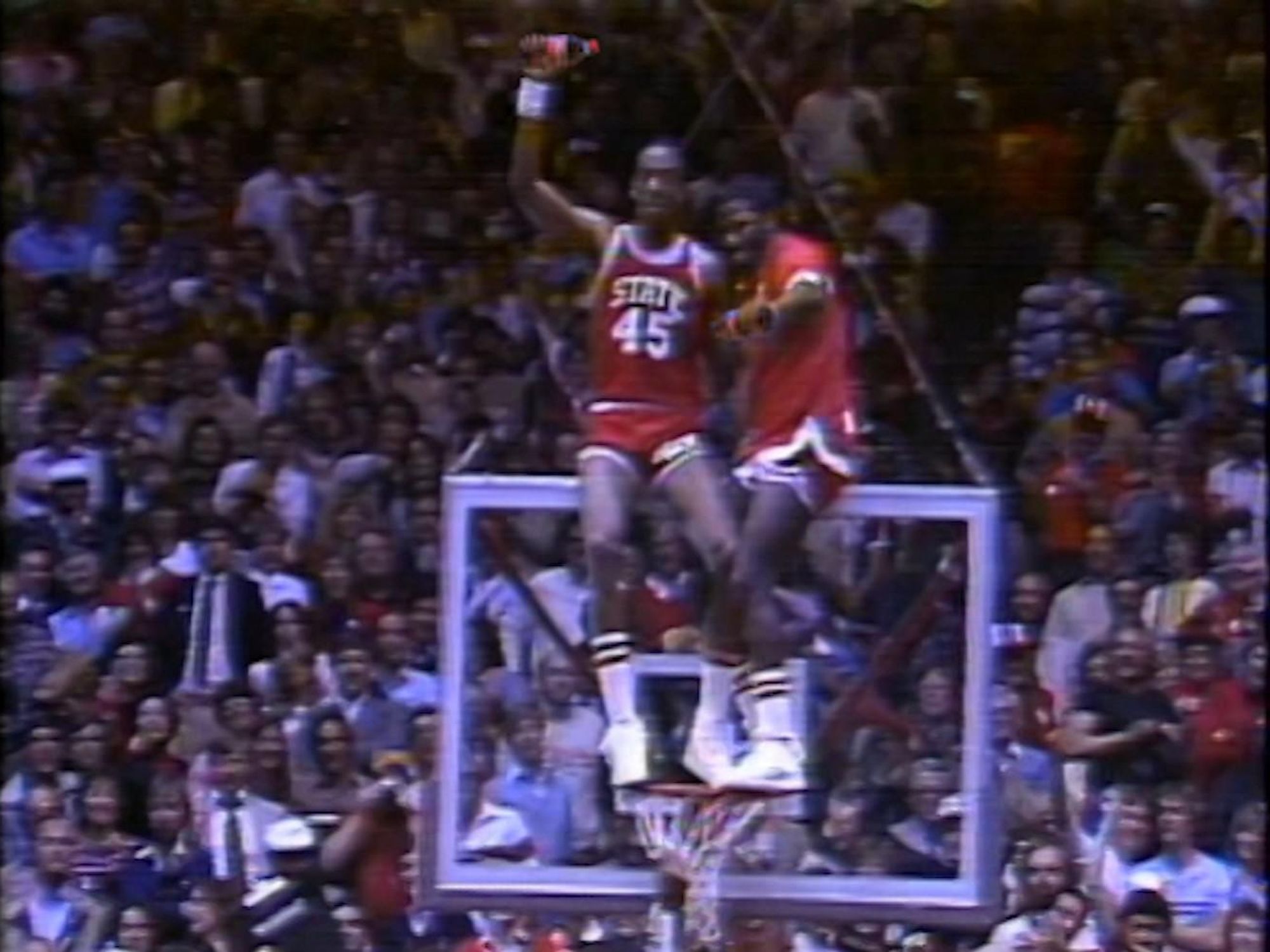 Ryff helped Coca-Cola insert images of Coke bottles and banners into classic footage from past NCAA tournaments.
Ryff's Vision of the Future
In addition to tapping streamers and studios to feed its content database, Taylor is also intrigued by Ryff's opportunities in the vast and growing world of user-generated content that ends up on platforms like YouTube and TikTok. He points to renowned investor Marc Andreessen's thesis of a "third wave" of the internet, monetized by direct-to-creator spend rather than through third-party ads. The success of platforms like Cameo, Substack and Only Fans are early signs of this evolution.
"This is where I think this is going," Taylor said. "Real-time ingestion, real-time placement and real-time auctions."
Even as the means by which viewers access content evolves, and the monetization models change apace, Taylor is sure at least one thing will endure.
"Ultimately, great content needs budgets," he said, hopeful that such a need can be fulfilled by Ryff, even if it is, like much of advertising, a necessary evil.
From Your Site Articles
Related Articles Around the Web
Sam Blake
Sam primarily covers entertainment and media for dot.LA. Previously he was Marjorie Deane Fellow at The Economist, where he wrote for the business and finance sections of the print edition. He has also worked at the XPRIZE Foundation, U.S. Government Accountability Office, KCRW, and MLB Advanced Media (now Disney Streaming Services). He holds an MBA from UCLA Anderson, an MPP from UCLA Luskin and a BA in History from University of Michigan. Email him at samblake@dot.LA and find him on Twitter @hisamblake
https://twitter.com/hisamblake
samblake@dot.la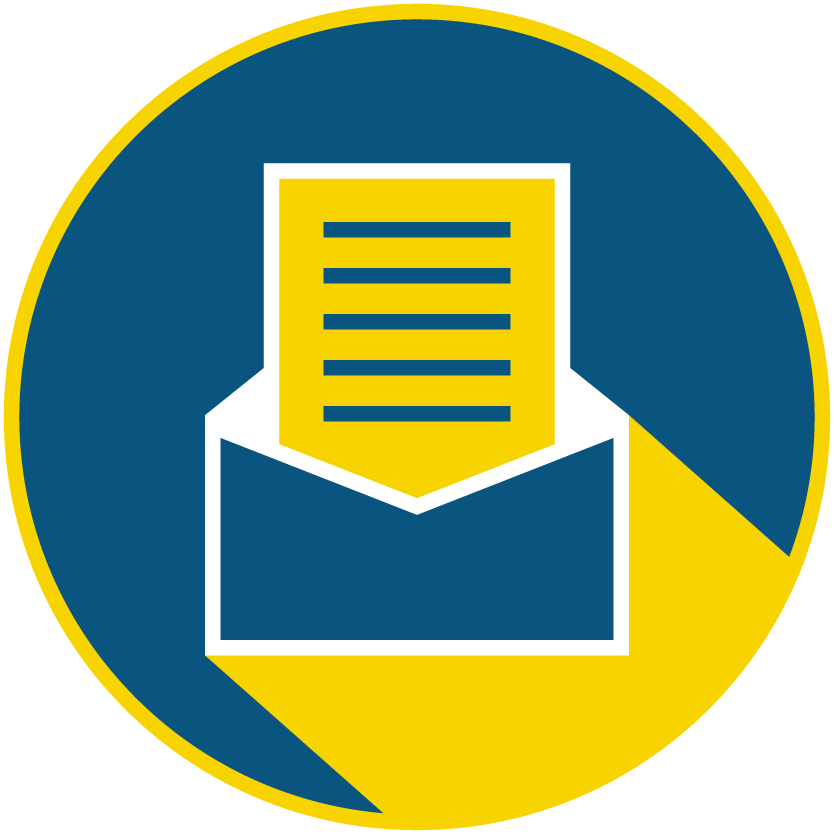 Subscribe to our newsletter to catch every headline.
Yasmin Nouri
Yasmin is the host of the "Behind Her Empire" podcast, focused on highlighting self-made women leaders and entrepreneurs and how they tackle their career, money, family and life.
Each episode covers their unique hero's journey and what it really takes to build an empire with key lessons learned along the way. The goal of the series is to empower you to see what's possible & inspire you to create financial freedom in your own life.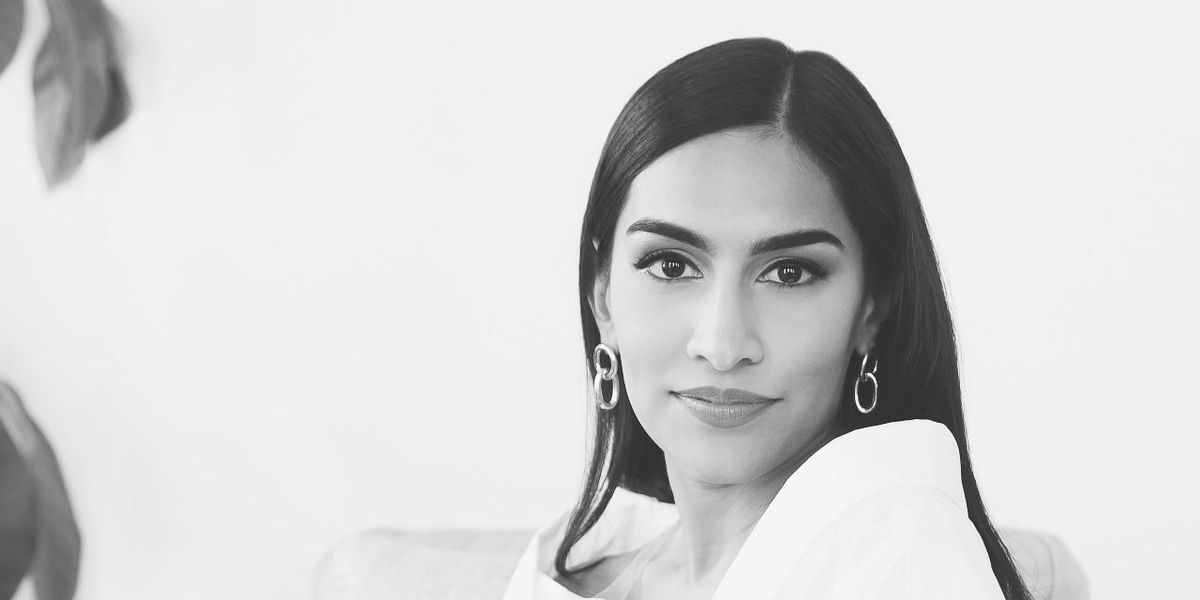 Photo courtesy of Illumix
Kirin Sinha wanted to be a dancer. When injury dashed that dream, she turned to her other passion: math.

On this week's episode of the Behind Her Empire podcast, host Yasmin Nouri talks with the founder and CEO of augmented reality (AR) technology and media platform Illumix.
Sinha received degrees from MIT, the University of Cambridge and LSE and founded a nonprofit to help middle school girls with their math skills. She ventured into AR while perusing an MBA at Stanford. Since founding Illumix in 2017, Sinha has raised $13 million from investors including Lightspeed and Maveron Ventures.

Her background in mathematics informs how she problem solves as a CEO, she said. Both math and her dance background taught her to seek out creative solutions.
"A lot of people think that math is very rote and analytical, but at its core it's truly not," Sinha said. "It's about being creative. It's about having this building block for expressing and understanding the world around you."
That creativity is bolstered by habits her mother taught her, such as surrounding herself with affirmations drawn onto post-it notes to bolster her spirits. Working in AR, Sinha said she's aware that what people surround themselves with impacts their inner world.
"Your diet is the people around you," she said. "It's what you surround yourself with. It's the images and the words that surround your day-to-day life. I really spend a lot of time thinking about how can you improve the wider sense of the word diet around you."
A crucial part of Sinha's diet is carving out time for a daily walk to dedicate time to ponder Illumix's future. Reflecting on big-picture goals and challenges allows her to consider how AR changes the ways people engage with the space around them.
Hear more of the Behind Her Empire podcast. Subscribe on Stitcher, Apple Podcasts, Spotify, iHeart Radioor wherever you get your podcasts.
dot.LA Editorial Intern Kristin Snyder contributed to this post.
Yasmin Nouri
Yasmin is the host of the "Behind Her Empire" podcast, focused on highlighting self-made women leaders and entrepreneurs and how they tackle their career, money, family and life.
Each episode covers their unique hero's journey and what it really takes to build an empire with key lessons learned along the way. The goal of the series is to empower you to see what's possible & inspire you to create financial freedom in your own life.
Kristin Snyder
Kristin Snyder is an editorial intern for dot.la. She previously interned with Tiger Oak Media and led the arts section for UCLA's Daily Bruin.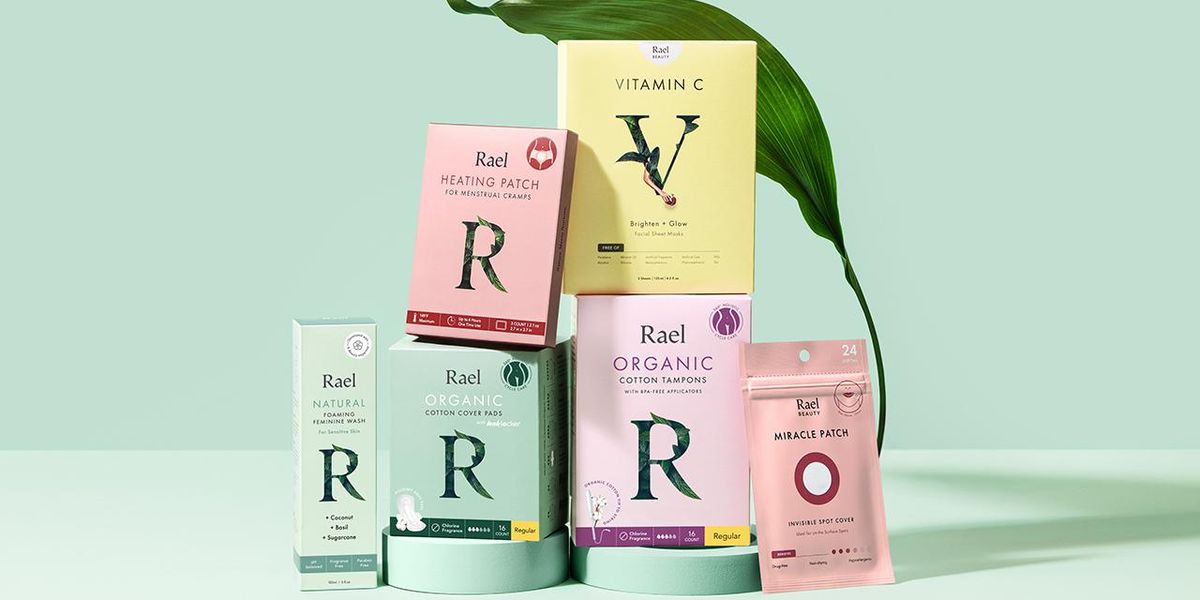 Courtesy of Rael
Rael, a Buena Park-based organic feminine care and beauty brand, has raised $35 million in a Series B funding round, the company announced Wednesday.
The funding was led by the venture arms of two Asian companies: Japanese gaming firm Colopl's Colopl Next and South Korean conglomerate Shinsegae Group's Signite Partners. Aarden Partners and ST Capital also participated, as did existing investors Mirae Asset and Unilever Ventures.
Rael described the new round—which takes its total funding to date to $59 million—as "the largest amount raised in the U.S. feminine care category to date." The company said it plans to use the capital to grow its product offerings, retail partnerships and global marketing reach.
Having already branched into skincare products meant to combat hormonal acne, co-founder and CEO Yanghee Paik said Rael plans on further expanding beyond basic feminine care products. "We aspire to be a clean, holistic personal care brand for women, so we're graduating from just being another organic feminine care company," Paik told dot.LA.
Paik and her two co-founders, who are all Korean-American women, launched Rael in 2017 and started out by selling organic pads on Amazon. Paik said she was inspired by the products she would bring back home after trips to South Korea, where the organic category represents more than 30% of the feminine care market (compared to less than 10% of the U.S. market, according to Rael). The startup has since expanded into retail stores like Target and Walmart, and part of its new funding will be dedicated to further growing its retail presence.
These days, Rael is part of an increasing number of companies focused on organic feminine care, with brands like LOLA, The Honey Pot and The Flex Co. all offering organic menstrual products.
"The feminine care industry is not like beauty, which attracted a lot of investors initially," Paik said. "People are noticing that it's one of the markets that has not been noticed by investors as much, but has a lot of growth potential because it's been dominated by big brands. Now there are female-founded smaller brands that are trying to make a difference there."
As part of Rael's growth efforts, the company has also brought in Lauren Consiglio, a former marketing executive at Unilever and L'Oreal, as its president.
From Your Site Articles
Related Articles Around the Web
Kristin Snyder
Kristin Snyder is an editorial intern for dot.la. She previously interned with Tiger Oak Media and led the arts section for UCLA's Daily Bruin.
Maylin Tu
Maylin Tu is a freelance writer who lives in L.A. She writes about scooters, bikes and micro-mobility. Find her hovering by the cheese at your next local tech mixer.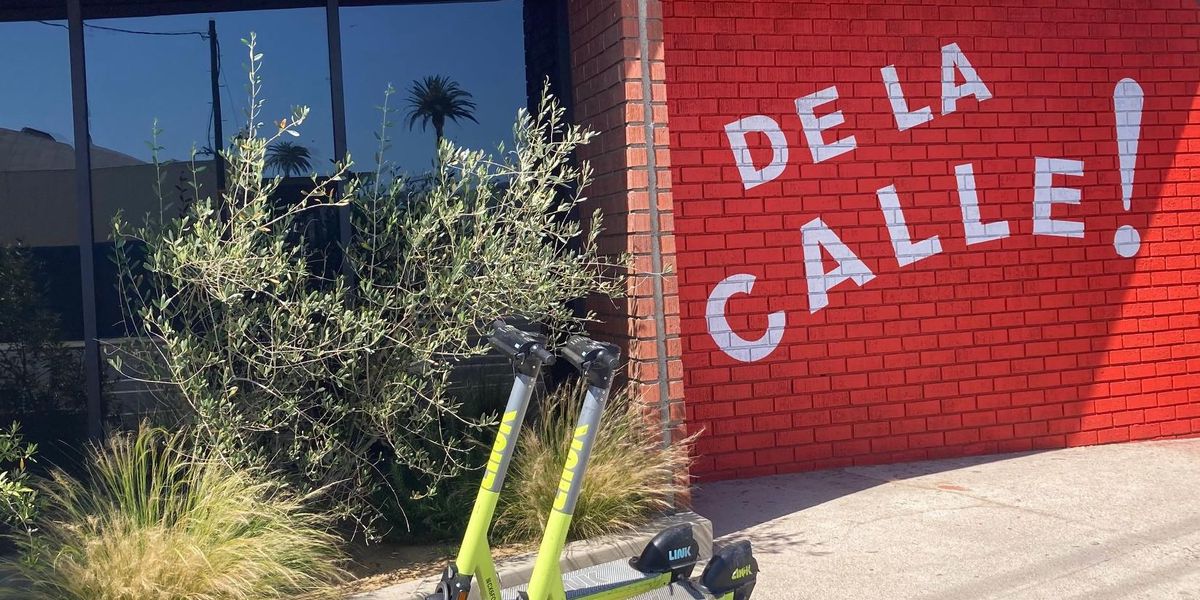 Photo by Maylin Tu
When Lime launched in Los Angeles in 2018, the company offered five free rides per day to low-income riders, so long as they were under 30 minutes each.

But in early May, that changed. Rides under 30 minutes now cost low-income Angelenos a flat rate of $1.25. As for the five free rides per day, that program ended December 2021 and was replaced by a rate of $0.50 fee to unlock e-scooters, plus $0.07 per minute (and tax).
Lime isn't alone. Lyft and Spin have changed the terms of their city-mandated low-income programs. Community advocates say they were left largely unaware.
A Lime spokesperson said that with its updated rate, low-income riders will still get an average discount of almost 90% off its service. He added that the startup's rates in Los Angeles are on average 50% less expensive than in most cities
"We would also like to note that L.A. riders have already saved an estimated $1 million via our Lime Access program, and we expect that figure to keep growing steadily with the new pricing in place," said the spokesperson, who added that 2,800 low-income Angelenos have taken around 250,000 trips since the program rolled out.
Spin once provided low-income Angelenos with unlimited, free 30-minute rides. Now the company is capping the free rides to five per day. Spin did not immediately return a request for comment.

Similarly, Lyft riders were once able to get a monthly pass for $5 and pay $0.05 per minute per ride. Instead, they'll now need to pay $0.50 to unlock the e-scooter and an additional $0.15 per minute.
The costs could add up for a demographic that is more likely than the average rider, according to data from rival micromobility startup Wheels, to use e-scooters to get to and from work.
"Lyft is now offering our Community Pass without a monthly payment to make it even easier for more riders to save," James Boshers, Lyft associate general manager for Southern California, said in an email. Several hundred riders use the program in L.A., according to a spokesperson.
The changes were rolled out with little fanfare, but that might be a moot point. Few of the local transportation advocates dot.LA reached out to were even aware the equity programs existed.
"I mean, I'm not surprised. I think people love giving discounts as a way of showing equity, but there's got to be more," said Oscar Zarate, assistant director of organizing for SAJE.
A spokesperson for Lime said they have tried unsuccessfully to reach representatives at the organization.
The city of Los Angeles doesn't promote micromobility equity programs to potential riders; that responsibility falls wholly on companies.
"Revenue generated through the micro-mobility program is dedicated solely to enforcing the conditions of the permit," LADOT spokesperson Colin Sweeney said by email, "which includes ensuring companies partner with community-based organizations and market their services to low-income residents among other critical safety and consumer protection functions."
But earlier this year, Sweeney acknowledged that getting micromobility companies to even put their vehicles in low-income communities has been difficult. At first, the city offered incentives to operators, but that proved ineffective.
"As a result, our permanent micromobility program which was established last year REQUIRES operators to deploy a certain percentage of vehicles to specific neighborhoods as a condition of their permit," he said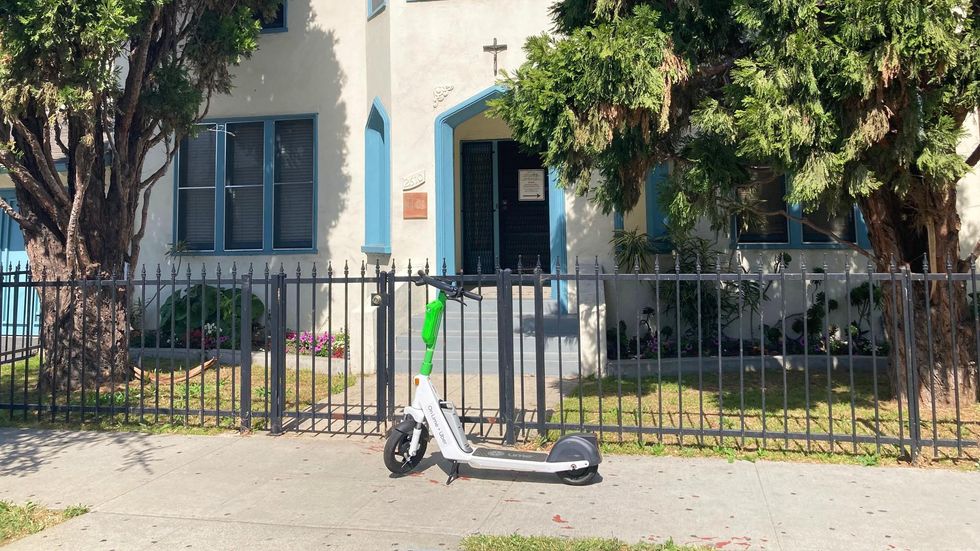 A Lime e-scooter parked in West Adams.Photo by Maylin Tu
Little Outreach, But More Scooters
Despite those requirements, some community advocates say that companies are not doing enough to reach out to communities to remove barriers to access.
Yolanda Davis-Overstreet serves as vice president of the West Adams Neighborhood Council and chairs its public safety committee. To her knowledge, no micromobility company operating in West Adams has reached out to the group.
She does, however, plan to reach out to them.
West Adams, a predominantly Black and Latino neighborhood, has experienced high rates of traffic violence. One stretch of Adams Blvd between Fairfax Ave and Crenshaw Blvd saw 59 severe and fatal collisions between 2009 and 2019, according to the L.A. Department of Transportation. Last year, the department completed a number of safety and infrastructure improvements along Adams, adding two miles of new bike lanes that make it safer for e-scooters, bikes and pedestrians.
Davis-Overstreet said she's starting to see more shared e-scooters in her neighborhood.
"It's a privilege that these scooter companies seem to have, like 'I don't care about your space. I'm here now'," she said. "No, if you're going to be here, you need to be here in a respectful way."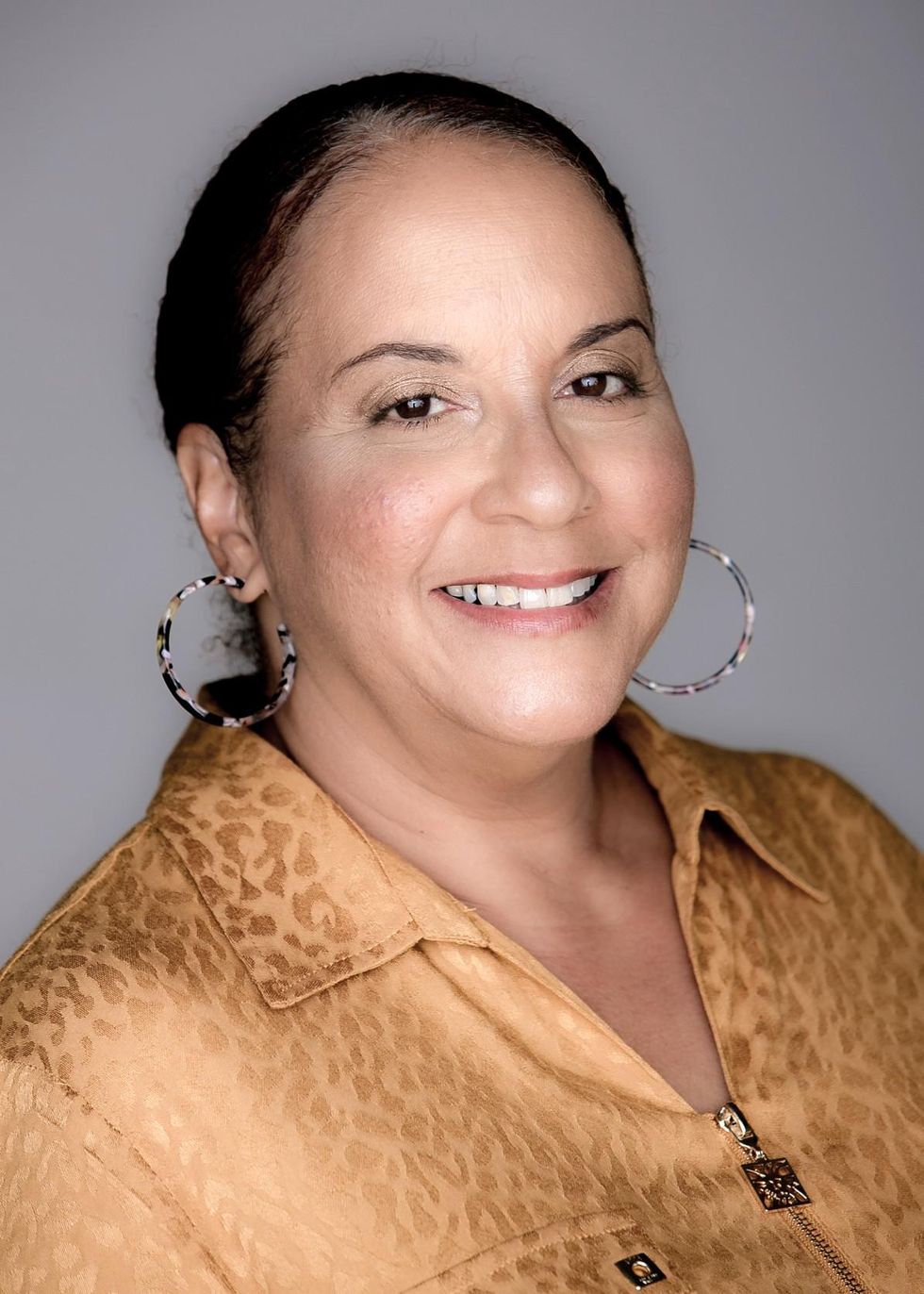 Yolanda Davis-Overstreet chairs the West Adams Neighborhood Council's public safety committee.
Image courtesy of Yolanda Davis-Overstreet
It's not that she's opposed to e-scooters, Davis-Overstreet said, but as e-scooter companies ramp up in the community, so do concerns about safety and accessibility.
She said she wants companies to figure out how to respectfully integrate into a community that is already pursuing alternative forms of transportation.
"That's another reason scooters should be connected with [our] community … How are we going to get people in the United States — in particular in L.A. — in the conversation of climate change, if we don't give them access to other tools to use other than cars?"
Alternative forms of transportation like e-scooters have the potential to make a big impact on underserved residents, especially as gas prices surge.

Eli Akira Kaufman, executive director of the Los Angeles County Bike Coalition, a Lime partner, said that Lime has been a valuable collaborator in L.A. on initiatives like First Ride Academy and Lime Hero. But he would like to see companies do more for underserved communities, like advocating for better biking infrastructure and sponsoring workforce development programs.

"Lime Access and these different accessibility programs are great. We totally applaud their intent. But what more can be done to serve our most vulnerable commuters?"

Others cited the requirement that low-income customers fill out an online form and provide proof of income to access discounted rides.
"I don't know if a señora is going to be able to do that," said SAJE's Zarate. "And I think people really underestimate how difficult it is to fill out these applications, provide all this documentation— and there's a stigma, 'Oh, you're applying for these low-income things' that also discourages people from applying."
Zarate added that Los Angeles transportation advocates want to start a dialogue—not a fight—with e-scooter companies like Lime, Bird and Lyft.
"Working class communities have always been multidimensional in terms of their transit and how they get around. People bike all around, you feel me?," he said. "So, I think there's a strong tradition in the community. It's just about finding ways that work for everyone."
'Do Your Homework'
Currently, there are six dockless e-scooter and e-bike operators in Los Angeles: Bird, Lime, Spin, Superpedestrian (LINK), Wheels and Lyft. Each runs a separate low-income program with rates varying widely. The same 30-minute ride might cost $0 (Spin, LINK) to $7.85 (Bird) plus tax, depending on the company.
The L.A. Department of Transportation requires micromobility operators to:
Deploy 20% of their total fleet in equity zones if they operate in certain more lucrative parts of the city like Venice, Hollywood and Downtown L.A.
Offer a cash option for unbanked customers without a credit or debit card.
Offer a non-smartphone option to unlock vehicles.
Offer discounted rates for customers with an income level at or below 200% of the federal poverty guidelines.
Attend meetings with community stakeholders such as neighborhood councils and disability rights organizations.
Partner with a community-based organization.
Here's a run down of costs and information for each low-income program operating in the city of Los Angeles.
Wheels: Wheels for All
$1.10 flat rate for 30 minutes
Lime: Lime Access
$1.25 flat rate for 30 minutes
Bird: Community pricing
50% off plus tax
Superpedestrian/ LINK: LINK-Up
Unlimited free 30 minute rides
Spin: Spin Access
Five free 30 minute rides per day
Lyft: Lyft Community Pass
$0.50 to unlock and $0.15 per minute
Are you enrolled in Lime Access, Lyft Community Pass or Spin Access and have the recent changes affected you? Let us know!
This article has been updated to include information from Lime about their efforts to engage with L.A. community groups.
From Your Site Articles
Related Articles Around the Web
Maylin Tu
Maylin Tu is a freelance writer who lives in L.A. She writes about scooters, bikes and micro-mobility. Find her hovering by the cheese at your next local tech mixer.