vaccination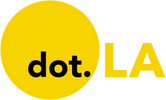 Get in the KNOW
on LA Startups & Tech
X
vaccination
Los Angeles is scrambling to deal with the federal health officials' call for a pause in the use of single-dose Johnson & Johnson vaccines that have helped speed up local inoculations.
L.A. Mayor Eric Garcetti said city-run vaccination sites had more than 3,000 patient appointments scheduled for Tuesday that will now receive a first dose of Pfizer, instead of the planned Johnson & Johnson vaccine. It comes two days after Los Angeles County opened vaccinations to everyone 16 and older.
In Long Beach, officials said those with an appointment at mobile clinics where the Johnson & Johnson vaccine was scheduled to be given will be contacted and offered either a Pfizer and Moderna vaccination. So far, no local cases of the rare blood clotting that forced federal officials to stop use of the vaccination have been reported, Long Beach officials said in a statement.
The move comes after the Center for Disease Control (CDC) and the Food and Drug Administration (FDA) reported six cases of blood clots among individuals who received one of the 6.8 million Johnson and Johnson vaccines distributed nationally.
Already, 900,000 of the vaccines have been distributed to people in California, making up roughly 40% of all vaccinated adults in the state. But, Gov. Gavin Newsom said on Twitter Tuesday that only 4% of the state's current supply is Johnson and Johnson.
In a joint statement, the CDC and the FDA said the recommendation to pause the vaccines was made "out of an abundance of caution." The agencies will use this time to understand and prepare treatments for these blood clots.
"The system is working as it should," said Shira Shafir, a public health professor at UCLA. "If we suspect something might be happening, then we do evaluate whether or not we have enough information."
Shafir said the CDC and FDA may decide to update recommendations to better avoid the serious blood clots. Neither agency has determined that the vaccine does cause the blood clots.
The move will largely impact vulnerable populations, such as those who are homebound or live in rural areas, or who cannot take time off work.
That's because the Johnson & Johnson vaccine did not need to be stored in sub-zero temperatures like Moderna and Pfizer vaccines and is administered in a single shot.
Get Out the Shot, a 400-person volunteer program in Los Angeles dedicated to booking vaccine appointments for people who may not have proper documentation or have a language barrier, are informing people if there is a vaccine change.
"One of the big concerns with a lot of the people that we're helping is the wage loss that accompanies time off in order to get to that vaccine appointment," said founder Liz Schwandt. "So we don't want to have to double someone's time that they have to spend away from providing care for their families or from working."
But, Schwandt said, smaller community clinics who cannot pivot quickly to a different vaccine are cancelling appointments, making it difficult for people who took time off work to recoup those lost wages.
It is unclear if this will affect California's goal of opening its economy June 15, though the California Department of Public Health said in a press release, "we do not expect a significant impact to our vaccination allocations."
Every state is allotted a certain number of the Johnson & Johnson, Moderna and Pfizer vaccines to distribute. About 4% of the state's vaccine supply for the week came from Johnson & Johnson. It's unclear what effect that will have for people getting vaccines in the future.
Garcetti said Los Angeles has received about 60,000 doses of the Moderna vaccine and 56,000 of the Pfizer vaccine this week.
A facility in Baltimore that was making AstraZeneca vaccines (which has also been linked to rare blood clots and is not authorized for use in the U.S.) is being investigated after it mixed up ingredients meant for the Johnson & Johnson vaccines. The New York Times reports the vaccines in circulation are not from that facility.
Still, Shafir said the news shouldn't deter those hesitant to receive the vaccine from scheduling an appointment. The AstraZeneca vaccine (which has also been linked to rare blood clots and is not authorized for use in the U.S.) and the Johnson & Johnson vaccine are adenovirus vector vaccines, while Moderna's and Pfizer's are mRNA vaccines.
Though the two effectively operate the same way once in the body, adenovirus vector vaccines introduce a weak version of the virus while mRNA vaccines introduce a peculiarly shaped protein — called the spike protein — into the body. It's similar to the coronavirus spike protein. There is no evidence that mRNA vaccines, like the Moderna and Pfizer vaccines, have produced blood clots.
"The chances someone is going to get infected with COVID and get seriously ill as a result of being infected with COVID is still multiple times higher than the chance that they will develop this very serious complication as a result of COVID vaccination," Shafir said.
This story has been updated.
From Your Site Articles
Related Articles Around the Web
A 24-year-old unemployed college graduate frustrated by the tedious process of finding his grandmother a vaccine appointment created a new site to make it easier.
Find My Vax LA translates appointment information to any language, searches for open slots by zip code and on Friday released a Twitter bot that alerts followers of availability.
Andrew Friedman was hit with the same idea software engineers across the country have chased since public officials started distributing the COVID-19 shot.
"Frankly it's hard to access resources," said Friedman, who studied political science and computer science at the University of Chicago. "We really want to make sure we're getting this in the hands of the people that need it most. And the people that are currently not served as well by the current system."
The goal, he said, is to "augment" L.A. County's efforts to help people sign up for appointments.
"The current system does favor people who are from wealthier backgrounds, who have more technological literacy."
Since L.A. received its first shipments of COVID-19 vaccines, booking appointments has become an obstacle for many. The confusing and often weekslong process has translated to steep inequities across the city.

"A lot of people said they were only able to get an appointment because they had their husbands and three of their kids spending hours watching these websites and refreshing to get a slot," said Kristen Choi, a nurse and UCLA assistant professor of health policy and management.
"It means that the only people who can get the appointment are those with the luxury of time and people to help them find one," she said. "Those appointments are disproportionately going to the wealthiest and whitest communities."
Vaccination rates in Santa Monica, Beverly Hills and Brentwood are double the rates in East and South L.A.— the "places that lost the most from COVID," Choi said.
Find My Vax LA was inspired by a similar citizen-run resource in New York called TurboVax. Built by Airbnb software engineer Huge Ma, the site sends out real-time information about appointments on Twitter. Since late January, the account has amassed over 97,000 followers.
On Friday, Friedman launched his own Twitter bot. In the first hour, it churned out six updates listing 67 appointments. He programmed the bot to tweet about every new availability. Down the line—if supply in L.A. improves—he might change the threshold.
"I'm open to feedback," he said. "It's really just based on what people's needs are. Maybe it becomes an overwhelming number of tweets."
Like the alerts from TurboVax and LA Public Health, @Findmyvaxla_bot blasts out direct links to websites with open slots. And he's working on a plan to tweet in other languages, too.

Running the web application will cost Friedman anywhere from $50 to $100 each month, a bit more than necessary. But his eyes are set on the next few months, when the city will open eligibility to new tiers. Around 1,000 L.A. residents have visited the website since it went live late last month.
"I want to make sure that if there's ever rapid usage, that it can handle it," he said. "And make sure it won't go down."
The platform continuously scans a slew of websites for appointments through a process called 'scraping'. Unlike VaccinateCA, a similar volunteer-operated effort hinged on calling hospitals and clinics for that data, his system can update itself every few minutes.
But there are a few limitations to what Find My Vax LA can do. It might miss the open slots that don't get listed online, an issue VaccinateCA is tackling by calling those locations manually. Meanwhile, the threat of bots scalping for vaccine appointments has pushed companies like Vons to ramp up cyber protections.
Friedman's system can't get past those new blocks, so Vons and Walgreens are listed under a "Possible Availability" tab to indicate that users might try reaching those locations directly.
The site is hosted by Heroku, a cloud platform that Friedman says makes sharing his code easy. Across the nation, new appointment finding services are popping up almost weekly as a supplement to county-run sites. This week, a software engineer in Denver launched Vaccine Spotter. And volunteers in Washington state built CovidWA, an effort now supported by the state's department of health.
"If someone would like to build their own for their own municipality, we're really excited to share how we did this," said Friedman.
It's almost 90 degrees outside in Los Angeles as lines of cars pull up to Dodger Stadium, home to a mass vaccination site that opened Friday.
"Please make sure that they're not under the sun in the cart," Edith Mirzaian is telling a volunteer as she directs the person to put ice packs on coolers that hold up to 20 COVID vaccines. Mirzaian is a USC associate professor of clinical pharmacy and an operational lead at one of California's largest vaccination sites.
Dodger Stadium alone — once the nation's largest COVID-19 testing site — is slated to vaccine up to 12,000 people each day, county and city health officials said this week. Officials plan to finish vaccinating some 500,000 health care and assisted care employees by the end of this month before opening appointments up to people 65 and older.
Mirzaian is desperately trying to make sure that the vaccines don't spoil.
"We have to be the guardians of the vaccine," she said.
Earlier this month, hundreds of vaccinations were lost after a refrigerator went out in Northern California, forcing the hospital to rush to give out hundreds of doses. Mirzaian's task tells a larger story of the difficult and often daunting logistical process required to roll out a vaccine that requires cold temperatures.
"You know they can't be warm so just keep an eye out," she gently reminds the volunteer.
The volunteers and staff from USC, the Los Angeles Fire Department and CORE Response prepared enough doses to vaccinate around 2,000 residents on Friday and they plan to increase capacity each day after.
Local health officials are holding the vaccination syringes in coolers after they leave the air-conditioned trailers. The coolers are then covered in ice packs and wheeled on carts to clinicians administering shots to health care workers and nursing home staff eligible under the state's vaccination plan.
"Vaccines are the surest route to defeating this virus and charting a course to recovery, so the City, County, and our entire team are putting our best resources on the field to get Angelenos vaccinated as quickly, safely, and efficiently as possible," said mayor Eric Garcetti in a statement announcing the plan.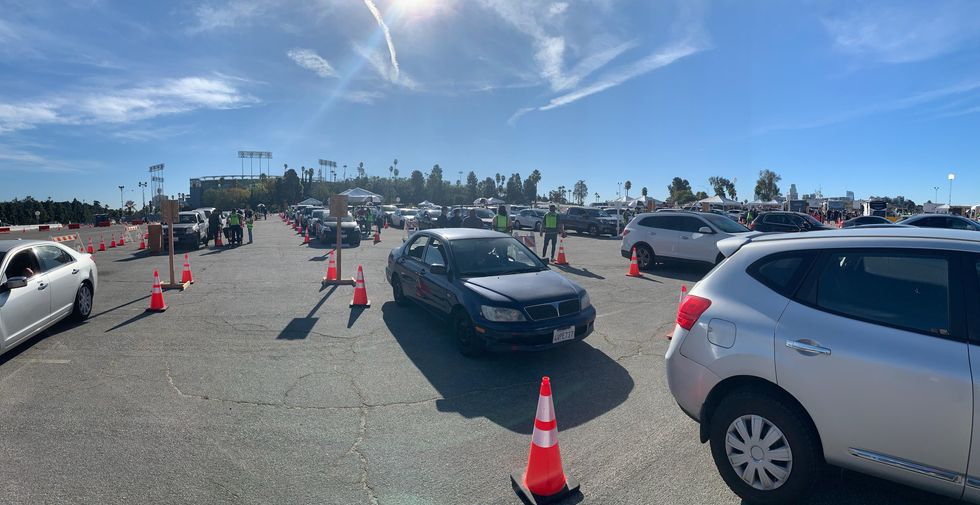 Health officials around the world are racing against time as the virus mutates and poses greater dangers.

"We have a little bit of borrowed time here right now because these variants are not here in great numbers from what we can tell," said Susan Butler-Wu, an associate professor in clinical pathology at USC's Keck School of Medicine of USC.
Curbing the spread of the virus is a vital way to prevent mutant strains from developing, she said.
Mirzaian, who arrived at the site before it opened at 8 a.m., said that there were logistical challenges as volunteers scrambled to assemble what will likely be the hub of the region's vaccination efforts.
"It's challenging to make sure that everyone knows what the process is and what we're doing and what to tell the patients who receive the vaccines."
After a few hours, the procedure moved quicker.
Residents have to show identification and proof of employment before they're taken through a list of pre-screening questions and given the vaccine through their car window. They're required to then wait for 15 minutes while clinicians monitor them for side effects.
Mirzaian said the process took each car about an hour. While eligible residents can walk-in for vaccinations, she recommends they make appointments so that enough doses are made available each day.
"As long as people have their appointments, they will get in," she said. "We are ready. We are like an army ready to give vaccines."
An earlier version of this story misidentified CORE Response.