It's almost 90 degrees outside in Los Angeles as lines of cars pull up to Dodger Stadium, home to a mass vaccination site that opened Friday.
"Please make sure that they're not under the sun in the cart," Edith Mirzaian is telling a volunteer as she directs the person to put ice packs on coolers that hold up to 20 COVID vaccines. Mirzaian is a USC associate professor of clinical pharmacy and an operational lead at one of California's largest vaccination sites.
Dodger Stadium alone — once the nation's largest COVID-19 testing site — is slated to vaccine up to 12,000 people each day, county and city health officials said this week. Officials plan to finish vaccinating some 500,000 health care and assisted care employees by the end of this month before opening appointments up to people 65 and older.
Mirzaian is desperately trying to make sure that the vaccines don't spoil.
"We have to be the guardians of the vaccine," she said.
Earlier this month, hundreds of vaccinations were lost after a refrigerator went out in Northern California, forcing the hospital to rush to give out hundreds of doses. Mirzaian's task tells a larger story of the difficult and often daunting logistical process required to roll out a vaccine that requires cold temperatures.
"You know they can't be warm so just keep an eye out," she gently reminds the volunteer.
The volunteers and staff from USC, the Los Angeles Fire Department and CORE Response prepared enough doses to vaccinate around 2,000 residents on Friday and they plan to increase capacity each day after.
Local health officials are holding the vaccination syringes in coolers after they leave the air-conditioned trailers. The coolers are then covered in ice packs and wheeled on carts to clinicians administering shots to health care workers and nursing home staff eligible under the state's vaccination plan.
"Vaccines are the surest route to defeating this virus and charting a course to recovery, so the City, County, and our entire team are putting our best resources on the field to get Angelenos vaccinated as quickly, safely, and efficiently as possible," said mayor Eric Garcetti in a statement announcing the plan.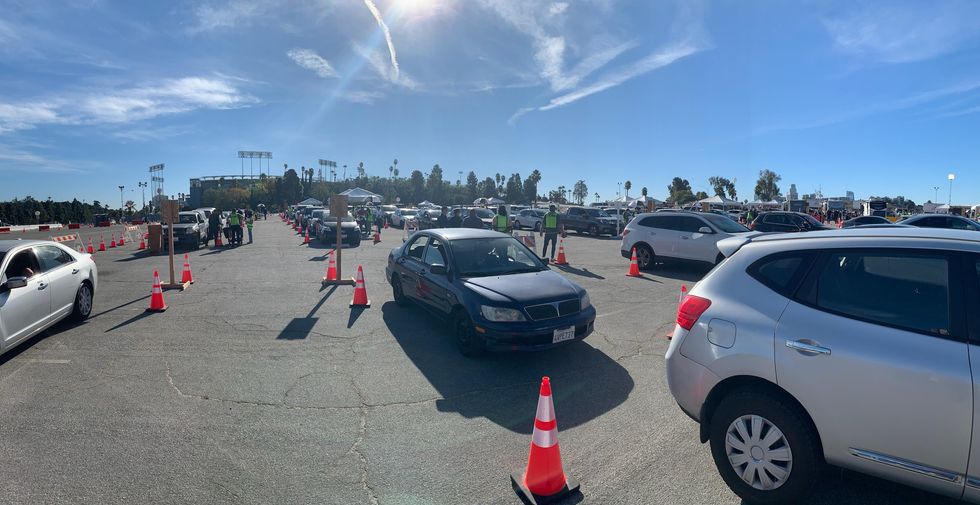 Health officials around the world are racing against time as the virus mutates and poses greater dangers.

"We have a little bit of borrowed time here right now because these variants are not here in great numbers from what we can tell," said Susan Butler-Wu, an associate professor in clinical pathology at USC's Keck School of Medicine of USC.
Curbing the spread of the virus is a vital way to prevent mutant strains from developing, she said.
Mirzaian, who arrived at the site before it opened at 8 a.m., said that there were logistical challenges as volunteers scrambled to assemble what will likely be the hub of the region's vaccination efforts.
"It's challenging to make sure that everyone knows what the process is and what we're doing and what to tell the patients who receive the vaccines."
After a few hours, the procedure moved quicker.
Residents have to show identification and proof of employment before they're taken through a list of pre-screening questions and given the vaccine through their car window. They're required to then wait for 15 minutes while clinicians monitor them for side effects.
Mirzaian said the process took each car about an hour. While eligible residents can walk-in for vaccinations, she recommends they make appointments so that enough doses are made available each day.
"As long as people have their appointments, they will get in," she said. "We are ready. We are like an army ready to give vaccines."
An earlier version of this story misidentified CORE Response.
From Your Site Articles
Related Articles Around the Web
Dodger Stadium will become a vaccination site by the end of the week, as Los Angeles officials close the nation's largest testing operations Monday.

City and county officials hope as many as 12,000 people will be vaccinated each day at the site as the effort to vaccinate Americans ramps up.
<p>So far, vaccinations across the state have been <a href="http://publichealth.lacounty.gov/acd/ncorona2019/covidvaccinedistribution/" rel="noopener noreferrer" target="_blank">distributed in phases</a> to individuals in the top tier, which include health workers and those in nursing homes. Los Angeles officials have not clarified when residents in lower tiers will become eligible. But in New York, this week the governor began giving frontline workers including teachers, mass transit workers and older residents access to the vaccine. </p><p>According to the <a href="http://www.publichealth.lacounty.gov/media/Coronavirus/vaccine/vaccine-dashboard.htm" rel="noopener noreferrer" target="_blank">county website</a>, 33.6% of all received vaccines have been used for a first dose. California Gov. Gavin Newsom last week said the state would work to <a href="https://dot.la/healthvana-2649755611.html" target="_self">accelerate vaccination</a> efforts.</p><p>A spokesperson for Curative, Pasqualle Gianni said Monday morning the company had been contracted to administer the testing at Dodger Stadium, but later that afternoon said "Curative does not yet know our role." </p><p>The company came under scrutiny in the last week <a data-linked-post="2649786016" href="https://dot.la/curative-false-negatives-2649786016.html" target="_blank">after the FDA released a warning</a> that their COVID tests could carry false negatives. The one-year-old startup run by Fred Turner had a previous contract with the city and state to distribute and administer the Moderna vaccines at skilled nursing centers in Los Angeles County.<br/></p><p>"Vaccines are the surest route to defeating this virus and charting a course to recovery, so the City, County, and our entire team are putting our best resources on the field to get Angelenos vaccinated as quickly, safely, and efficiently as possible," Mayor Eric Garcetti said in a statement on Sunday.</p><p><span></span>The shift in resources in L.A. will lead to a drop in testing capacity, but will triple the number of vaccines available to residents, officials said in Sunday's announcement. The plan also halts COVID-19 testing at the Veterans Affairs Parking Lot 15 near Jackie Robinson Stadium. </p><p>Over one million L.A. residents have been tested at Dodger Stadium since it began operations in May of last year. The change will not impact existing testing appointments made for this week.<br/></p><p>Free tests will still be offered at eight permanent locations and six mobile sites across L.A. and the city said it's opening additional mobile teams and a site at Pierce College in Woodland Hills. </p><p><em>This story has been updated and corrected to reflect comments from a Curative spokesman regarding their role in administering vaccinations for the city. </em><br/></p>
From Your Site Articles
Related Articles Around the Web