live.staticflickr.com
The time for online shopping is now.
The pandemic has ushered in the era of ecommerce as Americans embrace curbside pickup, next day deliveries and grocery pick-up services. There's likely no going back as an increasing number of consumers get accustomed to shopping online.
Now, retailers are taking experience to another level with streaming, data personalization, augmented reality and other features that are only likely to grow digital shopping habits.
Here are three trends sweeping ecommerce and the Los Angeles companies that are fueling it:
AR and Livestreaming Usher in New Virtual Shopping Experiences
Makeup and clothing retailers that relied on in-store shoppers have turned to augmented reality features to lure customers — from their own homes where they don't have to social distance.
YouTube and Amazon both launched livestreaming services this year, letting consumers shop for clothes or try on makeup from their phone screens. Meanwhile, Google's new augmented reality platform built with Toronto-based ModiFace pairs ecommerce sites with the virtual try-on technology.
In Los Angeles, two venture-backed livestreaming shopping companies are making waves. Popshop Live launched in 2019 and this year closed a $3 million round in July as CEO and founder Danielle Li watched users spike in a push from businesses to stay afloat.
"Retailers who have one to three locations quickly realized they're getting nearly the same amount of traffic," said Philip Soriano, Popshop Live's head of operations. "People come to us and will probably stick around even if the foot traffic comes back."
Meanwhile, L.A.-based NTWRK offers livestreamed shows featuring limited-edition gear launched by celebrities and designers. The video commerce platform, founded in 2018 and backed by Live Nation Entertainment, recently partnered with Snap to stream interviews with designers and creators about items they're preparing to drop.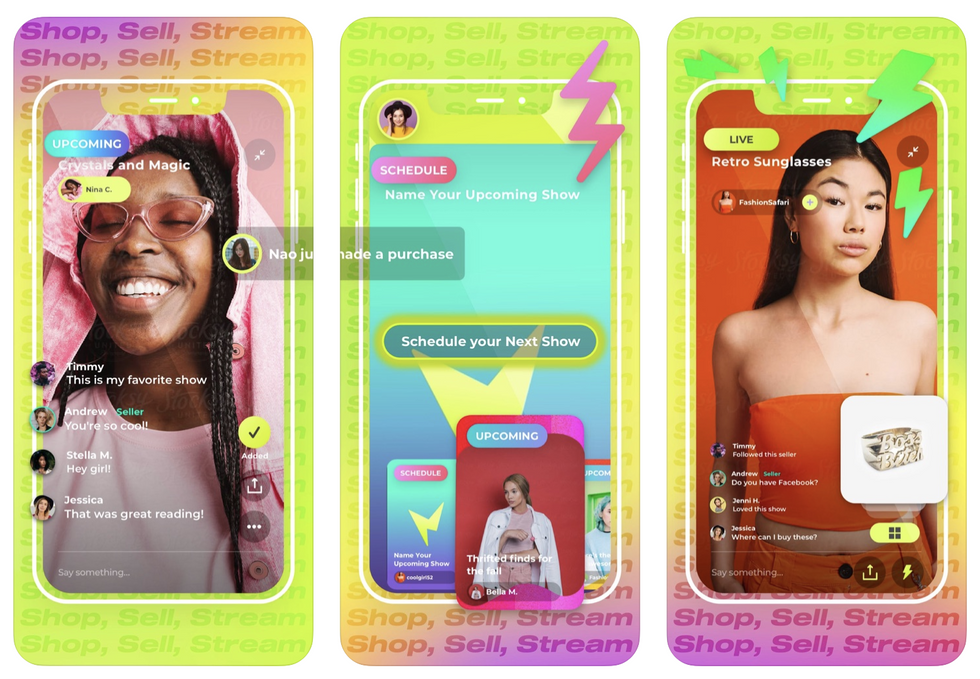 Popshop Live Became Essential for LA Boutiques During the Shutdown. Now It's Got $3M to Grow
Entertainment and Shopping Have Teamed Up
From platforms like Popshop Live to Instagram's new Reels feature, tech companies are harnessing influencers and networks of users to promote consumer products.
As companies feel the pressure to build an online presence, many are turning to influencer marketing campaigns to ramp up sales. And marketers only expect that trend to continue.
MagicLinks, an L.A. social media marketing company, found that across a sample of 4,500 ecommerce retailers, sales directed through YouTube influencers jumped 80% year over year in the quarter from June through August. The company said influencer-driven sales were up 115% across customers, including Target, L'Oreal and Best Buy.
Other marketing agencies said they've increased budgets for influencer content since the pandemic. Even bigger companies are giving it a shot: Tito's Vodka and Superdry to name a couple.
"Any brand that wants to connect with Gen Z, and sell whatever product or service they have, has to engage (with these platforms)," Glenn Ginsburg, SVP of global partnerships at influencer marketing agency The QYOU told dot.LA. "Moving forward I think we'll see brands start to build deeper relationships with influencers."
Better Recommendations Are on the Way
Personalization has swept ecommerce as companies are ramping up product recommendations online. AI is now becoming more precise in helping companies steer shoppers toward products that fit their profile.
Gabriel Nipote is the co-founder and COO of Halla, the L.A.-based machine learning company builds algorithms for online groceries to make smarter food recommendations. Unlike retail where shoppers are comfortable, online grocery shopping is starting to gain market traction.
It's there that the gaps to machine learning are clear. For instance, some online markets during the pandemic offered customers product substitutions that didn't resemble what they ordered.
"There are special places on Twitter and Reddit for people to complain about their tortillas being replaced by bags of flour, or receiving recommendations for hygiene products while browsing bagels," Nipote said.
And because shoppers have only recently started coming around to grocery shopping online, data is still scant and difficult to draw broad conclusions from. As more shoppers fill shopping carts online, Nipote, whose startup team has doubled since March, expects more tech solutions for personalized shopping to launch in 2021.