hotwire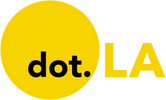 Get in the KNOW
on LA Startups & Tech
X
hotwire
Image by Master1305/ Shutterstock
When thinking about tech giants like Facebook, Amazon or Google, it's hard to imagine their weak and humble beginnings. When going from nothing to something, the founders of these companies all had similar startup journeys - they started with a minimum viable product or MVP. In the same way you can't build a house without laying the foundation, you can't create a successful product without building an MVP.

The Purpose of MVP
One of the biggest reasons startups fail is because founders design their initial product based on assumptions. As an entrepreneur, you don't want to put an enormous amount of time, effort and money into a product the market may not even want.
Quibi - yes, that Quibi - is an excellent example of this. After spending upwards of $63 million, Quibi never quite found its footing among TikTok, YouTube and its many streaming competitors. The company never ran an MVP or any experimental public beta to test what kind of content and features resonated well with audiences, and simply built a product that nobody wanted or needed. After raising $1.75 billion in venture capital, the company shut down less than a year after its initial launch. This is why starting with an MVP is so important.
How To Build An MVP
By definition, a minimum viable product is a product with enough features to attract early-adopter customers and validate a product idea early in the development cycle. It allows founders to collect the maximum amount of user feedback with the least amount of effort. When building an MVP, you'll want to keep the following things in mind:
- Answer the right question. It's important to determine what your central hypothesis is. When Airbnb's founders wanted to see if they had a viable idea, they didn't rent out space or buy new beds. They simply tested the question "Will strangers pay to stay in my apartment?" by providing a free lodging experience in their living room with the promise of networking with like-minded people.
- Decide which metrics matter. Identify what will define the success of your product. Common MVP metrics include churn rate, customer acquisition cost, average revenue per user and lifetime value of a customer. However, the data collected should include both qualitative and quantitative insights about how your product is used and what customers actually think about it.
- Actively measure what you are testing. It is important to continuously test, measure and learn until the product is finalized.
- Build internally if possible. It's easier to meet internal needs and challenges first. For example, the original Twitter prototype was designed for internal users at (the now closed) Odeo as a way to send messages to other employees and view them on a group level. After initial internal testing and positive feedback, Twitter launched publicly in 2006.
- Do things that don't scale. In this early stage, you have nothing to lose. Create a great experience for initial users and cater to their needs. Put in the extra amount of effort while you continue to build confidence. Talk with every user and every customer, and do things that would never scale once the company gets bigger. For example, Yelp's founder Jeremy Stoppelman famously went to every bar in San Francisco to pitch them on Yelp in the early days.
Not Great But Good Enough
When launching Zillow in 2006, we had to decide how good is good enough to launch. The first version of the product had Zestimates on 40 million homes with about a 12% margin of error. When launching, we knew that the Zestimates weren't going to be entirely accurate and mainly just wanted to see how Americans would react to being able to publicly view valuations and information about homes.
We actually held up the Zillow launch by about two months to avoid angry and upset consumers. We spent this time building out an extra feature called My Estimate that allowed users to modify the estimates of their home with information Zillow didn't have, such as for things like remodeling or significant changes to square footage. We were worried people might not be happy if the estimate was incorrect and they couldn't do anything about it, which is why we held off. It was a difficult decision to push back the launch, but worth it in the long run. When striking this balance between our MVP and V1, we knew it didn't have to be great but just good enough to entice users. Now, 15 years later, Zillow has upwards of 100 million homes with about a 3% margin of error, and the product is much more fully evolved.
Key Takeaway
The key takeaway here is that MVP allows organizations to start small, and slowly build up to the best version of their product. When starting Hotwire, we started by just selling airline tickets from a few carriers. Later we expanded to include more airlines, additional flight options, and eventually hotels, rental cars and cruises. But the early MVP was as stripped down as possible. See below for Hotwire's beta site in 2000. About as bare-bones as it gets.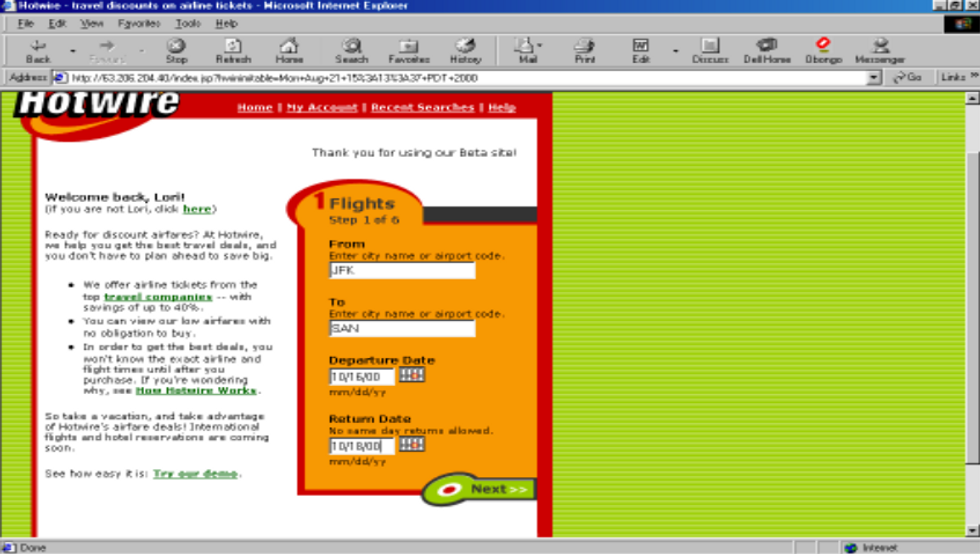 An MVP of Hotwire sold airline tickets from just a few carriers.Image from Hotwire
From Your Site Articles
Related Articles Around the Web
Managing through a crisis is difficult, but great leaders and great companies are created during challenging times. Spencer grappled with crises at two companies he co-founded, Hotwire and Zillow. In this episode, Spencer Rascoff and Katie Curnutte, former SVP of communications at Zillow and now a partner at Kingston Marketing Group, discuss how to manage a company through the strain of calamity while keeping a steady eye on the big picture and the opportunities that can arise.
Want more? Subscribe to Office Hours on Stitcher, Apple Podcasts, Spotify iHeart Radio or wherever you get your podcasts.
The second week of October in 2008 was one of the most painful and emotional times of my career. We ushered 50 Zillow employees into an off-site conference room. I was COO then, and we were about to lay them off -- one-quarter of our staff. The Great Recession had hit, and the management team was following our gut and also the advice of our investors at Benchmark Capital and TCV: cut early and cut deep. Extend the runway. Conserve cash. Survive. I knew we had to make a hard decision to ensure Zillow would continue to thrive.
It's a scenario CEOs around the world dread but one that is becoming more real as the economic toll from coronavirus spreads. Venture capital firms are again warning their companies to prepare for an extended recessionary period. Leadership teams at companies large and small across the globe are meeting to determine their next moves.
I've led companies through two major recessions. The first was Hotwire after 9/11 in 2001. The second was Zillow in 2008 after the Global Financial Crisis. No matter the cause of the recession, the fundamentals of preparing a business for an extended economic downturn are the same — as are the fundamentals of compassionately handling layoffs.
I expect many companies will lay off between 10-20% of their staff in the coming weeks or months. Some furloughs have already been announced, but the real layoffs are still coming. Companies have been on hiring binges for the past 10 years, and many companies can manage to lay off 10% of employees without a significant impact. But that doesn't mean these companies should lose sight of the very human toll reductions take, and handle layoffs sensitively and with care.
Here is some advice from someone who, unfortunately, has some battle scars on this topic:
Reduce headcount once. There is tremendous damage in cutting headcount little by little -- the steady drip-drip of bad news demoralizes a company beyond saving. Get to your target employment count the first time so that you won't have to do it again. This was what we did at both Zillow and Hotwire. It helped our remaining employees feel secure in their jobs and build camaraderie moving forward. At Zillow, we even had some of the laid off employees return once we started hiring again.
Treat those you're letting go as generously as your business can afford to. I don't just mean with severance, although that's important. But also important is the honesty and dignity with which you treat them. If you can, provide outplacement support, or at a minimum gather a list of the affected employees' Linkedin profiles and send them to your VC firms, asking them to circulate. I've also seen some companies do a good job of posting information about employees they have had to let go (with the employees' permission, of course).
Extend the exercise periods on stock options for affected employees. This is possibly the most significant move you can make for those employees. Most standard stock option plans require an employee to exercise their options 30-90 days after leaving a job. But when the employee does that, they have to pay taxes right away. At Hotwire and Zillow, we extended the period to two years. The laid off employees will appreciate this immensely; but also be sure to tell the remaining employees that you made this concession, as it will win them over too.
Have the "are you in or are you out" conversation, ideally before final layoff decisions have been made. The last thing you want is to lose people who want to be there, and keep people who don't. So while making preparations for layoffs, or immediately after, it makes sense to give people the ability to choose to be laid off. They can get severance, and there is less stigma if they leave during a round of layoffs. At both Zillow and Hotwire, some people opted into the layoffs.
Once the layoffs have been announced, use that first all-hands meeting to lock arms with the remaining employees. Acknowledge how hard and uncertain this time is, and that it's terrible to say goodbye to friends and colleagues. But tell them the truth: That the difficult decision has been made and now together, you will all do the best work of their careers during this period. That someday you will all look back on this as a defining moment in your careers. That eventually this, too, will pass.
Downturns are not all bad news. Great companies can be built during these times, too. Both Zillow and Hotwire thrived due to some of the shifts that happened during and after the last recessions. That's because during periods of great disruption, patterns and behaviors change, allowing disruptors and new entrants to thrive -- and new categories to emerge. This unprecedented time in our history will shift business momentum in different directions. It's hard, uncertain and scary, but there is enormous opportunity.