Los Angeles-based EVgo is one of a handful of firms that General Motors has partnered with to patch together a nationwide electric vehicle charging network called Ultium Charge 360.
The announcement comes as a wave of new EV models are ready to hit the market and governments are pushing plug-in technology.
Detroit-based GM said on Wednesday its network will encompass almost 60,000 EV chargers nationwide, many run by private companies that can be located and paid for through its apps.
"The financial support GM is providing to EVgo has accelerated our station deployment plans in 40 metropolitan areas across the U.S.," EVgo CEO Cathy Zoi said in a statement. "By year-end, EVgo expects to have approximately 500 stalls from the GM/ EVgo collaboration live, and we are just getting started."
GM and EVgo partnered last year to add 2,700 fast-charging stations across the United States by 2025. That has so far produced just four stations, none in Southern California.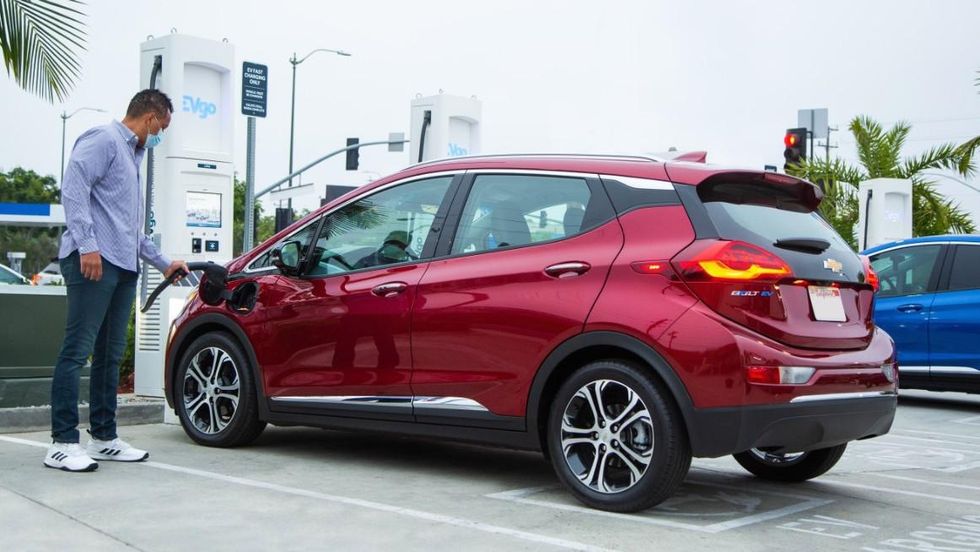 EVgo joins Blink Charging, ChargePoint, El Segundo-based EV Connect, FLO, Greenlots and SemaConnect in the Ultium Charge 360 program. While Tesla has its Supercharger network and the Volkswagen Group of America runs Electrify America — in part, as a result of its emissions cheating settlement — GM and Ford are relying on collaborations with third-party charging companies to build out their national network for electric cars.

"As we launch 30 EVs globally by the end of 2025, this collaboration is expected to help create consumer confidence and excitement about the EV future," said Travis Hester, GM's chief EV officer, in today's announcements. "These new stations are the first of many to come, as we work together with EVgo to offer EV owners more options for charging."
The Ultium Charge 360 program also includes assistance for customers interested in home charging systems. It will cover the installation of a Level 2 home charger with the purchase or lease of a 2022 Chevrolet Bolt EV or Bolt EUV through a deal with Irvine-based Qmerit.
GM announced earlier this year its intent to drop gasoline-powered vehicles and become a carbon-neutral company by 2040. Its luxury Cadillac division will go completely electric by 2030, starting with the Lyriq SUV that goes on sale next year.
GM is also planning to release their GMC Hummer EV pickup truck and SUV, along with a Chevrolet Silverado electric truck. GM will also supply the basis for two electric SUVs to Torrance-based American Honda Motor Co. starting in 2024.