blink charging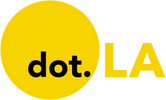 Get in the KNOW
on LA Startups & Tech
X
blink charging
When Florida-based EV operator Blink Mobility announced in September 2020 that it had acquired BlueLA, the official contractor for the city of Los Angeles' EV car-sharing program, there were plenty of red flags.

The previous vehicle supplier pulled out of a program started in 2017, leaving the system without vehicles. And with the COVID-19 pandemic still gripping the world, residents were staying home from work, school and grocery stores. Also, some may have been skittish about getting into a shared vehicle at all.
"We thought it was a shame, it was a valuable service in LA," said Brendan Jones, president of Blink Charging, the parent company of Blink Mobility. "It involves vehicles and charging, and provides service to low-income families."
But 14 months later, Jones' move appears to be paying off, as BlueLA is set to bulk up its fleet of EVs on offer in the car capital of the U.S.
Under Blink's ownership, BlueLA's fleet has jumped from 60 vehicles to 300. It also replaced the Bollore Bluecar vehicles with four-door Chevrolet Bolt EVs, an addition that Jones says makes the cars more appealing to users.
Blink looks to ultimately expand the system to 500 vehicles from the roughly 60 it started with last fall, but it's mostly concentrated in the Downtown, Koreatown, Pico-Union, East Hollywood, Boyle Heights, South L.A. and Echo Park areas. Unlike other car-sharing services like ZipCar, BlueLA targets areas with a large number of low-income families, many of whom lack cars, as well as in air quality-challenged parts of the city.
And this move to electric vehicles that can be shared among communities and neighborhoods is part of the L.A. Green New Deal, which may soon include the proposed EV Master Plan that was first announced this summer.
The L.A. Department of Transportation launched BlueLA in 2017 and expanded the program to different neighborhoods that were considered low-income.
Colin Sweeney, public information officer for the L.A. Department of Transportation, says the department has seen a steady increase in vehicle usage since Blink took over last year. Through July, there have been more than 63,000 trips and more than 1.3 million miles traveled with BlueLA. Fifty-five percent of those trips were made by low-income users using the service's subsidized membership program, he said.
BlueLA doesn't use any geofencing data for its cars, but Jones estimates the average trip to be about six miles. Most users likely take the cars to grocery stores, school or other places in their general areas.
"Some are using it for delivery services," he said. "We don't advertise that, and it's probably not the best use for it anyway."
To use a BlueLA car, members must pay a $5 monthly fee. The costs are 20 cents per minute, with a minimum charge for 15 minutes. Jones says Blink is looking at offering weekly rentals in the future.
Sure, there are still plenty of kinks to iron out. Sweeney said his agency has fielded complaints about the BlueLA app and with the cleanliness of vehicles.
"With the Service Level Agreement in place with the newly executed amendment, we can monitor these issues more closely to minimize such complaints," he said.
Jones added that the company was also having issues with vandalism to their charging stations.
On Twitter, people have taken issue with the availability and condition of the vehicles in recent months.
Still, the deployment of more BlueLA electric cars comes at a time L.A. wants more Metro riders and residents want improved pedestrian and bicycle safety. And then there are residents who already have cars who now have to fight for street spaces with these cars and their dedicated chargers.
Rather than promoting more car ownership, however, BlueLA's mission from the beginning has been to meet the needs of car-less residents and to supplement the growing Metro bus, rail and bikeshare systems.
The Blink chargers aren't compatible for other EV drivers who might street-park in these areas, something that could increasingly be a problem as more low-income Angelenos are encouraged to take advantage of city, state and federal incentives for electric cars.
Jones says Blink is evaluating whether to expand into other L.A. neighborhoods, as well as surrounding cities in L.A. county and other U.S. regions. It's also looking to self-fund those outside initiatives.
But that's not the plan right now.
"Let's perfect it right now, making the model sustainable," Jones said. "When you talk to anyone using the car sharing model, utilization drives sustainability."
The road to EV adoption is getting a supercharge — quite literally.
Arcadia-based charging company EVCS announced Wednesday plans to revamp nearly four dozen stations along the so-called West Coast Electric Highway corridor, which runs along the West Coast and into Canada, in a bid to boost long-range electric vehicle driving.
The project consists of 44 existing charging station upgrades and the addition of three new stations in Oregon along Highway 101 and Interstate 5, affecting about 100 EV charging spaces. The Oregon upgrades are mostly funded by a $4 million grant from the Oregon Department of Transportation (ODOT).
"Our goal is to create the most reliable and accessible EV charging infrastructure in the nation," EVCS CEO Gustavo Occhiuzzo said in a statement Wednesday. "EVCS's collaboration with ODOT to upgrade the West Coast Electric Highway will help increase driver confidence in going electric as we seek to combat climate change through our sustainable charging stations."
The Oregon station upgrades will include new hardware for the Level 2 chargers and will add 110-volt, household-style outlets for e-bikes and e-scooters. Higher-power DC Fast Charging stations will incorporate Combined Charging System (CCS) capability — used by most newer EVs — as well as existing CHAdeMO-type chargers that cars like the Nissan Leaf use. An adapter for Tesla cars will also be added at each station.
With fast charging, most compatible EVs can have the battery pack replenished in 30 to 40 minutes.
Opened in 2011, the West Coast Electric Highway project is a public-private network of charging stations developed out of the 2008 Alternative Fuels Corridor Project between California, Oregon and Washington, as well as an independent agreement with British Columbia and Washington. It spans more than 1,300 miles stretching from the Mexico border through British Columbia, along the 101, the 5, and Highway 99 with thousands of Level 2 and DC fast chargers dotted along those roads.

EVCS, which was founded in 2018, also owns and operates the Washington state portion of the electric highway.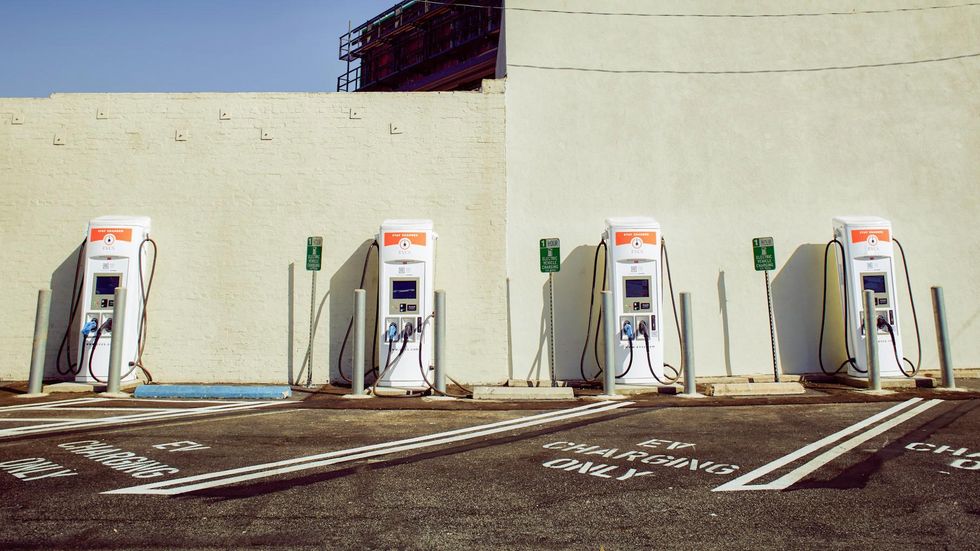 Courtesy EVCS
Upgrades to the network began last year with the goal of providing as much as 100-kilowatts of charging power at certain stations to meet the needs of more powerful EVs with larger battery packs.

Locally, EVCS partnered with the Los Angeles Department of Transportation in 2019 to install charging stations in 57 city parking lots. As of May, the project was about 30% complete, with the addition of four DC fast-charging stations in Lot 656 near the 405 and 10 freeways in West L.A.
This story has been updated.
Los Angeles-based EVgo is one of a handful of firms that General Motors has partnered with to patch together a nationwide electric vehicle charging network called Ultium Charge 360.
The announcement comes as a wave of new EV models are ready to hit the market and governments are pushing plug-in technology.
Detroit-based GM said on Wednesday its network will encompass almost 60,000 EV chargers nationwide, many run by private companies that can be located and paid for through its apps.
"The financial support GM is providing to EVgo has accelerated our station deployment plans in 40 metropolitan areas across the U.S.," EVgo CEO Cathy Zoi said in a statement. "By year-end, EVgo expects to have approximately 500 stalls from the GM/ EVgo collaboration live, and we are just getting started."
GM and EVgo partnered last year to add 2,700 fast-charging stations across the United States by 2025. That has so far produced just four stations, none in Southern California.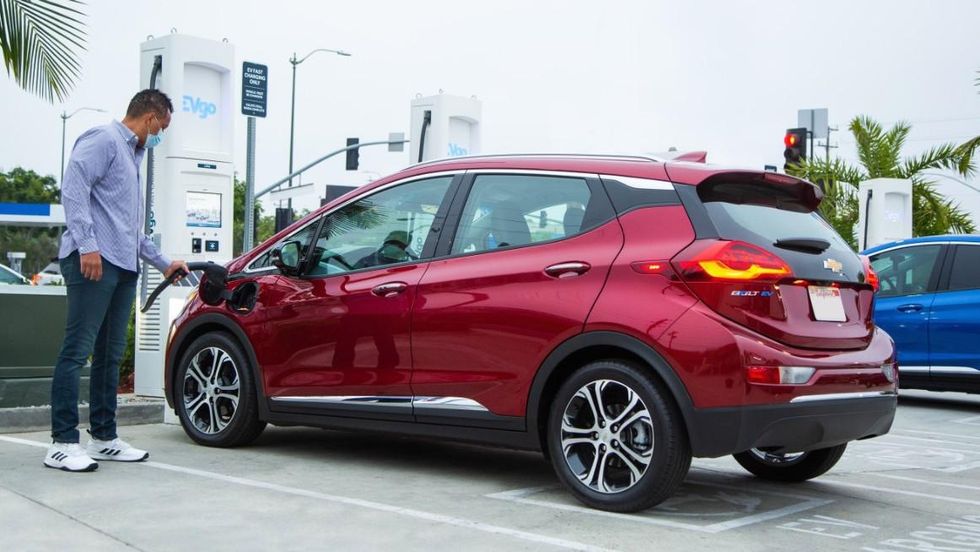 EVgo joins Blink Charging, ChargePoint, El Segundo-based EV Connect, FLO, Greenlots and SemaConnect in the Ultium Charge 360 program. While Tesla has its Supercharger network and the Volkswagen Group of America runs Electrify America — in part, as a result of its emissions cheating settlement — GM and Ford are relying on collaborations with third-party charging companies to build out their national network for electric cars.

"As we launch 30 EVs globally by the end of 2025, this collaboration is expected to help create consumer confidence and excitement about the EV future," said Travis Hester, GM's chief EV officer, in today's announcements. "These new stations are the first of many to come, as we work together with EVgo to offer EV owners more options for charging."
The Ultium Charge 360 program also includes assistance for customers interested in home charging systems. It will cover the installation of a Level 2 home charger with the purchase or lease of a 2022 Chevrolet Bolt EV or Bolt EUV through a deal with Irvine-based Qmerit.
GM announced earlier this year its intent to drop gasoline-powered vehicles and become a carbon-neutral company by 2040. Its luxury Cadillac division will go completely electric by 2030, starting with the Lyriq SUV that goes on sale next year.
GM is also planning to release their GMC Hummer EV pickup truck and SUV, along with a Chevrolet Silverado electric truck. GM will also supply the basis for two electric SUVs to Torrance-based American Honda Motor Co. starting in 2024.