Are EV School Buses the Key to Charging California's Power Grid?
David Shultz
David Shultz reports on clean technology and electric vehicles, among other industries, for dot.LA. His writing has appeared in The Atlantic, Outside, Nautilus and many other publications.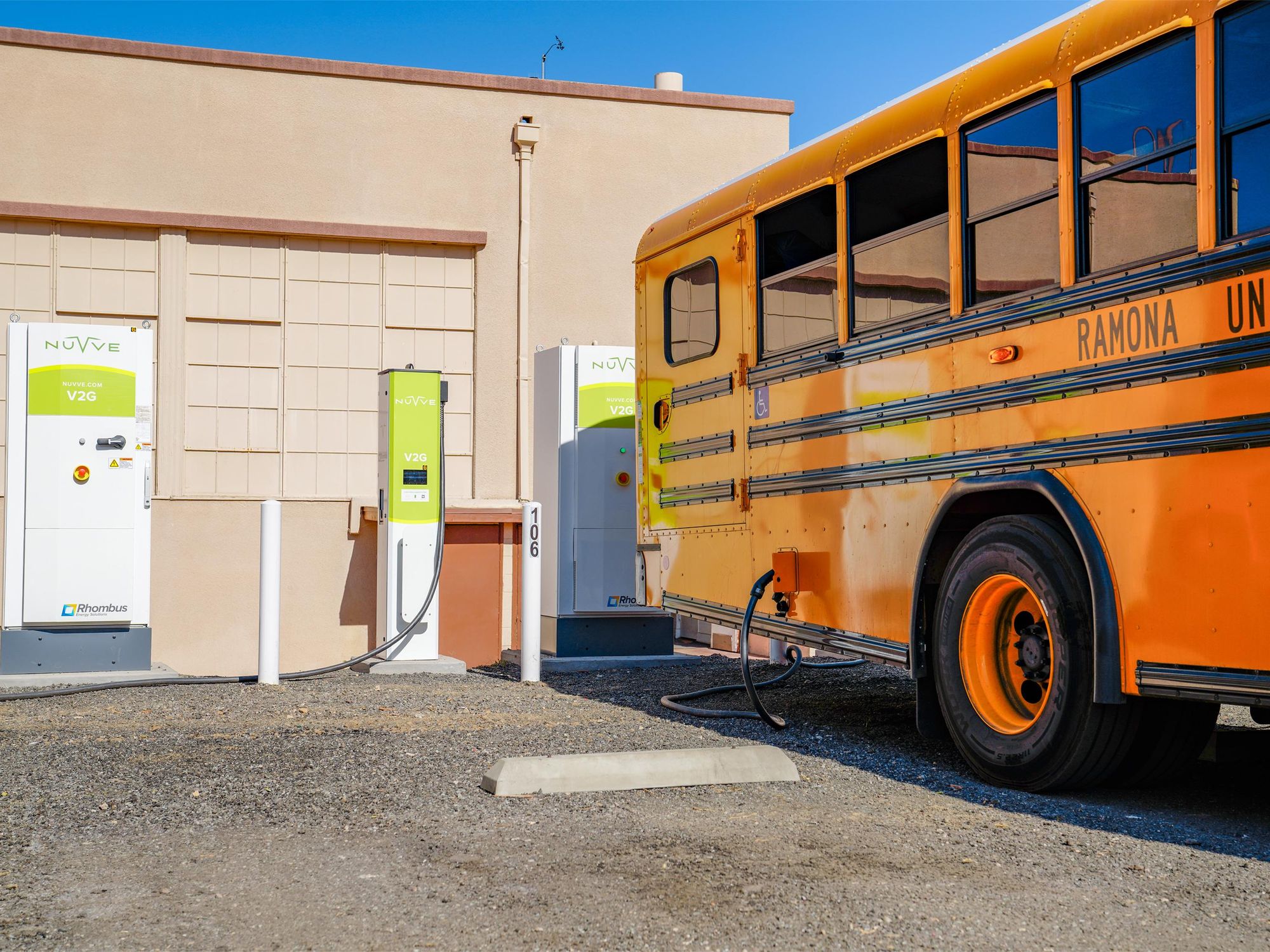 Nuvve
Vehicle-to-grid (V2G) is often pitched as a technology of the future–some just over-the-horizon idea that will let electric vehicle owners use their car to power their house or their campsite or the grid at large. This vision, where EV adoption is near universal and the grid is stabilized by thousands of massive portable batteries, is replete with tantalizing possibilities. But for San Diego-based V2G pioneer Nuvve, that version of the future is inverted. Instead of EV adoption driving V2G technology, the company sees it the other way around: The benefits of connecting a car to the grid should be a way to lower the cost of ownership and a lever to help more people access the technology.
---
If you're unfamiliar with the concept of V2G, the premise is basically what the name suggests: Electricity flow between the grid and vehicles should be bidirectional. In other words, the grid should be able to not only power your car, but your car should also be able to power the grid, and drivers should get paid for their contribution. Because electric vehicles are basically gigantic batteries on wheels, they can be used as portable power sources. Having a fleet of such batteries on the road could allow grid operators to draw energy from vehicles when the grid is stressed or when we'd otherwise be forced to rely on fossil fuels.

For drivers willing to use their car's battery to power the electrical grid, V2G gives them another source of income that can offset the high cost of buying an EV.
"Electric vehicles are still expensive and the infrastructure that goes with them is also expensive to install and to maintain," says Nuvve CEO Gregory Poilasne. "Therefore, the ability to use those assets while they are parked and to provide those grid services can help with reducing the total cost of ownership of the vehicle, and therefore can help accelerate the adoption of electric vehicles."
Poilasne started Nuvve in 2010, but the idea behind the company, he says, is much older and was born out of research from Willett Kempton—the progenitor of grid integrated technology. Poilasne's company went public via SPAC in November of 2020, and has subsequently seen its stock price drop by 88%.
"The stock market is a bit rough on the shoulders right now," Poilasne says with a wry laugh, but he sees massive tailwinds starting to pick up in the industry as well.
Specifically he points to the EPA's announcement to grant $1 billion in funding for school districts to electrify their bus fleets. Buses are both ideal candidates for electrification and ideal test cases for V2G for many of the same reasons: Their batteries are massive, they have predictable use schedules, and they always return to the same depot for charging. Even with the grant money, however, the cost of electrification for most districts remains steep. But Poilasne thinks that schools could be guaranteed to recapture some of that investment via selling electricity back to the grid.
Last week, Nuvve unveiled a partnership with the Ramona Unified School District in California's San Diego County, in which the V2G company will provide DC fast charging stations to the district that link directly to the grid.The idea is to allow the school to use its new fleet of eight electric buses to sell electricity back to the grid under San Diego Gas & Electric Company's Emergency Load Reduction Program. According to Nuvve, the school could receive as much as "$2 per kWh, which equates to a potential savings of up to $7,200 per bus per year, for verified export and load reduction." With the cost of a new electric bus running between $140,000 and $400,000+ depending on rebates and model, the money back from V2G could make electrification considerably more palatable for districts rather than individual schools.
Nonetheless, this isn't Nuvve's first such deal working with school buses. But it is the biggest to date. The partnership also represents an ideal testing ground for the technology with exactly the kind of partnerships the company will need in order to survive.
"The amount of money that's being spent in that space is gigantic," says Poilasne. "The speed at which that transformation is going to happen is going to be gigantic. I think we're going to see some drastic changes in how this whole industry is being set up and how it's being run."
David Shultz
David Shultz reports on clean technology and electric vehicles, among other industries, for dot.LA. His writing has appeared in The Atlantic, Outside, Nautilus and many other publications.