"You ready Mr. iPad pilot," a Skyryse promotional video asks before a man who has never driven a helicopter takes off using a tablet.
The Hawthorne-based startups's technology, dubbed FlightOS, strips out many of the technical controls that helicopter pilots rely on and instead presents them in a simple tablet formula.
Co-founder and CEO Mark Groden hopes that it can make it easier for more people to fly helicopters while remaking the boundaries of urban mobility.
Skyryse recently inked a deal with Robinson Helicopters, one of the world's largest fixed-wing and rotorcraft manufacturers, to integrate Skyryse's system into its flagship model, the R66.
And on Wednesday, it announced a $200 million Series B funding round led by Fidelity Management & Research Company and Monashee Investment Management.
Skyryse will use the funding to propel the development of the company's flight automation system, FlightOS.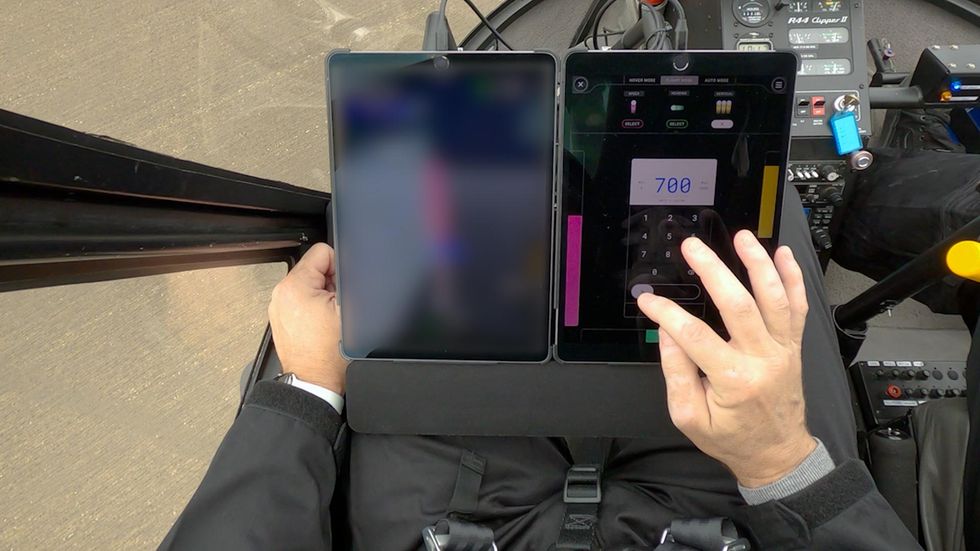 Groden, who became passionate about the utility of flight as a kid and went on to get a PhD in Engineering from the University of Michigan, started Skyryse during the last year of his thesis in 2016. Three years later, they moved the company to L.A. where they hope they can eventually add their technology into airplanes.
While the startup has simplified flying, it is still out of reach for many.
"You still need a pilot's license to fly an aircraft using FlightOS," Groden said.
On average, it takes 50 hours of driving experience to get your license. In contrast the FAA only requires 40 hours to become a private pilot.
Much of those classes are required due to the inherent dangers of flying.
A 2019 study by NASA found 20% of commercial aviation faced some issues in the cockpit that required pilots or flight crew intervention.
Najm Meshkati, a USC professor of engineering who specializes in aviation safety, said the bold moves are exciting but it's unlikely that non-trained pilots will be able to fly helicopters any time soon.
"There are a lot of safety-related implications," he said. "We really need to move a little bit more cautiously. I don't say slowly, but cautiously."
Groden said their goal for transportation is "to make general aviation the safest mode of transportation on the planet and democratize the skies for everyone." The system has the capability to safely land any aircraft if engine were to fail. They company is seeking FAA certification for its technology.
To that end, Skyryse recently hired Michael Huerta, the former head of the Federal Aviation Administration, and Chris Hart, former chairman of the National Transportation Safety Board.