Industrial conglomerate Honeywell International snapped up the rights to produce, advertise and sell Long Beach-based Dimer's anti-viral UV-C light machine, the GermFalcon, in a licensing partnership agreement announced on Wednesday.
Created by Elliot Kreitenberg and his father, orthopedic surgeon Arthur Kreitnberg, in their garage seven years ago, the GermFalcon can sanitize a midsize airplane cabin full of germs in about 10 minutes and is being billed as an antidote in the age of COVID-19.
The GermFalcon will be renamed the Honeywell UV Cabin System.
"This offering is a big win for our airline customers, which are seeking affordable ways to clean their cabins effectively and quickly between flights," said Mike Madsen, Honeywell Aerospace president and chief executive. "Honeywell is working on a range of solutions to help make passengers more comfortable about flying."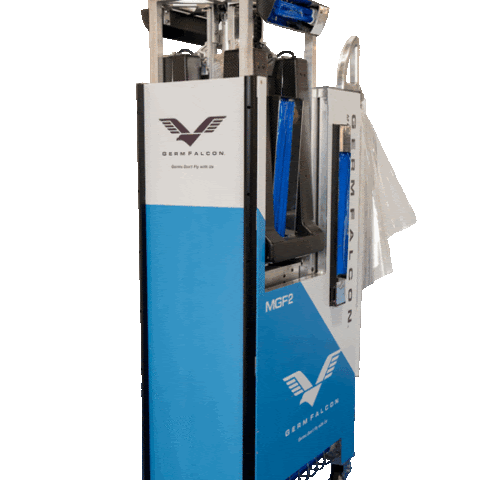 Courtesy of GermFalcon
Honeywell, a major supplier to Airbus and Boeing among others, is in discussions with several major airlines and service providers for the cabin system. The company has been hurt by the grounding of Boeing's 737 and further struck by plummeting airplane passenger traffic.
Honeywell is accepting orders and expects the first shipments in July. Pricing will vary, but Honeywell estimates that for midsize to large airlines with hundreds or more aircraft, the cost will break down to about $10 per use.
The North Carolina company has been bolstering their offerings of products aimed at making flying safer for passengers loathe to go in confined spaces where a virus might easily spread.
The size of a drink cart, Kreitenberg sees the GermFalcon as the antidote to the spread of viruses.

"Airlines play a direct role in the way that disease spreads around the world," Elliot Kreitenberg told dot.LA last month. "We see that here with coronavirus. It flew here on airplane."
Dimer is also continuing to further commercialize and deploy its germicidal UV technology platform known as UVHammer for healthcare. The UVHammer product will target public transportation, education, hospitality, buildings, theaters, arenas and small businesses alike. It's expected to be brought to market in July.