chownow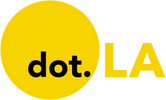 Get in the KNOW
on LA Startups & Tech
X
chownow
Image from Shutterstock
Early-stage venture investor Bonfire Ventures is looking to up the ante with its newest fund.

The Santa Monica-based firm is aiming to raise $165 million for its third fund, according to a regulatory filing with the SEC. If it manages to raise that figure, the new fund would be 65% larger than Bonfire's previous, $100 million core fund, which it closed in 2020.
In addition to the third fund, the venture capital firm intends to bring in as much as $65 million for a second "select fund," another filing indicates. Judging by its previous select fund, Bonfire likely plans to use the $65 million to continue investing in its existing portfolio companies as they go on to raise subsequent funding rounds.
Bonfire has not yet disclosed any actual money raised for the two funds. The firm declined to comment.
Bonfire has carved a niche for itself by focusing its investments on B2B startups that sell software to other businesses. Its local portfolio companies include Playa Vista-based Chownow, which offers a food ordering platform for restaurants, and Downtown-based Boulevard, which makes appointment booking software for salons and spas.
In unveiling its $100 million second core fund in 2020, Bonfire co-founder Jim Andelman said the firm was on the lookout for "the weird and wonderful in this boring part of the ecosystem that is B2B software." Bonfire closed its first, $63 million fund in 2017.
Bonfire's other co-founder, Mark Mullen, is an investor in dot.LA.
From Your Site Articles
Related Articles Around the Web
College was not Chris Webb's thing, so at 18 he took an internship at Oppenheimer and launched his career in finance.
While working Wall Street at investment bank Bear Stearns and then Lehman Brothers, he continually found himself drawn to the tech sector.
Eventually, the New York high life was getting him down, and Chris returned home to Los Angeles where his mom had invested in a restaurant that's now a successful chain, Tender Greens.
Chris learned about the pain points the restaurant was experiencing. Inspired, he combined his knowledge of tech to help restaurants avoid the onerous fees required of services offered by the likes of GrubHub.
Chris and his co-founder, Eric Jaffe, built ChowNow, an app and online ordering system for restaurants, in 2011.
Now, the L.A.-based company has 450 employees with investments from Upfront and 3L. Incidentally, I'm a limited partner in both those funds, so that makes me an investor in ChowNow.
Chris Webb is the co-founder and CEO of ChowNow. Previously, he had a career on Wall Street at investment bank Bear Stearns and Lehman Brothers.
dot.LA Sr. Podcast Producer & Editor Laurel Moglen contributed to this post.
From Your Site Articles
Related Articles Around the Web
When the coronavirus struck, Jerry Garbus was compelled to close all but one of the three of the Manhattan Beach restaurants he managed: a steakhouse called The Arthur J. He funneled all the orders from his new takeout business to their kitchen and hoped for the best.

"Nobody had any data as to what kind of support or what kind of demand there would be during the pandemic," said Garbus, a director of operations for Manhattan Beach-based Simms Restaurants.

As part of the revamp, the upscale restaurant, which is co-owned by Michelin star chef David LeFevre, invested in new packaging Garbus called "vessels" to keep food from wilting and turning soggy. It also added family meals to its menus — plates ranging from $60 -$90 to feed four to six and a new farmer's market box was added to the lineup as well.
Garbus fared better than some of his peers. Simms eventually reopened the other two restaurants, Fishing with Dynamite and Manhattan Beach Post. Part of the reason the business was successful is because it had a loyal local following in an affluent neighborhood. But Garbus also knew, if the business was to survive, he had to do something different.
The company retooled their entire model, moving takeout from an afterthought to the center of their business. Garbus watched as delivery orders went from 1% of his business to nearly 100%.
Garbus was already using delivery apps, but he knew he couldn't rely solely on them; many orders required special handling so that the presentation and the food's freshness wouldn't be compromised. Moreover, there was a cost and efficiency factor.

"A lot of companies are paying 20% to 30% fees, which is extremely prohibitive," he said.
Garbus wouldn't say how much the cut is for the popular upscale restaurants he manages. It hardly mattered before the pandemic because delivery was such a small slice of business.
The company found itself needing to do more to automate their takeout orders.
"We signed up with ChowNow as soon as we were shut down for dine in," he said. "We needed to pivot very, very quickly and they were a big part of that."
Delivery Apps' Run on Restaurants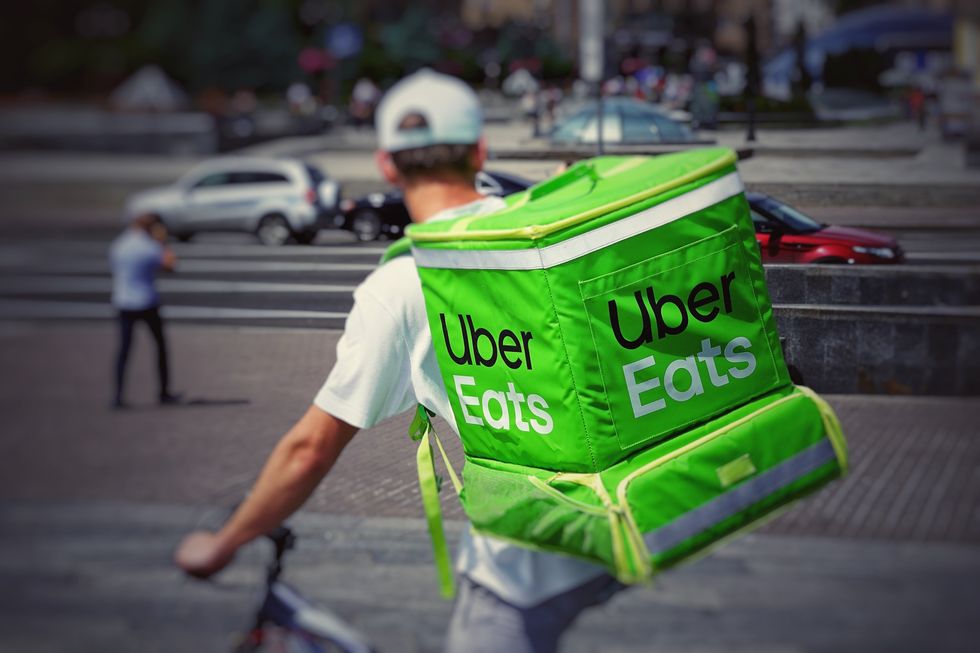 man with Uber eats backpack Photo by Robert Anasch on Unsplash
The lockdowns spurred by coronavirus have been a boon for delivery apps. With diners trapped at home and many too nervous to return to dining in, restaurants have had little choice but to rely on the apps for distribution. Still, the apps — and many of the restaurants they serve — have been losing money and are struggling to make their business model work. Grubhub just agreed to be acquired by Just Eat Takeaway.com, a European food delivery company, in a $7.3 billion deal that would make it the largest food delivery platform in the world outside of China. Many see the move as a sign of more consolidation to come in food delivery.

Earlier this month, Postmates, Uber Eats and other apps got hit with another blow. Citing longstanding complaints from restaurant owners, Los Angeles capped service fees they could charge at 15% for the duration of the pandemic.
The move has put even more pressure on the delivery apps and follows similar efforts in other big cities, including San Francisco and New York, where demand for at home dining has spiked.
It's also opened up opportunities for competitors like ChowNow, a platform that helps restaurants build out their own ordering platforms, rather than rely on those built by services like Postmates and UberEats. The company has seen a surge in new business.
The Playa Vista-based company offers a flat-fee service that begins at $99 and offers online ordering for pickup and delivery through third parties. It has about 12 million diners on its platform and processes $200 million in orders monthly, and it has added thousands more restaurants as owners scramble to add delivery and takeout service.
"We were typically doing about 500 signups a month. Now we are doing 2,000," chief executive and co-founder Chris Webb said.
Webb took advantage of the moment to grow his nearly decade-old business. As ChowNow added members, the company hired nearly 100 new employees and is working on a series of new features that will make pickup and delivery services easier, including adding contactless orders and doubling down on building marketing for business.
The company had been in growth mode — having $62 million in venture funding under their belt— when the virus broke out. The recent surge in business helped it get to profitability, although Webb said he's not making any prediction for the year's end.
Still, he thinks coronavirus shifted the paradigm.
"Takeout is going to be a much larger percent of restaurants' business going forward," he said.
Some diners will be too nervous to head back to restaurants while the coronavirus rages; others who never purchased food online have now been converted to mobile ordering.
Takeout is Here to Stay

Garbus agrees. ChowNow helped him transform his business toward takeout. It's set up to be compatible with Instagram and Yelp, which allows restaurants struggling to gain visibility to build a profile on social media.
With some restrictions lifted, his restaurants are once again packed, but now at only 60% of their capacity. Takeout accounts for about 20% of his business and he said there are some menu items created during the pandemic that have gained popularity as to-go orders, including a giant shareable seafood plate named the "Mother Shucker" and a cheese and charcuterie spread.
"It's a huge, huge change. There is still a lot of demand (for takeout order)," Garbus said.
Webb thinks ChowNow can become the Shopify of the restaurant world, the ubiquitous ecommerce platform that powers online storefronts for small businesses and processes billions of dollars in sales worldwide. Its approach has made it simple for companies to set up an e-commerce infrastructure without having to give away a percentage of sales.
But its standalone nature is arguably the platform's biggest weakness, said Jared Drew Coven, co-managing director of LDR Ventures, which invests in consumer products, food and beverage, as well as online marketplaces.
"Shopify was a SaaS platform that allowed anybody to create a website. The problem is awareness," he said. "These bigger platforms (like Grubhub) create a lot of awareness" for small restaurants.
These delivery apps provide powerful marketing features for small companies that a simple app or software application can't match. That means that deep-pocketed restaurants and chains will always have an advantage.
ChowNow has been trying to counter that by developing better engagement tools for restaurants to keep customers coming back, working on contactless orders for open restaurants and making pickup more seamless.
Elyan Zamora, the owner of Cooks Tortas — a popular Mexican sandwich shop in the San Gabriel Valley — said she came to ChowNow because she didn't want to have to pay delivery apps.
"I like the fact they don't charge 30 percent," she said.
Zamora, who is in the process of franchising her restaurant, said the application helped her during the pandemic, when phone orders might have overwhelmed her staff because they can take longer to process. The company maintained most of its pre-COVID-19 business and she didn't have to lay people off.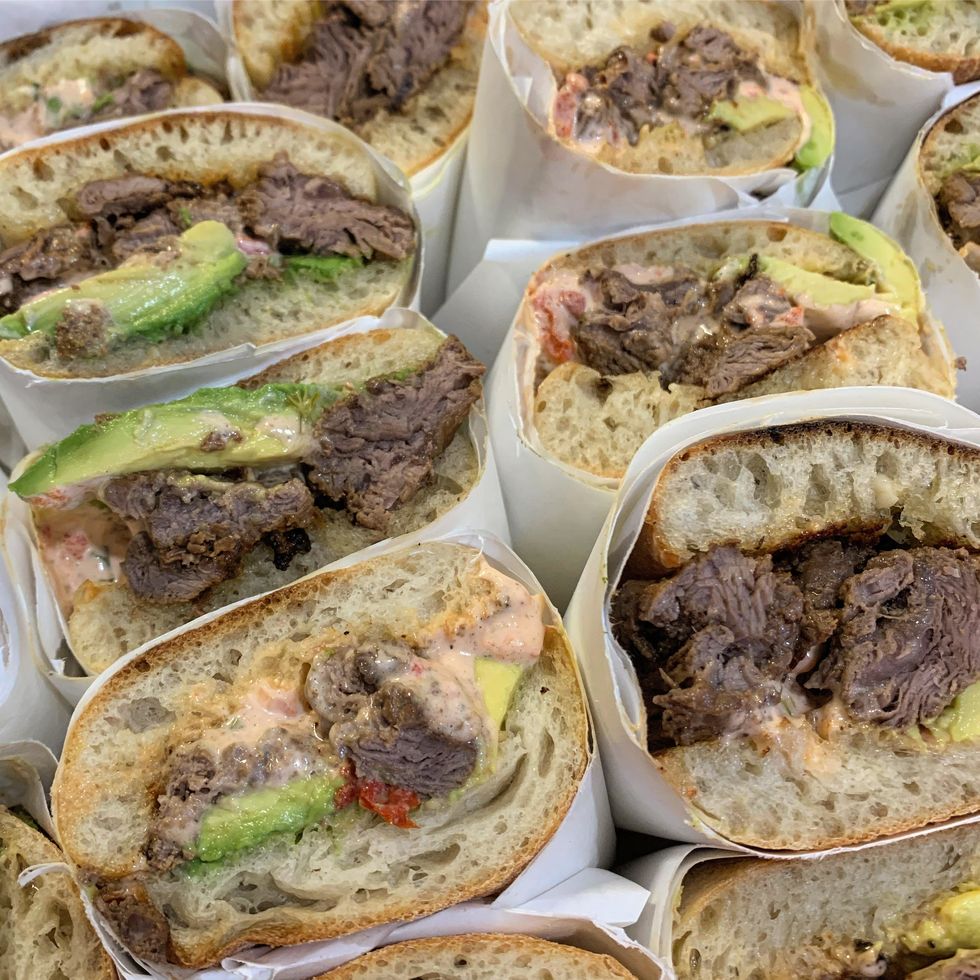 With a software system in place, she could process pickups faster and she set up a pick up spot in front of the store.

"The phone is a lot more time consuming," she said. "They want to know what ingredients there are.
With this everything is right in front of them."
Do you have a story that needs to be told? My DMs are open on Twitter @racheluranga. You can also email me.
**Editor's note: This story has been updated to reflect more recent data on the number of users on the ChowNow platform. An earlier version also mis-stated a comment from ChowNow's CEO. It's since been corrected.