The road to EV adoption is getting a supercharge — quite literally.
Arcadia-based charging company EVCS announced Wednesday plans to revamp nearly four dozen stations along the so-called West Coast Electric Highway corridor, which runs along the West Coast and into Canada, in a bid to boost long-range electric vehicle driving.
The project consists of 44 existing charging station upgrades and the addition of three new stations in Oregon along Highway 101 and Interstate 5, affecting about 100 EV charging spaces. The Oregon upgrades are mostly funded by a $4 million grant from the Oregon Department of Transportation (ODOT).
"Our goal is to create the most reliable and accessible EV charging infrastructure in the nation," EVCS CEO Gustavo Occhiuzzo said in a statement Wednesday. "EVCS's collaboration with ODOT to upgrade the West Coast Electric Highway will help increase driver confidence in going electric as we seek to combat climate change through our sustainable charging stations."
The Oregon station upgrades will include new hardware for the Level 2 chargers and will add 110-volt, household-style outlets for e-bikes and e-scooters. Higher-power DC Fast Charging stations will incorporate Combined Charging System (CCS) capability — used by most newer EVs — as well as existing CHAdeMO-type chargers that cars like the Nissan Leaf use. An adapter for Tesla cars will also be added at each station.
With fast charging, most compatible EVs can have the battery pack replenished in 30 to 40 minutes.
Opened in 2011, the West Coast Electric Highway project is a public-private network of charging stations developed out of the 2008 Alternative Fuels Corridor Project between California, Oregon and Washington, as well as an independent agreement with British Columbia and Washington. It spans more than 1,300 miles stretching from the Mexico border through British Columbia, along the 101, the 5, and Highway 99 with thousands of Level 2 and DC fast chargers dotted along those roads.

EVCS, which was founded in 2018, also owns and operates the Washington state portion of the electric highway.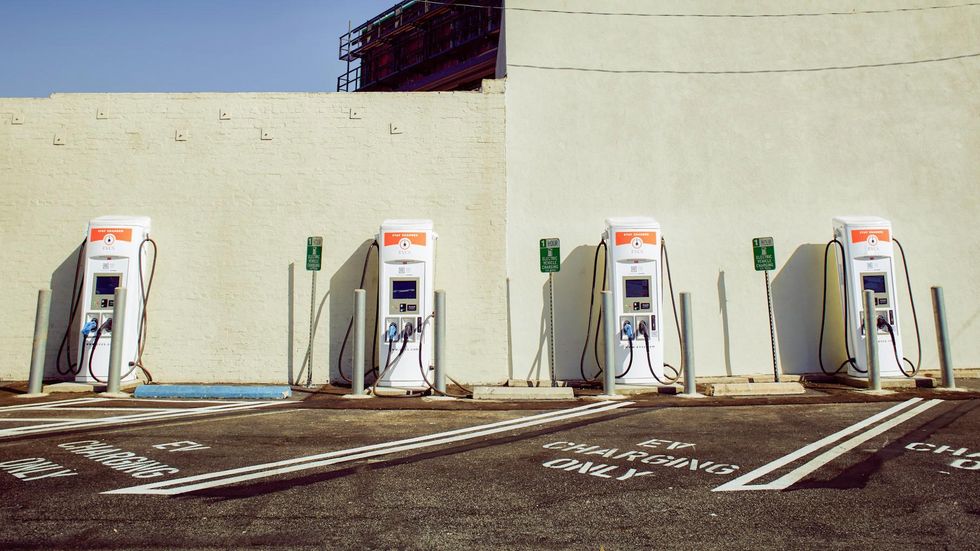 Courtesy EVCS
Upgrades to the network began last year with the goal of providing as much as 100-kilowatts of charging power at certain stations to meet the needs of more powerful EVs with larger battery packs.

Locally, EVCS partnered with the Los Angeles Department of Transportation in 2019 to install charging stations in 57 city parking lots. As of May, the project was about 30% complete, with the addition of four DC fast-charging stations in Lot 656 near the 405 and 10 freeways in West L.A.
This story has been updated.