The Streamy Awards Prove that Online Creators and Traditional Media Are Still Disconnected
Kristin Snyder
Kristin Snyder is dot.LA's 2022/23 Editorial Fellow. She previously interned with Tiger Oak Media and led the arts section for UCLA's Daily Bruin.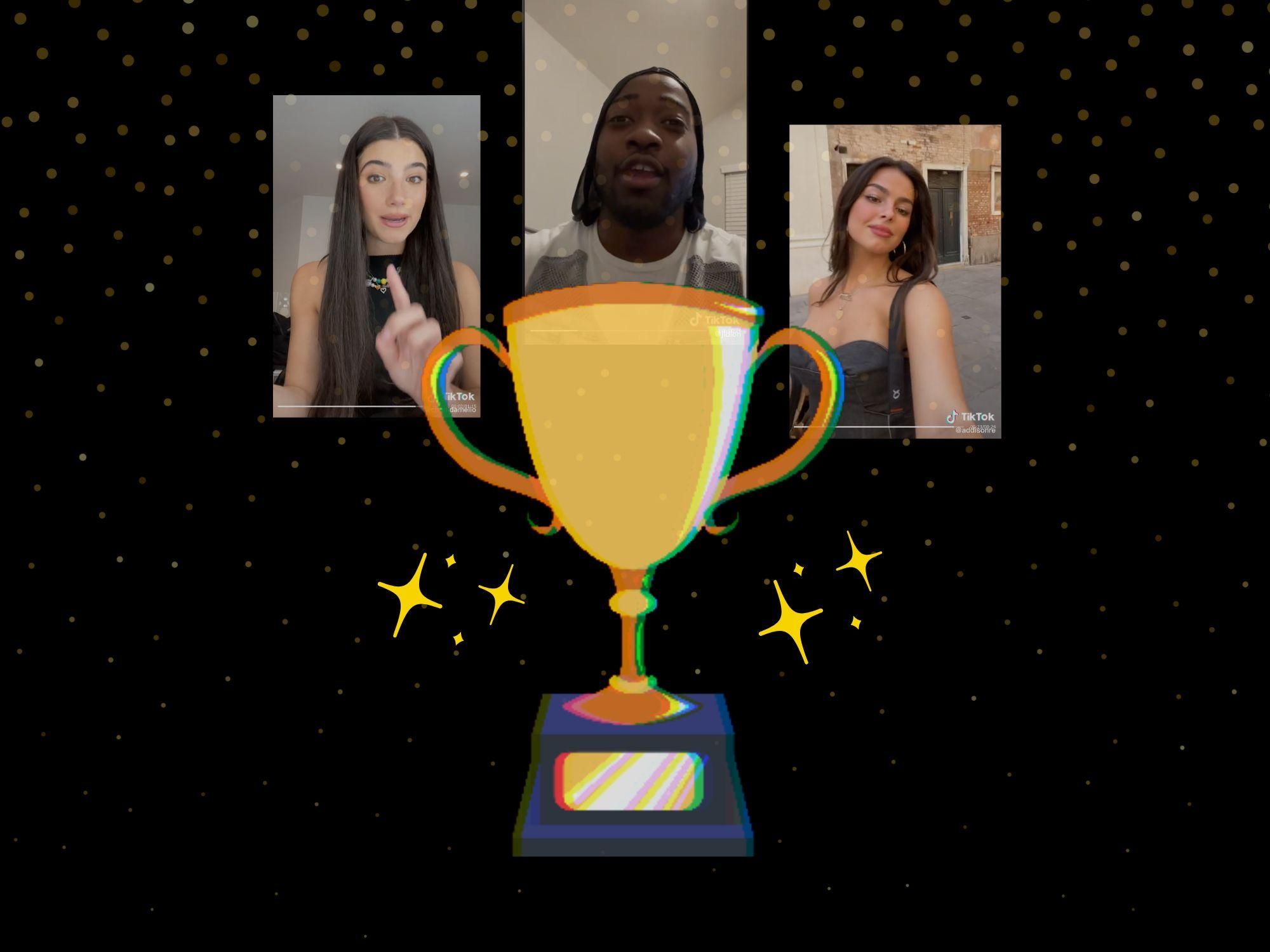 Andria Moore /Charli D'Amelio/Addison Rae/JiDion
Every year, the Streamy Awards, which is considered the top award show within the creator economy, reveals which creators are capturing the largest audiences. This past Sunday, the event, held at The Beverly Hilton, highlighted some of the biggest names in the influencer game, chief among them Mr. Beast and Charli D'Amelio. It had all the trappings of a traditional award show—extravagant gowns, quippy acceptance speeches and musical interludes. But, as TikTok creator Adam Rose told The Washington Post, the Streamys still lacks the legitimacy of traditional award shows.

---
"There's the Emmys, Golden Globes and Oscars for the mainstream entertainment industry," Rose told The Washington Post, "but the people in this room are entertaining more people in the world than the people nominated for those other awards."
Even with creators like Mr. Beast capturing millions of eyes, many influencers continue to seek success in mainstream entertainment. This could be passed off as creators being fame hungry after tasting the success that platforms like TikTok have brought them. But many creators recognize how fleeting internet success can be: with a few exceptions, the winners of most of this year's top awards went to relative newcomers.
Which is why, if they want to build a long-term career, it's not surprising that so many creators look to traditional media, like film and music, to solidify their success. Naturally, some have had better luck than others—Shawn Mendes and Troye Sivan—two singers that first found success on the video-sharing site—have since ditched the "YouTuber" moniker.
But in most cases, when creators snag a leading role or release an original song, few people take their efforts seriously. TikTok users lamented singer Gayle's Grammy nomination last month. This is despite the fact that six out of the 10 nominations for Song of the Year went viral on TikTok, proving the platform's impact on the music industry. Addison Rae's film debut, "He's All That," has a 29% rating on Rotten Tomatoes. And in 2020, TikToker Dixie D'Amelio deleted a video teasing an upcoming song with Wiz Khalifa after people ridiculed the lyrics.
Traditional media has been at war with non-traditional internet stars trying to break into new fields since the latter's inception. Industry powerhouses have long complained about how the influencer world is impacting their success. "You're famous from TikTok," Jennifer Aniston told Variety in June. You're famous from YouTube. You're famous from Instagram. It's sort of almost like it's diluting our actor's job."
Similarly, Gwyneth Paltrow has criticized influencers who seemingly become famous without creating something "meaningful and resonant." But if a TikTok star is producing daily videos that consistently bring in millions of views, clearly that content is resonating with more than a few people.
That perceived lack of talent though is why critics believe online creators can't bring quality performances. And they're not necessarily wrong—it can be hard to translate acting out a short, self-scripted video on TikTok into following a director's cues.
But let's not forget that plenty of actors have managed to bag both Golden Raspberry Awards, which nominate the worst performances of the year, and Oscars. Aniston herself has accrued six Razzie nominations.
If anything, traditional media needs to embrace influencers in order to stay alive. Internet stars are capturing the attention of the very people that traditional media has struggled to engage. In recent years, teens have swapped time spent streaming on Netflix with watching videos on YouTube. A September poll found that, in the U.K., teens spend more time on TikTok than watching TV. Even with its low ratings, "He's All That" was viewed by 55 million households within the first month of its release—and that success has gained Rae a multi-picture deal with Netflix.
Once again, the Streamys reflects this disparity. The livestreamed award show has consistently grown its viewership, with a 43% jump from 2020 to 2021. Meanwhile, both the Academy Awards and the Grammys have seen viewership dwindle.
There's clearly a disconnect: influencers control access to massive audiences, but many still crave the legitimacy of traditional media. Alternatively, Hollywood is still deemed the authority on what makes a true star but is
increasingly struggling
to court new audiences. Without embracing online creators, Hollywood risks alienating potential viewers. It's not hard to imagine then that one day, a Streamy might be worth as much industry clout as an Oscar.
Kristin Snyder
Kristin Snyder is dot.LA's 2022/23 Editorial Fellow. She previously interned with Tiger Oak Media and led the arts section for UCLA's Daily Bruin.
https://twitter.com/ksnyder_db