sho nakanose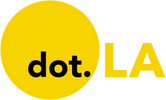 Get in the KNOW  
  on LA Startups & Tech  
X
sho nakanose
\u200bPhoto: Gitai
Space robotics company Gitai raised a $30 million Series B extension this week, bringing the total value of the round to roughly $47 million.
The funding will be used to further develop Gitai's suite of space robots as well as build out its manufacturing footprint in Torrance. Previously Gitai announced it raised a $17.1 million Series B in March 2021; this additional raise is still part of that round.
Gitai's main products include an autonomous robotic arm, which was tested on the International Space Station in October 2021. It also developed a lunar rover called the R1, which it tested on Earth in March.
Funding for this tranche of the Series B came from a handful of existing investors in the company, and many of the backers are based in Japan. This included Mitsubishi's VC arm, JGC Holdings' Mirai Innovation Fund, Yamato Holdings' investment vehicle KURONEKO Innovation Fund, and the KDDI Open Innovation Fund. Other investors including the Dai-ichi Life Insurance Company, Electric Power Development, and Daiwa's DCI Venture Growth Fund joined the follow-on round.
In a May 25 statement, KDDI's fund said it expects Gitai's technology to help "assist in the construction and maintenance of artificial satellites, space stations, lunar bases, and Martian cities."
This is Gitai's overarching goal – CEO Sho Nakanose told dot.LA in April that "now is the time to expand our presence, expand our habitat" on other planets because "the conflict between the U.S. and China may escalate because of space resources on the moon."
Gitai's plan is to develop and sell robots at scale to reduce the cost of labor for building structures that allow humans to inhabit distant worlds. Nakanose also said that he views in-space habitability as impossible without an infrastructure of robots to build solar panels on faraway planets to produce power for the eventual outposts there.
In a statement Wednesday Nakanose said he was "thrilled to further expand our operations in the U.S."
Nakanose added, "while SpaceX and BlueOrigin are reducing the cost of transportation to space by 100 times, we at GITAI are taking on the challenge of reducing labor costs by 100 times. We will provide the most labor for the Moon and Mars and build infrastructure such as solar panels, communication antennas, fuel generators, and habitation modules."
Photo: Gitai
One of the space industry's long-term goals beyond landing humans back on the Moon and other planets is to create an infrastructure in space that can house a number of people living and working in orbit. But there's one problem with this ambition: building in space is both costly and extremely dangerous.
The easiest solution, rather than risking human life to build out space systems architecture, is to send up robots capable of handling it for us. Gitai, a relatively new entrant into Los Angeles' space ecosystem, wants its industrial bots to be a key part of settling the final frontier. In the future, these robots could be responsible for maintaining not just satellites and space stations, but also bases and maybe one day entire colonies on other planets.
Gitai is a Japanese company, founded by CEO Sho Nakanose in 2016. In December 2022 the company took up office in Torrance, and now employs roughly 50 people in the region. These people are diligently working on constructing Gitai's two main products – a robotic arm and hand, and specialized lunar rovers.
Robotic arms are widely used in automated manufacturing, and just like on Earth they can serve a wide range of purposes in space. Nakanose said the arms and their "hands" can hold a variety of tools and handle tasks including solar panel assembly to provide power to spacecraft, repairs, transferring payloads, and helping spacecraft dock.
The robotic arm was tested on the International Space Station in October 2021. Gitai sent a version of its autonomous space robot arm to the ISS and installed it inside an airlock, where the arm conducted various tests including operating switches and cables and assembling panels.
And recently, the R1 lunar rover was put to the test on Earth. Gitai brought the R1 rover out to the desert (on Earth, about the closest simulation we can get to moon terrain) to continue testing its function. It successfully installed solar panels, placed an antenna at a high place, welded a panel and towed equipment during that test. It was also able to successfully mine materials in a test of its excavation abilities, which will be particularly valuable as the U.S. increasingly looks to mine in-space minerals.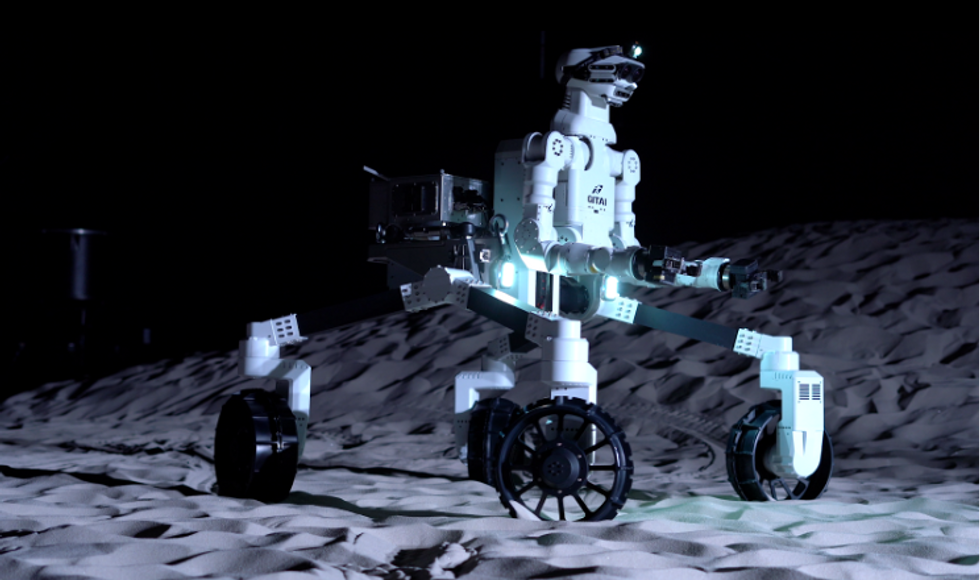 The Gitai R1 rover at work in the desert. Photo: Gitai
Nakanose noted that as the competition between China and the U.S. heats up, it'll also accelerate the existing global space race. He argued that whichever country conquers space construction first with robotics will have a clear advantage. "The conflict between the U.S. and China may escalate because of space resources on the moon," he predicted. "Now is the time to expand our presence, expand our habitat."
Another in-space demonstration of Gitai's robotic arm will happen on board the ISS within this year. Nakanose said he expects that launch to happen by the fall.
"Their main purpose of assembly of solar panels is not for the ISS, but for the lunar surface, for the moon and Mars surface," Nakanose said. "Now major U.S. space companies are looking for such a capacity to build solar panels for communication antennas or even habitation modules."
Nakanose added that "it's very difficult for human astronauts to conduct these operations because the lunar surface is very dangerous and it's so expensive." Gitai's robots, he argued, "allow us to conduct these operations without human risk."
Gitai doesn't launch its own technology into space. With limited funding – about $17 million raised to date – the company instead relies on launch partners. It has a deal with Houston, Texas-based airlock and small satellite research payload company Nanoracks to send its robots up instead.
Nakanose said that Gitai received its first purchase order from a "major local space company" in Los Angeles, but wouldn't disclose who that customer is. The plan is to court more companies looking to establish bases off-Earth as well as firms operating commercial space stations.
There is one slight wrinkle in Gitai's business plan, for now. Since the company's not headquartered in the U.S., it can't compete for government funding or contracts – a lucrative and crucial income stream. Nakanose said his plan is to re-incorporate as an American company "in a few years." But, in the meantime, there's a workaround. NASA routinely farms out contracts to tech companies like SpaceX that often then need to issue their own work orders to meet objectives. So, even if Gitai can't work with NASA directly, it technically could still accept future contracts from a third-party company.