SaaS
The latest news about software-as-a-service startups in Southern California from dot.LA
Former Cisco executive Shaun Cooley's two-year-old Los Angeles startup is creating a platform to make buildings smarter.
Mapped, which just raised $6.5 million led by Allegion Ventures and MetaProp, helps commercial real estate companies operate their buildings remotely.
So far, it has about a dozen commercial customers that have anywhere from 100 to 1,000 buildings where HVAC, elevators and other systems can be controlled from a central brain.
Although their current customers are all commercial real estate, Cooley hopes to expand that to refineries, energy production facilities, manufacturing floors and retail spaces.
Mapped's software represents physical buildings in standardized, open-source digital database graphs and automates everything from heating and air to lighting, elevators and even conveyor belts — adjusting them based on the temperature outside or time of day, all without the need for human intervention.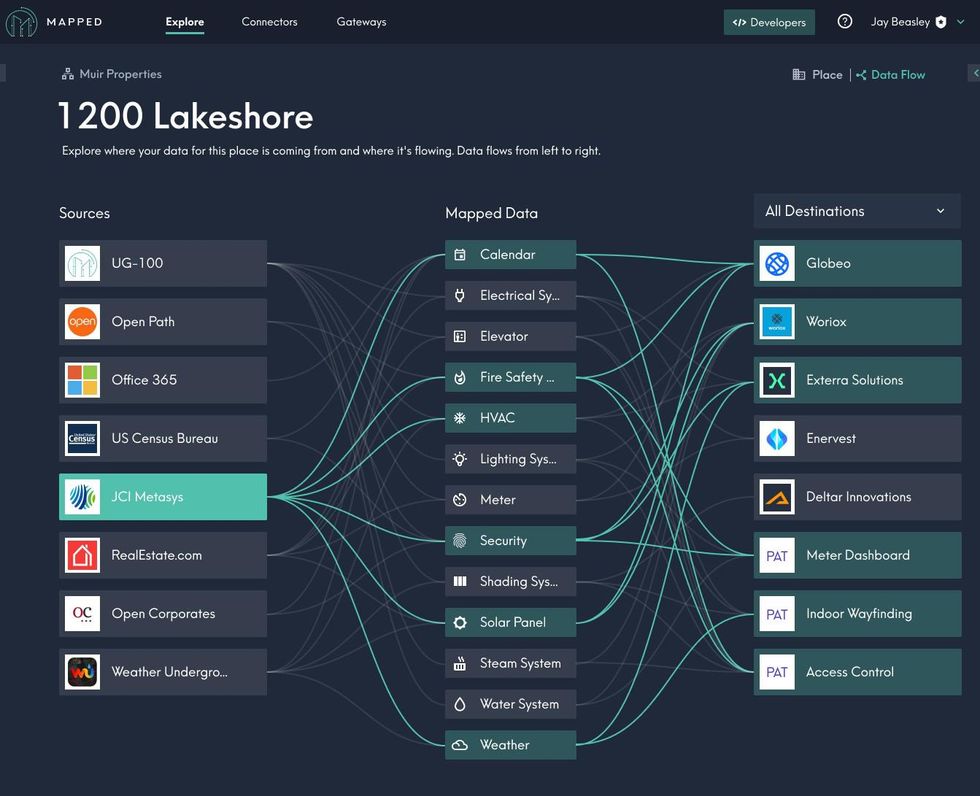 Cooley came up with the idea after years as Cisco's CTO and vice president of IOT and industries, where he saw his customers struggle with extracting data from their systems and making it usable.

"Just because you digitize, or you IoT enable one factory, doesn't mean you can take that digitization and move it to the factory across the street," said Cooley. "They have different systems, installed in a different time period, by a different system integrator."
For example, a decades old building might have an HVAC, lighting, security, elevators, irrigation system, gas metering and other systems feeding into a central hub. For owners of multiple building, the interfaces that those systems operate on are often different. Mapped offers a platform for developers to standardize those interfaces.
Using APIs, Mapped's software constantly scans the environment, communicates with devices in their native protocols, and then brings data back to its central platform. Thus, software developers can write applications one time and instantly deploy them across all of a company's buildings.

Cooley said his product is different than what's offered by Oracle and Microsoft because its designed to be an all-in-one automated platform, making it much faster than his competitors.

In March 2020, Mapped raised $3 million in its first seed round, bringing today's total to $9.5 million.

The latest round was co-led by Legion Ventures and MetaProp, Singtel joined the round and Greycroft and Animo participated.
On this week's episode of the L.A. Venture podcast, meet Fika Ventures co-founder TX Zhuo. Fika is a $77-million seed-stage investment fund managed by Zhuo and his partner Eva Ho. The two created the fund with the intention to foster and give back to their community.
Zhuo has been working as an entrepreneur since he started college. Originally from Singapore, he left his family to attend school in the U.S. While getting his undergraduate degree, Zhuo shared that his father was diagnosed with terminal cancer and only had six months to live. After he passed away, his family was left with an enormous medical debt, and Zhuo stepped up to support his family.
At the age of 20, Zhuo co-founded a startup selling textbooks online, working with Amazon and eBay. After three and a half years, Zhuo and his partner were able to scale the company to an $8 million run rate. They pair sold the company is 2007, and Zhuo used the money to help ease his family's debt and to return to school.
Zhuo went on to get an MBA from Stanford, and continued his work in investing. He was a core member of McKinsey's financial services team, then served as the CFO of Lit Motors — an EV startup. He also worked at the seed-stage venture fund Innovation Endeavors, before co-founding Karlin Ventures in 2012. After four years with Karlin Ventures, he joined forces with Eva Ho to co-found Fika Ventures.
Fika Ventures is currently focusing their investing on the collaboration between security teams (Infosec) and engineers. The fund also highlights the unique opportunities available to investors in L.A., especially those with a fintech or enterprise focus. Zhuo says their team is very collaborative, using blind votes to help decide where their funds will go.
TX shared insight into how he approaches investing, where and when he's willing to bet big on a startup, and what he sees as the future of venture capital. Hear more about his perspective on the relationship between L.A. and Silicon Valley, how he started Fika and his professional badminton career on this week's episode.
TX Zhuo is the co-founder of Fika Ventures.
"Whenever I feel stressed — and this applies to Fika as well — go back to what you've learned. Go back to templates, go back to your playbooks, go back to what was tried and test it." —TX Zhuo
dot.LA Engagement Intern Colleen Tufts contributed to this post.
Want to hear more of L.A. Venture? Listen on Apple Podcasts, Stitcher, Spotify or wherever you get your podcasts.
From Your Site Articles
Related Articles Around the Web
The COVID-19 pandemic forced restaurants, shops, movie theaters and countless other businesses to close. But alongside those closures, a surprising trend emerged: More new businesses formed in 2020 than the year before.
The uptick helped fuel growth for the legal tech company LegalZoom, which helps entrepreneurs start their businesses and provides other legal and tax services.
Last week, the Glendale-based company announced its plans to go public via an initial public offering. It's seeking to raise $100 million. The number of shares to be offered and the price range for the proposed offering have not yet been determined, the company said. It will trade on the NASDAQ under the ticker symbol "LZ."
LegalZoom's revenues rose last year to $470.6 million, a 15% year-over-year jump from its revenue of $408.4 million in 2019, according to filings. This year the company poured money into its marketing budget, and its revenue grew 27% in the first quarter compared to the same time period last year.
"The COVID-19 pandemic spurred new business formation and also highlighted the impact of policy and enforcement differences across local, regional and state levels," the company said in the filing.
LegalZoom sought to seize on the growth spurt among entrepreneurs.
In 2020, 4.3 million applications were filed for employer identification numbers that are needed to start a business, up nearly 25% from the 3.5 million filed in 2019, U.S. Census Bureau data show.
The pandemic forced many small businesses to slash their budgets, in some cases reducing funds for legal services and turning to the "do-it-yourself" model that LegalZoom offers. Meanwhile, individuals increased their use of online legal services as many firms shut down.
"We believe these shifts represent an acceleration of existing trends toward greater adoption of online services," the company said.

LegalZoom said 10% of new limited liability companies (LLCs) formed in the U.S. in 2020 were done through LegalZoom, while it facilitated the filing of 5% of new corporations. Those new business formations make up the bulk of the company's revenues.
But, like many online companies that boomed during the pandemic, keeping up the pace could prove difficult. The online company, which aggressively spent on marketing in a play to capture customers, warned that if it hopes to run a profitable company it must attract even more customers as well as retain old ones. Demand could also drop off and competition stiffen from rival companies including BizFilings, LegalShield, MyCorporation and RocketLawyer.
Still, LegalZoom estimates there is a $48.7 billion addressable market for its products.
LegalZoom has been adding new services, including a tax advisory arm that compete directly with H&R Block and Jackson Hewitt.
It's not the first time the company has filed for an IPO. In 2012, it filed but postponed the offering and withdrew two years later. A LegalZoom executive told The Wall Street Journal in 2014 it was "not the right time" as it saw public market conditions "dramatically worsen." At the time tech companies like Facebook were experiencing "troubled" public offerings.
From Your Site Articles
Related Articles Around the Web