From Classroom to Career: Avantus Academy Partners with Solar and Utility Giants to Boost California's Cleantech Industry
David Shultz
David Shultz reports on clean technology and electric vehicles, among other industries, for dot.LA. His writing has appeared in The Atlantic, Outside, Nautilus and many other publications.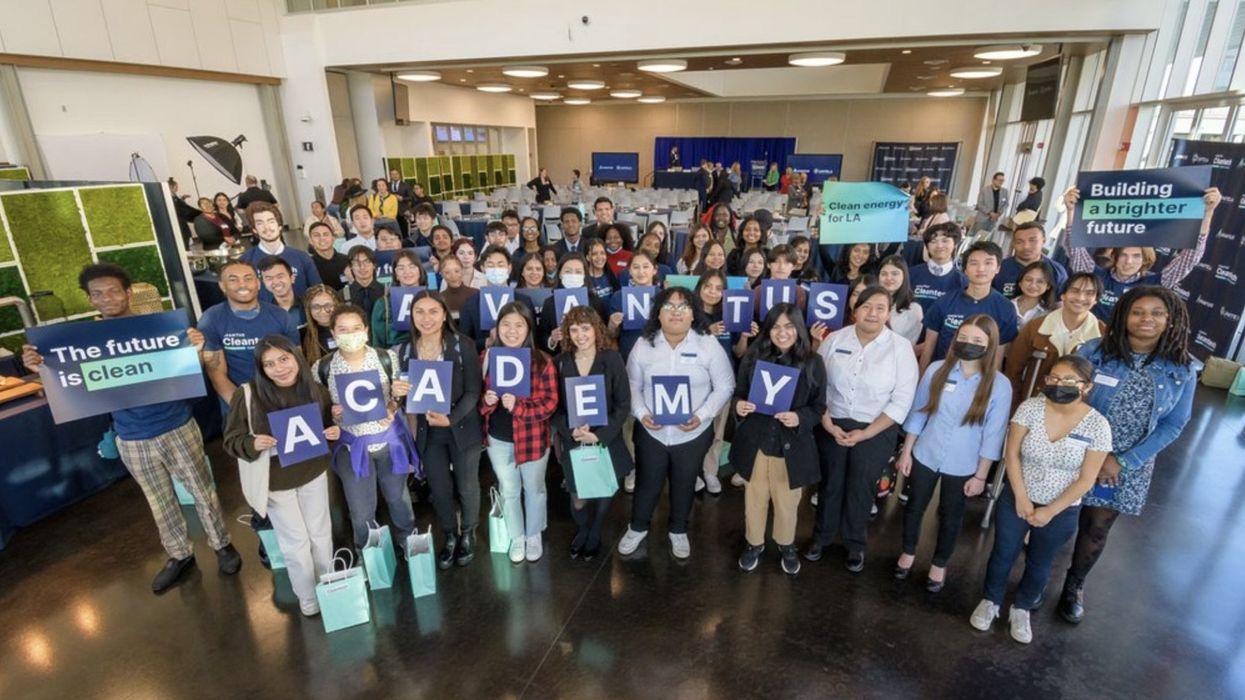 Avantus Academy
This is the web version of dot.LA's daily newsletter. Sign up to get the latest news on Southern California's tech, startup and venture capital scene.
The explosion of cleantech careers in California has already begun, but only just. In 2020, the state boasted just under half a million cleantech jobs; by 2045, that number is expected to rise to nearly 4.5 million. That's a 9-fold increase over the next two decades.
---
The coming demand for skilled cleantech workers represents an enormous opportunity for young people, which is why The Avantus Cleantech Career Academy, launched in Los Angeles last month, has made it its mission to make sure that opportunity is available to groups that have historically been left behind. "We wanted to find students that were interested [in cleantech] who maybe would not have had exposure to these types of opportunities otherwise," says Denita Willoughby, executive consultant for Avantus. "We looked at income, we looked at ethnicity, we looked at gender, to make sure that the student body was really balanced as much as possible. Most of the students enrolled today are first-generation college students or come from low-income households."
The Academy was founded as a partnership between one of the largest solar companies in Los Angeles, and UNITE-LA, a local nonprofit specializing in workforce development. UNITE-LA has previous experience setting up academies for other sectors like healthcare and biotech, but this is the organization's first foray into cleantech.
The inaugural cohort is composed of 75 Los Angeles County students between the ages of 16 and 24, but the Academy plans to expand to 125 students over the course of the next three years. Critically, it will also pay its students $16.04/hr for the entirety of the course.
For Andrea Abrego Gutiérrez, 24, who moved to the United States from El Salvador when she was 10, the Academy represents an opportunity to receive real world training for a future in clean energy. Abrego attended Santa Monica High School and graduated in 2018, where she says she got interested in cleantech. She's currently studying for an associates degree in climate at West Los Angeles College, where one of her professors encouraged her to apply to the Avantus Academy.
Though most of the training is virtual, the curriculum does come with some hands-on experience like job site visits and shadowing. "These kids will see things that they don't see on an everyday basis and talk to people about their jobs, their career paths, and what skills they need to succeed in this space," explains Willoughby.
In addition to the training and the money, Abrego says part of the appeal of the program is its focus on sharing the clean energy transition with everyone. "There are these companies that are creating solutions towards moving into a more sustainable future, but [part of sustainability] is sharing that knowledge with other people," she says. "It can't just fall onto one person. It has to be collective." Abrego hopes to use the classes at the Avantus Academy to launch a career in environmental consulting to design solar panels or electric vehicles.
A goal that's well within reach considering the Avantus Academy boasts a slew of partnerships with some of the biggest names in cleantech including Southern California Edison, solar company Sunrun, Los Angeles Unified School District and Los Angeles Cleantech Incubator. Sunrun, for instance, is planning a panel and discussion that will show students what it's like to work at the largest rooftop solar company in the nation. Southern California Edison is providing coaches and mentors for the program.
"We've got some really big goals here in California when it comes to renewable energy," says Willoughby. "This is a great example of a real solution that's going to make a difference. And it's collaborative–it's not just us by ourselves, trying to conquer the world. It's us being a leader saying, come to the table, join us, and let's make a difference. That's what I love about it."
David Shultz
David Shultz reports on clean technology and electric vehicles, among other industries, for dot.LA. His writing has appeared in The Atlantic, Outside, Nautilus and many other publications.