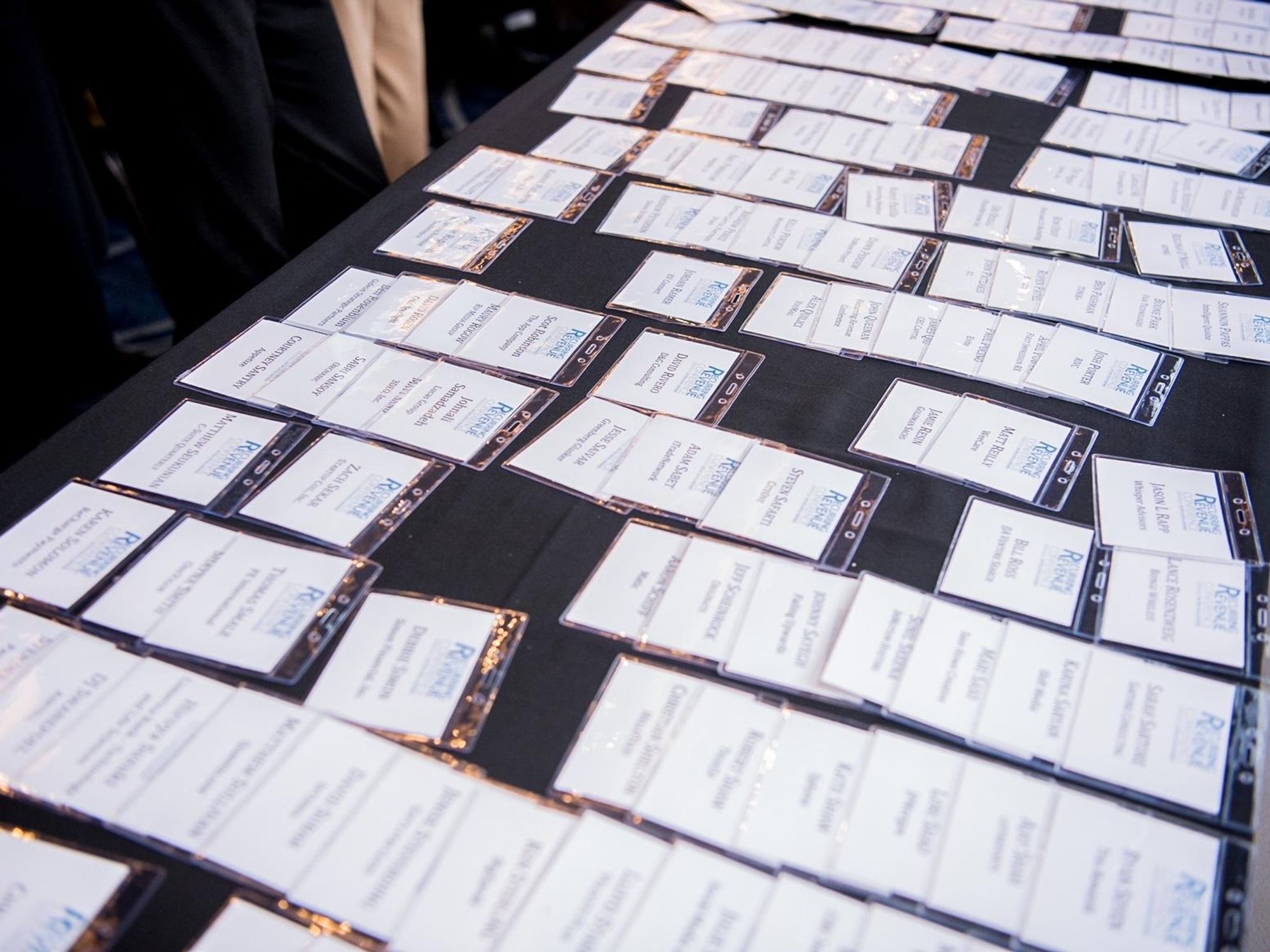 On June 23rd, California's Largest Subscription Economy Event Comes to Culver
Jun 13 2022
Read Part One of our coverage here.

The Recurring Revenue Conference, hosted by Sutton Capital Partners, returns to Culver City on June 23 for the first time in two years with a new hybrid live and virtual model.
---
The conference, which centers on Software as a Service (SaaS) and its connection to Fintech, started in 2015, after Sutton Capital Partners co-founder Peter Cowen attended Salesforce's annual DreamForce conference in Northern California and recognized the need for a companion event down south.
"There were 150,000 people at the pulse of what's going on," Cowen recalled. "You leave that micro environment and people didn't even know what recurring revenue was. Even smart, capable software people, investors and the like."
2022 Recurring Revenue Conference
At the time, there weren't any events in Southern California specifically dealing with this growing side of the technology business, offering entrepreneurs who were new to the space an opportunity to learn. It was Nancy Hammerman, Sutton's co-founder, who first suggested the concept for the conference.
By this point, Sutton Capital Partners were already embedded in the software and technology scene in Los Angeles as angel investors and limited partners in a number of local early-stage funds. (Cowen is also a professor at UCLA's business school.)
Cowen and Hammerman saw the conference as a way to spotlight new trends in the industry, surface founders and startups with exciting new ideas and business models, and to grow a local community of like-minded founders, investors, and other entrepreneurs.
"We look at the conference as a wonderful way to stay connected with the tech community on the specific focus of SaaS and subscription businesses, but also to watch the cross-fertilization---you might have an ecommerce merchant talking with a SaaS founder in completely different verticals," Hammerman said.
Bringing together individuals from different corners of the tech world to foster greater collaboration and innovation has always been at the heart of the project. But what neither co-founder could have been predicted was how Los Angeles would find itself at the dynamic center of the SaaS world.
"Southern California has always been a hotbed of creativity, with the entertainment community out here," Cowen said, noting that the emergence of the influencer economy has upended the traditional Hollywood studio model as the main barometer of success in Tinseltown. "The power of these influencers can really be measured in marketing. Many companies in Southern California now are coming in and offering influencers as a channel."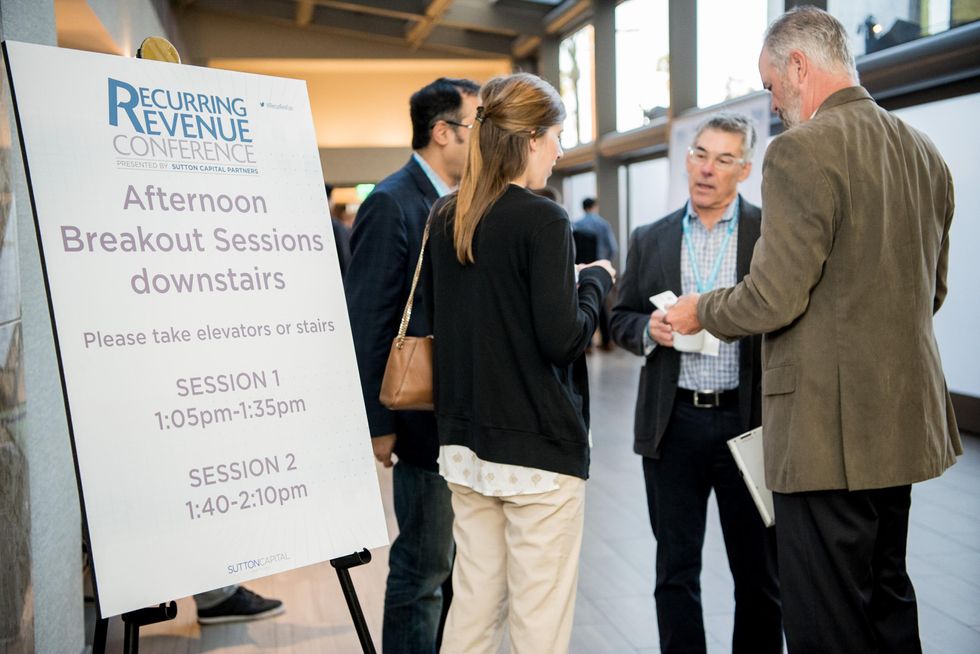 Attendees at the Recurring Revenue Conference (Photo via Sutton Capital Partners)
"We have really enjoyed great entrepreneurs who can articulate so clearly not only strategies but actual, usable tactics that can bring immediate, measurable results," said Cowen. "Among my favorites have been Perry Wallack, co-founder of Cornerstone OnDemand, who talked about how to keep great talent; and Kevin McGibben, CEO of LogicMonitor, who discussed key interviewing techniques to optimize hiring. And of course, there are always discussions about when and how to raise capital. Alan Rich, serial entrepreneur, talked about how empowering it was to self-fund initially, which gave him more control in the early stages."
Beyond marketing and promotion, the financial and funding side of the business has also shifted dramatically.
"When we started seven years ago, there wasn't that strong of a venture community here," Cowen noted. "The tech people had always been in Los Angeles, despite recent articles claiming that the city is only newly a tech hub. But on the business end of things, the number of businesses being founded and headquartered in Los Angeles were few and far between. Now, fast-forward, you have serial entrepreneurs; and you've got serial entrepreneurs who have funds. You've got lots of funds, period, not just the ones popping down from Silicon Valley."
And when it comes to SaaS specifically, the changes have been even more dramatic and propulsive: a boon for revenue, but compounding exponential stressors for founders. These are the kinds of challenges that the conference attempts to address through ongoing education and refinement.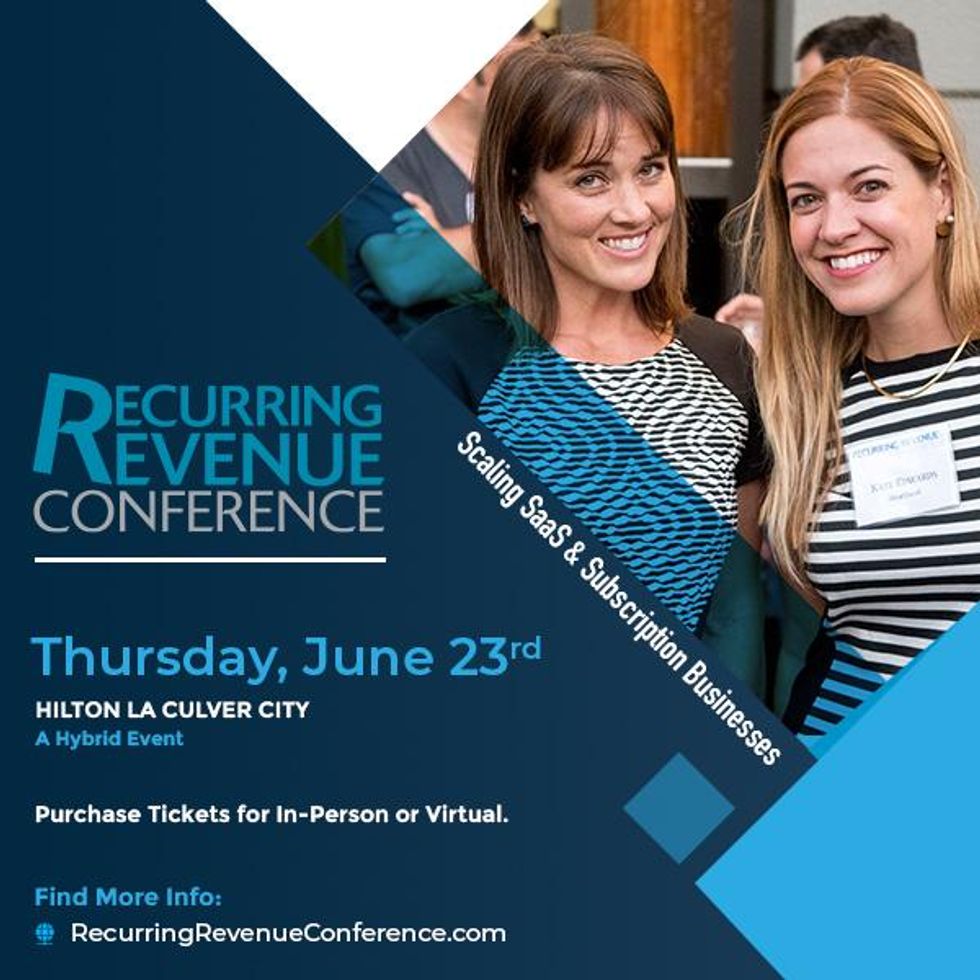 The Recurring Revenue Conference returns June 23rd to Culver City. (Photo by Sutton Capital Partners)
"The whole software industry has become so SaaS-centric, it's replaced the legacy systems that were out there," Cowen said. "Now it's become much more sophisticated, because companies need to compete against other scrappy SaaS companies. The flywheel effect sees the next round of SaaS startups scaling faster than their predecessors, and LA has been by far one of the largest beneficiaries of that."
Somehow the conference covers all of this ground and more within the span of a single day, through a combination of keynote speeches, informative panels, breakout sessions, and of course networking opportunities.
This year's agenda includes an opening panel focused on leading edge analytics and AI, with moderator and CRM pioneer Jon Ferrara in conversation with two leading customer insight company founders: Emad Hasan of Retina and Saumya Bhatnagar of Involve.ai.
Another key theme, raising capital, will be the focus of the returning Meet the Money panel, featuring 3 of the most active and well respected VCs in Southern California: TX Zhou of Fika Ventures, Alex Rubalcava of Stage Ventures and Minnie Ingersoll of TenOneTen Ventures. Another hot panel will center on valuation trends and the impact of the recent stock downturn on funding, and features some surprising data.
"We think the conference is very much the style of LA," said Cowen. "It's informative, it's meaty and it's easy to follow up and talk to somebody." Turns out one of the S's in SaaS actually stands for schmooze.
Venue information: Hilton Los Angeles Culver City
For tickets and info: Recurring Revenue Conference
Enter Promo Code: DOTLA229 and save over $200 for dot.LA readers (limited availability).