Do We Really NEED Humanoid Robots? Or Do We Just Want Them Really Bad?
Lon Harris
Lon Harris is a contributor to dot.LA. His work has also appeared on ScreenJunkies, RottenTomatoes and Inside Streaming.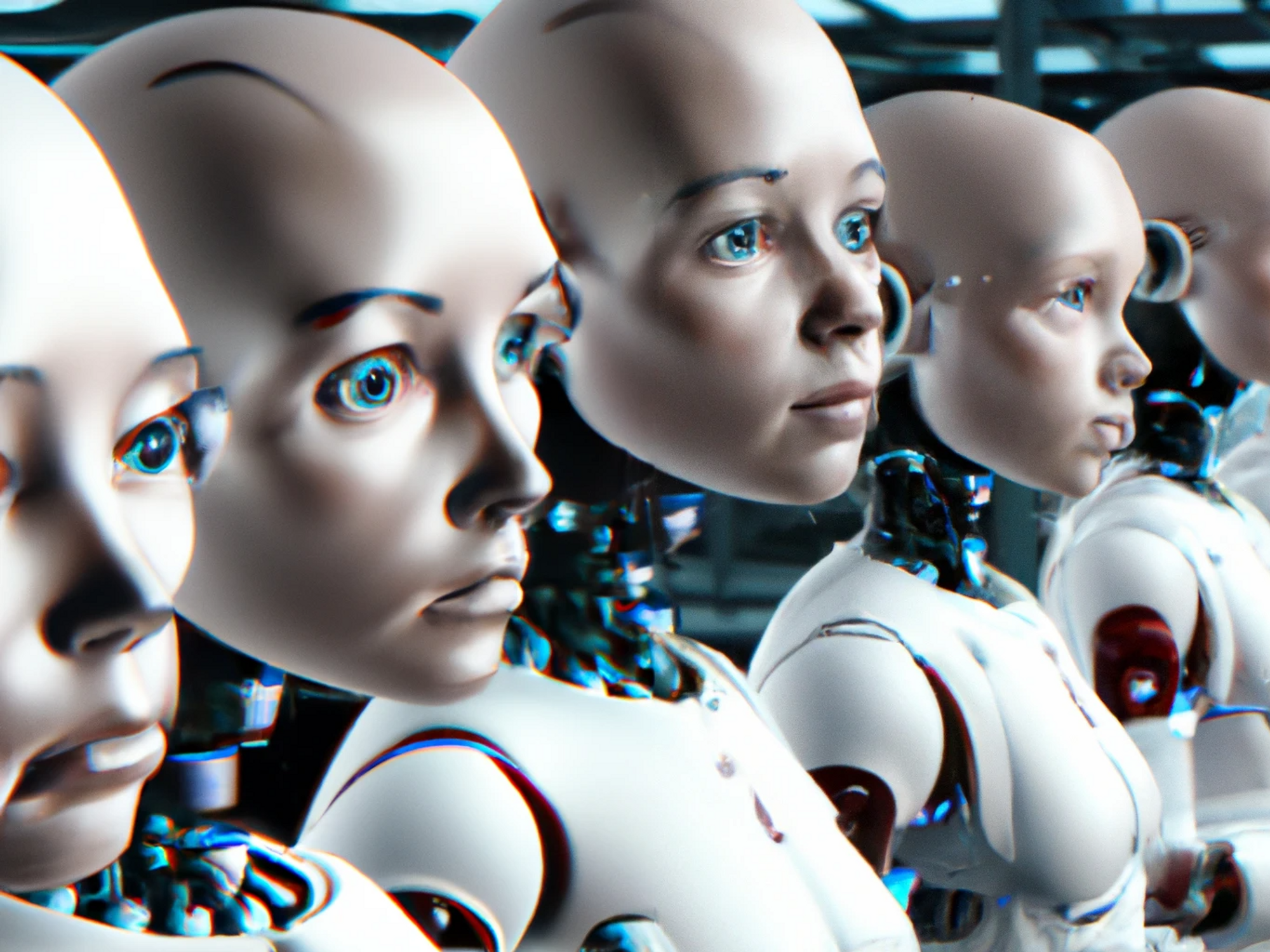 DALL-E
This is the web version of dot.LA's daily newsletter. Sign up to get the latest news on Southern California's tech, startup and venture capital scene.
Robotics startup Figure came out of stealth this week and teased some early conceptual images for the bipedal humanoid robot it's developing. The robot – unimaginatively known as Figure 01 for the time being – looks a lot like you'd probably imagine upon hearing the phrase "humanoid robot," a bit like the drones from HBO's "Westworld" but in a sleek gray-black design instead of all-white.
According to founder Brett Adcock, Figure's goal is to "commercialize" the last few decades' worth of development on the robotics front, with a team made up of experts from the fields of AI, electrical engineering, software development, and mechanical systems. He told TechCrunch this week that the company already has a version of Figure 01 beta testing at their Sunnyvale offices, and are currently at work on a second-generation model "which will be feature-complete for commercial operations."
---
Those "commercial operations" are mainly the same kinds of jobs for which industrial robots have been designed for many years, such as manufacturing on an assembly line or retrieving inventory in a warehouse. These are basic, repeatable tasks that are functionally the robotic equivalent of manual labor, and none of them require robots that physically resemble humans.
Boston Dynamics, the robotics company whose compelling and even viscerally exciting demos frequently go viral on social media, however, doesn't seem to focus too much on making their Atlas bipedal robots look particularly human. They have the right number of arms and legs, but lots of wires and tubes circling all around their back and a square box resembling a computer where the "head" should be.
To that end, "basketball robot" CUE5 developed by car manufacturer Toyota was unveiled at the 2020 Olympics in Tokyo, and resembles a person (albeit a metal person) while shooting 3-pointers with 100% accuracy.
Which is to say, there are genuinely two sides to the "should robots look like us?" debate and, thus far, no clear way to pick a winner. Some might point out that the human body itself isn't necessarily the most efficient design and engineers should be open to new ideas about form and function. While others note that we've already designed our world and cities to suit our human frames. So we might as well design automated helpers who can navigate the same environments.
Adcock insists that humanoid robots specifically will serve a number of vital functions in the future, "from corporate labor roles, to assisting individuals in the home, to caring for the elderly, to building new worlds on other planets." It's worth noting that two of these examples center around assisting humans in their own homes. So the inference may be that we don't physically need humanoid robots for any specific practical reason, but we nonetheless will want them for emotional and psychological reasons.
A 2022 Hackaday post suggests that robots pretending to be people could one day have applications in fields like medicine, as say, nurse-bots. In the electrical engineering journal IEEE Spectrum, writer and roboticist David Hanson argued that developing humanoid robots will help scientists and engineers to continue pushing the boundaries of fields like biology and cognitive science. In other words, interacting with robots who resemble humans will help us to better understand both the robots and ourselves, which alone will make them practically useful. He also points to a few practical real-world robotics applications – such as working with children with special needs or assisting astronauts during long space journeys – that might require a humanoid touch.
It's also possible that making robots look more like people will lead actual people to treat them with more care. Remember hitchBOT, the hitchhiking robot who attempted to travel across the US, only to be destroyed by ruffians in Philadelphia just weeks into its American journey? Perhaps it would've made it all the way to San Francisco if people had felt more compassion for the little guy with the LED light-up face.
In 1970, roboticist Masahiro Mori theorized that robots will get increasingly human-like up until a certain point, when they become too lifelike and enter the "uncanny valley." Once there, humans would begin to notice the subtle differences between robots and humans, which can make interacting with them creepy or unsettling. (Think of the difference between goofy cartoon humans in a Pixar movie and the eerily lifelike animated characters of films like "The Polar Express.")
Figure 01 certainly isn't there yet. No one is mistaking its shiny featureless face for motion-capture Tom Hanks. But a number of companies are nonetheless pursuing the humanoid robot goal in tandem.
Oregon's Agility Robotics raised a $150 million round last year from Amazon and other backers for its vaguely humanoid robots, which work alongside flesh-and-blood humans in warehouses and fulfillment centers. Tesla briefly showed off its walking "Optimus" humanoid robot this week during its Investor Day event.
Plus David Hanson's own company, Hanson Robotics, is behind "Sophia," the "social robot" who memorably made her debut at the 2016 SXSW festival. Sophia's designed purely to interact with humans, essentially like a generative AI chatbot with a face. While it's certainly possible that she'll one day have real-world practical applications, so far, her utility is largely centered around drumming up pro-robot publicity, as in her "Tonight Show" appearances.
For the time being, this seems to be where we've ended up on the whole humanoid robot question. It's unclear whether or not we're ever going to need them, but a century plus of science fiction stories and comic books have convinced humanity that we want them, or at least that we're fascinated by the idea of one day having them around. Even if our imaginations on their uses stall out after "imaginary friend," "sex-bot" or some kind of "Westworld" "violent delights" scenario, the humanoid robot as an idea is not going away any time soon.
Lon Harris
Lon Harris is a contributor to dot.LA. His work has also appeared on ScreenJunkies, RottenTomatoes and Inside Streaming.