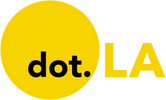 Get in the KNOW  
  on LA Startups & Tech  
X
Office Hours Podcast
Spencer Rascoff is a New York Times bestselling author who co-founded four tech companies, invested in over 50, and was CEO of Zillow for a decade. His first startup, Hotwire, sold to Expedia for $685 million, and his second startup, Zillow, is now a real estate colossus, worth around $10 billion dollars. Now, he's cofounded dot.LA, a media company covering the cutting-edge LA tech scene. Hear Spencer discuss with other CEOs and business leaders – with a special focus on his hometown of Los Angeles -- how to manage, how to lead, and how to win in business.
Courtesy of Maria Colacurcio
Maria Colacurcio launched her first business in the fifth grade. Her goal: raise enough money for her friends to buy jackets inspired by The Pink Ladies in "Grease." Her method: sell ideas for dares that kids seeking playground mischief could perform.
Her efforts earned her a bad reputation; Colacurcio said it was her first exposure to how culture can make or break a business.
On this episode of Office Hours, the Syndio CEO joined host Spencer Rascoff to discuss how technology can change workplace equity and the importance of company-specific decision making.
Colacurcio became CEO of Syndio, a SaaS startup that aims to help companies foster workplace equity, when there were fewer than a dozen employees. Initially a "people analytics" company focused on providing clients with data about their staff, Colacurcio said one of her first big decisions was whether to shift focus to a side project started by founder Zev Eigen. Looking at the competitive landscape and considering their big idea, Colacurcio said they decided to bet on a calculator that provided real-time pay equity analysis.
"It was a way to give companies more real time access to doing ongoing pay equity analyses and get the insights as to why it was happening," she said. "We saw the market changing."
Tech like Syndio's is becoming increasingly necessary as people consider what workplace equity looks like, she said. As Colacurcio learned as a kid, culture can define a company—and understanding how policies and behaviors impact pay equity, hiring trends and internal promotions all impact corporate culture.
While many companies are concerned about a looming recession, Colacurcio said Syndio remains in a good place to grow. In fact, she said companies should examine their situation before jumping into layoffs, which often disproportionately affect marginalized groups—the very communities that Syndio's tech seeks to uplift.
"I think you have to be really careful about automatically moving to that mindset of 'batten down the hatches' and really look at your business," Colacurcio said. "Look at your metrics—what [does] your magic number look like? What [does] your operational efficiency look like? How much are you spending for every dollar of revenue? And if those metrics look decent, this may be a moment for you to actually pull away from the pack."
Want to hear more episodes? Subscribe to Office Hours on Stitcher, Apple Podcasts, Spotify, iHeart Radio or wherever you get your podcasts.
dot.LA Editorial Intern Kristin Snyder contributed to this post.
Image courtesy of Thrive Market
On this episode of Office Hours, host Spencer Rascoff talks with Thrive Market co-founder and CEO Nick Green about his company's mission to make healthy groceries more accessible.
Most people in his middle-class, Midwest neighborhood where Green grew up were used to diets built on the carb-based food pyramid, along with junk food. His family, however, tried to fill the dinner table with nourishing options.
"I had a mom who was very different," Green said. "We were that weird house on the block that had no soda, no sugared cereal…She came from a big Mexican-American family. And a lot of her siblings, cousins, parents—it was diabetes, it was heart disease, it was all of these what we now recognize as lifestyle diseases. She basically was just hyper-committed to changing that for her kids."
That commitment was difficult to sustain without nearby stores dedicated to healthy food, and most people's understanding of nutrition at the time was lackluster. Add a slim budget to those constraints. and finding quality ingredients was even more challenging, he said. Many people still face the same barriers his mom encountered.
"It's like, you don't live near a healthy retailer. If you do, you can't afford it," he said. "And even if you can afford it, it's like, where do you start?"
When Thrive Market co-founder Gunnar Lovelace pitched him an idea to invest in a company that was "like Groupon for healthy food," Green said he perked up.
"It just resonated with me super personally," he said.
They later abandoned the Groupon-esque concept in favor of a membership-based model that could get non-perishable items to consumers faster and an online platform offering natural, organic items at an affordable price.
"It was really Whole Foods-meets-Costco membership model for the best-selling highest-quality, natural, organic food products," he said
Thrive Market launched in 2014 with plans to make revenue off of their annual membership fees and then pass along the savings by pricing products at or below the conventional cost.
"Let's get a Kind bar at the price of a Snickers bar, nontoxic laundry detergent below the price of Tide, that kind of thing," he said.
Thrive worked hard to make their platform easy to use, so that people with families and jobs could quickly search for what they needed. They introduced smart filters to sort by diet and lifestyle, and also let customers get all their items at once, rather than in separate shipments.
Thrive Market has since grown to over a million members and 1,000 employees, Green said.
The pandemic posed a major challenge to the young company, Green said, as more people turned to online shopping and the company had to consider how to rapidly scale, while protecting its employees and customers—in particular those who were at risk.
"You go from a world where some people are shopping online to [one where] everybody all of a sudden…had to be shopping online," Green said. "You went from a world where some people are thinking about their health to [one where] everybody is concerned about their health. So for us, it was kind of an acceleration of both of the secular trends that we're betting on."
Thrive launched a COVID Relief Fund to provide free memberships to members and staff who were most affected by the pandemic, which was funded by member donations. It also allowed senior citizens to sign up for a membership for free. But, for others, the company's membership model, which forces users to sign up for a year, helped keep that growth sustainable.
"So we didn't get people who just wanted, like, toilet paper and hand sanitizer," Green said. "We only got people that actually were interested in what the Thrive Market value proposition was".
Thrive has been able to avoid the steep drop-off that many of its online delivery rivals are now seeing, as customers return to in-store shopping.
"And what's been really heartening for us is seeing that we're retaining the members that we brought in during COVID," Green said
Want to hear more episodes? Subscribe to Office Hours on Stitcher, Apple Podcasts, Spotify, iHeart Radio or wherever you get your podcasts.
dot.LA Editorial Intern Kristin Snyder contributed to this post.
Image by Ness Smith-Savedoff
On this episode of Office Hours, Spencer speaks with entrepreneur and venture investor David Beatty. Beatty is the managing partner and co-founder of Gaingels, an LGBTQIA+ investment syndicate aimed at fostering social change through their investment portfolios by creating a more diverse, inclusive and accessible venture capital ecosystem.

Their conversation was recorded at the Milken Institute Global Conference on May 2, 2022.
Beatty moved to the United States in 1990, where he started several successful businesses, including one involved in now-ancient fax and Telex technology. He retired in 2006, became an angel investor and eight years later, he decided to focus his investing efforts.

"In 2014, I started Gaingels with my co-founder, Paul [Grossinger], because there was nowhere for us as gay men to be able to invest in our own community," he said.
The syndicate started out as "a group of mostly gay men, investing in mostly gay men," Beatty said, adding that it has since expanded to include investors from a number of backgrounds, with the aim of promoting greater diversity to the startup and venture capital worlds.
Beatty argues that Gaingels' commitment to diversity, equity and inclusion goes beyond the obvious moral considerations — it's sound business.
"It's not that it matters because it's the right thing to do," he said. "It matters because companies like McKinsey and organizations like Harvard University have done so many studies that say that companies with diverse management teams and diverse boards fiscally outperform companies that don't."
The organization's structure — it's a syndicate, not a fund — is crucial, he added. For every potential deal, Gaingels receives an allocation from the prospective company's CEO, which can depend on the stage of the deal.
"And then we bring it to our members, and our members choose which deal that they wish to invest in," he said. "And we put together a special purpose LLC for that. And then we do the work to enable that LLC to make that investment."
Gaingels' membership has since expanded to 2,700, and the organization has invested in thousands of companies, according to its website. Pitchbook and CrunchBase have both recognized it as the among the most active venture capital firms in 2021, Beatty said.
"What it's doing is it's opening up this whole world of previously unavailable investment opportunities to individuals," he added. "And our focus is expanding the number of members we have to minorities from right across the board, not just the LGBTQ-plus community."
Prospective portfolio company CEOs are asked to sign Gaingels letter, of commitment to do certain things in their hiring and HR practices—for instance, considering a non-discrimination policy and pledging to seek out qualified minority candidates for every executive job opportunity—that put them on a good footing for hiring and supporting an inclusive staff.
"—which you may think is a very simple thing," Beatty said. "But when you know that you can get evicted from your house in 28 states in the United States just for being gay. These kinds of things actually matter when they come from companies."
Aside from access to capital, Gaingels portfolio companies get access to a more diverse set of investors and get to the syndicate's network of expertise and tools for hiring, including its jobs portal.
"We're now expanding that to use technologies with the partners who can bring in recruiters who can actually specialize in recruiting from minorities, so that we can actually provide more resources," Beatty added.
The goal, he said, is to make it as easy as possible for executives of their portfolio companies to hire qualified candidates from traditionally underrepresented groups.
"It's amazing to me how pretty much all of the top venture capital firms want us to be co investors on their cap tables, because of what we can help them focus on," he said.
Want to hear more episodes? Subscribe to Office Hours on Stitcher, Apple Podcasts, Spotify, iHeart Radio or wherever you get your podcasts.