As Central Valley Farmlands Suffer Fire and Drought, a New Vertical Farm Is Sprouting — in Compton
Francesca Billington
Francesca Billington is a freelance reporter. Prior to that, she was a general assignment reporter for dot.LA and has also reported for KCRW, the Santa Monica Daily Press and local publications in New Jersey. She graduated from Princeton in 2019 with a degree in anthropology.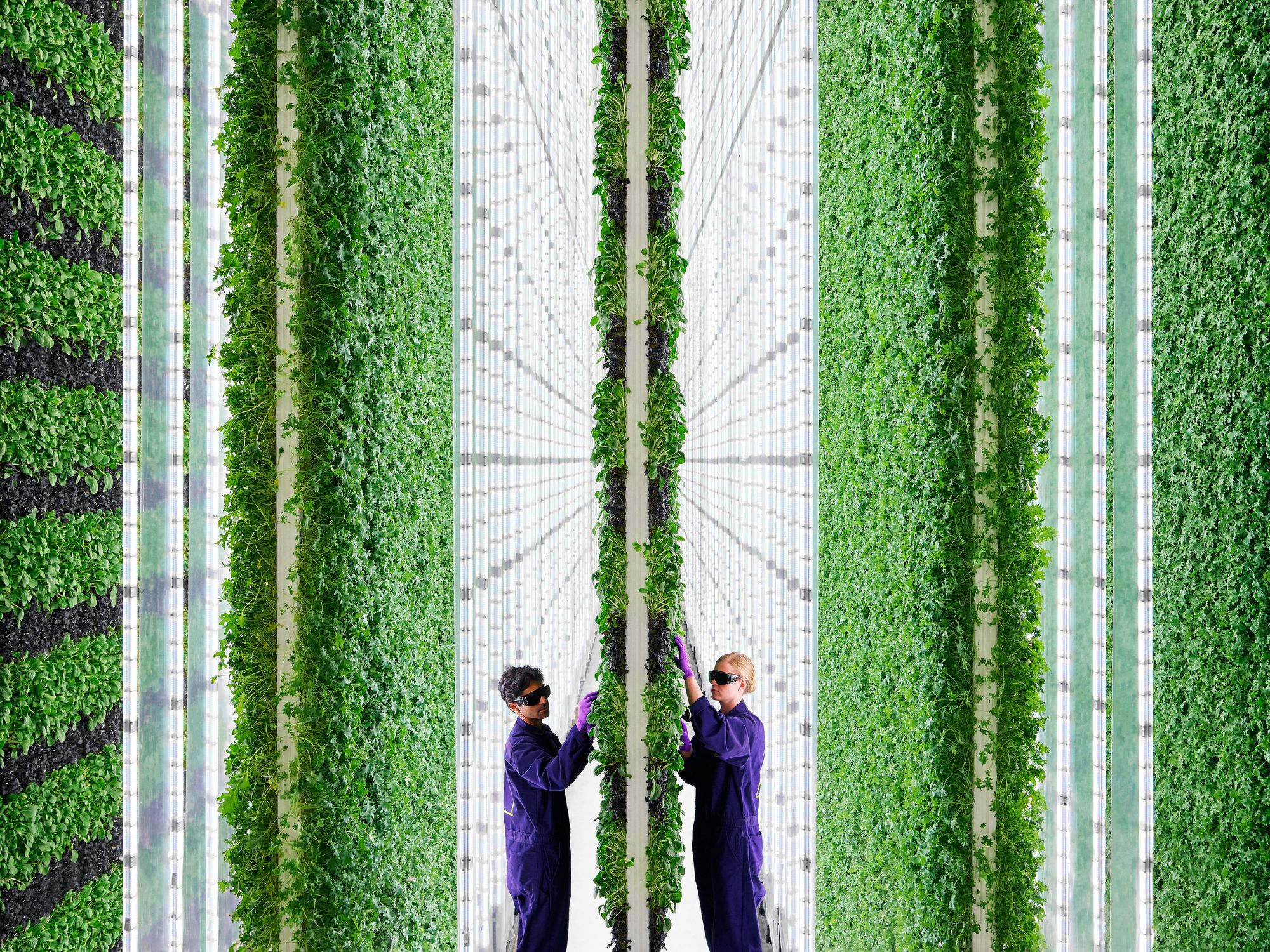 Tech agricultural unicorn Plenty is gearing up to hire 50 full-time employees to run a new vertical farm monitored by robots in Compton.
The farm, which will open in 2021, will grow leafy greens and Driscoll's branded strawberries, showcasing Plenty's indoor hydroponic farming. CEO and co-founder Matt Barnard says it's more efficient than traditional farming, which is weather-sensitive and requires large plots of land.
---
"We're severely straining our environment," said Barnard, a former tech executive who grew up on a farm in Wisconsin. "Plenty farms aren't vulnerable to nature's threats, such as storms, flooding, heat, pests and pathogens the way outdoor farms are."
And they're unlike the popular images of commercial farms that stretch acre after acre of a single crop. Plenty's farm grows up instead of out.
Green walls of lettuce and arugula grow on vertically stacked beds, using less than 5% of the water required for traditional agriculture and less than 1% of the space. Since shelter-in-place began, the company has shipped out two to three times more food every week.
The San Francisco-based startup will get a boost from the $140 million Series D round it announced last week, led by Softbank, along with berry grower Driscoll's Inc., to establish its second facility. Their first farm was on Google's Mountain View campus, where the company tested hundreds of crop varieties before stocking stores with greens in the Bay Area.
The Compton facility will help Plenty supply 431 Albertsons-owned grocery stores with strawberries and greens across the state — including Safeway, Vons and Pavilions — in a deal struck this summer.
Moving to Compton
Barnard's team looked at over 180 site options across L.A. before settling on a location in Compton, which he calls "a perfect spot" because of the city's agricultural history that harks back centuries and is evident in Richland Farms, a still-rural area. He was also interested in the high density of households lacking access to healthy food.
The 50 new positions for growers, technicians, logistics and operations managers at the Compton farm will be posted by the end of the month, spokesperson Jane Gideon said.
The move down to L.A. is likely the first in a series of new farms Plenty is planning to build. What began in late 2018 as a line of boxed produce sold in Bay Area grocery chains can now be found in retailers such as Whole Foods.
For an industry that didn't exist seven years ago, vertical farming is thriving, Dickson Despommier, professor emeritus of Public and Environmental Health at Columbia University told dot.LA. He coined the term vertical farm in 1999.
"In Los Angeles, you don't have to go too far to get into the fire zone and once you're there you realize that it used to be farmland," Despommier said. "The Central Valley of California is doomed. And by the way, how do you think they're trying to put out those fires? They're using water that would ordinarily be used for irrigation."
He said that not everyone is sold on the idea of growing food inside. Part of the marketing challenge for companies like Plenty is reassuring consumers and buyers that their produce is just as healthy (if not moreso) as traditionally grown produce.
"They think that farming outdoors is natural and farming indoors is unnatural," he said.
Still, it's catching on.
On Tuesday, BrightFarms, which also grows produce in hydroponic farms and sells it in retailers like Kroger and Walmart, announced a $100 million raise. The New York-based company is currently developing three new farms in North Carolina, Massachusetts and Texas, they said in a statement.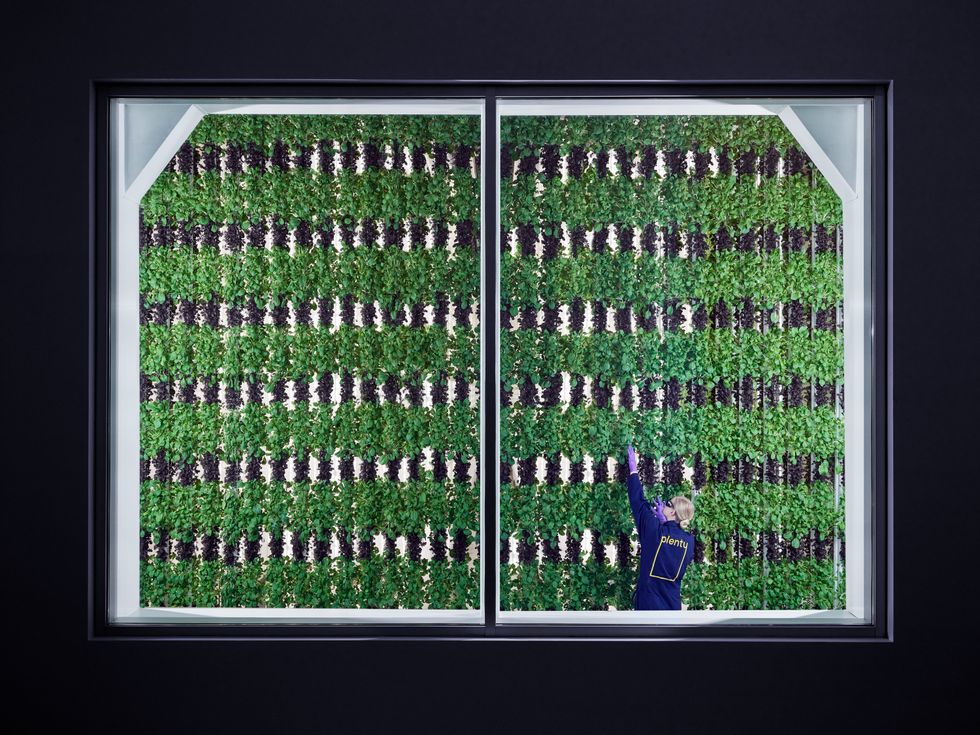 The first company Despommier heard of that was growing food indoors was Newark-based AeroFarms, which was funded by investors including Goldman Sachs as well as the city of Newark, which saw it as a hiring opportunity for its residents. A similar social mission defines Vertical Harvest in Jackson, Wyoming, a company that hires employees with developmental disabilities such as Down Syndrome and Autism.

The Indoor Model
Plenty wants to churn out accessible produce that also tastes better, a way of encouraging consumers to buy more because it's "the most desirable option."
"One of the missions of Plenty is to move the world from a calorie-rich diet to a nutrient-rich one," Barnard said. "That means more plants that taste amazing."
The components that determine flavor in crops include light, climate, water and stress, Barnard said, which the agricultural industry can't manipulate simultaneously on outdoor farms.
"Now that we can control things like light and climate recipes, we have the privilege to control flavor," he said. "We view our competition as all the stuff in the middle of the store — highly processed foods with lots of sugar."
Back at Plenty's first farm, employees would walk the produce to the Google cafe to ask chefs for instant feedback on fresh arugula and bok choy. The startup now owns a research farm in Laramie, Wyoming, where scientists test plant varieties and growing conditions, and a production farm in South San Francisco.
Their line of pesticide-free produce like baby kale and lettuce mixes are ready to eat out of the box because human hands don't touch them. Even though robots and sensors manage daily tasks like watering plants and purifying the facility air, Plenty hasn't cut out human work.
A 4.5 ounce box of Plenty greens sells for $4.99 on Instacart, and prices will remain consistent as products are stocked in the organic sections of grocery stores across the state.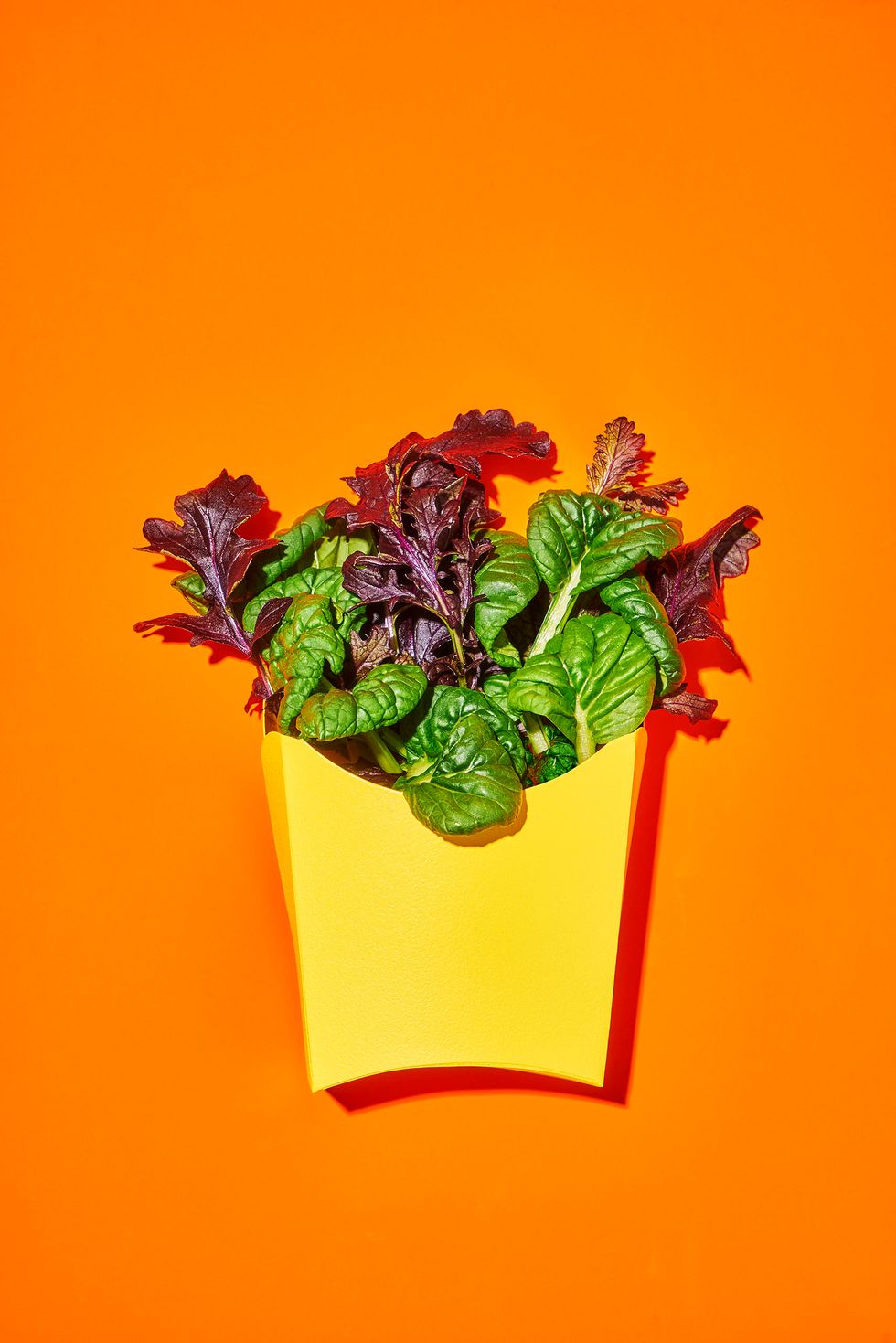 The company went with Albertsons in hopes of reaching the largest number of consumers in California. The retail giant reported this week that business in its retail stores rose 13.8% during its second quarter, which ended on September 12.

Like most of its competitors, Plenty only sells leafy greens at the moment. But that will change with the Compton farm, which will grow strawberries as well.
Plenty and Driscolls have begun early stages of research and development for their strawberries at an indoor farm in Wyoming. Testing will be completed before the companies roll out their production in Compton, senior VP of Global R&D at Driscoll's Scott Komar said.
He added that his company, now an investor of Plenty, backs the startup for two reasons: the promise of "controlled growing environments" and the chance to move fruit production to underserved locations.
"These opportunities go beyond berries," Komar said.
Francesca Billington
Francesca Billington is a freelance reporter. Prior to that, she was a general assignment reporter for dot.LA and has also reported for KCRW, the Santa Monica Daily Press and local publications in New Jersey. She graduated from Princeton in 2019 with a degree in anthropology.
https://twitter.com/frosebillington
francesca@dot.la