What Happens After An Influencer Quits Their Day Job?
Kristin Snyder
Kristin Snyder is dot.LA's 2022/23 Editorial Fellow. She previously interned with Tiger Oak Media and led the arts section for UCLA's Daily Bruin.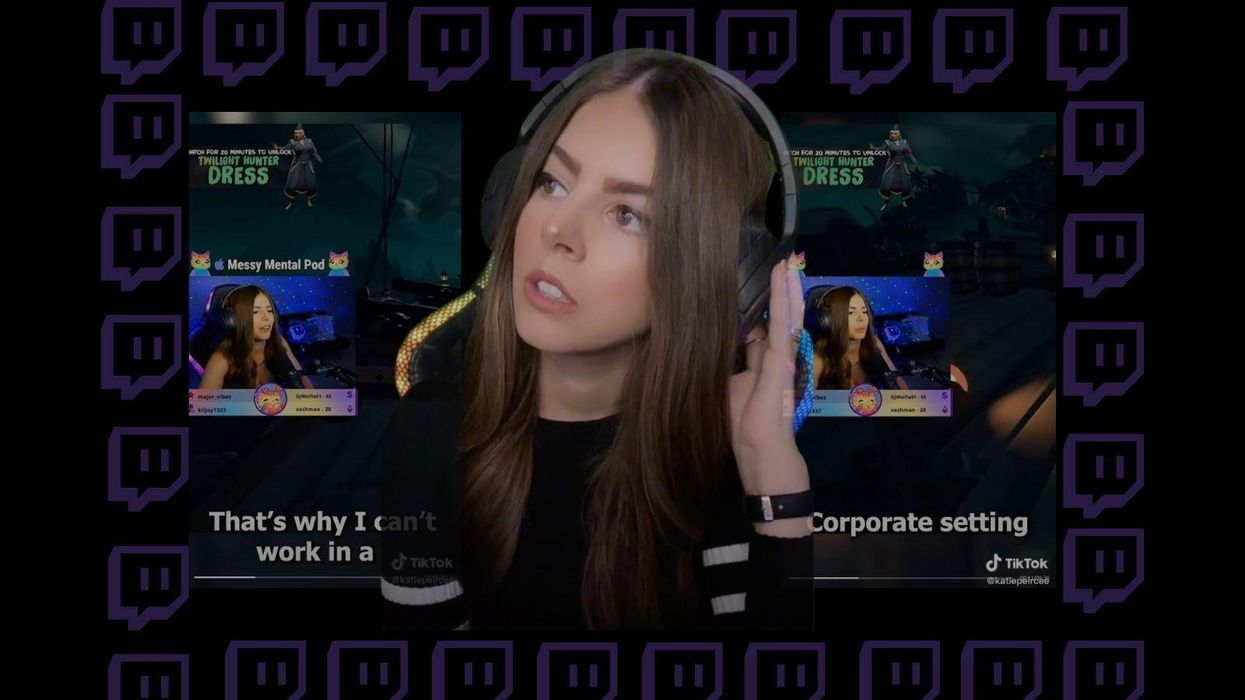 Every day at noon, Katie Peirce would stream "Sea of Thieves" on Twitch. The 27-year-old had spent a year cultivating an audience of 50 viewers who would tune in to watch her play the video game.
But after an hour of gameplay, Peirce had to sign off and resume her full-time job—digital marketing for a financial tech company.
"On Twitch, if you're not live you can't really get discovered," Peirce says. "For me, I knew I was going to have to devote more time to this if I wanted to take it seriously."
---
So, in 2022, Peirce, like many during the "Great Resignation," took the jump and decided to become a full-time content creator. One survey from last year found that at least one in four members of Gen Z want to make social media their only gig.
Peirce knew it was a gamble—she and her boyfriend had just bought a house, and she was letting go of a $45,000 annual salary amidst their mortgage payments. As a part-time streamer on Twitch, she was making between $800 and $1,000 a month.
"It was really scary because you're giving up some semblance of financial stability to take a risk on yourself," Peirce says.
Almost a year later, Peirce now makes between $3,500 to $4,000 a month streaming five hours a day. Within a few months of quitting her full-time job, she became a Twitch partner, which meant she could monetize her channel. In addition, Peirce became an official partner for "Sea of Thieves," which allowed her to give away in-game prizes to her subscribers. And when Twitch introduced an ad-revenue program for streamers, her income stabilized to the point that she no longer had to rely on donations from her subscribers and could earn 55% of the ad revenue from each stream.
But streaming every day has its own set of concerns. Peirce has to troubleshoot internet issues, fiddle with audio-visual settings and keep up with the latest software. Her free time is spent prepping for how to make her next stream more engaging. Even when she isn't streaming, she's thinking about streaming.
"I didn't know how hard it was going to be," Peirce says.
YouTuber Paige West had planned to wait a full year to build up her following before quitting her engineering role. But six months in, the stress from her nine-to-five led her to quit.
"I was really optimistic when I quit and felt like I could make this work very quickly," West says. "I'll be able to grow an online presence so much faster when I'm not working my nine-to-five job, but that just wasn't the case."
West's YouTube channel wasn't even monetized when she decided to leave her job as an engineer. She and her husband had savings she could dip into. And she supplemented her income by driving for Instacart and pet sitting. Technically, she had lost money on the endeavor, as she had invested in a camera and an online coaching course.
But two months after quitting her job West monetized her first video. In it, she talks about why she quit her corporate job. And though she only made $100, West says, "It felt like I was going in the right direction."
That said, West took a different path to full-time content creation: She used her online presence to build up her freelance life coaching. And though YouTube ads don't come close to her previous job's salary—last year she only made $1,500 from the platform—it's through YouTube that she finds most of her clients.
Even so, West predicts that the ongoing layoffs will lead to more people dipping their toes into the content creation pool. But, she warns that, "It's not a get-rich-quick concept."
As for Peirce, she knows that her monthly income will fluctuate from month to month. She believes her previous success on Twitch combined with her few personal expenses has set her up to weather the recession. Still, she says that only some creators have that luxury.
"It's not the end of the world if I do have a low month," Peirce says. "But for some creators, it can be really catastrophic."
Kristin Snyder
Kristin Snyder is dot.LA's 2022/23 Editorial Fellow. She previously interned with Tiger Oak Media and led the arts section for UCLA's Daily Bruin.
https://twitter.com/ksnyder_db