Movie Theaters Roar Back to Life with Godzilla vs Kong'
Sam Blake
Sam primarily covers entertainment and media for dot.LA. Previously he was Marjorie Deane Fellow at The Economist, where he wrote for the business and finance sections of the print edition. He has also worked at the XPRIZE Foundation, U.S. Government Accountability Office, KCRW, and MLB Advanced Media (now Disney Streaming Services). He holds an MBA from UCLA Anderson, an MPP from UCLA Luskin and a BA in History from University of Michigan. Email him at samblake@dot.LA and find him on Twitter @hisamblake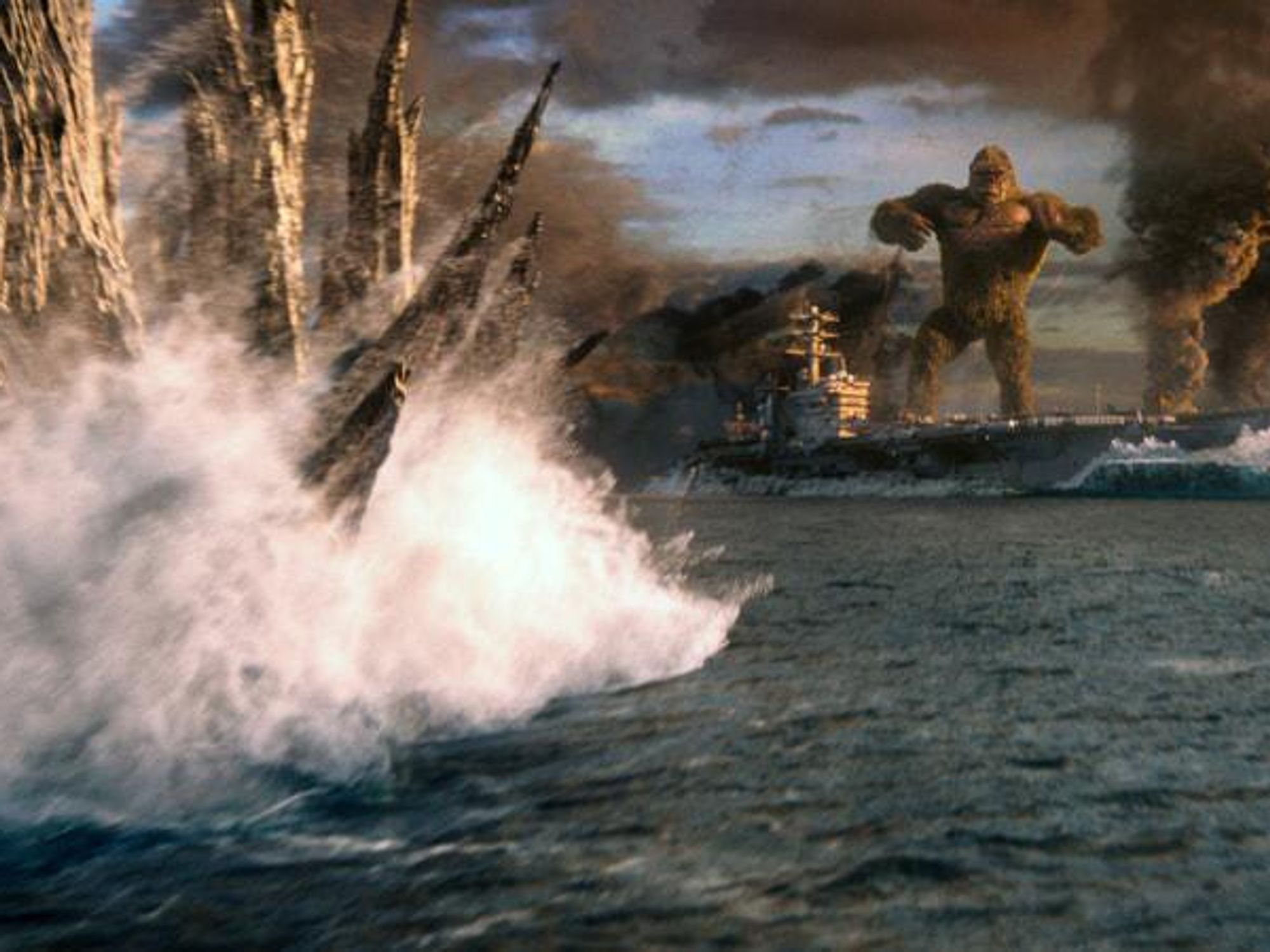 The movie business is breathing a provisional sigh of relief today after weekend box office numbers show "Godzilla vs. Kong" broke several pandemic-era records. But Hollywood still has reason to worry.
In its debut domestic weekend, the Warner Bros. film played on over 3,000 screens and raked in $32.2 million, both highs since lockdowns began. None of these figures would represent big wins in normal times, though this is hardly normal.
---
Pre-pandemic average opening weekend of 2019's top four box-office hits was about $200 million. And for the first time, Warner Bros., Disney and other studios have simultaneously released what would normally be theatrical tentpoles on their streaming services.
"It's clear that wherever audiences are ready to safely return to the theater, they have, and we're thrilled with the results," Jeff Goldstein, who heads domestic distribution at Warner Bros. Pictures, said in a release announcing the numbers.
The new data suggest Hollywood, which had an abysmal box-office year with theaters across the country shuttered, is headed in the right direction – even if the cinema business is in decline. And with only 55% of theaters operating in North America according to Comscore, and most of them at limited capacity, there is still plenty of room for recovery.
The box office figures represent about a 50% increase in screen count and 278% jump in revenue from Disney's "Raya and the Last Dragon," the most recent big-name film to debut in the U.S., in early March.

The film also set pandemic-era records for largest opening day since lockdowns began ($9.6 million, on Wednesday last week) and largest single day ($12.5 million, on Saturday). Overall, it has earned $48.5 million since its mid-week release. Including international, where it has been showing for about two weeks, it's brought in over $285 million.
For further comparison to the film's $32.2 million weekend, the pandemic-era debut of "Wonder Woman 1984" took in about $16.7 million domestically over Christmas weekend, while "Tenet" earned $20.2 million over its opening weekend in September.
Like "Wonder Woman" and "Raya," "Godzilla vs. Kong" viewers had the option to watch the new film on a streaming platform. "Raya" was sold for $30 on Disney Plus, while the other two were available on HBO Max for no extra fee. The extent to which this impacted their box office performance is unclear.
Given the relative success of "Godzilla vs. Kong," though, there may be some cause for optimism that the magic of the silver screen still has its charms–perhaps especially so for spectacles like superheroes, explosions and nuclear lizards fighting giant monkeys.
Sam Blake
Sam primarily covers entertainment and media for dot.LA. Previously he was Marjorie Deane Fellow at The Economist, where he wrote for the business and finance sections of the print edition. He has also worked at the XPRIZE Foundation, U.S. Government Accountability Office, KCRW, and MLB Advanced Media (now Disney Streaming Services). He holds an MBA from UCLA Anderson, an MPP from UCLA Luskin and a BA in History from University of Michigan. Email him at samblake@dot.LA and find him on Twitter @hisamblake
https://twitter.com/hisamblake
samblake@dot.la