tot squad
tot squad
When now-former SpaceX Dragon mission director Erin Beck became pregnant with her first child roughly four years ago, the company's "generous" benefits were just not enough.
She wanted to be home full time with her daughter and arrange her work life flexibly so she could raise her, but with the loss of income from leaving her day job she couldn't afford to.
That's how the Wana Family Network was born in 2017. Beck, who's founder and CEO of the Los Angeles-based public benefit corporation, looked to the parent-helping-parent, cooperative kind of childcare she was raised on as a kid. But she couldn't find any such app.
So she decided to build one. And it had been growing rapidly, by about 500 families a month without any advertising, prior to COVID-19. The network, where parents can use points to trade for help with childcare duties, is home to 25,000 families worldwide and has offered essential services workers a free way to get childcare during the pandemic.
By the end of 2019, Wana Family Network was able to expand through acquisitions with some of the largest players in the cooperative childcare space, including their flagship product Komae out of Ohio, founded by Amy Husted and Audrey Wallace, and Sitster in London, founded by Laura Farnsworth. They also hired the team of a fourth company, L.A.-based Helpkin, founded by Shar Ghoudsifar, that is no longer in business.
"This brain trust has allowed us to iterate so much faster than any single one of our companies could do before," Beck said.
But the timing has also been a little tough.
It's perhaps an irony that the company Beck created is predicated on parents that have to leave home for work. COVID-19 has changed all of that. With the vast majority of families at home amid the pandemic, usage of childcare services dropped in April by 80% to 90%. The network has had to work hard to be creative and stay afloat as non-essential workplaces closed their doors in March. Wana Family began by offering essential workers the ability to get free childcare.
"It's been slow, and this is across the board, for any childcare companies that we have seen," Beck said
With the phased reopening of some businesses in California, it's unclear how the network's usage might change, as traditional childcare centers have been hit even harder by the closures. Beck said the company is now offering free childcare to all parents and has seen an uptick in families joining, up from 10% to 50% of the activity they would have seen pre-COVID. But that hasn't yet translated to an uptick in usage.
"What this tells us is that parents are getting prepared and examining their options so they will be ready as their city reopens and they return to work or more normal daily life," Beck said. "We're here and ready!"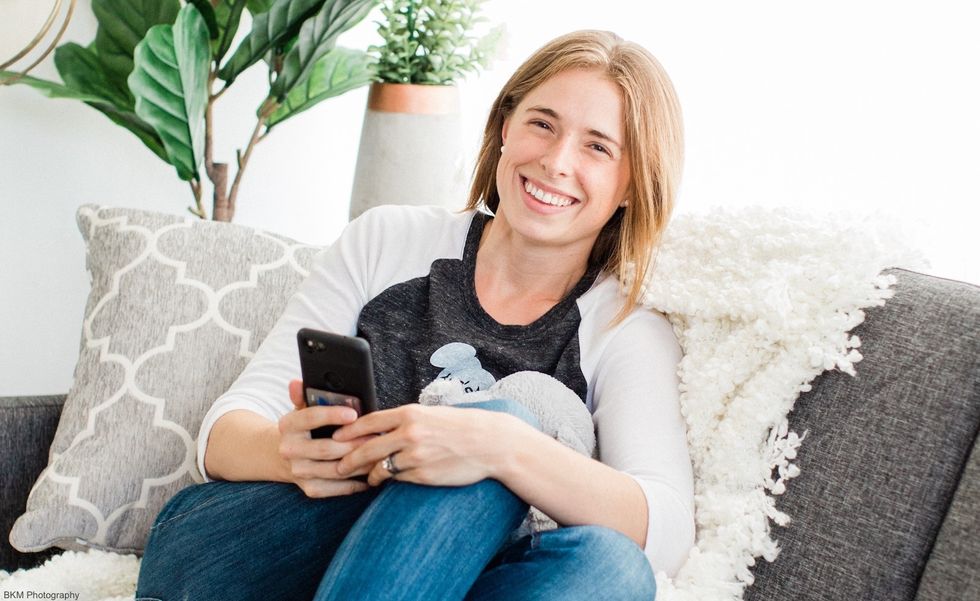 Wana Family Network founder Erin BeckBKM Photography
Beck said that a babysitting co-op has turned out to be an excellent closed system for babysitting in the time of COVID, where you often have coworkers trading care with other coworkers.

"You're limiting the (viral) exposure into or out of that organization by having those coworkers trading time," Beck said.
It's also a way for kids to socialize with the kids of other parents with perhaps similar exposure risks.
Wana Family forgoes the traditional 9-to-5 office with nearly the entire team of nine or so staff working part-time and some keeping other jobs on the side. The arrangement is an homage to the company's roots — to cater to the flexibility parents need by allowing them to choose the number of hours appropriate for them and decide what the best skills they have to offer are. The idea is for Wana Family to have an employee's " top 10% at the top 10% of their time."
How it works
Generally speaking, the network functions through a point system. Parents trade their time babysitting for points, rather than dollars. Those points can be used to "purchase" time for someone to babysit their own kids. If a family doesn't babysit for other families, they will ultimately run out of points and to continue participating in the platform they can buy more.
The company charges $5 a point, which equates to roughly $5 for an hour of babysitting, way below the typical childcare rate that's between $15 and $30 an hour. During the pandemic, parents using the app have not been charged any points.
For parents who are worried about in-person babysitting, they can arrange for "virtual babysitting" via Komae's platform.
"Maybe you're doing charades with your friend's child on their iPad when their mom needs to take a phone call or just wants to take a shower, but just doesn't want to leave their three-year-old unsupervised," said Gabrielle D'Addario, a parent of a 4-year-old preschool boy, Charlie, and 6-year-old kindergarten girl, Gracie.
D'Addario, who's director of the Silicon Beach Parents Group in Playa Vista, Calif., set up a group of parents on the app last month who could communicate together and share "virtual babysitting" via the app. The app can also be used to create virtual playdates for kids.
"Everybody's in the same boat right now, just having your kids home 24/7 it's so hard, especially work from home parents," said D'Addario, who's a creative director for a media company. "Like, oh my God, my kids want my attention all the time. I used to send them over to a friend's house to do a playdate, but now you can't do that."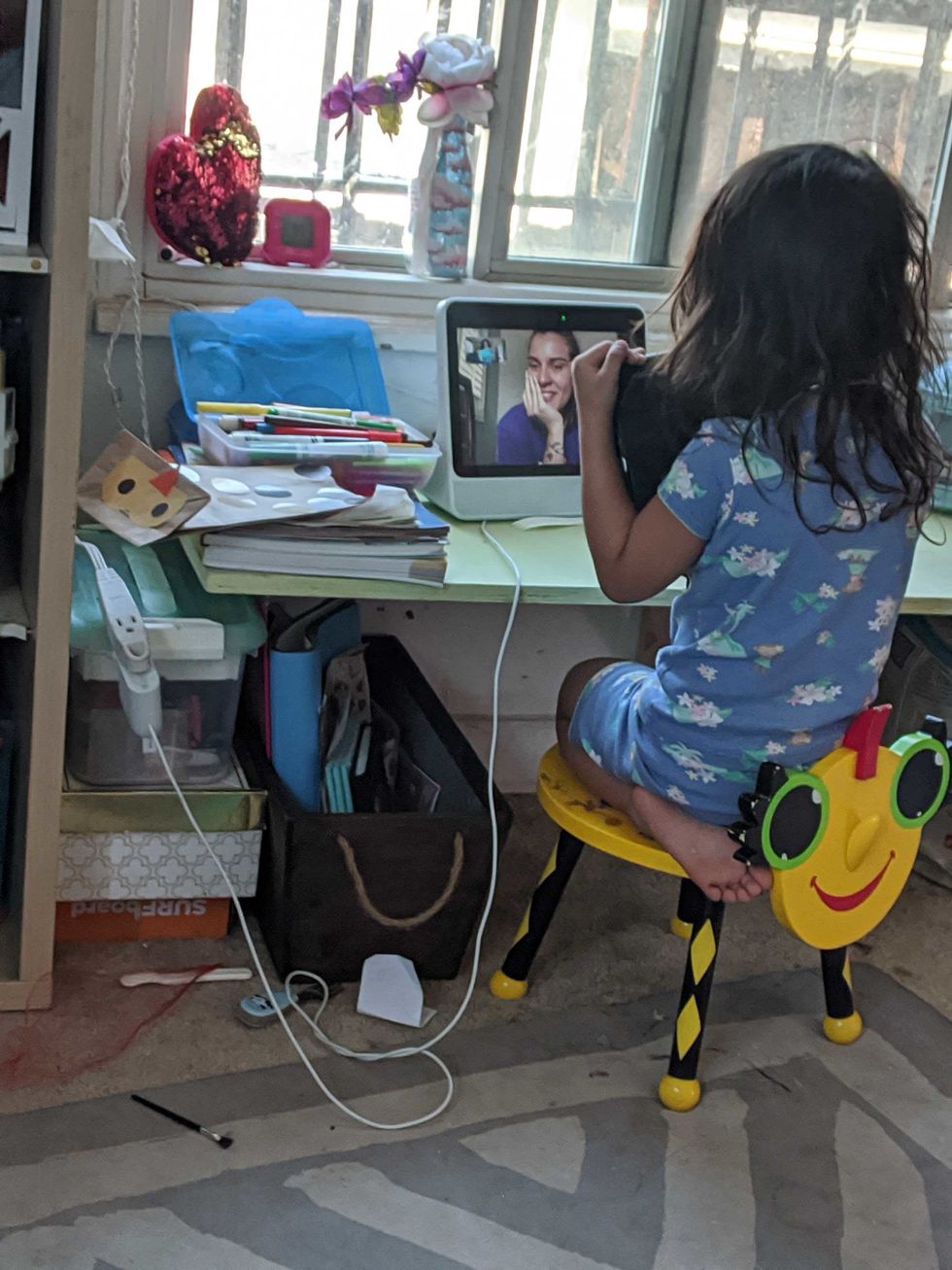 Beck's child during a virtual playdate
Wana Family Network has also developed new brand partnerships with parent and women-owned small companies with special gifts that can be purchased using points that parents have earned, for those who have an abundance of them to spare. Some examples include a white noise maker for young children as well as a stuffed "pillow pet" that can be home for a kid's pajamas and guard their bed by day while teaching them to clean up. Those brand partners are ultimately going to be charged a marketing fee for getting the word out about their items.
The company had planned to hold off on introducing a marketing fee, but the pandemic severely disrupted its intended revenue streams. So, Wana Family has sped up the timeline for introducing such fees on the brand marketing side, Beck said.
Wana Family received a check from the Paycheck Protection Program on Monday. They have not yet heard back regarding the Small Business Administration's Economic Injury Disaster Loan.
Meanwhile, Beck and other founders in the famtech world, including Tot Squad, Mahmee, HopSkipDrive, Special X, Robyn, Needed, WRK/360, UrbanSitter, Winnie, Motherly, Milk Stork and others, have been leaning on each other for support and to trade survival tips like how to get PPP funding approved.
Wana Family and a handful of other such companies have also created a special single-source resource for parents in California who need help with childcare during the pandemic. The group has been working with USC and UCLA chapters of the larger MN COVIDsitters, which matches medical personnel with student volunteers for childcare support.

__
Do you have a story that needs to be told? My DMs are open on Twitter @latams. You can also email me at tami(at)dot.la, or ask for my Signal.
Related Articles Around the Web
On Thursday, May 7th, we featured three emerging healthcare startups founded in Southern California as part of our biweekly Virtual Pitch Showcase.
Dr. Mickey Pentecost, co-founder and ceo at Diadem Biotherapeutics, Jennifer Saxton, founder and CEO at Tot Squad and Brian Conyer, co-founder and CEO of GIBLIB presented a high level overview on their products and services to angel investor Spencer Rascoff and Jay Goss, general partner at Wavemaker Three-Sixty Health.

dot.LA Virtual Pitch Showcase: Healthcare Startups in Southern California www.youtube.com
About the Companies

Diadem Biotherapeutics is developing novel, engineered exosomes that control immune cells to treat inflammatory diseases. They're more powerful than biologics and more affordable, stable, and doseable than cell therapies. For cells to communicate at a distance, they use secreted vesicles called exosomes. Originally thought to be cellular garbage, exosomes are now a hot new area for therapeutics.
Tot Squad's mission is to help make parents' lives easier by connecting them with the experts they need, virtually and in-person. From birth-related services like doulas to safety services like car seat installation, Tot Squad is here to deliver peace of mind to parents, from pregnancy to the playground. Because every parent needs a squad. Now, you can have your pressing parenting needs answered virtually via our live video link with trained experts, or we can dispatch these same experts to your home for more personal communication, depending on where you live. Thorough background checks, certification checks and training mean our continued mission of providing the best in child-related care is now available to you with the ease of a click of a button.

GIBLIB curates and create high quality educational videos from expert physicians at the leading academic medical centers and stream the library on-demand to medical professionals globally. GIBLIB was founded in 2016 with the vision of providing all health care professionals access to the most knowledgeable experts in medicine. To get started, our founders, Brian Conyer and Jihye Shin, set out to assemble the best academic partners to feature in the educational videos, the most talented creatives in video production to produce Hollywood studio quality content, and the smartest software engineers to deliver the most innovative streaming technologies capable of reaching a global audience.
When Jennifer Beall Saxton learned she had been accepted into two different startup accelerators, including the highly competitive Techstars "Anywhere" Class, it was a no brainer.

She wanted to be able to work, mostly, anywhere so that she could also balance her family's needs -- a toddler and a husband in Los Angeles -- with her burgeoning business. That business, Tot Squad, aims to connect new parents to services.
"There are many of us in this class with kids and the typical accelerator that makes you uproot your life to go to a city for 13 weeks feels like it was designed for 'tech bros' in their 20s," Saxton, the company's founder and CEO. "Folks like us who have kids and husbands with jobs can't just pick up like that, so I think this new Anywhere program is brilliant!"
In addition to Saxton, seven other companies with at least one female founder make up the 4th cohort of Techstars Anywhere Class. There were 10 total companies announced as part of the new 2020 cohort on Monday.
Since its inception in 2017, Techstars Anywhere has had a historical acceptance rate of less than 1%. Tot Squad was the sole Los Angeles company that made the cut.
Much has been written about the lack of venture capital investment in women. In 2019, venture capital investment in all-female founding teams represented 2.7% of the U.S. startup ecosystem, according to data collected by PitchBook. When a female co-founder was included, that number rose to 11.4%.
"It's really embarrassing," Saxton said. "I think most of the capital is controlled by men, and for products and services that target female consumers, a lot of times those guys don't get it...It puts us at a disadvantage from a fundraising and growth perspective."
Ryan Kuder, the managing director for Techstars Anywhere, said that the aim was to build a program that's accessible for anyone to participate in. But as a result, "our applicant pool probably looks a bit different than the applicant pools for programs that require founders to relocate."
He said the program's flexibility also provides it with an edge to invest in great founders they might not have otherwise seen.
--
Do you have a story that needs to be told? My DMs are open on Twitter. You can also email me, or ask for my Signal.