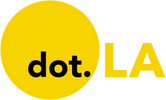 Get in the KNOW  
  on LA Startups & Tech  
X
The Road To dot.LA Summit 2020: Nominate Pitch Competition Contestants
October 27, 2020 - 9:00 am
October 28, 2020 - 9:00 pm
Free
Join us for three qualifying rounds of dot.LA's Startup Pitch Showcase competition. A winner will be chosen at each qualifying event, and each winner will advance to pitch at the finale which will be broadcast live at the dot.LA Summit with a grand prize and guest judges.
Submissions are open for company nominations to present at the three qualifying events leading up to the Summit. We are looking for Southern California startups in any industry who have a product in market and have not raised more than $1 million in funding. Submissions will be evaluated on a rolling basis.
More Similar Events:
Los Angeles, CA, United States, 90045-1643
June 08, 2023 - 5:30 pm
June 08, 2023 - 8:00 pm
$0
Curbivore & Everee present an #LATechWeek happy hour for the the brightest minds from the worlds of mobility, delivery, urbanism, food tech, and govtech at a unique venue on the Westside.
For more information, and to register, click here!
About Curbivore
As commerce rapidly moves to the curb, Curbivore gives our community a chance to see, touch and feel the technology that's reshaping our future, as well as meet with the civic leaders and forward-thinking entrepreneurs that are ensuring nobody is left behind as we reshape our cities and businesses for the better. Through our conferences, gatherings, media, and newsletters, we're not only calling to rethink our streets – we're celebrating the amazing people and organizations making that transition possible, as well as offering a chance to sample some of the best cuisine, street food, and emerging beverages in the country! See a recap of our 2023 Conference here!
About Everee
Everee is a payroll technology company that makes it easy to pay workers instantly and launch payroll products to drive growth. Started in 2018 to disrupt the two-week pay cycle, Everee's platform boasts flexible APIs, embeddable components and payroll finance, allowing companies to onboard and pay contingent workers at scale without cash flow challenges. Everee also offers instant payouts to a card for a free way to pay. Learn more at everee.com.
1212 Santa Monica, 1212 3rd Street Promenade, Santa Monica, 90401
June 07, 2023 - 6:00 pm
June 07, 2023 - 10:00 pm
$125
Closing the gap. Expanding capital opportunities in LA.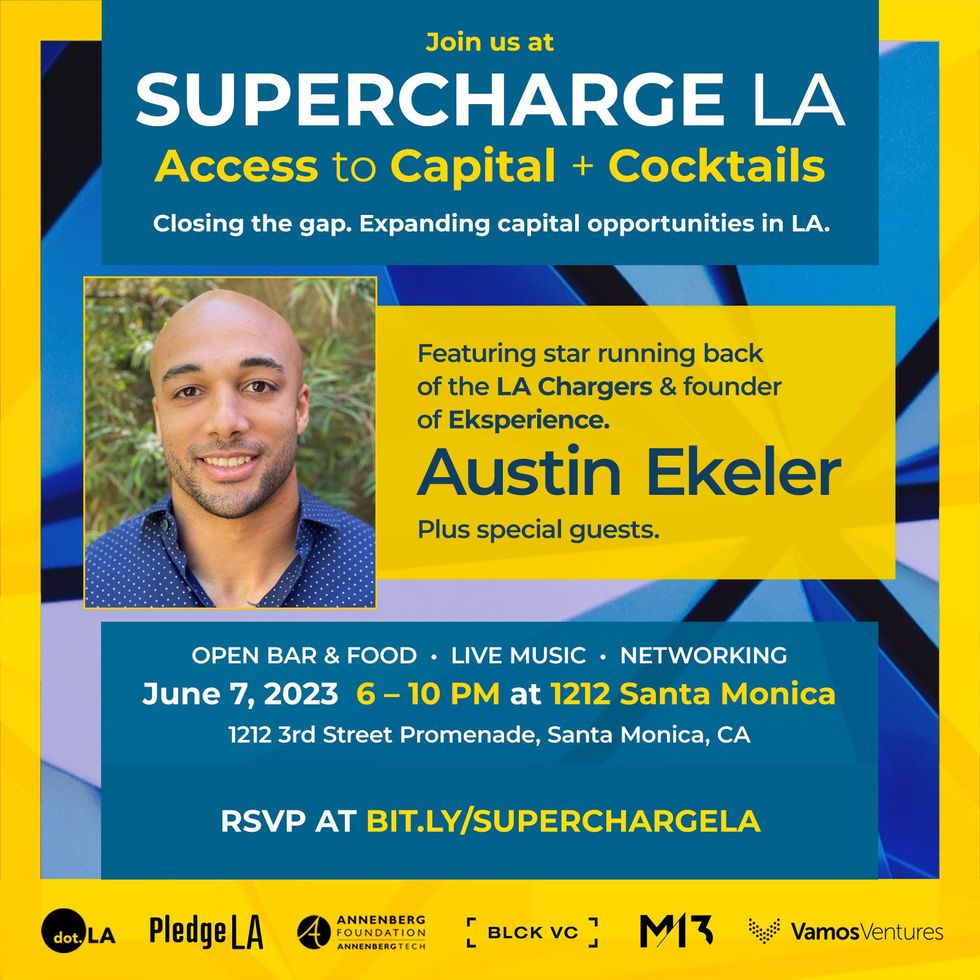 This event is a part of #TechWeek - a week of events hosted by VCs and startups to bring together the tech ecosystem

If the cost of attendance prohibits you from attending, please email superchargeLA@pledgeLA.org to let us know your situation and request a subsidized ticket provided by our partner PledgeLA.

For all other event inquiries, reach out to events@dot.LA

If you would like to Sponsor our event, reach out to partnerships@dot.LA
Hosted by:
dot.LA, PledgeLA, and The Annenberg Foundation
Event Sponsors:
Bank of America, Amazon Web Services, Justworks, Riot Games, Perkins Coie, Alto, 1212 Santa Monica
Community Partners:
BLCK VC, M13, VamosVentures, Grid110