solar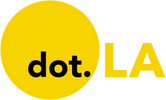 Get in the KNOW
on LA Startups & Tech
X
solar
U.S. Department of the Interior | Flickr
This is the web version of dot.LA's daily newsletter. Sign up to get the latest news on Southern California's tech, startup and venture capital scene.
This Wednesday, we're talking tariffs.

Specifically, we're talking about the Biden administration's announcement last week that it would launch an investigation into solar panels and components imported from Southeast Asia. The probe seeks to determine whether China circumvented existing tariffs by selling solar components at cut-rate prices to Cambodia, Malaysia, Thailand and Vietnam, which were then assembled and sold to the U.S. If so, it could result in steep, retroactive anti-dumping tariffs on solar imports.
The move highlights the tough spot that the White House is in. On one hand, the Biden administration wants real action on climate change. For that we need solar, and lots of it: The U.S. Department of Energy estimates that to decarbonize the grid, we'll need to get 40% of all our electricity from solar by 2035. That equates to installing 60 gigawatts of solar power every year from 2025 to 2035. For context, the U.S. installed around 20 GW in 2021, and at least two-thirds of all newly installed panels were imported.
On the other hand, the White House is worried about China for a host of political and economic reasons and doesn't want to cede territory in the clean energy arms race. Tariffs on incoming solar panels and components incentivize domestic purchases, and, in theory, increase demand for U.S.-made products.
While several domestic solar manufacturers have praised the decision—including California-based Auxin Solar, which initially requested the probe—the announcement has been derided by much of the industry as well as climate groups arguing that if the tariffs are applied, it would cripple America's ability to install cost-effective solar power and meet its climate goals.
American Clean Power, a group representing the interests of renewable energy companies, went so far as to describe the Biden administration's "talk of supporting solar energy [as] empty rhetoric," and urged the White House to "reverse this decision immediately."
Even if the tariffs aren't applied, the announcement has thrown large chunks of the solar industry into limbo as financing for future projects becomes uncertain. In the wake of the IPCC's most recent, most dire report yet on climate change, the world can ill afford any added friction to the renewable energy sector.
Dan Siegel, CEO of Birch Creek Development, a utility-scale solar company based in Los Angeles, is among those frustrated by the investigation. "I don't think anybody would have assumed, starting 2021, that the environment for developing solar would be worse now than it was back in the Trump administration," Siegel told dot.LA. "There's plenty of studies out there to show you that tariffing doesn't actually create US manufacturing. All it does is inflate the costs of building solar [panels], which just gets passed on down the line to [solar power] developers and then, ultimately, energy consumers."
Siegel is among those advocating for policies that would promote the U.S. solar industry's growth without imposing tariffs on imports. Extending solar tax credits and offering subsidies to the industry, for instance, could help expand the U.S. solar sector without driving up the cost of existing projects via tariffs, he said.
While it's doubtful such policies would entirely close the manufacturing gap with China, they might provide U.S. solar producers with a seat at the table—and far more importantly, give the world a shot at keeping global warming below 3 degrees Celsius this century. — David Shultz

Courtesy DroneBase
DroneBase, a professional drone services and data analytics company, announced Wednesday that it has raised $7.5 million in Series C funding and is officially expanding into renewable energy markets with a new enterprise software platform.

The Santa Monica-based company also announced its founding of a new DroneBase Europe office, which will be based in Germany and hire locally there to serve its expanded customer base.
The round included new investors Valor Equity Partners and Razi Ventures who joined Union Square Ventures, Upfront Ventures, Hearst Ventures, Pritzker Group Venture Capital and DJI, bringing total funding for DroneBase to $32 million.
"As we have worked more and more renewable energy in North America, often those companies have a European headquarters too," said DroneBase founder and CEO Dan Burton, who noted the company has been active in the vertical for over a year.
DroneBase has seen months of record-setting revenue amid an economic recession due to the novel coronavirus pandemic, which forced business around the world to shut down for months.
Revenue has been up 20% on a month-over-month basis beginning in March and the company has seen 99.8% operational uptime for its drones across 10 different countries, with more drone-licensed pilots joining the network and their drones able to do inspection work, for example, in a contact-free manner, Burton said.
"This is a moment for both the technology and the way our company was built," Burton said. "This coronavirus has ultimately been an accelerator of trends and we think it's really accelerated this process, automation, digitization that drones can bring and how DroneBase is uniquely able to operate."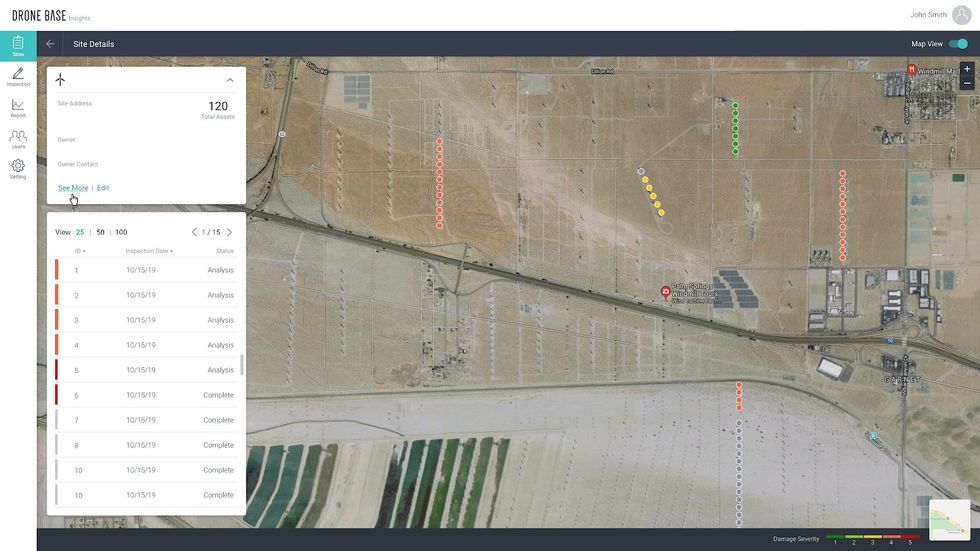 Courtesy DroneBase
Drone Inspection for Renewable Energy
DroneBase Inc. was founded in 2014 and incubated by Y Combinator. The drone-for-hire company works with businesses in industries that include insurance, construction, real estate, telecommunications and media, also boasts the largest drone-licensed pilot network in the world. Its pilots have completed over 100,000 commercial missions in over 70 countries and all 50 states. The company's board is also entirely white and male, though Burton said in a statement that "diversity at all levels are being considered" and that the company is looking to expand diversity both internally and at the board level.
The company began this new financing round in March with a focus on ensuring sustainability, strong revenue growth and an increased path to profitability, but given the widespread consolidation and acceleration in the industry, Burton said he's been "taking some incoming calls about going into a growth round as early as this year."
Due to COVID-19, many companies that utilized more traditional in-person methods for insurance-related or safety inspections have either had to pause or now cease to exist. That's also been the case for some of niche drone companies which recently closed.
Their newly unveiled enterprise software platform is called "DroneBase Insights for Wind and Solar." It enables customers to use drones to inspect a wind turbine's components through an autonomous flight system and offers data, actionable insights and lifecycle management. The software was trained on DroneBase's large database of turbine imagery, leveraging machine learning.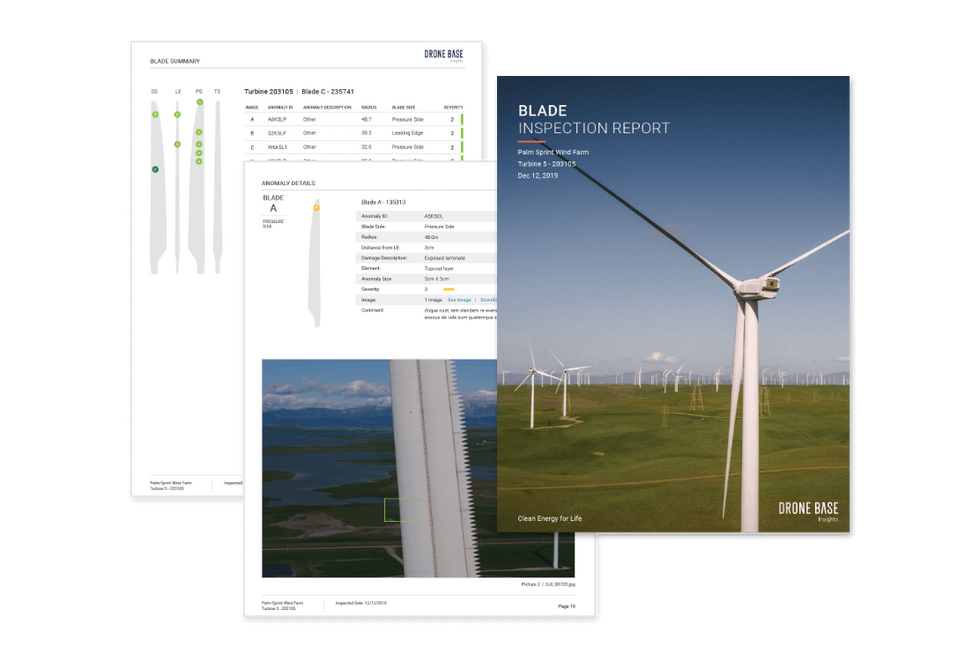 An image of DroneBase's software to remotely monitor renewable energy facilities.Courtesy DroneBase
"It's just a faster, more reliable, more affordable way to inspect physical stuff," Burton said, noting that wind turbines are among the most dangerous assets to physically inspect in the world.

DroneBase also has its own thermal pilot network that was trained by FLIR Infrared Training Center. FLIR Systems, Inc. is a DroneBase investor that develops, manufactures and resells thermal imaging technology. Though the company is based in Arlington, Virginia, much of its innovation occurs at its tech hub in Santa Barbara.
The trained network is able to provide accurate data under the platform's solar insights, for anomalies that are otherwise invisible to the naked eye, DroneBase said.

"DroneBase has been instrumental in helping us scale solar asset inspection and analysis across North America," said Jamie Mordarski, director of operations and maintenance, Americas at SMA, in a statement. The solar energy company is headquartered in Germany.
Sam Teller, a partner at Valor Equity Partners, who joined this round said in a statement that DroneBase's new work in renewables "will have a lasting impact on the future of energy by keeping infrastructure operational for generations."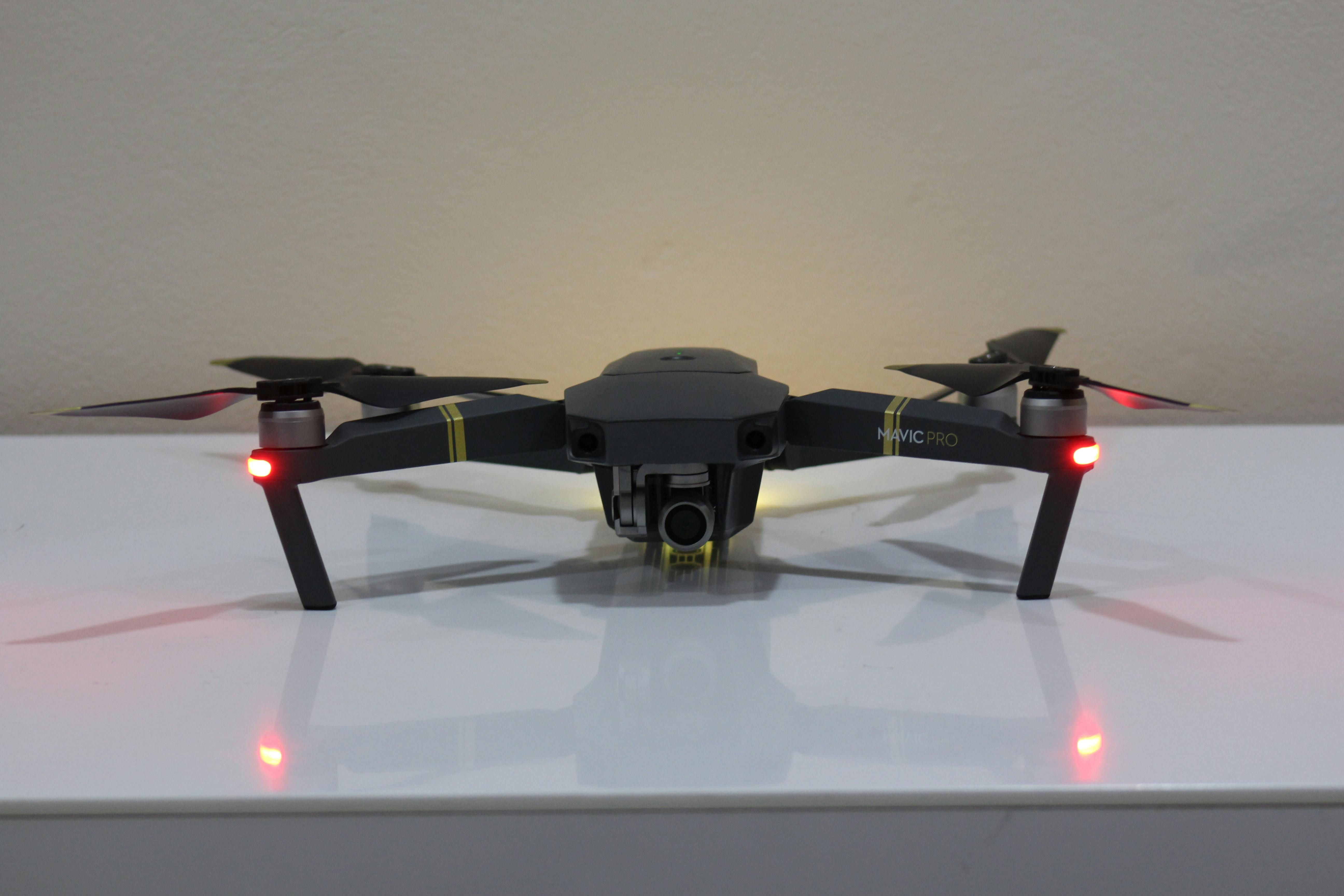 Ties to China Drone-Maker
The company's official expansion into energy-related work and its close ties to Shenzhen, China-based DJI, the largest manufacturer of consumer drones worldwide, could pose some potential problems. DJI has attracted considerable concern over the years from U.S. government officials and lawmakers over its data security and potential cyber vulnerabilities because of its Chinese supply chain. The energy sector is one of 16 critical infrastructure sectors in the United States, which means its assets, systems and networks physically and virtually are crucial to national security, safety or public health.
"As we expand into energy, the data security, the chain of custody of the data, operational security, are all increasingly important factors," Burton said.
Burton said DroneBase has seen companies in the energy sector that do not allow the use of DJI drones per company policy. For such cases, DroneBase will need to have non-DJI alternatives, though the "vast majority" of drones its pilots now fly are DJI drones.
The global market for drone technologies is expected to reach $43.1 billion by 2024, up from $14.1 billion in 2018, according to a June 2019 study by the Computing Technology Industry Association that did not take into account the novel coronavirus outbreak.
As the pandemic continues, the majority of the business operation has transferred successfully to remote work, Burton said, and there is discussion as to whether in-person interactions will return and in what manner.
The company had just moved into a new Santa Monica headquarters in February, weeks before the pandemic's spread forced all non-essential businesses in California to close and DroneBase went fully work-from-home. Now, Burton said the company is trying to determine whether its staff will ever return to the office or whether in-person get-togethers will be less frequent and more intentional.
__
Do you have a story that needs to be told? My DMs are open on Twitter @latams. You can also email me at tami(at)dot.la, or ask for my Signal.
From Your Site Articles
Related Articles Around the Web