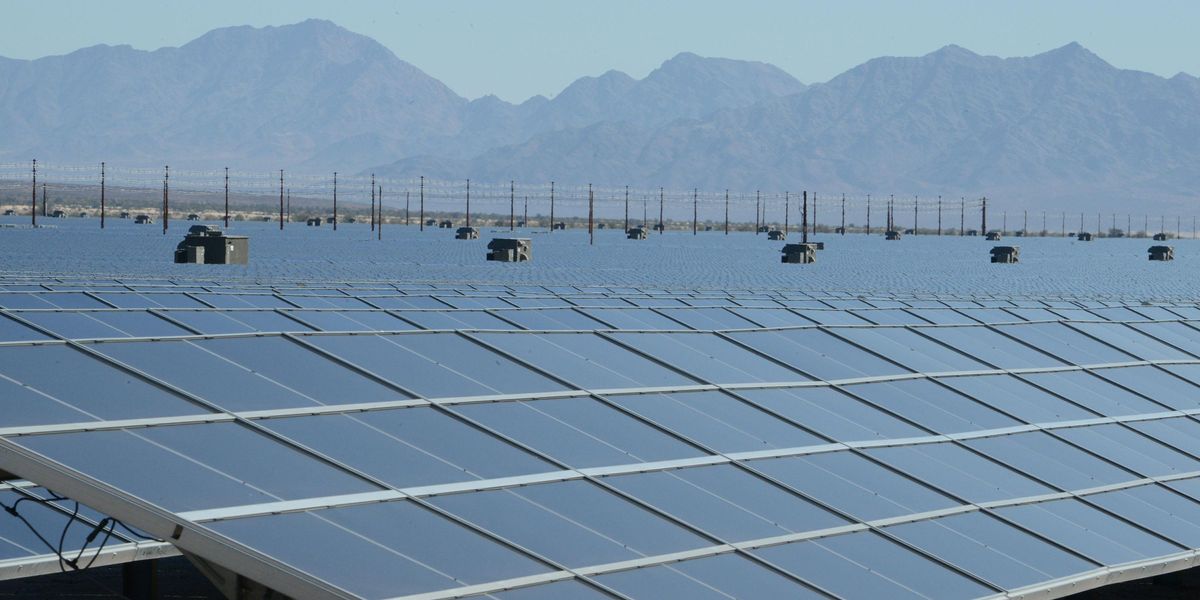 U.S. Department of the Interior | Flickr
This is the web version of dot.LA's daily newsletter. Sign up to get the latest news on Southern California's tech, startup and venture capital scene.
This Wednesday, we're talking tariffs.

Specifically, we're talking about the Biden administration's announcement last week that it would launch an investigation into solar panels and components imported from Southeast Asia. The probe seeks to determine whether China circumvented existing tariffs by selling solar components at cut-rate prices to Cambodia, Malaysia, Thailand and Vietnam, which were then assembled and sold to the U.S. If so, it could result in steep, retroactive anti-dumping tariffs on solar imports.
---
The move highlights the tough spot that the White House is in. On one hand, the Biden administration wants real action on climate change. For that we need solar, and lots of it: The U.S. Department of Energy estimates that to decarbonize the grid, we'll need to get 40% of all our electricity from solar by 2035. That equates to installing 60 gigawatts of solar power every year from 2025 to 2035. For context, the U.S. installed around 20 GW in 2021, and at least two-thirds of all newly installed panels were imported.
On the other hand, the White House is worried about China for a host of political and economic reasons and doesn't want to cede territory in the clean energy arms race. Tariffs on incoming solar panels and components incentivize domestic purchases, and, in theory, increase demand for U.S.-made products.
While several domestic solar manufacturers have praised the decision—including California-based Auxin Solar, which initially requested the probe—the announcement has been derided by much of the industry as well as climate groups arguing that if the tariffs are applied, it would cripple America's ability to install cost-effective solar power and meet its climate goals.
American Clean Power, a group representing the interests of renewable energy companies, went so far as to describe the Biden administration's "talk of supporting solar energy [as] empty rhetoric," and urged the White House to "reverse this decision immediately."
Even if the tariffs aren't applied, the announcement has thrown large chunks of the solar industry into limbo as financing for future projects becomes uncertain. In the wake of theIPCC's most recent, most dire report yet on climate change, the world can ill afford any added friction to the renewable energy sector.
Dan Siegel, CEO of Birch Creek Development, a utility-scale solar company based in Los Angeles, is among those frustrated by the investigation. "I don't think anybody would have assumed, starting 2021, that the environment for developing solar would be worse now than it was back in the Trump administration," Siegel told dot.LA. "There's plenty of studies out there to show you that tariffing doesn't actually create US manufacturing. All it does is inflate the costs of building solar [panels], which just gets passed on down the line to [solar power] developers and then, ultimately, energy consumers."
Siegel is among those advocating for policies that would promote the U.S. solar industry's growth without imposing tariffs on imports. Extending solar tax credits and offering subsidies to the industry, for instance, could help expand the U.S. solar sector without driving up the cost of existing projects via tariffs, he said.
While it's doubtful such policies would entirely close the manufacturing gap with China, they might provide U.S. solar producers with a seat at the table—and far more importantly, give the world a shot at keeping global warming below 3 degrees Celsius this century. — David Shultz