ring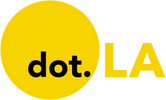 Get in the KNOW
on LA Startups & Tech
X
ring
It's been a busy year for Ring, the home security giant best known for its video doorbells. In January, Ring rolled out the Ring Video Doorbell Wired, its smallest and least expensive doorbell yet. The Santa Monica-based company also unveiled an end-to-end encryption feature that adds an additional layer of protection to videos captured by a user's device. And Ring is now working on additional features, including a pet tracking system and a roving camera that can be remotely activated by customers to investigate disturbances.
But as Ring expands its user base, it is also drawing increased scrutiny from privacy and social justice advocates who are concerned about the Amazon-owned subsidiary's partnerships with law enforcement agencies and reports of racial profiling by users of Ring's Neighbors app.
Ring Chief Technology Officer Josh Roth spoke to dot.la about Ring's product development process and how his company approaches privacy and neighborhood safety.
Since the Amazon acquisition, Ring has developed some integrations with the Alexa system and other Amazon products. Are there ways this relationship may become even closer in the future?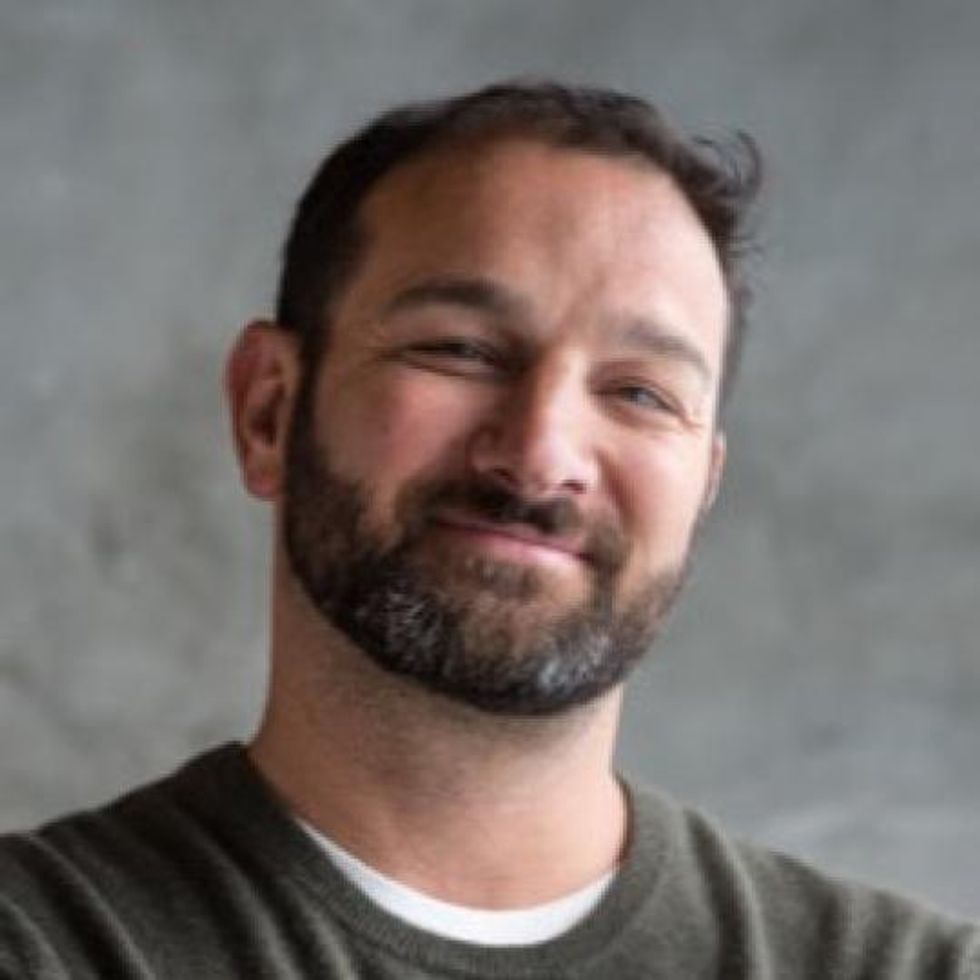 Ring Chief Technology Officer Josh Roth
At the end of the day it comes down to what we call a "better together" story. From our side, we can create better solutions and systems that aggregate devices in your home and give you a better way of leveraging those devices together—whether that's interactions between an alarm system and a light, or your Alexa acting as a sensor for other things. There's a tremendous amount of work to continue to iterate and improve on that. No doubt about it, there will be future integrations that continue to enhance that experience.
How much do you see Ring as a smart home company vs. a home security company? Are there ways you might use the tech stack you've developed in ways that move away from the home security focus you've had thus far?

Our mission is to make neighborhoods safer. I don't see that mission changing. We are a safety and security company. With that being said, things you may not think of as safety and security at the end of the day can become part of a safety and security system. An example of that would be anything that can give awareness about the state of a home. Your thermostat has home and away modes so that it can turn itself hotter or cooler depending on whether someone is at home. If you can integrate that into an IoT system to leverage that awareness and tie it to your alarm system, there's tremendous benefit for your safety and security. There's not always this cut-and-dry IoT space and safety and security space. The reality is that if you do things correctly, they actually merge into one.

And of course as more of these functions become automated, there's going to be growing concern about security. There have been some horror stories about hackers being able to spy on families through their Ring systems. How are you alleviating concerns that someone might gain access to a customer's footage?
Privacy and security are really foundational to everything we build. We start with a security and privacy-first mindset and then we try to introduce those features to our customers, and we try to do it in the quickest fashion possible. If you take a look back historically, Ring was the first in the safety and security space to require two-step verification; we were the first to introduce end-to-end encryption. Ring has never been breached, but we put things in place constantly to improve on security. Where we have to, we put in tighter controls. But when we do it, we make it extremely transparent to the customer. From my perspective, security is of the utmost importance, and I think everyone at Ring and Amazon would tell you the same thing.
You rolled out the end-to-end encryption feature earlier this year, but it's turned off by default. Why make it an opt-in setting rather than an opt-out?
End-to-end encryption implies that there's a key that can only be used by a very specific system or user. It requires us to actually turn off some features that our users actually like to have, because those keys can't be shared in all situations. For example, with the iteration of end-to-end encryption out there today you can't have a shared user. The reason for that is key management and how you would actually hand those keys off that shared user for a temporary or permanent amount of time, and which videos you would give access to. We opted to give something that was the most stringent control we could at launch, and to give the users asking for that the ability to turn it on—with the intent of iterating over time and adding more features like shared users.
There's a handful of items like that. Another use case would be a third-party integration. If you use Alexa, for example, to do video recall or to see who's at the front door, they don't have the keys because we don't have a method to pass the keys from a user's phone to Alexa devices. It would break our user promise around encryption and privacy. We really wanted to focus on the beginning experience of end-to-end encryption being as tight as we could, and then adding to it over time based on customer feedback.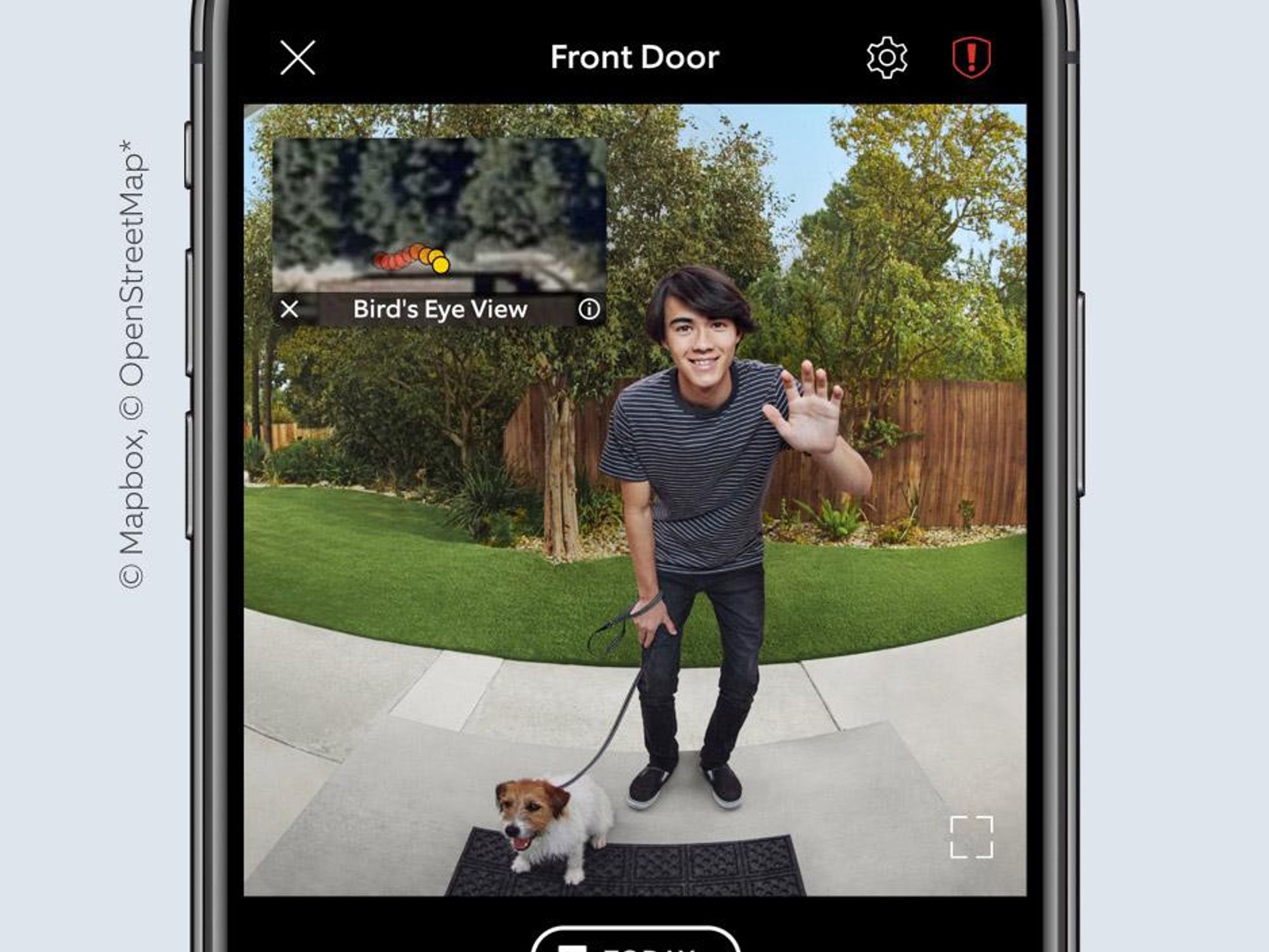 How do you balance privacy concerns with the desire to give customers access to new features?

The baseline default experience that a user gets is the highest level of security that can be provided, and we constantly iterate and improve on that. I look at end-to-end encryption as an advanced security feature. I use the analogy of a hotel room. You have the top lock and you lock the door and you put the sign on the door. You may find you don't necessarily need all that, but it gives you peace of mind. So we want to offer that to our users. But the default standard encryption we provide still provides encryption in transit and encryption at rest. And we always examine it to see if we can improve on that. There is a tradeoff between end-to-end encryption and some of the features we know our users like. But I can tell you as a promise from Ring: We will always push toward providing more security and more options for our users with increased transparency. Any time we add something new they are going to have awareness of it. Any time we give them something around security, we're going to give them a choice to enable those items or not.
You mentioned that Ring's goal is to make neighborhoods safer. Is there an evaluation process as you add features to ensure that you are meeting this goal?
We believe in the power of the community and the power of the neighborhood. We also believe in the privacy of the neighborhood. In addition to privacy shutters on our cameras, we also have privacy zones. When you set up a motion zone, you can block out certain areas to respect the privacy of your neighbors if you choose to do so. Again, it's all put in the hands of customers for customer choice.
We also work with public safety agencies. We've been a great resource for COVID-19 information. We work with local fire and police departments. What that means is they have the ability to request videos (through the Neighbors app). They provide requests in a public way so that everyone is completely aware and it's transparent to the entire community what's being asked of them.
Those partnerships with law enforcement have been controversial. Are there ways you approach product development to ensure devices aren't being used as tools for mass surveillance?
Everything we do is customer first. Our customers are the neighbors who live in those neighborhoods. Our customer is not the police department. It's not the fire department. Our customer is the user who has a home, who's putting a Ring doorbell on their house. We start with that premise, and we build everything around that from a privacy and security perspective. Any time that there's anything involving a public safety agency, users have a choice and it's entirely up to them when and if they share information, when and if they share videos, when and if they work with those agencies. We've seen nothing but positive things come out of that. Kidnappings have been solved because of people working with neighborhood agencies. Neighbor advocates are helping track down things like package theft. We're big believers in people working together. We're big believers in customer choice.
Is there a limit to customer choice? Ring has said in the past it won't use facial recognition technology. What if customers want it? And are there other features that may be off the table?
It's a hard question to answer because I can't predict the future of what I haven't built yet. What I can tell you is we don't use facial recognition on any of our devices or services and we will never sell facial recognition technology to law enforcement. Privacy is so important to us. Anything we build will include these strong privacy protections for our neighbors.
We go through privacy reviews, legal reviews, customer reviews, and internal discussions. We make decisions as to whether we think the items we want to build meet the mission to make neighborhoods safer. Is it in the customer's best interest? Is it providing additional privacy, security, and transparency to the customer? If we can say yes to all of those things, I think we are able to build them. If we have question marks, we don't build them.
This interview has been edited for length and clarity.
Amazon unveiled a new lineup of spherical Echo devices, an autonomous flying indoor Ring security camera, a new cloud gaming service, and new features to help Alexa converse and interact more naturally with users.
The flurry of news came Thursday morning during the company's annual Devices & Services event, a virtual version of a fall tradition in which the company typically shows its newest Echo speakers and other Alexa-enabled devices.
Luna, the cloud gaming service, will cost $5.99/month during an early access period. It will be available on Fire TV, Mac, Windows PCs, iOS and later Android, going head-to-head with similar offerings from Microsoft and Google. Amazon will offer a dedicated game controller for the service, available for $49.99, which connects directly to the cloud to let gamers switch quickly between devices. Games can also be played with a keyboard and mouse or a Bluetooth game controller. Luna integrates with the Amazon-owned Twitch streaming service.
The new spherical Echo offers upgraded sound and a built-in smart home hub, something that was previously available on higher-end Echo devices. It will sell for $99.99, and a spherical Echo Dot will sell for $49.99. A version of the Echo Dot with a visible clock will sell for $59.99.
The company also showed new Alexa features including the ability to learn different modes for reading or vacation unique to each user. With a new "natural turn-taking" feature, users will also be able to ask Alexa to join a conversation taking place in the kitchen, for example, chiming in as two people order a pizza and pick a movie for the evening.
The company says Alexa uses "multi-sensory artificial intelligence," including audio and visual cues to determine whether the request or comment is directed at Alexa or another person in the room.
Dave Limp, Amazon's senior vice president of Devices & Services, said the company is moving toward a more "ambient home," with fewer explicit verbal interactions with Alexa. "That's not to say you won't speak to your home, but it's going to understand you more. It's going to anticipate your needs and be more contextual," he said.
"This is our long term vision. But trust me there is a lot of work to be done to make this a reality," he said.
New security features will include the ability to ask Alexa to "delete everything I've said," to remove all saved voice recordings associated with the customer's Amazon account. Amazon says customers will also be able to opt out of voice recordings.
Limp also outlined new environmental sustainability initiatives, including a new energy dashboard, a rollout of low power mode for Echo devices, and carbon offsets.
The company's Ring subsidiary, which was hit with a series of security issues last year, announced new end-to-end encryption for video, as well as a new Ring Car Alarm and Car Cam for auto security, along with an API dubbed Ring Car Connect for implementation by auto manufacturers, starting with Tesla.
But the biggest surprise was the Ring "Always Home Cam," an indoor camera that can fly autonomously around the home for checking in remotely.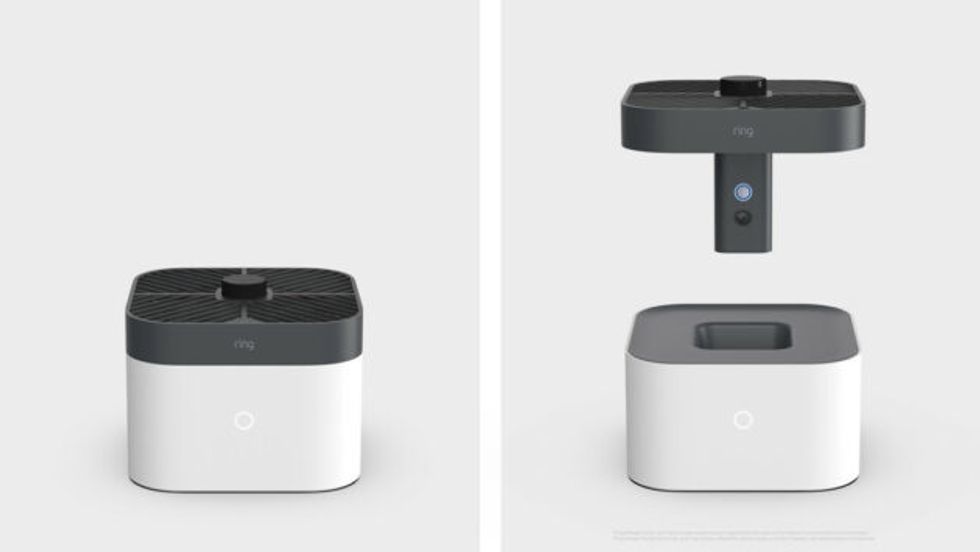 Ring's "Always Home Cam."
"This autonomous indoor security camera flies your chosen, personalized paths so that you can easily check in on your home for peace of mind—like whether someone left a window open or forgot to turn the stove off," says Jamie Siminoff, the Ring founder, in a blog post about the new product. It will cost $249.

Amazon's new Echo Show 10, priced at $249.99, will come with a built-in shutter cover for privacy, with support for Netflix streaming, and Zoom and Amazon Chime video calls. It's currently listed as "coming soon" on Amazon's site.A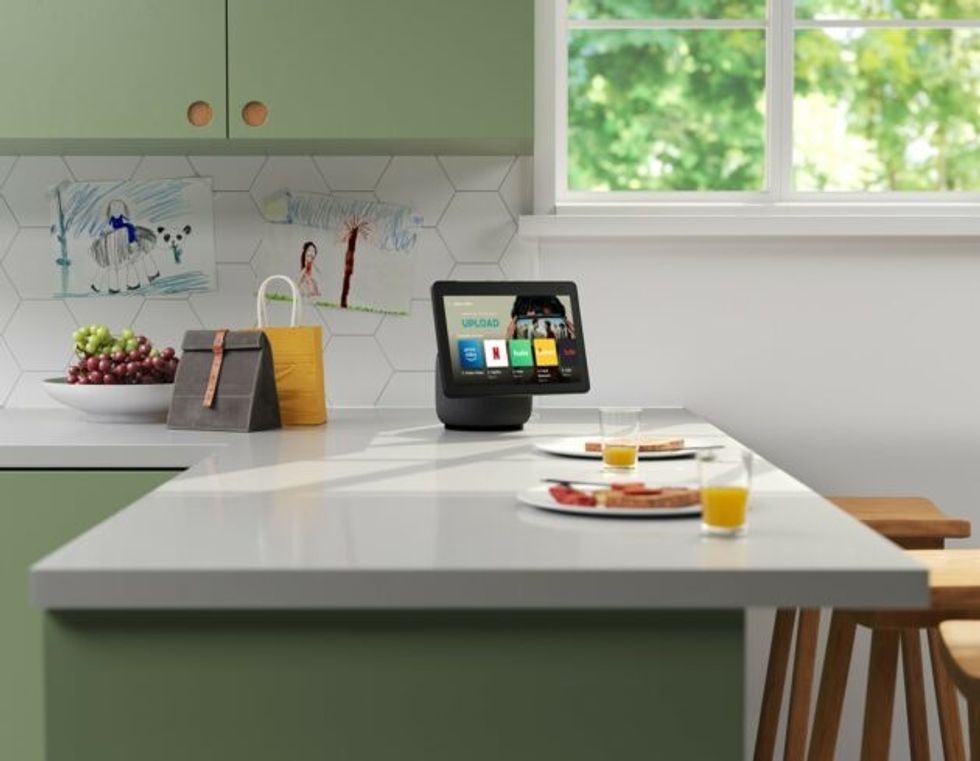 Amazon's Echo Show 10
Alexa-enabled devices introduced at this event last year included a smart ring, eyeglasses and wireless earbuds.
In advance of the event, an FCC filing surfaced for the Amazon game controller, as spotted by Dave Zatz, fueling speculation that the company was preparing to unveil a rumored cloud gaming service at the event, as reported by The Verge. The company shielded its identity by using the fake name "Zippy Hippie Twister Limited Liability Company," but a logo on one the labels in the filing revealed that it was Amazon's controller.
New gaming controller just cleared the FCC. Current tally: * 4 new devices hit today (so far, it's early!) * 2 e… https://t.co/0LnqIhlhEy

— Dave Zatz (@Dave Zatz) 1600956628.0
But the Amazon Sidewalk neighborhood wireless network may be a better indication of the company's broader ambitions for its Devices & Services business. Sidewalk, introduced at the same event last year, is an intermediate-range shared network that leverages low-bandwidth, wireless spectrum to provide connectivity to small Internet of Things (IoT) devices, such as smart lights, weather stations, trackers and sensors in places such as mailboxes and gardens.

"There are a lot of things where Bluetooth is way too short-range, WiFi is way too high-power, and so to have something that's still low-power, but that has much longer range is really a gap in the marketplace," Amazon CEO Jeff Bezos said in off-the-cuff remarks to reporters after the event last year. "People don't even realize yet how important that intermediate range is going to be."
Sidewalk is slated to launch later this year. Amazon announced Tile as the first third-party Sidewalk device earlier this week, along with new technical details about the network.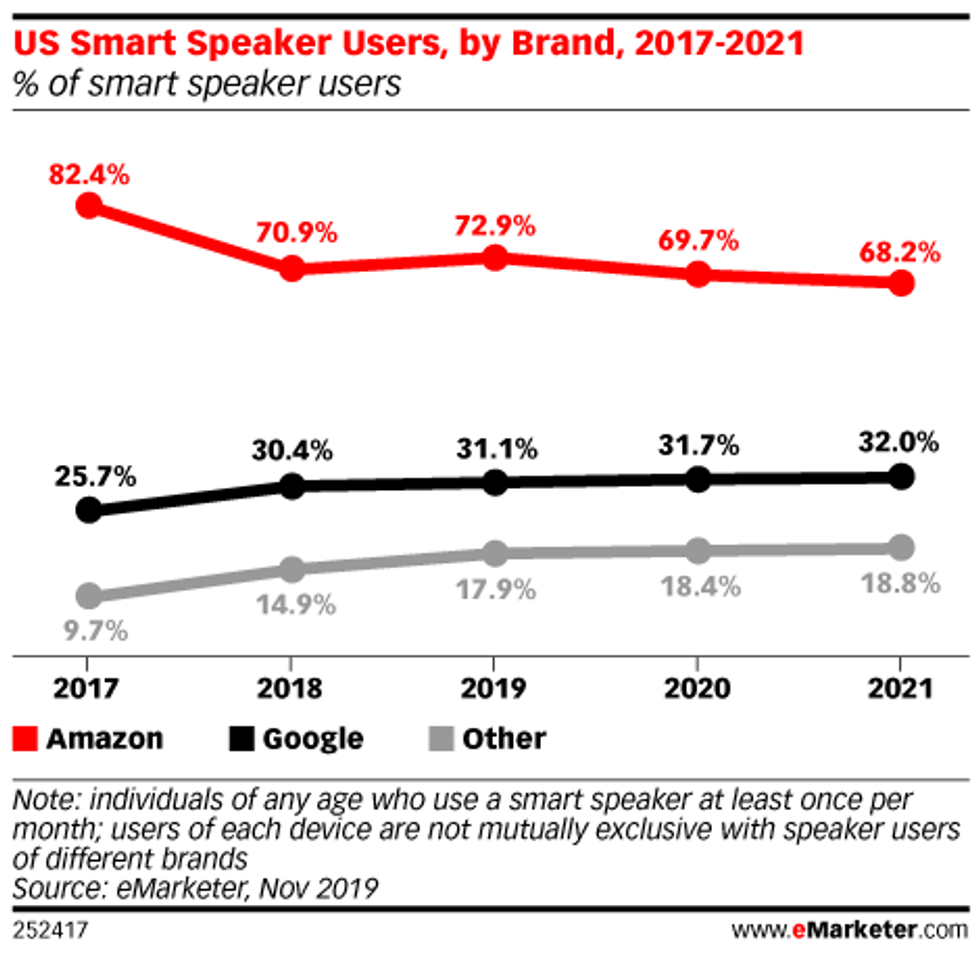 Amazon has been able to maintain a sizeable lead over Google and other companies in the smart speaker market, with about 70% market share, according to research released in February by eMarketer.

"Over time, we'll see slowing growth in the number of smart speakers as people turn to voice assistants built into other things within homes, vehicles and on-the-go," said Victoria Petrock, a principal analyst at eMarketer, in a statement at the time. "Amazon's next challenge will be to maintain its dominance in these other environments as well."
This story originally appeared on GeekWire.
P
hoto courtesy of Wikicommons
Federal lawmakers are asking Amazon to provide details on Ring's partnerships with local police dating back to 2013. The U.S. House subcommittee on economic and consumer policy sent Amazon a letter with a series of questions about its dealings with law enforcement Wednesday.
Ring has been navigating scrutiny from the government and privacy advocates over its law enforcement program for months. The company develops smart doorbells and security cameras under the Amazon umbrella.
Raja Krishnamoorthi, chair of the subcommittee, asked Amazon to send records of all Ring agreements with local law enforcement agencies for the past seven years. The subcommittee also wants to know which of those agencies use Amazon's facial recognition software. Additional details on Ring's privacy safeguards, marketing, and other business practices were also requested.
"The subcommittee is examining traditional constitutional protections against surveilling Americans and the balancing of civil liberties and security interests, " Krishnamoorthi said in the letter.
The representative asked Amazon to respond by March 4.
This story originally appeared on GeekWire.