mobile storytelling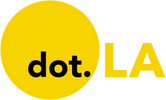 Get in the KNOW
on LA Startups & Tech
X
mobile storytelling
Photo by Rami Al-zayat on Unsplash
New York-based Zedge may be best known for helping people personalize their mobile phones with ringtones and wallpapers. But it has recently expanded into storytelling as well. Now, it's strengthening its Los Angeles ties in hopes of broadening its reach in the entertainment industry.
The company announced Thursday that L.A. attorney and entrepreneur Greg Suess is joining the board.

Suess is currently a partner and co-founder of L.A.-based Activist Artists Management.
"They have some interesting ideas they want to put to work in entertainment and tech, and they viewed me with my background of family offices and working in film, TV, music and digital media as a good match," Suess told dot.LA.
L.A. attorney and entrepreneur Greg Suess is joining Zedge's board.
Suess was mentored early on by Michael Milken, who steered him toward joining one of L.A.'s leading entertainment law firms, where he took over the tech practice as a young lawyer. Over his career he has worked with big family offices from the likes of Tony Khan (co-owner of the NFL's Jacksonville Jaguars) and Las Vegas magnate Kirk Kerkorian.

In 2019, Zedge launched Shortz, an app that serves up short-form stories told as a series of text messages between characters. It will soon release Shortcastz to deliver bite-sized series via podcast.

The company's 30 million monthly active users and 400 million installs could help entice content-producers to join Zedge, Suess said.
"If you can tap into 30 million people to accelerate the launch of what you're doing, and have an engineering powerhouse behind you, I think that's a pretty attractive selling proposition," he said. He likened Zedge to a "SPAC with benefits," referring to the special purpose acquisition company structure that has lately become an increasingly popular vehicle to take companies public.

Suess said Zedge's acquisition targets could include content libraries, intellectual property, distribution technologies, and other assets they think could complement their business. And he believes they will be able to make appealing offers.

"I think they could be a tremendous acquirer of businesses," he said.
Zedge is one of several companies spun off from New Jersey-based IDT Corporation, a key piece of the business empire of telecom tycoon Howard Jonas and his son Michael, who are Zedge's primary shareholders.
Suess called the Jonases "savvy media investors on a macro scale" and said he anticipates they and Zedge CEO Jonathan Reich will be looking to make deals in L.A.
Other companies that have spun out of IDT include Straight Path Communications, which Verizon acquired for $3.1 billion; Net2Phone, in which AT&T invested $1.1 billion; and IDT Entertainment, which Liberty Media acquired for $500 million.
"They're really open and entrepreneurial – that's one thing I've noticed about the Jonas family," said Suess. He is intrigued that there's "this billionaire practically no one's heard of, who's been described as the best investor you've never heard of...doing more in L.A. with Zedge and content and podcasting and short-form stories."
Zedge's announcement Thursday underscored the recent success of serialized short-form narrative content, including Radish's fundraise of $63.2 million earlier this week from Softbank and Kako, as well as recent raises by Unrd and Yarn.
From Your Site Articles
Related Articles Around the Web
Fiction Riot, the L.A.-based entertainment company behind mobile streaming app Ficto, raised $250,000 this week. Chief executive Mike Esola says the company has intentionally grown slowly, eschewing venture capital in favor of incremental fundraising from family offices, institutions and friends and family.
In total, the company has raised $3.5 million, according to an internal document.
Ficto is free to download on iOS and Android, but is currently in a testing phase, says Esola, a former agent at WME and UTA. He and his team – which includes Jeff Mayo (employee #80 at YouTube and #300 at LinkedIn) and Nick Mitchell (former head of engineering at Technicolor) – plan to launch the fully fledged service in Q4 of this year. That will receive a boost from distribution partnerships that will guarantee them 1.3 million automatic downloads of the Ficto app, according to Esola and the document.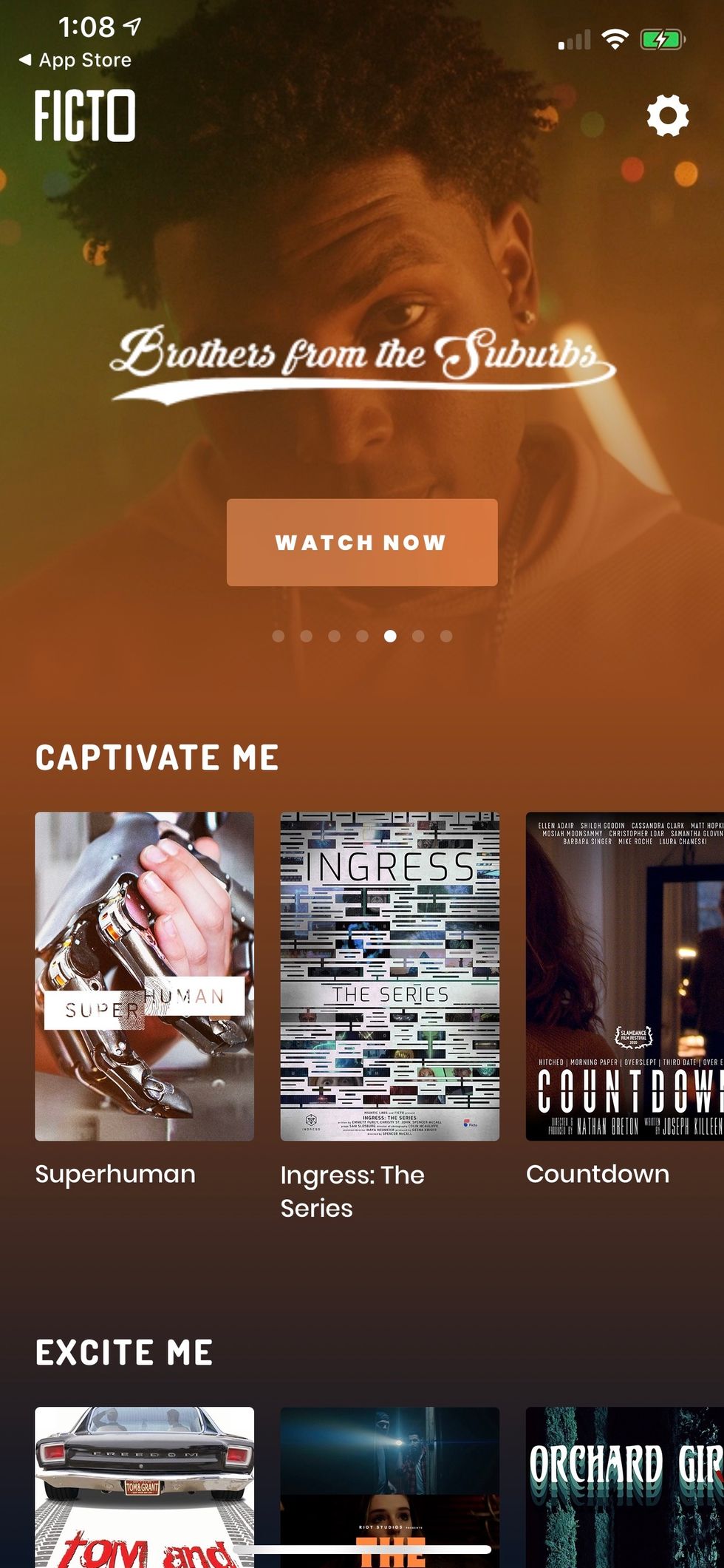 Courtesy Ficto
The company's business model is based on advertising and providing white label streaming technology to third parties such as festivals, conferences and broadcasters, Esola says.
Ficto aims to leverage mobile-oriented tech to offer a unique user experience. In the future its shows will include features like interactive choice-based storytelling; content that is unlocked if a user goes to a specific location; and real-time chats. The tech stack is also built to provide unique opportunities to advertisers and financial transparency to creators.
dot.LA caught up with Esola to talk about his plans for the Q4 launch, what short-form video competitor Quibi got wrong, and how Ficto will do it differently.
How did Ficto come about?

It started out as one primary thing but it has evolved. The original focus was on backend compensation for artists. I was an agent for about 16 years and I made 95% of my revenue on 5% of my deals; it's the same with most artists. And most of the time that comes from the backend.
But when streaming came along it eradicated the backend. Everything's going to streaming. Consumers love it, but like many tech companies they don't reveal their metrics – it's inherent in the tech culture.
I was really impressed with Netflix; they basically invented streaming, and production is up because of them. But I love this industry and I didn't like what I was seeing for the creators. If you take away content performance metrics, it changes everything. So that was my inspiration. I couldn't sit around.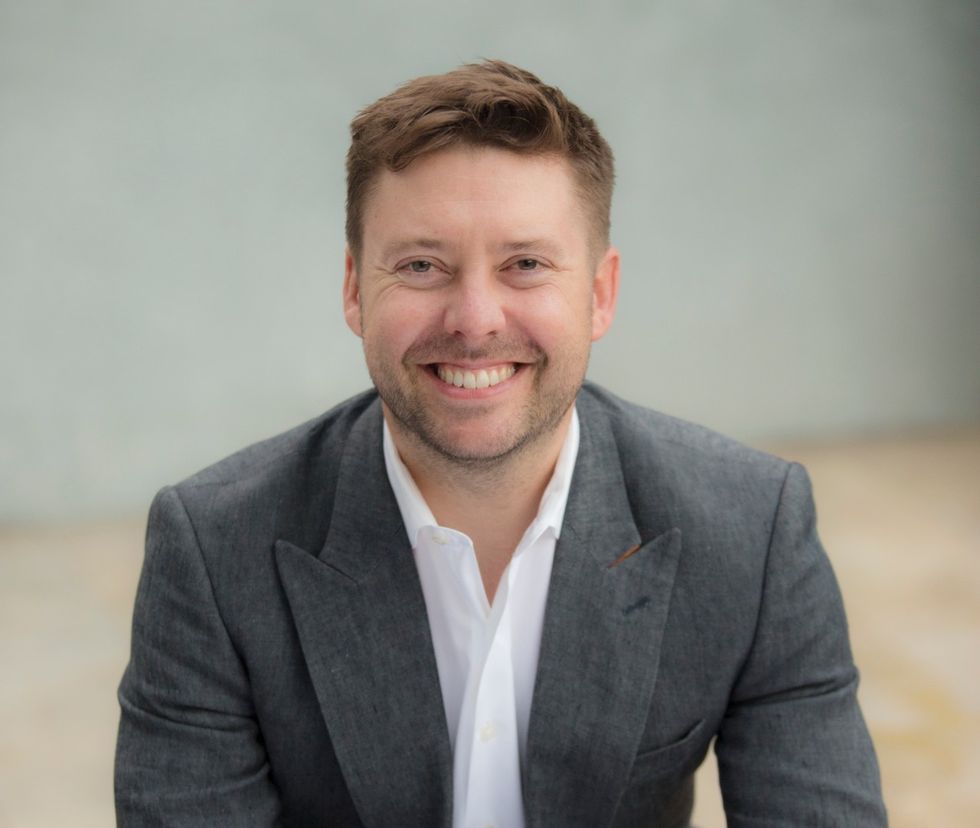 Mike Esola is Fiction Riot's CEO
Where is Ficto headed from here?

Q4 will be significant for us. The last couple months have been a beta period; we're testing, not spending money on marketing. We'll have 10 original shows coming in Q4, but we can't premier those now because we can't shoot them.
The filming moratorium looks like it'll lift soon and we'll go back into production. These shows will give users more empowerment and engagement than the shows that are on our beta version.
Those are good shows, too, and there's an element of empowerment there, since we accepted several of them through a submission portal; and also some engagement, with micro-donations from viewers. But we'll take all of that to the next level. To be able to do that how we want, you have to bake it in from the start.
We also have a number of great distribution deals coming in Q4, which will come with automatic pre-downloads that will allow us to exceed the downloads that Quibi got.

What will you do with the money you've just raised?
That was almost all convertible debt, and it will go to content, marketing, and operating expenses – which includes technology development.
We're not opposed to VC money but it's got to be the right moment and the right value proposition for them. We don't want to rush the valuation. And it seems lately there's been a bit of a reckoning in VC because of overvaluations and a have-or-have not mentality. VCs are really smart but like everyone they spread themselves thin. These are generalizations but I think there needs to be a more diverse approach to how VCs invest.
What do you think Quibi got wrong?
It's very simple: their value proposition is not correct. What problem are they trying to solve? They're aware there's an amazing amount of people, especially young people, watching on mobile. But content on mobile and content on normal streaming is not apples to apples, and they didn't adequately adjust their approach to production or programming. You've got to do the other things that people expect on mobile, and the way we think about that is it's all about empowerment and engagement.
Quibi raised and spent all this capital and assumed people would adopt their product, without hardly testing it – they just went straight into a big launch. If you do that in any industry the odds are against you. Every other app is built how we've built, but Quibi didn't care about history. (They figured) this is what people will accept — that they'll like what we make. It's not the first time this has happened to (Quibi chairman and founder Jeffrey) Katzenberg. Look at pop.com – it didn't launch. Dreamworks' live-action business sold for pennies on the dollar.
Quibi also disregarded the importance to young people of a free service. It's not easy to get someone to pay for a service with no established brand or content, especially young people.
The people making decisions at streaming services are focused on a mature, established market — long-form, primarily over-the-top, in front of the TV. They're missing this explosion, this cultural gap of mobile viewing. Quibi caught onto that, but it's not just about the length of the content. That's where Quibi got it wrong — it's about empowerment and engagement.
It's a different type of offering and different type of expectation that comes along with the internet, with mobile, with social and lots of things that aren't necessarily obvious. But people have a different value proposition in mind when they pick up their mobile phones. With any offering, whether you're talking about movies or Dropbox, you've got to deliver to consumers' expectations; and if you're lucky, you've got to exceed them. So if you're going to create content for mobile you have to meet those mobile expectations.
What exactly do you mean by engagement and empowerment?
Engagement is a fancy word for interactivity. It's about making people feel like they're part of something. It could be a choice-based show, or a location-based show that you unlock based on your location. It could be livestream; livestream is the longest anyone spends on average on mobile by far – you know why? Because with livestream, you feel like you're part of something, since it's happening in real time. You can do live-chat functionality, commentary, opinion, social integration — it's easy to do that for our shows. Quibi completely cut all that out.
And empowerment is basically about allowing people to submit content or opinions. Polling is its most basic form, or clicking to donate. Beyond that you see people submitting a video to be a part of something – TikTok is the most successful at that. We haven't premiered it yet but we have an interactive dating show that will empower viewers to win a date with a celebrity. And we'll do other competitive shows where people will have to submit a 10-second video to win a prize.
Most of the services are focused on long-form content and they're ignoring the twenty-somethings and teens because they don't understand it. They scratch their heads at why Quibi doesn't work and why TikTok does, and they dismiss TikTok as crap user-generated content. But it doesn't have to be that. It can be a hybrid. And that's where we see ourselves.
This interview has been edited for brevity and clarity.
Courtesy of Whatifi
The movie ends with the mother's severed head in the refrigerator. And it's in there because of the choices you made.
But you can return to the beginning, make new choices along the way and produce a different ending on Whatifi, a new, choose-your-own-adventure storytelling mobile app.
Mobile-first storytelling isn't exactly new. Nor is choose-your-own-adventure. But Whatifi founder Jaanus Juss believes his game plan to combine quality content, interactivity and socialization will make his app a hit, particularly with younger crowds.
"It's a new entertainment category that defines how the next generation will entertain themselves," he says.
Following a $10 million funding round led by Andreessen Horowitz, this L.A. and Estonia-based startup launched on iOS last week with two "branching story" titles. Adding the app to Android is one part of a "long product roadmap," the founders say.
"Anatomy of a Decision" follows 30 years of a man's life, starting with his parents' visit to a fertility clinic, and proceeds along 64 possible story permutations based on the seven different decisions viewers make along the way.
In "As Dead as it Gets," viewers make four decisions to determine which of 16 fates will befall the main character, who is on the verge of death and wants to return to the land of the living.
Although Whatifi's founders think these 80 storylines will keep their viewers busy for the time being, they are calling for writers and directors to help them build out their content library.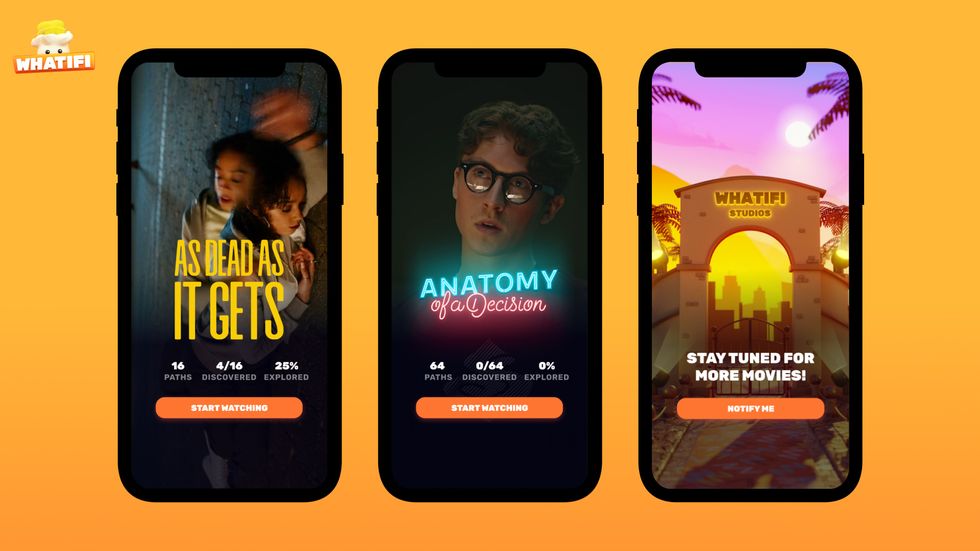 "Anatomy of a Decision" and "As Dead as it Gets" are the two movies available to watch in the newly released app.Courtesy of Whatifi
What If I Want to Watch?

Juss' background puts him and his team in a strong position to provide advice to creators.
As chief executive and founder of Creator City, an Estonian creative network, Juss and some experimental colleagues began exploring how to introduce interactive storytelling into live theater. At first the crowds were too shy.
"Estonians are introverted," he explains. "Then we gave them shots a half-hour before the show, and it worked great, but that obviously wasn't a sustainable model. So we injected technology."
The idea took off. Juss and his team ran over 1,000 interactive shows. Around the time he and his eventual co-founder Hardi Meybaum began discussing the possibility of bringing the format to film, Netflix released Bandersnatch, a choose-your-own-adventure format from the creators of Black Mirror. That was enough validation for Meybaum, who'd formerly been an entrepreneur, to leave his venture capital gig in Silicon Valley and join in on the Whatifi journey about a year ago.
"I thought this was a unique opportunity to build a large consumer company," he says.
While testing the product in New Zealand, Singapore and Sweden, the team watched to see whether users who finished one storyline would return to the beginning to try another route.
"If they don't do that then the whole premise of branching stories isn't successful," Juss says.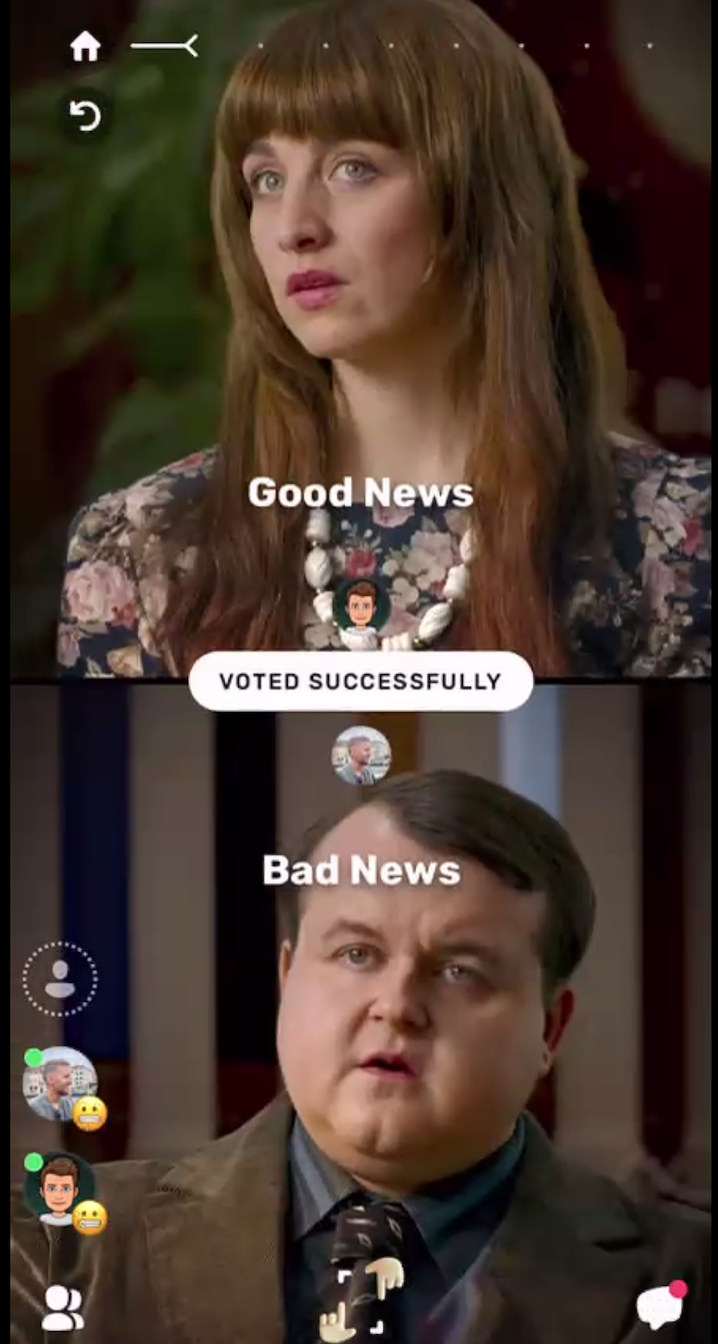 One decision point of "Anatomy of a Decision"
Courtesy of Whatifi
In those test markets they saw that 90% of users went back for another go, the founders say. And in the first week since launching in the U.S., that number has risen even higher.
Whatifi is targeted at a younger audience. They are more "native" to mobile, Juss says, and they were the audience segment who seemed to most enjoy the experience back in the live-theater version.
In addition to providing unique stories, Whatifi incorporates a social element. When users boot up the app, they enter a waiting room, where they can invite friends to join them in a viewing party. As the stories reach decision points, the movies pause and all the friends must vote. The story only continues if there's a consensus. Until then, friends must deliberate on which path to choose.
A key learning Juss took from the theater experiments was that the deliberation was often the part that was most fun.
And there's plenty more to explore.
"What we have so far is the simplest version that we've done in the theater," Juss says. "We can go much more complicated for telling the stories, but we'll ease into that."

Meybaum is enthralled by the possibilities.
"What makes Whatifi so cool and rewarding to work on is that, for us, there's content, social, the platform – it's all tightly coupled," he says. "When we are talking about the changes to come, they involve how to create content, the user experience, and also the social elements. It's the whole experience."

What if I Want to Participate?
July 7th is the pitch deadline. The company expects to receive applications primarily from "young and upcoming" screenwriters and directors, but Meybaum tells dot.LA that anyone can apply.
"You never know where the best ideas come from. We're excited to make it public," he says.
The contest has two parallel tracks: one for scripts only, and one for full productions. To help applicants get started, Whatifi provides a sample pitch, a story-mapping tool and a script template.
Up to 20 applicants will win $2,000 and qualify for the final round, for which they'll need to submit a full script – with a helping hand from Whatifi and its team of advisors.
Five winners of the full-production prize will receive $200,000 to turn their submissions into films for the Whatifi platform. Winners of the script-only prize will each receive $35,000, and the possibility that Whatifi will find a director to make the movie. The new films are scheduled to be completed by October 15.
Juss highlights one advantage the format provides to filmmakers: They need not suffer the pressures of having to make every decision themselves. That can be outsourced to the audience.
"Many writers probably wonder where their stories might have led, had they taken a different turn at a crucial point," says Johannes Veski, writer and director of "Anatomy of a Decision."
"The chance to see where all those potential paths lead should whet the appetites of screenwriters and filmmakers across genres."
Courtesy of Whatifi
Juss acknowledges that writing a script with multiple permutations can be a challenge. Veski agrees.

"Maintaining coherence is hard enough when writing one story," Veski says. "I aimed at 64 paths and outcomes that all begin at a single point. I had to make sure they'd all logically lead back to the beginning and still make sense in relation to each other. It felt like like building a house of cards and changing the laws of physics on the way."
But both Juss and Veski think the learning curve isn't too steep.

"We've seen that filmmakers can really get their heads around it," Juss says. "And once it's written it's not that different from a filming standpoint."
"Life is a single track of guesswork, projection, regret, and relief," Veski adds. "I'm intrigued by life as not one, but many possible paths. I see 'Anatomy of a Decision' as a mere mortal's chance to trick fate and try on all the couldas and shouldas."
---
Sam Blake primarily covers media and entertainment for dot.LA. Find him on Twitter @hisamblake and email him at samblake@dot.LA
From Your Site Articles
Related Articles Around the Web