fiction riot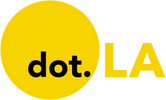 Get in the KNOW
on LA Startups & Tech
X
fiction riot
Ficto, a cross between Quibi, Netflix and a video game that is set to launch next month, got a big boost this week when LG announced the app would come preloaded on 1.3 million of its new double-screened LG Wing smartphones.
The deal should help Ficto stand out from the competition by (literally) putting it in people's hands.
The mobile streaming service set to launch in October will focus on shows that leverage the smartphone's unique features, bringing to them a heavy dose of interactivity and social engagement. It also offers some brands, like LG, product placement and a degree of creative control in their shows. "Snoop 16," an interactive gameshow hosted by Long Beach native Snoop Dogg, will debut as one of the streamer's original programs.
Mike Esola is the chief executive of L.A.-based Fiction Riot, a.k.a. Ficto. He told dot.LA that talks with LG began about a year ago. Both companies thought the other would be a good match.
"(LG Wing) is best utilized by apps that exhibit premium-level content on the main screen and interactive functionality features on the second screen," Esola said.
In exchange for the preloads, Ficto will embed LG products into some of its programming. LG will be paying for the product placements as well, a revenue stream that will likely be key to the free service's growth. In future phases of the partnership, LG will also include the app on other phones and televisions, Esola said.
Ficto has had about 60,000 users during its beta period. It will launch next month with dozens of licensed shows and seven originals. The latter group is where its mobile- and social-oriented content will predominate.
"Snoop 16" episodes, for example, will center around a March Madness-style bracket, except the competitors will be various items like rappers or cars; viewers will fill out and submit their own brackets, and if they match Snoop's, they will receive an LG Wing smartphone giveaway.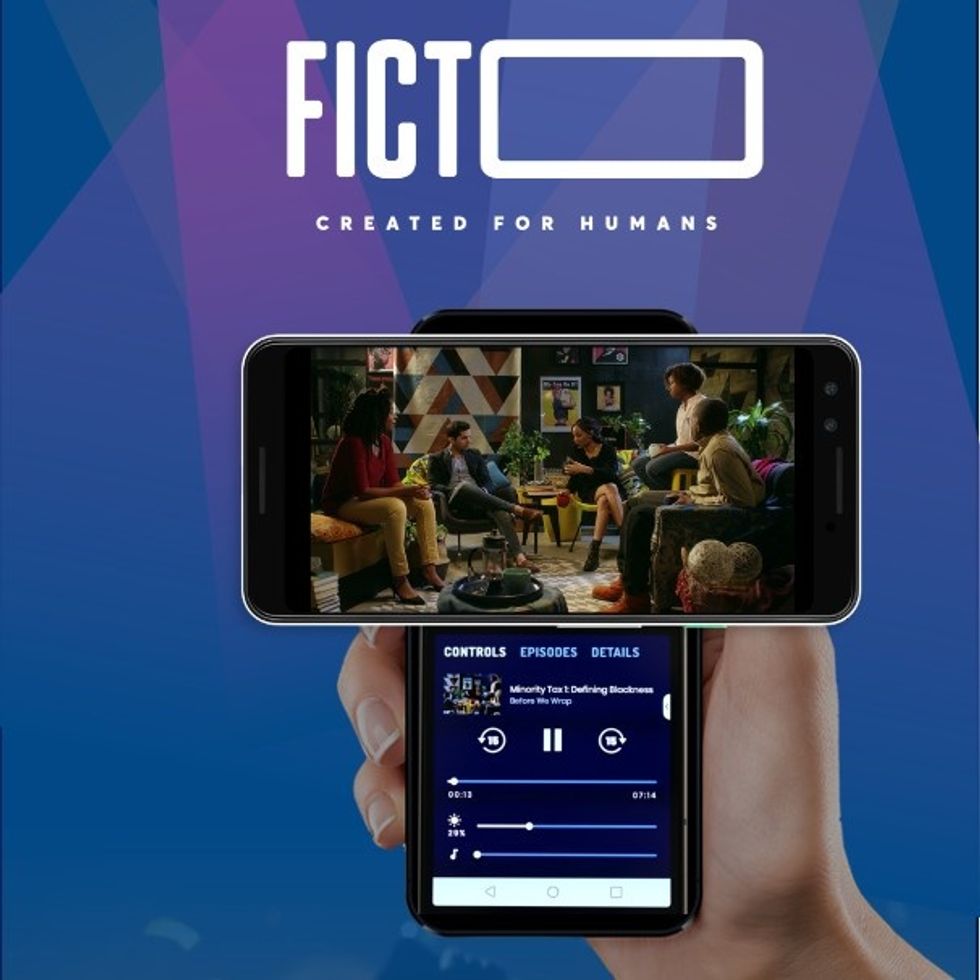 Streaming service Ficto is creating shows with LG's new smart phone in mind.Courtesy of Ficto
Esola acknowledged there is no guarantee the new phones will sell. And getting the app integrated with LG Wing's swiveling second screen required investment.

"It's not easy to adapt to a new form factor," Esola said, referring to the phone's shape and size. "Apps don't (usually) spend the time [to adapt] until they know. We took the risk."
In doing so, LG is betting that Ficto can break through in the crowded streaming field. It will aim to do so largely through interactivity, which Esola has referred to as a form of "engaging and empowering" viewers.
The ability to share Ficto content across social media is a departure from fellow mobile-oriented streamer Quibi, which did not allow users to share content clips. After a disappointing launch, the L.A.-based company recently added that feature, among others.
By contrast, Ficto has built-in technology to enable sharing clips over social media while complying with copyright law. Ficto will also provide creators with some analytics about the performance of their shows, something that Esola says many streaming companies, namely Netflix, do not do.
Ficto has raised $5 million since it incorporated in March 2018.
About 80% of the company's revenue currently comes from licensing shows to foreign markets, which allows apps in those markets to use Ficto's shows and essentially present them as their own.
The company also makes revenue from brand integrations, an area that is expected to grow as its user count climbs. Such arrangements allow a company like Anheuser Busch to "sponsor" a season or episode in exchange for a degree of creative control and product placement.
Ficto also licenses its proprietary technology for functionality like e-commerce integration and data analytics.
From Your Site Articles
Related Articles Around the Web
Fiction Riot, the L.A.-based entertainment company behind mobile streaming app Ficto, raised $250,000 this week. Chief executive Mike Esola says the company has intentionally grown slowly, eschewing venture capital in favor of incremental fundraising from family offices, institutions and friends and family.
In total, the company has raised $3.5 million, according to an internal document.
Ficto is free to download on iOS and Android, but is currently in a testing phase, says Esola, a former agent at WME and UTA. He and his team – which includes Jeff Mayo (employee #80 at YouTube and #300 at LinkedIn) and Nick Mitchell (former head of engineering at Technicolor) – plan to launch the fully fledged service in Q4 of this year. That will receive a boost from distribution partnerships that will guarantee them 1.3 million automatic downloads of the Ficto app, according to Esola and the document.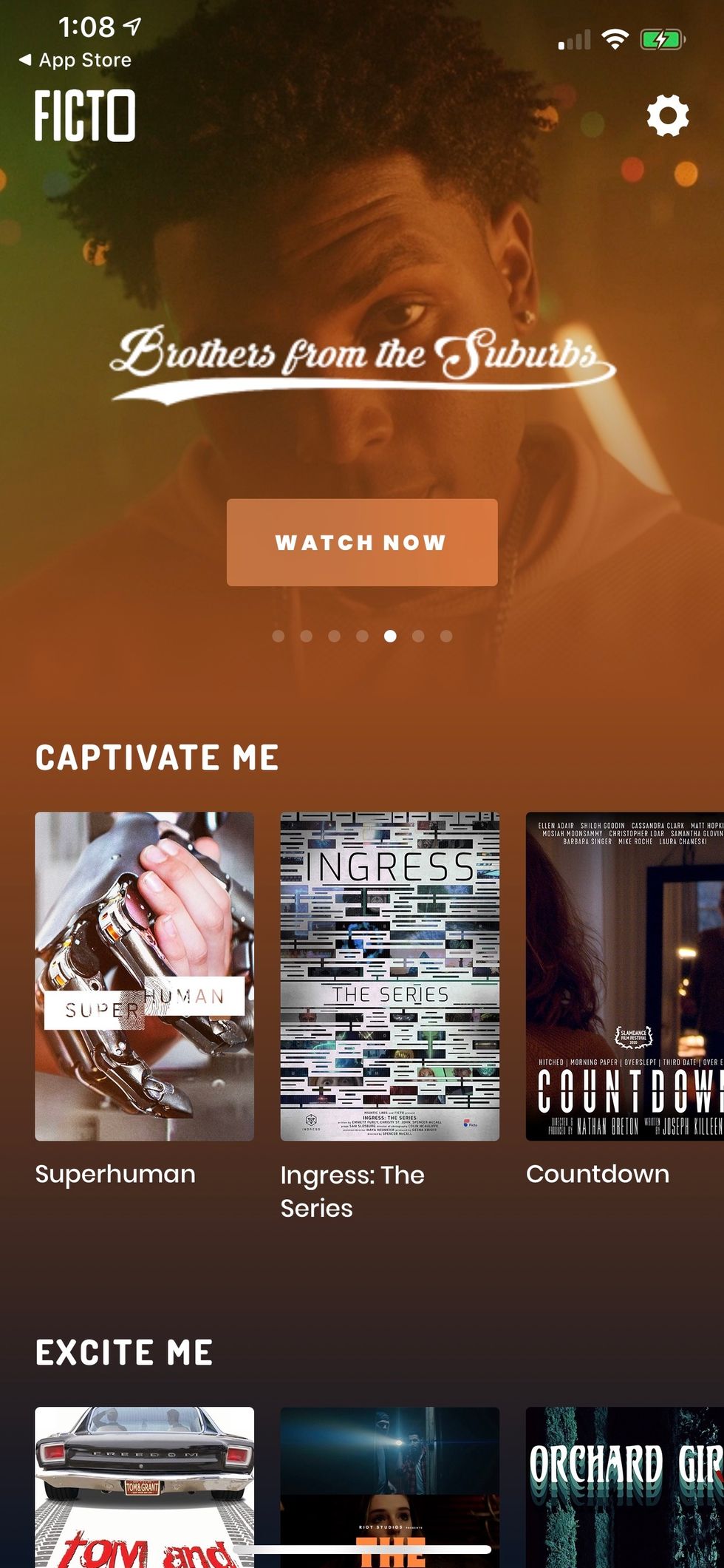 Courtesy Ficto
The company's business model is based on advertising and providing white label streaming technology to third parties such as festivals, conferences and broadcasters, Esola says.
Ficto aims to leverage mobile-oriented tech to offer a unique user experience. In the future its shows will include features like interactive choice-based storytelling; content that is unlocked if a user goes to a specific location; and real-time chats. The tech stack is also built to provide unique opportunities to advertisers and financial transparency to creators.
dot.LA caught up with Esola to talk about his plans for the Q4 launch, what short-form video competitor Quibi got wrong, and how Ficto will do it differently.
How did Ficto come about?

It started out as one primary thing but it has evolved. The original focus was on backend compensation for artists. I was an agent for about 16 years and I made 95% of my revenue on 5% of my deals; it's the same with most artists. And most of the time that comes from the backend.
But when streaming came along it eradicated the backend. Everything's going to streaming. Consumers love it, but like many tech companies they don't reveal their metrics – it's inherent in the tech culture.
I was really impressed with Netflix; they basically invented streaming, and production is up because of them. But I love this industry and I didn't like what I was seeing for the creators. If you take away content performance metrics, it changes everything. So that was my inspiration. I couldn't sit around.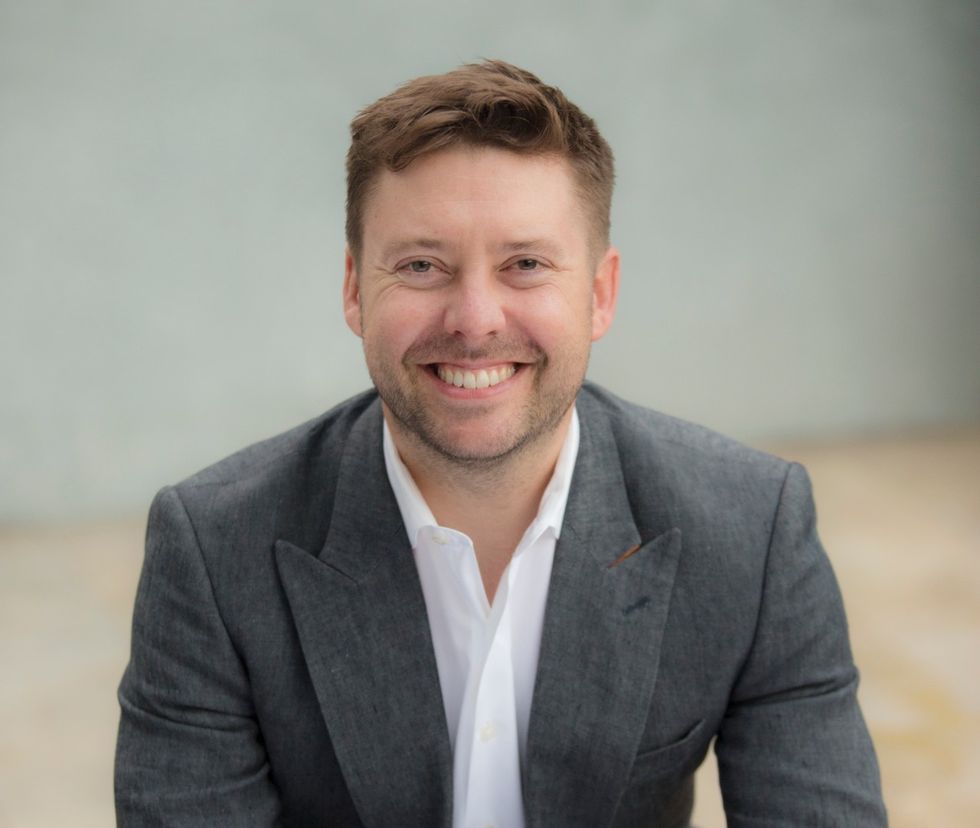 Mike Esola is Fiction Riot's CEO
Where is Ficto headed from here?

Q4 will be significant for us. The last couple months have been a beta period; we're testing, not spending money on marketing. We'll have 10 original shows coming in Q4, but we can't premier those now because we can't shoot them.
The filming moratorium looks like it'll lift soon and we'll go back into production. These shows will give users more empowerment and engagement than the shows that are on our beta version.
Those are good shows, too, and there's an element of empowerment there, since we accepted several of them through a submission portal; and also some engagement, with micro-donations from viewers. But we'll take all of that to the next level. To be able to do that how we want, you have to bake it in from the start.
We also have a number of great distribution deals coming in Q4, which will come with automatic pre-downloads that will allow us to exceed the downloads that Quibi got.

What will you do with the money you've just raised?
That was almost all convertible debt, and it will go to content, marketing, and operating expenses – which includes technology development.
We're not opposed to VC money but it's got to be the right moment and the right value proposition for them. We don't want to rush the valuation. And it seems lately there's been a bit of a reckoning in VC because of overvaluations and a have-or-have not mentality. VCs are really smart but like everyone they spread themselves thin. These are generalizations but I think there needs to be a more diverse approach to how VCs invest.
What do you think Quibi got wrong?
It's very simple: their value proposition is not correct. What problem are they trying to solve? They're aware there's an amazing amount of people, especially young people, watching on mobile. But content on mobile and content on normal streaming is not apples to apples, and they didn't adequately adjust their approach to production or programming. You've got to do the other things that people expect on mobile, and the way we think about that is it's all about empowerment and engagement.
Quibi raised and spent all this capital and assumed people would adopt their product, without hardly testing it – they just went straight into a big launch. If you do that in any industry the odds are against you. Every other app is built how we've built, but Quibi didn't care about history. (They figured) this is what people will accept — that they'll like what we make. It's not the first time this has happened to (Quibi chairman and founder Jeffrey) Katzenberg. Look at pop.com – it didn't launch. Dreamworks' live-action business sold for pennies on the dollar.
Quibi also disregarded the importance to young people of a free service. It's not easy to get someone to pay for a service with no established brand or content, especially young people.
The people making decisions at streaming services are focused on a mature, established market — long-form, primarily over-the-top, in front of the TV. They're missing this explosion, this cultural gap of mobile viewing. Quibi caught onto that, but it's not just about the length of the content. That's where Quibi got it wrong — it's about empowerment and engagement.
It's a different type of offering and different type of expectation that comes along with the internet, with mobile, with social and lots of things that aren't necessarily obvious. But people have a different value proposition in mind when they pick up their mobile phones. With any offering, whether you're talking about movies or Dropbox, you've got to deliver to consumers' expectations; and if you're lucky, you've got to exceed them. So if you're going to create content for mobile you have to meet those mobile expectations.
What exactly do you mean by engagement and empowerment?
Engagement is a fancy word for interactivity. It's about making people feel like they're part of something. It could be a choice-based show, or a location-based show that you unlock based on your location. It could be livestream; livestream is the longest anyone spends on average on mobile by far – you know why? Because with livestream, you feel like you're part of something, since it's happening in real time. You can do live-chat functionality, commentary, opinion, social integration — it's easy to do that for our shows. Quibi completely cut all that out.
And empowerment is basically about allowing people to submit content or opinions. Polling is its most basic form, or clicking to donate. Beyond that you see people submitting a video to be a part of something – TikTok is the most successful at that. We haven't premiered it yet but we have an interactive dating show that will empower viewers to win a date with a celebrity. And we'll do other competitive shows where people will have to submit a 10-second video to win a prize.
Most of the services are focused on long-form content and they're ignoring the twenty-somethings and teens because they don't understand it. They scratch their heads at why Quibi doesn't work and why TikTok does, and they dismiss TikTok as crap user-generated content. But it doesn't have to be that. It can be a hybrid. And that's where we see ourselves.
This interview has been edited for brevity and clarity.