images.pexels.com
As a math teacher, Julius Woehning can't ignore the numbers.
After climbing to 11th place out of 35,000 competitors in his fantasy sports league this Spring, the twenty-something German knew his chances of placing among the prize-winning top three were still slim. And even now that he's won the $50,000 grand prize, he's keeping his expectations modest for next season–mostly.
"I doubt I will win," Woehning told dot.LA, "but if my friends are playing next season, I definitely think I will beat them."
The league that hosted Woehning's triumph was operated by Esports One, a venture-backed L.A-based startup that is staking its claim on the dynamic esports market by providing fans like Woehning a tech-enabled fantasy sports platform. It currently accommodates just one game, League of Legends, a hit multiplayer battle arena-style competition developed by L.A.'s Riot Games, but the startup plans to expand to another title by the end of this year.
Founder Matt Gunnin told dot.LA that he has over a decade of experience in esports. His recent entrepreneurial ventures have been built around computer vision technology that analyzes on-screen game activity to produce a robust flow of real-time gameplay data and statistics. Gunnin previously partnered with Twitch, a popular platform for watching esports, to provide viewers with analytics as they watched; and he has partnered with Riot Games to help in-game esports announcers spice up their commentary with data.
Recent forecasts for the esports market have proven overly optimistic. As media analyst Matthew Ball wrote in an essay last month, Newzoo, a gaming insights service, predicted in 2017 that esports would generate up to $2 billion by 2020 but has since reduced its forecast to just north of $1 billion. Morgan Stanley had a similar overly bullish view. In April, Newzoo further cut its 2020 forecast, citing setbacks due to cancelled live events from the coronavirus. However, the service raised its expected growth rate, assuming an enduring boost from the increased gameplay occurring amid the pandemic.
Esports One co-founder and Chief Operating Officer Sharon Winter is optimistic about the space, noting increased interest from major agencies in representing gamers, the entry of new brands as advertisers and partners, and the expansion by some classic fantasy sports operators into esports.
The numbers looked good for this past season which Woehning won. According to representatives from Esports One, Europe's professional League of Legends league reported this spring's playoffs saw a 71% growth in total hours watched compared to last spring's, and a 76% increase in peak viewership.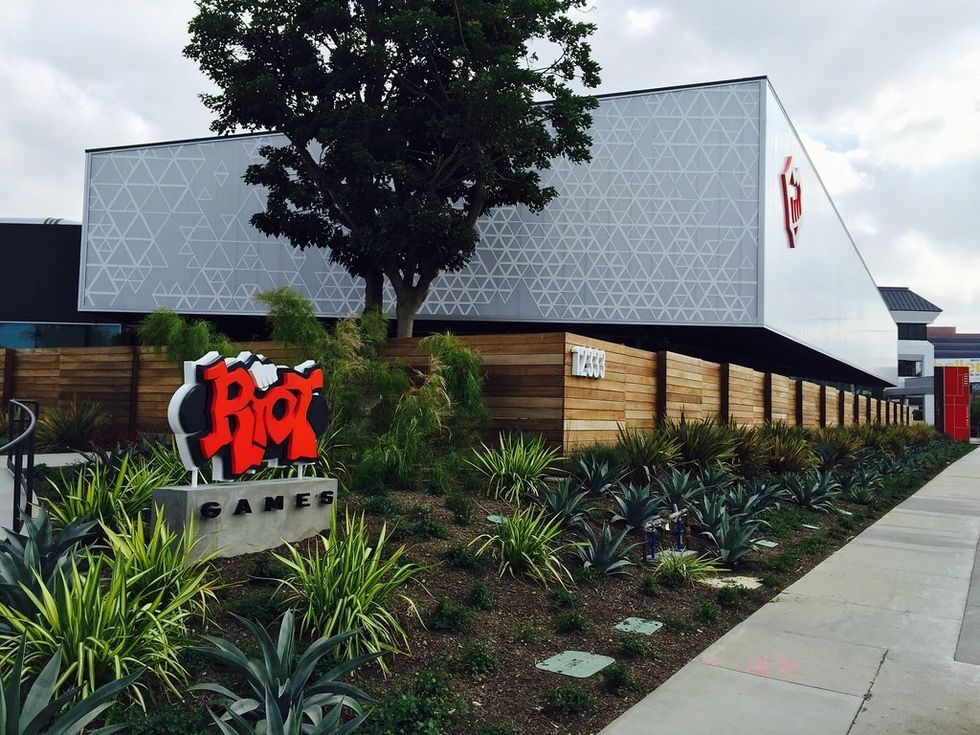 Riot Games Acquires Gaming Studio Hypixel live.staticflickr.com
A sport by any other name...

In some ways, fantasy esports is just like any fantasy sport. Esports One competitors have a weekly budget for bidding on players for each week's games; the real-world players are assigned a dollar-value based on Esports One's data-rich algorithms. As the gamers accumulate stats – kills, assists, achieving objectives, etc. – those are reflected in the fantasy gamers' lineups.
Woehning explained that playing fantasy esports makes watching matches more exciting, especially when his favorite team isn't playing – a sentiment many fantasy football players will recognize (anyone up for Lions-Browns?). Jason Halsey, another Esports One competitor, from England, says that just like in traditional sports, esports are filled with exciting moments, intriguing matchups and upsets.
Esports differs from traditional sports, however, in some crucial ways. As Ball described, a developer like Riot Games owns League of Legends, whereas nobody owns basketball or football. This skews power dynamics away from third-party esports companies and toward the game developers. But Gunnin and Winter emphasize they've built Esports One to work in partnership with game developers, yet without being captive to their centralized power.
Another way that esports differs from regular sports, Gunnin says, is that viewers can more easily see themselves doing what the professionals do. "But if you can't slam dunk, you're out of luck," he explained. As a result, Gunnin said Esports One strives to make its fantasy gameplay more like playing the game itself.
The startup's founders also highlight esports' somewhat "cliquey" nature, and how they accordingly aim to cater their platform toward upholding a sense of camaraderie. Halsey, the British gamer, praised the platform's responsiveness to user input.
Esports One has raised about $4 million to date. In the future the league will remain free to access, according to the company, but it plans to grow its revenue streams into premium subscriptions and event passes. Beyond expanding into another game title, the company also hopes to move beyond Europe and North America into other regions.
Los Angeles seems a good home base from which to do so. Two major studios, Activision Blizzard and Riot Games, are based here. And Kevin Rosenblatt of ESL Gaming, an international esports firm specializing in live events with an office in Burbank, told dot.LA that the region has become a "mecca" for esports, thanks to its history of production expertise, a rich ecosystem of firms and brands, and a talented labor pool.
As Esports One's summer season approaches, Woehning still hasn't decided what he will do with his spring winnings. The math teacher evidently understands compound interest and has plans to save it.
---
Sam Blake covers media and entertainment for dot.LA. Find him on Twitter @hisamblake and email him at samblake@dot.LA