This Test Prep Service has a Cult Following Among Med Students. Soon it Will Have an Animation Studio
Tami Abdollah
Tami Abdollah was dot.LA's senior technology reporter. She was previously a national security and cybersecurity reporter for The Associated Press in Washington, D.C. She's been a reporter for the AP in Los Angeles, the Los Angeles Times and for L.A.'s NPR affiliate KPCC. Abdollah spent nearly a year in Iraq as a U.S. government contractor. A native Angeleno, she's traveled the world on $5 a day, taught trad climbing safety classes and is an avid mountaineer. Follow her on Twitter.
Sep 24 2020
The unnamed king wears a crown and large pink robe as he grasps a tissue to his nose.

No, this isn't some Netflix show on the quarantine lives of the rich and famous; it's actually a method SketchyMedical uses to help students recall complicated concepts.
Such images by Los Angeles-based online education startup SketchyMedical have helped catapult the company to cult status among the med school set, who dress up in their drawings for Halloween. One fan even got a tattoo of SketchyMedical's pencil representing penicillin.
On Thursday, SketchyMedical announced its first outside investment stake, a $30 million shot in the arm from former Hollywood executive Peter Chernin's investment firm TCG to help establish an in-house animation studio that will bring to life those famous sketches and expand its team of 30 employees.
---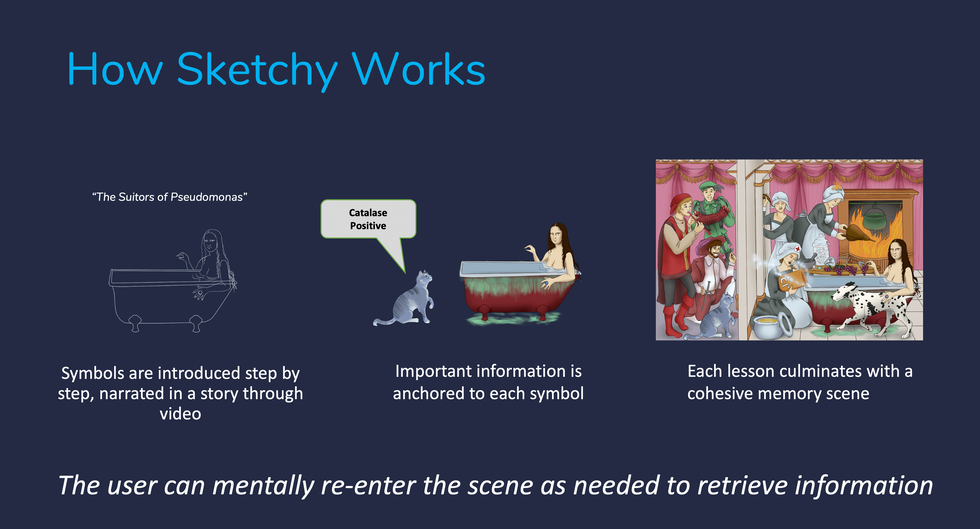 The funds will also help SketchyMedical bring its symbolic characters and scenes to other health professions, as well as create new ones for students preparing for the MCAT in the short term and new subjects like law over the next few years.

"We are reintroducing this method in modern education that's really been lost, and the students have noticed, and it works and they're using it," said CEO and cofounder Saud Siddiqui. "We're really looking forward to expanding our reach, making this accessible no matter what they're studying."
SketchyMedical's success is part of the recent trend toward the consumerization of education — a trend that has been rapidly accelerated by the pandemic.
Students pay thousands annually for medical entrance and licensing exams, flocking to big name test prep companies and paying thousands more to prepare. As the internet has provided myriad more ways to connect and learn, it's become a buyer's market for students looking to differentiate themselves from their peers and ace those exams.
The company was founded by medical students for medical students in 2013 after its four co-founders used similar techniques with great efficacy while preparing for their board exams.
SketchyMedical has been profitable since its early days through its subscription model, which offers tiered pricing — from roughly $230 to $550 for up to two years of programming — that includes video lessons, review cards and quizzes. The company currently has more than 30,000 active subscriptions.

Sketchy Medical relies on the "memory palace technique," from an era when oral tradition meant memorizing long stories passed on from one generation to the next. Med students are given a simple visual way into the material through characters, storylines and humor.
For example, in one sketch a naked Mona Lisa sits in a red-colored bathtub by the fire, petting a dalmatian and holding grapes.
She represents the bacteria known as pseudomonas aeruginosa, which thrives in aquatic environments and is classified as a gram-negative bacilli. It produces a fruity grape-like odor when plated and has swarming motility
In another four-minute coronavirus lesson, the crown represents the "coronaviridae" family of RNA viruses, the robe represents the fact that it is enveloped, while the tissue represents how they cause the common cold. The image shows up in pictures whenever a coronavirus becomes relevant.
Siddiqui said the company found students had a 30% improvement in recall using its method. Anecdotally, he said even the non-medical artists at the company are getting 100% on the preclinical quizzes from working on the images.
Cofounder Andrew Berg, speaking in front of a Zoom backdrop featuring the company's pencil (penicillin) drawing, said professors across the country have also integrated the company's sketches into lecture slides.
And Siddiqui said the company has seen more institutions using SketchyMedical during the COVID-19 pandemic as they've tried to find creative ways to supplement their traditional lectures.
"We argue that everybody is a visual learner, that our brain has evolved to be really good at visual spatial recall," Siddiqui said. "It's necessary for survival to know where that fruit grew or where that dangerous predator was, or our cave. This is the same for animals. This bird can remember the location of 30,000 seeds across the landscape."
TCG vice president Michaela Venuti said the consumer-focused investment fund has been diving deep into the education space for the last year and a half and seen students take ownership of their education, picking and choosing among a wealth of new products tailored to their interests, area of specialty or aspirations.

"Consumers can make decisions about what supplemental tools they want to use and build their own education," Venuti said. "A lot of that has been accelerated during the pandemic, and Sketchy fits well in this broader scheme of consumers choosing."
Venuti said TCG interviewed graduate and med school students as part of its work in the education space and 100% of the students they talked to mentioned Sketchy as a crucial tool to get through med school. That known brand name should help the company as it expands into other types of content and categories of education.
While it's hard to quantify exactly how large the market is for supplemental spending on education, TCG looked at another early leader in the direct-to-consumer space: Santa Clara, Calif.-based Chegg Inc. is a publicly traded company that began in the textbook rental space and now offers tutoring among other student services.
Venuti said she could certainly see SketchyMedical going the way that 2005-founded Chegg has, ultimately offering a suite of student services. Chegg reported 3.9 million subscribers in 2019 and a current $8.7 billion market cap, but the company believes the total potential market opportunity for their services is 102 million students in the U.S., Canada, Australia and the United Kingdom. The company has seen a 39% compound annual growth rate over the last five years, and its total revenue of $153 million is up 63% year over year for the second quarter of 2020.
TCG believes Chegg's outlook on market opportunity is similar to what SketchyMedical could expect, Venuti said. However, she added that SketchyMedical's "secret sauce" is the content the company has built, its method for teaching students and its passionate and engaged user base.
An internal analysis by TCG estimated a total addressable market of 93,000 medical students and adjacent medical specialties like dentistry and pharmacology, who are already using SketchyMedical's content for studying overlapping topics. TCG also discovered an "ever-increasing amount of global edtech unicorns — such as VIPKid, Coursera, Duoling, ByJu's, Quizlet and more — with consumer-facing supplemental tools valued in the billions.
The analysis also found that in the medical school market supplemental tools are becoming so important that "students are skipping class to instead study via supplemental learning tools."
___
Do you have a story that needs to be told? My DMs are open on Twitter @latams You can also email me at tami(at)dot.la, or ask for my contact on Signal, for more secure and private communications.
Tami Abdollah
Tami Abdollah was dot.LA's senior technology reporter. She was previously a national security and cybersecurity reporter for The Associated Press in Washington, D.C. She's been a reporter for the AP in Los Angeles, the Los Angeles Times and for L.A.'s NPR affiliate KPCC. Abdollah spent nearly a year in Iraq as a U.S. government contractor. A native Angeleno, she's traveled the world on $5 a day, taught trad climbing safety classes and is an avid mountaineer. Follow her on Twitter.
tami@dot.la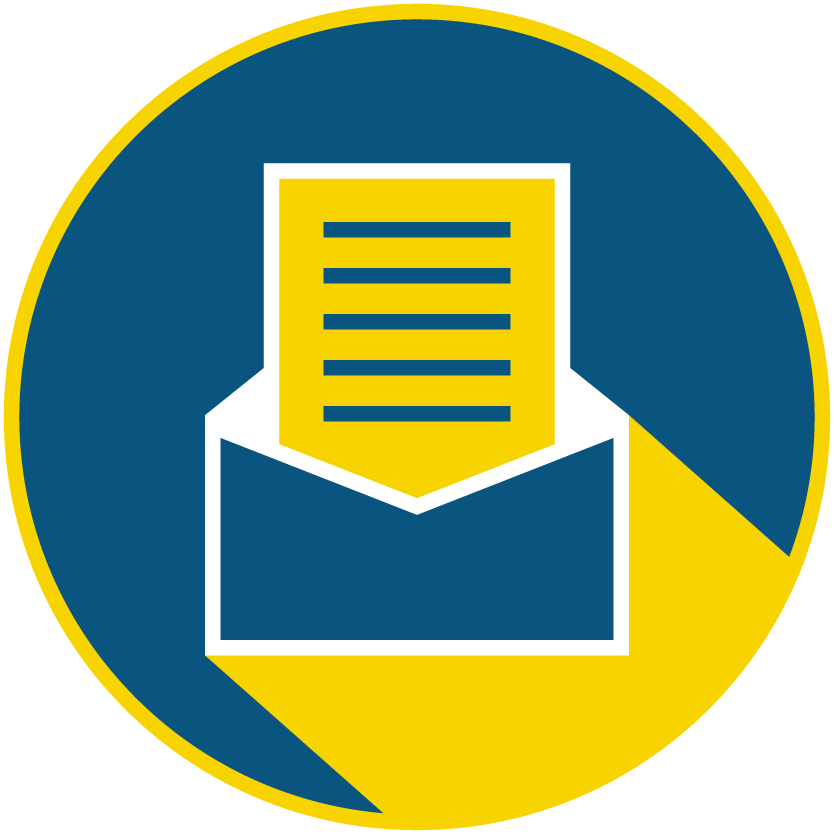 Subscribe to our newsletter to catch every headline.
On this week's episode of Just Go Grind, hear from Marlon Nichols, founding managing general partner at MaC Venture Capital, a seed-stage venture fund whose investments run from $1.5 million to about $2 million. Their focus is on emerging behavioral and cultural trends plus technology that enterprise will need to stay current.
How does the firm find what's new before anyone else? Marlon says it's their extensive network of people with their fingers on the pulse of pop culture — "from movie stars to movie makers to musicians and producers that are traveling the world and are seeing a ton of things, to relationships with some of the top global advertising agencies" — and once MaC VC hears a trend repeating, they investigate it to see if it's "real."
The decision making is collaborative at MaC VC, made up of co-founders from M Ventures and Cross Culture Ventures, Marlon's previous firm. Merging their companies made sense because they had been co-partnering on many investments, the partners had known each other personally for many years, and they wanted to create a larger investment fund and vehicle. They took six months to actively work together in order to gain confidence in their compatibility. Marlon says, "we wanted to source deals together, evaluate those deals together, learn each other's quirks and and habits, likes and dislikes, pet peeves — all those things." All this to build a firm that is a "multi-fund, multi-decade relationship."
On this episode, hear about how Marlon got into venture capital, what institutional limited partners are looking to invest in and what's next for MaC VC.
Marlon Nichols is a founding managing partner at MaC Venture Capital (formerly Cross Culture Ventures), which finds entrepreneurs who are building the future for the rest of America. He's a former Kauffman fellow and investment director at Intel Capital, where he launched Intel's $125M diversity fund. Marlon, with an extensive background in technology, private equity, media and entertainment, has a unique eye for global trends and shifts in consumer behavior. This has helped him capture high-potential investments, which include Gimlet Media, MongoDB, Thrive Market, Fair, LISNR, Mayvenn, Blavity, Pipe, Wonderschool and other companies that reflect overlooked markets. He serves on the board of directors for Ajua, Blavity, Finesse, Kauffman Fellows Program, LISNR, Ryff, Sote and Wonderschool. (from MaC website).

Laurel Moglen, dot.LA Sr. Podcast Producer and Editor, contributed to this article.
From Your Site Articles
Related Articles Around the Web
Justin Gordon
Justin Gordon is the founder of "Just Go Grind" and host of the "Just Go Grind Podcast," a daily show with more than 200 episodes featuring interviews with entrepreneurs and investors. He has an MBA from USC, is an aspiring runner with a 1:29 half marathon personal best, and wants to help one billion people in his lifetime.
Despite — or in many cases because of — the raging pandemic, 2020 was a great year for many tech startups. It turned out to be an ideal time to be in the video game business, developing a streaming ecommerce platform for Gen Z, or helping restaurants with their online ordering.
But which companies in Southern California had the best year? That is highly subjective of course. But in an attempt to highlight who's hot, we asked dozens of the region's top VCs to weigh in.
We wanted to know what companies they wish they would have invested in if they could go back and do it all over again.
Startups were ranked by how many votes each received. In the case of a tie, companies were listed in order of capital raised. The list illustrates how rapidly things move in startup land. One of the hottest startups had not even started when 2020 began. A number doubled or even 16x'd their valuation in the span of a few short months.
To divvy things up, we delineated between companies that have raised Series A funding or later and younger pre-seed or seed startups.
Not surprisingly, many of the hottest companies have been big beneficiaries of the stay-at-home economy.
PopShop Live, a red-hot QVC for Gen Z headquartered out of a WeWork on San Vicente Boulevard, got the most votes. Interestingly, the streaming ecommerce platform barely made it onto the Series A list because it raised its Series A only last month. Top Sand Hill Road firms Andreessen Horowitz and Lightspeed Venture Partners reportedly competed ferociously for who would lead the round but lost out to Benchmark, which was an early investor in eBay and Uber. The round valued PopShop Live at $100 million, way up from the $6 million valuation it raised at only five months prior.
Scopely, now one of the most valuable tech companies in Los Angeles, was also a top vote getter.
The Culver City mobile gaming unicorn raised $340 million in Series E funding in October at a $3.3 billion valuation, which nearly doubled the company's $1.7 billion post-money valuation from March. It is no coincidence that that was the same month stay-at-home orders began as Scopely has benefited from bored consumers staying on their couch and playing ScrabbleGo or Marvel Strike Force.
The company's success is especially welcome news to seed investors Greycroft, The Chernin Group and TenOneTen ventures, who got in at a $40 million post valuation in 2012. Upfront Ventures, BAM Ventures and M13 joined the 2018 Series C at a $710 post-money valuation.
Softbank-backed Ordermark, which flew more under the radar, also topped the list. The company's online ordering platform became a necessity for restaurants forced to close their dining rooms during the pandemic and raised $120 million in Series C funding in October.
On the seed side, two very different startups stood out. There was Pipe, which enables companies with recurring revenues to tap into their deferred cash flows with an instant cash advance, and Clash App, Inc., a TikTok alternative launched by a former employee of the social network in August.
We will have the list of Southern California's top seed startups out tomorrow.
Lead art by Candice Navi.
Ben Bergman
Ben Bergman is the newsroom's senior finance reporter. Previously he was a senior business reporter and host at KPCC, a senior producer at Gimlet Media, a producer at NPR's Morning Edition, and produced two investigative documentaries for KCET. He has been a frequent on-air contributor to business coverage on NPR and Marketplace and has written for The New York Times and Columbia Journalism Review. Ben was a 2017-2018 Knight-Bagehot Fellow in Economic and Business Journalism at Columbia Business School. In his free time, he enjoys skiing, playing poker, and cheering on The Seattle Seahawks.
https://twitter.com/thebenbergman
ben@dot.la