Science Inc. Makes $270 Million SPAC Debut
JP Mangalindan
JP Mangalindan is a senior contributing writer to dot.LA. His work has appeared in numerous publications over the last 18 years, including Bloomberg Businessweek, Fortune Magazine, GQ Magazine, Protocol, Entertainment Weekly, Mashable and Yahoo Finance. JP earned a bachelor's degree in journalism from Fordham University.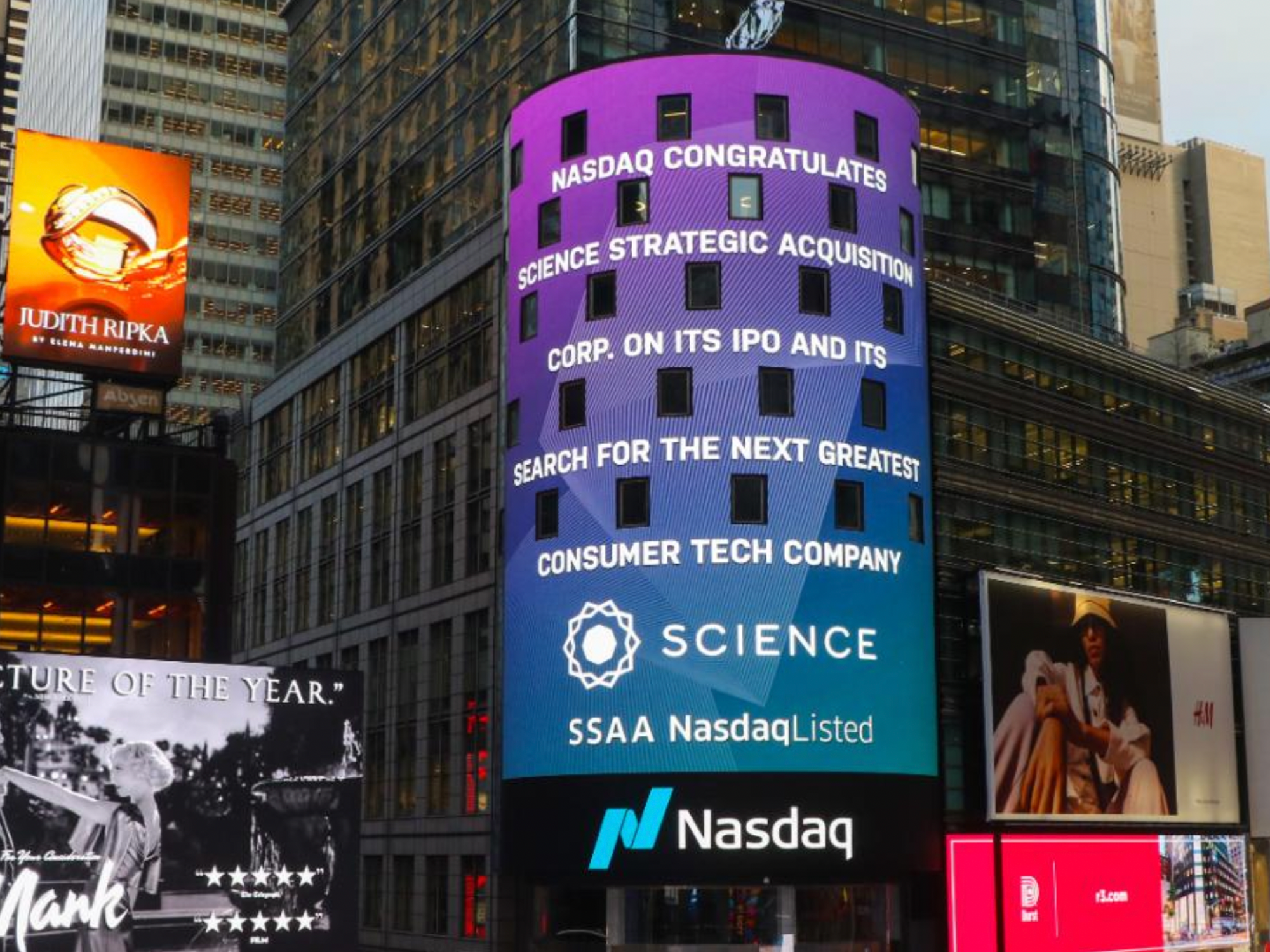 Michael Jones and Peter Pham, the founders of Science Inc., officially joined the SPAC frenzy on Tuesday, with a special purpose acquisition company (SPAC) of their own valued at $270 million.

In an announcement, Jones and Pham said their SPAC, Science Strategic Acquisition Corp. Alpha, would debut on the NASDAQ today by selling 27 million units at $10 a share. The SPAC plans on merging with a company in the direct-to-consumer (DTC) services space and/or mobile and entertainment sectors.
---
Science Inc.'s SPAC is the latest in a surge of so-called blank check companies that debut on the stock market with the primary goal of merging with a company to take it public. Over the last 12 months or so, more than 320 SPACs have emerged. Last week, Fifth Wall filed to launch a SPAC, Fifth Wall Acquisition Corp. I. The electric vehicle charging station provider EVgo announced it would go public through a SPAC merger earlier this month; last November, the Santa Monica-based e-scooter company Bird Rides was also reportedly exploring a possible stock market debut by going the SPAC route.
For Jones and Pham, joining the SPAC game represents the latest move in a strategy that means further involving themselves in working with later-stage companies. Since launching Science Inc. in Santa Monica, the company has grown to include a startup incubator, as well as two venture capital funds with a combined size of $175 million. Portfolio companies include Dollar Shave Club, the esports platform PlayVS and Liquid Death, a canned mountain water startup.
dot.LA caught up with Jones hours after his SPAC went public to discuss why Science launched a SPAC and what he thinks of the current SPAC market.
Michael Jones is the co-founder of Science Inc.
What motivated Science Inc. to join the SPAC game and launch one of its own?
We've always looked at investing as being a lot of value on what we consider the kind of "barbell ends": the A) super early phase which we've made a big practice out of, and then B) there's a huge amount of value on the very late-stage side.
So we started looking at that strategy and we started looking at SPACs as the vehicle for that strategy, because obviously late-stage funds are a fairly crowded space. We looked at this SPAC vehicle, maybe five or six years ago, but we hadn't done anything with it.
You mentioned looking at SPACs five or six years ago. But five or six years ago was such a different time for SPACs. In 2015, there were just 20 SPACS that IPO'd, and in 2014, there were just 12 SPACs that IPO'd. Fast forward to 2020, and 248 SPACs went public, while another 75 IPO'd this January alone. So why did you think now was a good time to join the SPAC boom?

You're exactly right. Previously, these vehicles were often led by non-operational, non-strategic sponsors. You know, when Chamath [Palihapitiya] started working on the Virgin Galactic SPAC, we started seeing just the quality of the sponsors entering the SPAC universe being extremely strong. It suddenly became a really interesting and appealing sector to spend time in. It's also correlated with the fact that later-stage capital has become very available to startup founders. So these companies are obviously staying private way longer. They're raising money without bankers, from peers within the venture community.

I think when they look at doing typically what's a very complicated roadshow process to go public, it's frankly easier for them to stay private longer. But also when your sponsors are like us and are approaching companies and they already know us, it becomes a much more comfortable way to enter that process, which is much more efficient than the traditional IPO methodology.
Over the last year or so, we've seen more SPACs IPO than any other period in recent history. Most recently, in L.A., Fifth Wall launched a SPAC of its own and electric vehicle charging station provider EVgo merged with a SPAC, as well. From your perspective, what's driving the SPAC boom?
One thing that's driving the largest SPAC boom is you have very high quality managers and the other teams that want to get involved in stocks. I think that's one piece of it, which is that we're just at a point in our careers where a lot of us are excited to spend time in those later-stage public markets today. You have venture companies that have stayed private for so long. I think you have a pretty decent appetite from public investors, hedge funds and the like to participate in those fast-growing venture-oriented businesses. Because these companies have been able to raise these hyper late-stage rounds and avoid going public for so long, a lot of hedge funds and a lot investors are looking for their way into the startup world to get access to those fast growing companies. So, it provides a lot of interesting capital right now for us.
Do you see a strong tie between the SPAC boom over the last 12 months to the pandemic and the pandemic's effect on the economy? Or do you see the pandemic and larger economy not influencing the SPAC market?
I think the only tie-in to the last 12 months is that — and I'm sure you see it, too — meeting people every day is just a lot easier than it used to be. In order for us to do our SPAC, we ended up doing it exclusively through Zoom, and it was a really efficient process. Not that I wouldn't have had any hesitation to fly to New York and spend time with investors, of course, but this is just very efficient for a lot of people. So if you combine the fact that investors can meet a lot of prospective investments at a very rapid pace, with the stock market which happens to be at extremely high positions, as well as that appetite for later stage startups, you just end up with a really good combination for this to happen right now.
Do you see the SPAC boom easing or slowing down once most people in the U.S. are vaccinated?
I don't. I suspect it'll continue to grow. I think the quality of deals and the quality of managers are increasing. It'll be a meaningful way for a large licensed company to find their way into the public market. It will bring smart, strategic individuals into the public markets who will hopefully assist in creating greater growth once those companies are public.
The other thing that I think it will probably do, which will have a nice benefit for venture capitalists, is I think it will force large-scale incumbents to acquire companies more rapidly. if you look at a business like Him's, it's a really interesting business that was started as a men's specific pharmaceutical product company. It has now expanded to be a fairly impressive telehealth business. And you think to yourself: "What companies should have acquired Him's? What businesses should have bought that company before they became public?"
I think what this will teach is that incumbent companies that are looking to grow shouldn't wait on buying, you know, earlier mid-or-late to startups. They should be active and because SPACs are going to be a very viable alternative for those startups to grow and find capital, it probably will force incumbent companies to spend more — or probably drive the average M&A price up. So, it's just going to create a lot of liquidity around the venture sector broadly.
The Q&A has been edited for brevity and clarity.
JP Mangalindan
JP Mangalindan is a senior contributing writer to dot.LA. His work has appeared in numerous publications over the last 18 years, including Bloomberg Businessweek, Fortune Magazine, GQ Magazine, Protocol, Entertainment Weekly, Mashable and Yahoo Finance. JP earned a bachelor's degree in journalism from Fordham University.