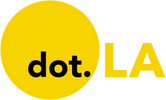 Get in the KNOW
on LA Startups & Tech
X
How Pacaso Makes It Easier for More People to Own a Second Home
May 10 2021
Austin Allison's love of real estate surfaced at age four or five when he would work with a hammer in hand alongside his dad, who was a carpenter.

He bought his first house at age 17 and began selling real estate at 18.
---
Now, Allison is CEO of Pacaso, a second home co-ownership platform he co-founded in 2020 along with dot.LA chairman and former Zillow Group CEO Spencer Rascoff. Allison was also a Zillow executive.
The idea came to him when he and his wife dreamed of purchasing a second home, and found few options to do so.
"We were like most families who aspire to own a second home but could not afford it at the time," he said.
Allison saw an opportunity and a way to make second homes more affordable through a co-ownership model. He also believed that by consolidating multiple owners in one home, it would help the housing market in these communities by filling second homes year round.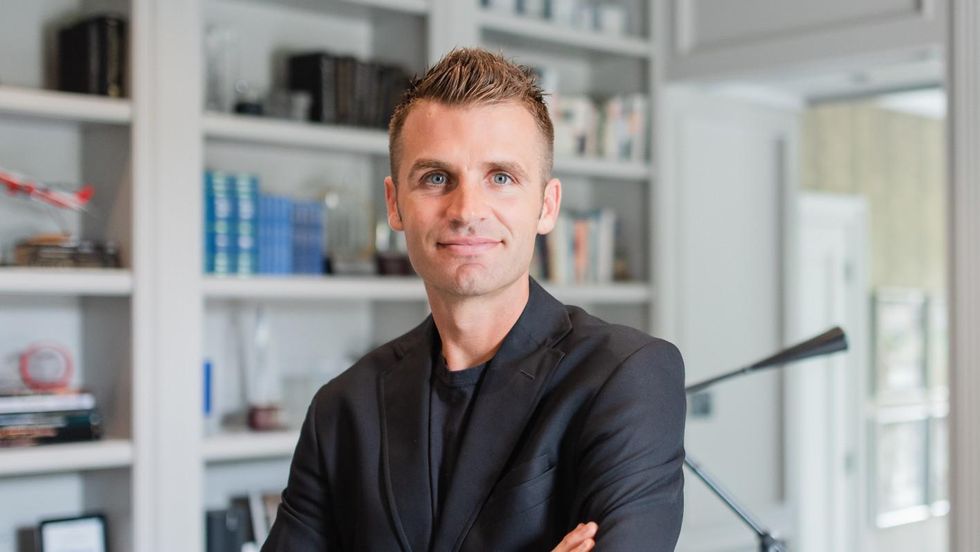 Pacaso co-founder and CEO Austin Allison
The concept of co-ownership isn't new, but unlike "DIY" shared ownership arrangements among family members or friends, Pacaso manages all the details for potential home buyers. Pacaso purchases a home and creates a property-specific LLC. The home is listed through the MLS and on Pacaso's website, and potential buyers can then purchase the share of ownership they want, starting at one-eighth.

Each home has a maximum of eight owners. An owner with a one-eighth share can use their home at least 44 days throughout the year.
Once all shares have been sold, Pacaso transitions to handling ongoing maintenance, LLC oversight, bill payment and scheduling. Pacaso charges an initial service fee, which is a percentage of the home's sale price, and then charges a flat rate of $99/ month per share for its management services.
One of the benefits of buying a home through Pacaso is that buyers can purchase higher-end homes for only a fraction of the cost, making second home ownership more accessible. For example, someone can spend $500,000 to buy a share of a $4 million home. Allison calls this "right sizing" home ownership, because most owners don't need a whole home.
"It doesn't make sense to own 100% of something that you're only going to use 12% of the time, so why not just buy 12%," he said.
George, a Bay Area tech CEO and Pacaso owner in Napa, agrees.
"It was clear the team had really thought about what the shared economy looks like for vacation homes, and what it would look like for me and my wife who want to take advantage of a second home but are busy and active in our work lives," he said. "We're not retired or close to it, so I'm not going to be occupying a second home more than 15% tops. It's a perfect product for someone like me, and that helped us move forward quickly and become owners of a Pacaso home."
Lowering the price of entry for homes in desirable (and pricey) markets is opening up second home ownership to a broader buyer pool. Allison said many Pacaso owners are people in their 40s and 50s with children, and a quarter are non-white and/or part of the LGBTQ community.
Another benefit for owners, especially those who are still working full time or live far away, is not having to worry about the home when they aren't there. Pacaso is responsible for maintenance and management, simplifying the experience of second home ownership.
The model is common in commercial real estate, but not so much in the vacation home industry. It's different than the traditional timeshare structure, which is typically limited to hotels or resorts rather than single-family homes. Timeshare units are shared with up to 52 other people, rather than just seven other families.
Through Pacaso, the buyer owns their share of the property and can sell it on the open market. With a timeshare, residents typically own the right to use the property, not the property itself.
When it comes to wanting to sell the property, the process is similar to whole-home resale. It is listed on the MLS and the value tracks with the local market, which is a huge differentiator from timeshares, which typically lose value.
"One of the biggest hurdles for any buyer is understanding what Pacaso offers that's different from a timeshare. Seeing that there's value in ownership and you get to use it for what you need instead of feeling 'stuck in a timeshare' is hugely important," George said.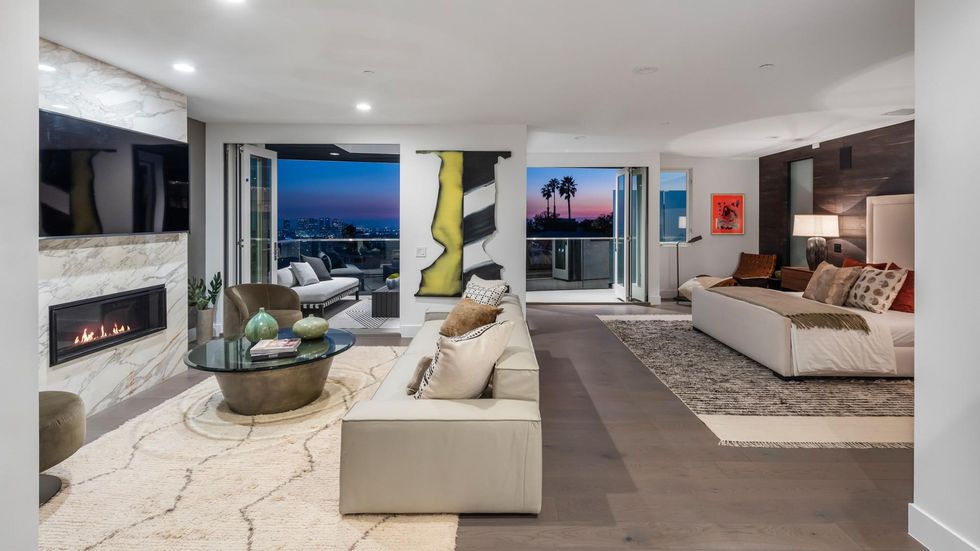 In addition to the benefits for buyers, Pacaso's model also helps the housing market at large by removing up to seven buyers from competition for each home. Demand for second homes increased 100% year-over-year in 2020, according to Redfin, as work became remote and people could work from anywhere. This spike in demand was felt in popular second home markets, where buyers were competing for the same homes needed by local residents. The net effect has been less inventory and higher prices.

Because most buyers of whole second homes only plan to use them several weeks out of the year, the homes sit empty most of the time. This means local businesses suffer, because more often than not, there's no one in the home to shop at local stores and patronize restaurants in the community.
Allison and his wife eventually used their savings and purchased a second home in Lake Tahoe in 2014. They became part of the Lake Tahoe community, meeting neighbors and making friends, shopping locally, frequenting restaurants and finding trails to run on.
He said, "It enriched our lives, which is how we came up with the mission of our company: to enrich lives by making second homeownership possible and enjoyable for more people."
"More people should have access to this dream," Allison added. "It shouldn't just be a privilege that's limited to the top 1%. Many tens of millions of additional people should be able to realize the dream. That's why we created the company, and that's what we plan to do across the globe."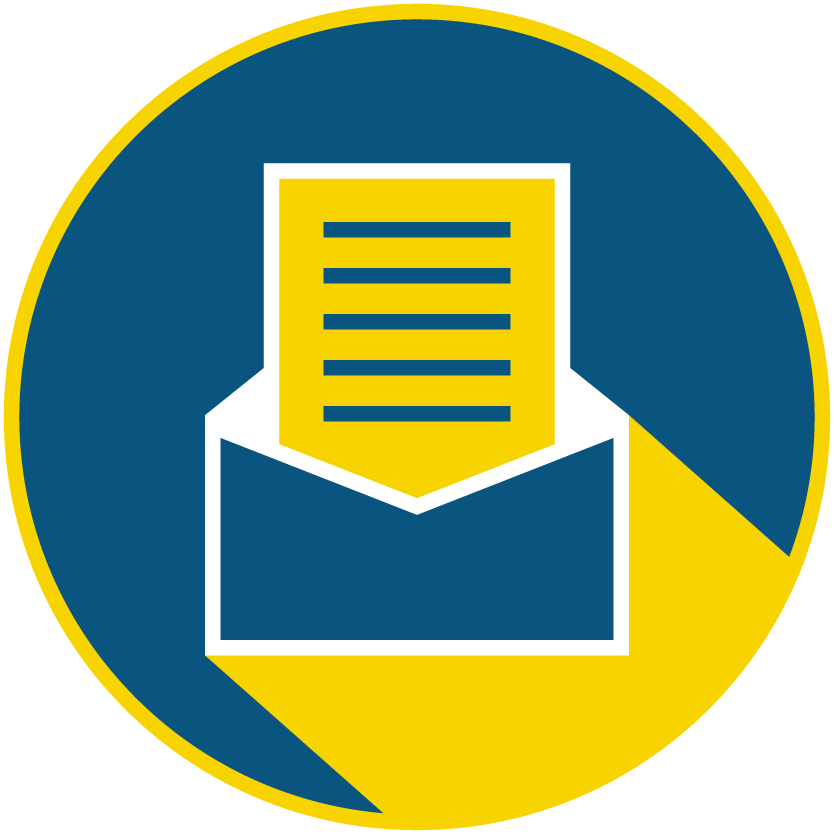 Subscribe to our newsletter to catch every headline.
Fintech startup Superjoi, which lets fans fund creators' content projects, has raised $2.5 million in pre-seed funding.
Superjoi raised the funding from fintech-focused investors including Ascension Ventures, QED Investors, Systema VC, Tomahawk and Modern Venture Partners. The round also included participation from senior leadership at e-commerce platform Shopify, fintech firm Revolut and Los Angeles-based live-in accelerator Launch House.
Based in West Hollywood, Superjoi's platform allows creators to run Kickstarter-like campaigns to raise capital for projects, while giving fans the chance to suggest ideas for new content. Creators can also reward fans who chip in by giving them event tickets, merchandise or a personal video call. Later this year, Superjoi plans to help fans reap financial rewards, too—such as a share of advertising revenues generated from projects that they backed.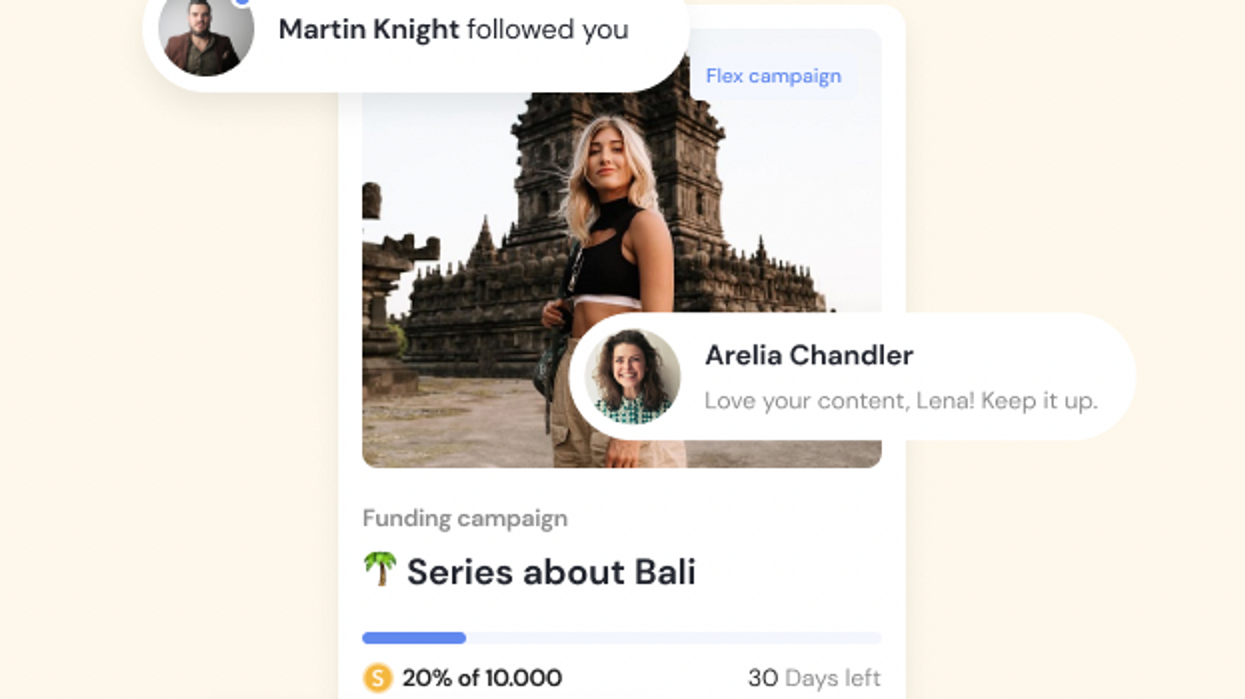 A screenshot from Superjoi's platform.
Major online platforms like Facebook and YouTube have increasingly monetized the relationship between creators and fans, targeting users with ads and sharing some of the revenues with creators. But Superjoi's founders contend that fans have been completely cut out of the equation despite driving creators' successes. In September, the startup began building a platform that would give fans a share of the financial upside, co-founder and CEO Chris Knight told dot.LA.
"Superjoi, as we position it, is liquidity with love," Knight said. "The reason why we call it that is, for somebody who's creative, there's no better funding source for their creativity than the people who love them—and that's their fans."
Knight learned a lot about what he calls "superfans" after helping to build Fantom, a fan-focused smartwatch launched with England's Manchester City Football Club. The Premier League team consults its fans on decisions relating to its stadium and sponsorships, he noted. "I see huge opportunities in the future for creators to actually have a deeper engagement with their audience and actually mobilize their audience to a new level," Knight said.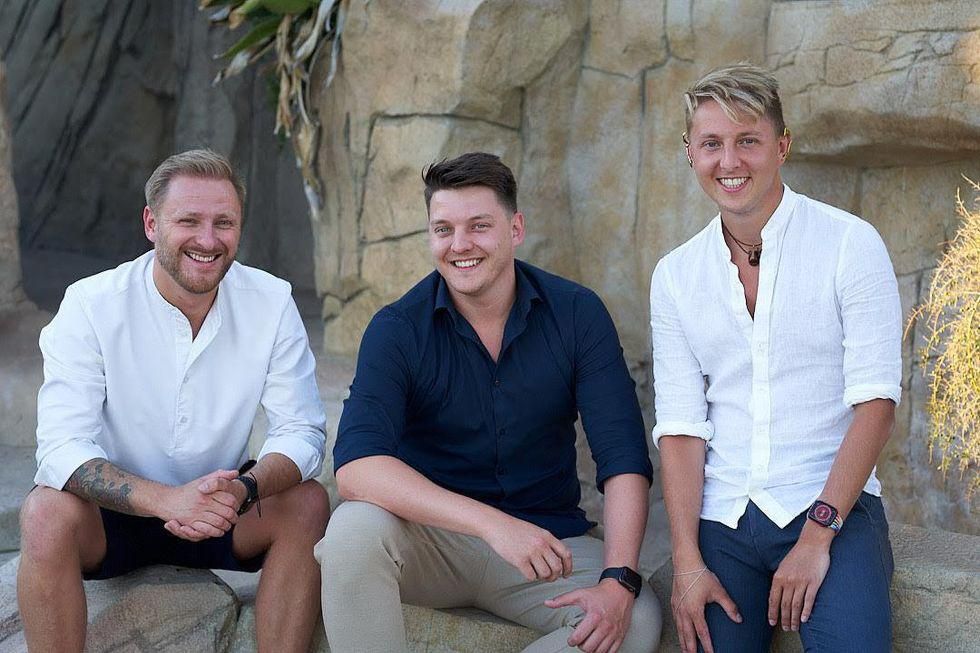 From left: Superjoi co-founders Chris Knight, Piotr Wolanski and Soren Creutzburg Courtesy of Superjoi
Fans will initially fund projects on Superjoi by buying "supercoins," an in-platform currency that is worth $1 each. While supercoins are not technically crypto tokens at this stage, the startup envisions letting fans invest in creators, earn a financial return and receive ownership in their content based on tokenization. Superjoi collects a 10% cut of a creator's fundraising goal.
The platform plans to launch in mid-May with about 25 U.S.-based creators with larger audiences, and will onboard more creators on a waitlisted basis, Knight said. A full public launch is expected later this summer.
Superjoi, which has 14 employees, plans to use the new funds on growing its team, acquiring creators and marketing the platform.
From Your Site Articles
Related Articles Around the Web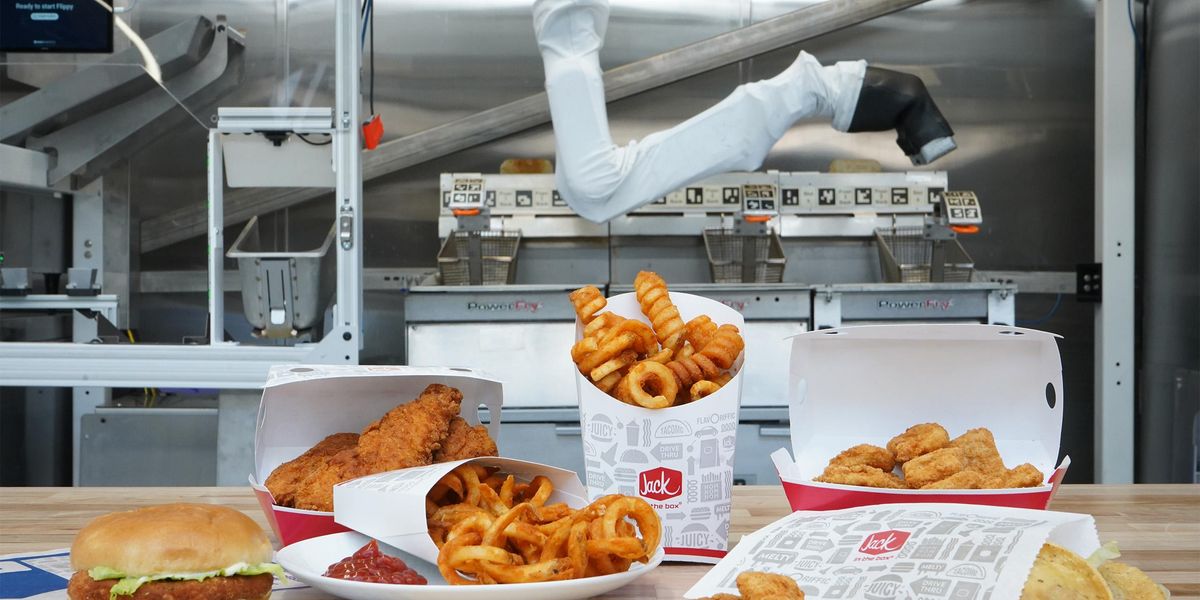 The next time you're having late night cravings and find yourself at a Jack in the Box, there's a chance you're munching on burgers and fries made by robots.
The San Diego-based fast food chain is partnering with Miso Robotics, the food tech startup responsible for the burger-flipping robot known as Flippy. After recently teaming up with Panera Bread to install its CookRight Coffee system and with Chipotle on an automated tortilla chip-maker, the Pasadena-based company announced Tuesday it would be sending an upgraded version of its signature burger-flipping droid, the aptly named Flippy 2, to a Jack in the Box location in San Diego in the next several weeks.
Flippy first entered the market in 2017. Miso initially charged burger chain White Castle $60,000 to install the first machines at its locations—an arm and a leg for a bulky robot equipped with a robotic arm that could slap patties onto a grill.
Five years later, the startup's efforts to scale the technology have brought down its cost down to $3,000 per month. Today's Flippy 2 features a much sleeker design that takes up considerably less kitchen space. No longer content as a mere burger flipper, the upgraded Flippy has been designed to maneuver Jack in the Box's proprietary fry baskets to cook everything from taco shells to fish filets to curly fries—freeing up employees to handle customers or prep other items.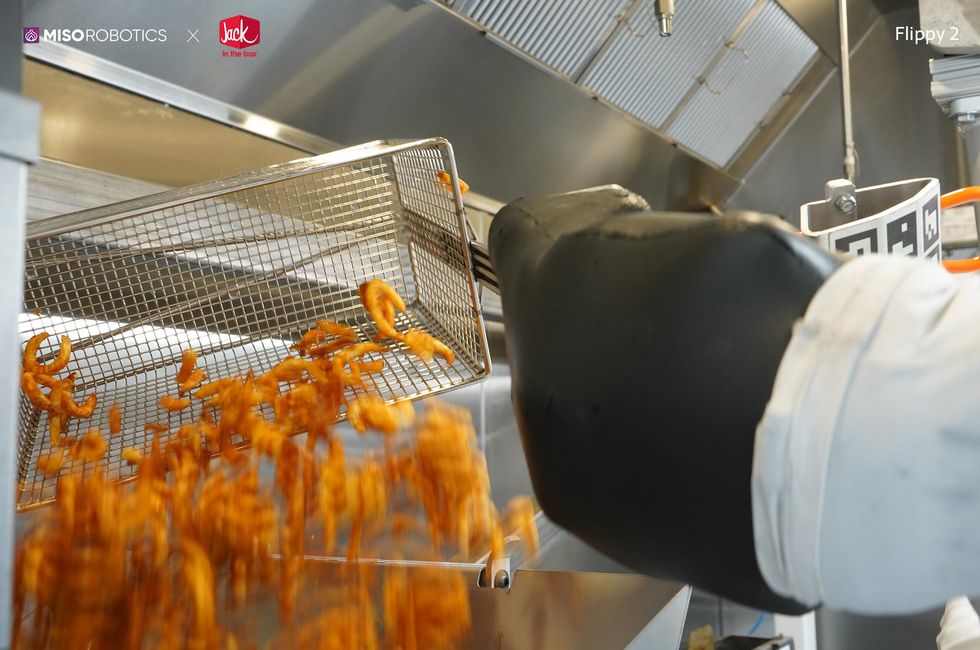 Flippy 2 cooking Jack in the Box curly fries. Courtesy of Miso Robotics
There are dozens of Flippy robotic arms currently making burgers, with the early adopters including CaliBurger and Dodgers Stadium. Earlier this year, White Castle announced it would install Flippy 2 robots at 100 locations across the country.
But unlike White Castle, Jack in the Box serves a wide variety of menu items, from tacos to chicken tenders, that require more than just a spatula to finish the job—presenting Miso with a "a new challenge," Jake Brewer, the startup's chief strategy officer, told dot.LA.
"A taco shell…that's more delicate than a chicken nugget or french fry. So we were able to adapt Flippy to be able to accept those items," Brewer said.
Once a food item is placed before Flippy, the robot's AI-enabled camera will identify the food, pick it up, cook it in the correct fry basket and safely place it into a holding area. Brewer said the company was already developing add-ons allowing the attachment of specialty baskets to the robot, but when the request came in from Jack in the Box, the process was accelerated.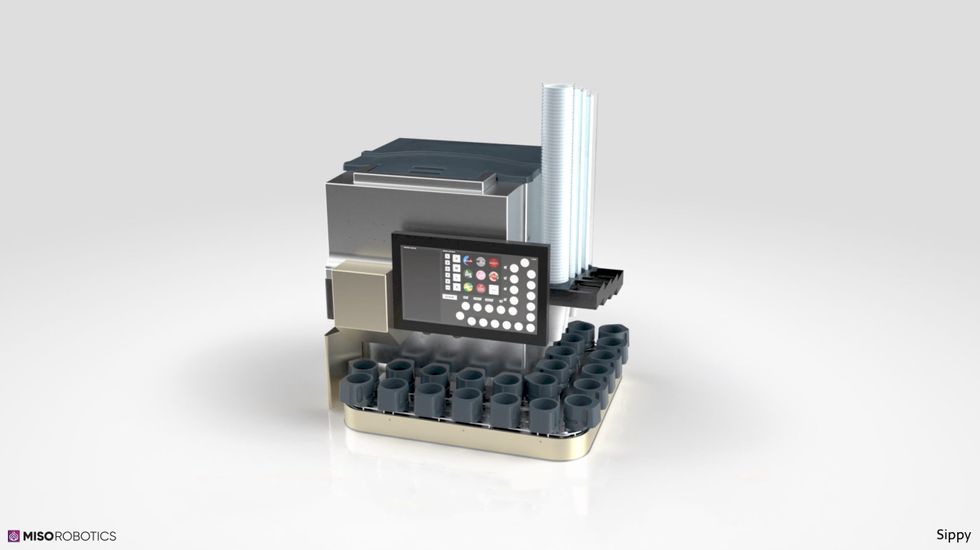 Sippy, Miso's automatic drink dispenser and sealer that will roll out at the end of the year.Courtesy of Miso Robotics
Miso is currently putting the finishing touches on Sippy, an automatic beverage dispenser and sealer that will be joining Flippy 2 at the Jack in the Box in San Diego by the end of this year. The startup is currently in the process of raising a Series E funding round, having set an initial target of $40 million.