'Are You Guys Tech Dorks?': Inside the Opening Night of the NFT LA Conference
Harri Weber
Harri is dot.LA's senior finance reporter. She previously worked for Gizmodo, Fast Company, VentureBeat and Flipboard. Find her on Twitter and send tips on L.A. startups and venture capital to harrison@dot.la.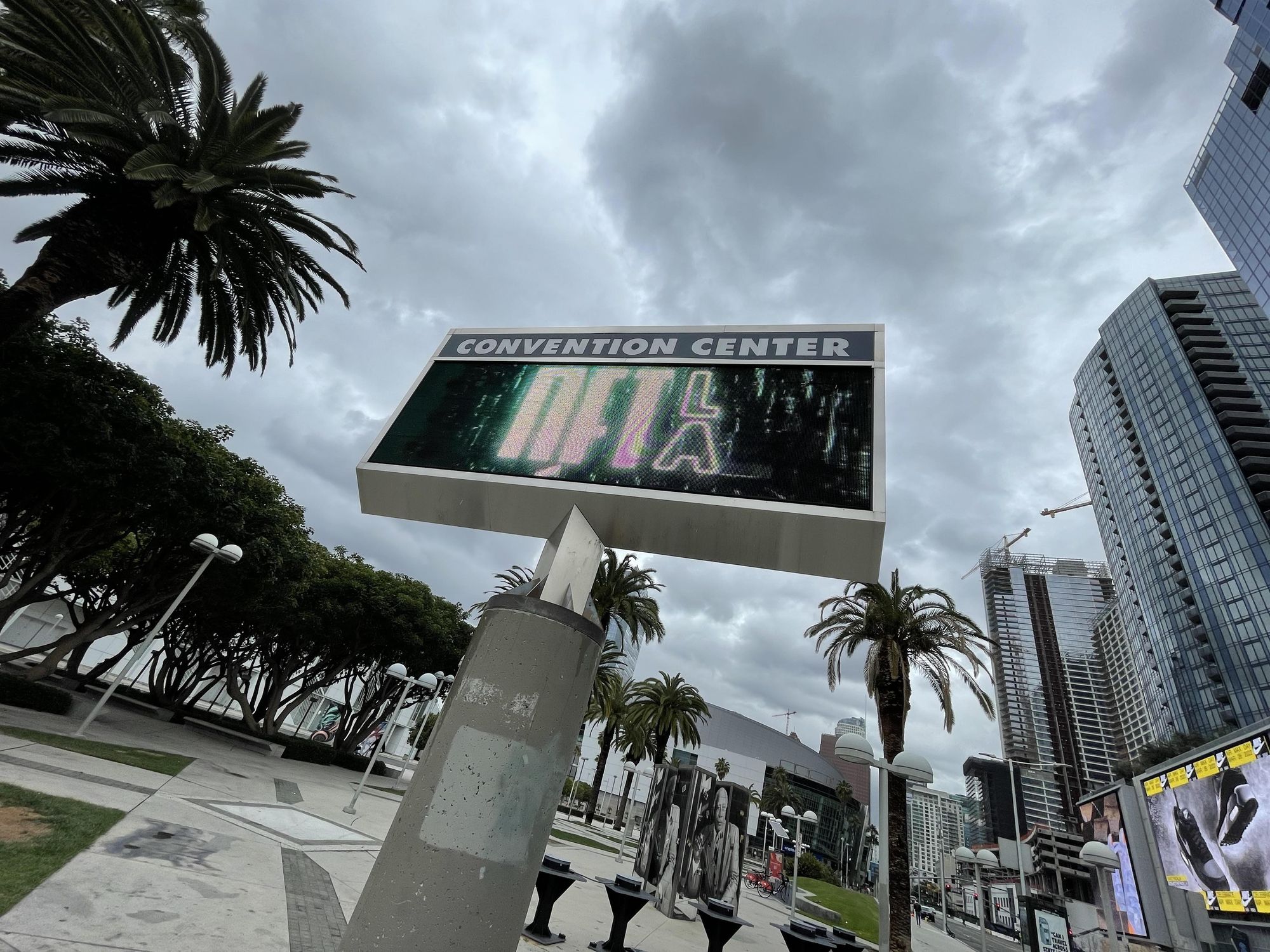 Photo by Harri Weber
On opening night of the inaugural NFT LA conference, a crowd of entrepreneurs, marketers, engineers, YouTubers, hucksters and NFT holders filed into the Los Angeles Convention Center to dish on the nascent technology that had brought them all there: non-fungible tokens.
The event was hosted by Magic Eden, a decentralized autonomous organization (DAO) and NFT marketplace, and coupled a series of panel discussions with performances from rappers and DJs—including the headliner, Sir Mix-a-Lot of "Baby Got Back" fame. It had many of the trappings you'd expect from a tech or gaming conference, from a surplus of men and startup demo booths to the distinct yet fleeting vibe that we were all there for work. (Even Sir Mix-a-Lot has long been a fixture at tech events, from SXSW to regional conferences like Seattle Interactive.)
---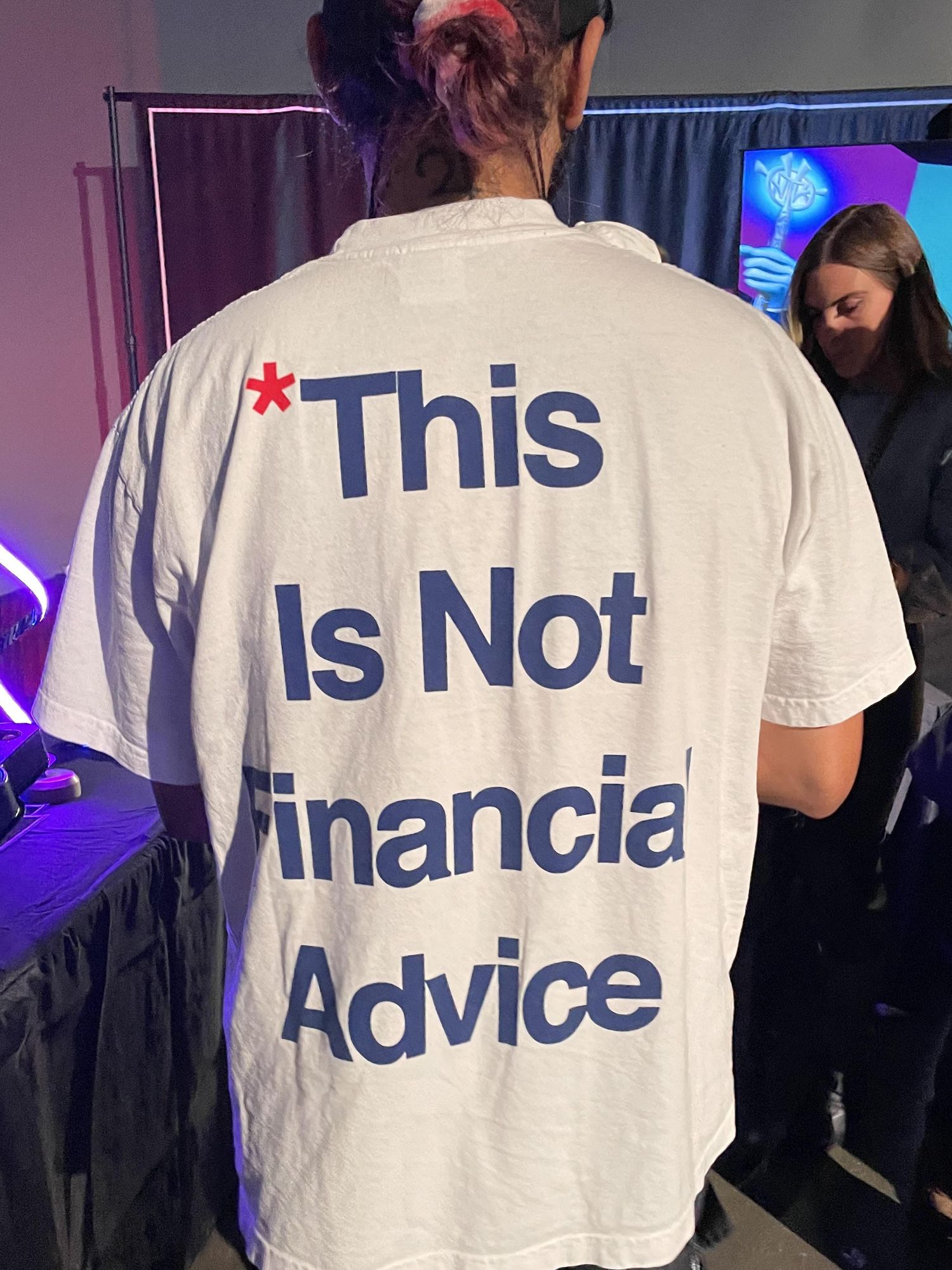 A t-shirt reading "*This Is Not Financial Advice" at the NFT LA conference.
Photo by Harri Weber
"Are you guys tech dorks?," the MC of the first session blared into a microphone. Then, a panel of crypto YouTubers dug into the opening topic: explaining NFTs to your "average Joe." As the panelists explained their efforts to demystify crypto, attendees spoke to dot.LA about what, exactly, had brought them there in the first place. More often than not, they introduced themselves solely as the handles they go by online.
"Really we're here to meet up with everybody we talk to online and never get to meet face-to-face," said NFTraveler, who was standing with conference speaker BaronVonHustle.
VonHustle added: "We just got to see one of our friends [Spottie WiFi] perform on stage, and he grew that as a character from his Bored Ape and CryptoPunk—so it's pretty cool to see our friend bringing it into reality."
Another panel took the stage, featuring rapper Waka Flocka Flame and birdm0n, who created an NFT collection called Thugbirds that is pursuing a clothing line.
"Bro, I'm not religious but I love God and I feel like God told me this is the future," said Flocka Flame, who praised Thugbirds and the Solana blockchain's "low gas" (a.k.a. transactional) fees. "I love Thugbirds, y'all a bunch of gangster nerds, by the way," he said.

Offstage, across the threshold to the VIP section, an NFT holder explained how he joined the scene.
"My name is Shoe, and the first NFT I ever bought was SOLgods, and the founder's standing right next to me." SOLgods' art first caught his eye, but after joining the NFT project's Discord community it "just grew into this group of people over six months that we almost feel like family," Shoe said. "It's the first time in my life that I just met random people from the internet, but it's kind of amazing." According to Shoe, the night's vibe was "pretty standard for NFTs. Music that probably I'm too old for, but I can still bop my head to it. And there's quite a lot of weed-smoking, and that's pretty standard fare."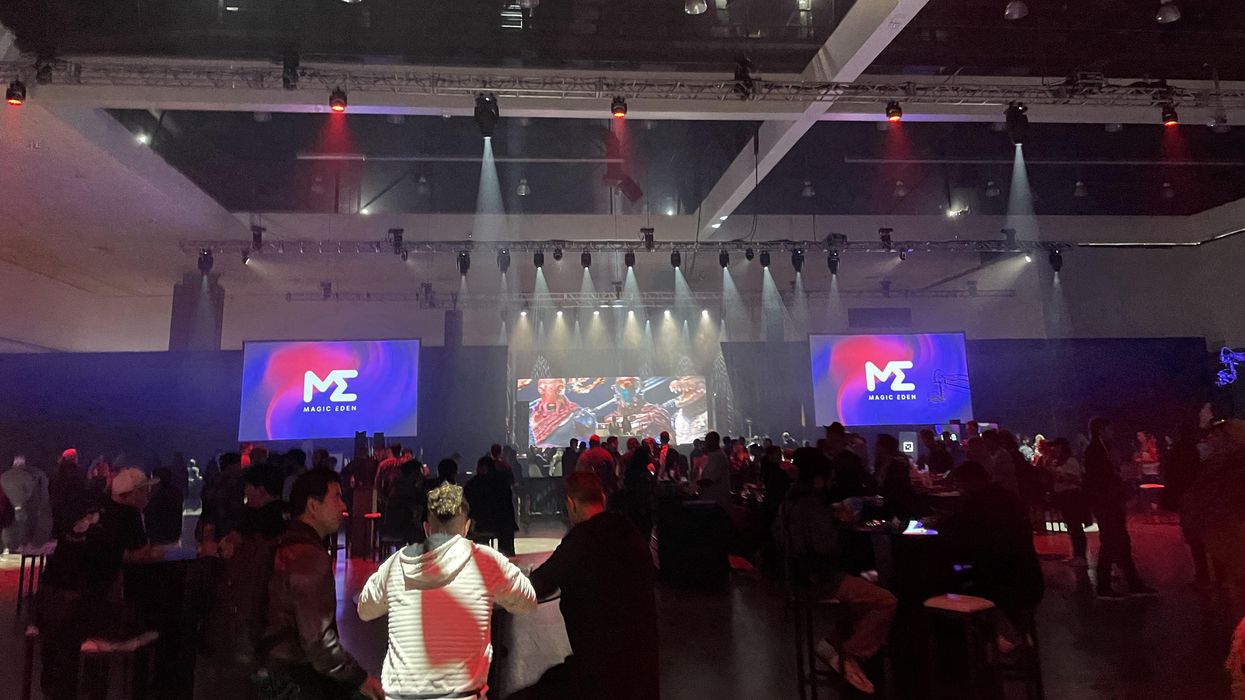 Music plays from the stage at the NFT LA conference.Photo by Harri Weber
As a DJ set rattled the room, Mia—an NFT creator on the XRP Ledger—said she got her start in the scene by watching YouTubers, in particular CryptoWendyO. "I actually just saw her earlier and took a picture with her. She was a great inspiration, but there are very few women in the space still," Mia said. "Our project is called xMochiDonuts and that's why we're here—we're here to learn."
The crowd concentrated by the main stage as Sir Mix-a-Lot closed out the night. The headliner cracked a joke about having lost money after buying 16 Etherum ($3,420 USD at press time). "I thought E was something I could smoke," he declared to a placid audience.
Later, Sir Mix-a-Lot let out a big sigh and said, "I know what you all want." As the crowd pulled out their phones, he added, "for the millionth time," and the opening line of "Baby Got Back" rang out: "Oh my god, Becky. Look at her butt."
Harri Weber
Harri is dot.LA's senior finance reporter. She previously worked for Gizmodo, Fast Company, VentureBeat and Flipboard. Find her on Twitter and send tips on L.A. startups and venture capital to harrison@dot.la.