Layoffs
The latest news about layoffs in Los Angeles' tech and startup sectors from dot.LA
Walt Disney Company is restructuring its operations to prioritize streaming as the pandemic reshuffles the entertainment industry.
With the new structure, there will be three content groups: movies, sports and general entertainment such as television shows. Another arm will determine on which platforms content will be distributed.
"Managing content creation distinct from distribution will allow us to be more effective and nimble in making the content consumers want most, delivered in the way they prefer to consume it," said CEO Bob Chapek in a statement released on Monday. The distribution group will be led by Kareem Daniel, former head of the company's consumer products business.
Walt Disney Studios co-chairs Alan F. Horn and Alan Bergman will oversee Studios, the division focused on movies and theatrical franchises. Media Networks Chairman Peter Rice will oversee General Entertainment, including television series and long form content for streaming and cable. ESPN head Jimmy Pitaro, will run the Sports group
All four content group leaders and Daniel will report to CEO Bob Chapek.
The move comes as the entertainment giant continues to be pummeled by the pandemic. Last month, the company announced that it would layoff 28,000 workers from its theme parks. Disneyland in Southern California remains closed and attendance at Disney World in Florida is lagging. Movie theaters across the country have also been closed or not at full capacity.
But Disney has found success in streaming. In August, the company announced that it had 60 million subscribers to its Disney Plus streaming service. Add in ESPN+ and Hulu, and the company's total subscriber count now tops 100 million.
Like other studios, Disney has opted to shift theatrical releases online,
moving "Mulan" to Disney+
and additional for $30. Disney also recently announced the Pixar film "Soul" will be released on the platform on Dec. 25.
HopSkipDrive, the ridesharing company for kids and one of Los Angeles' most visible startups, laid off staff Tuesday as the pandemic ravaged growth plans.

Co-founder and CEO Joanna McFarland would not say how many of the 100-plus employees she laid off but told dot.LA that after delivering the news to the group affected over Zoom, managers held one-on-one meetings to review benefits and severance pay. Several departments were impacted including operations, branding, sales and customer support.
The latest round of layoffs follow an earlier one in March in which the company cut 10 percent of its staff, according to layoffs.fyi, a website tracking job loss.
"One of HopSkipDrive's core values is 'feel it', meaning empathy," McFarland said. "It was very important to us to show empathy to all employees and to communicate directly with both employees who were impacted and those that were not impacted."
The six-year old company, that's raised roughly $98 million, spent the summer building COVID-safe standards to prepare for an abnormal school year. Then, one after the other, school districts across the country changed plans from in-person or hybrid classes to a completely virtual curriculum.
"Schools closing has a direct and significant impact on our business," McFarland told dot.LA by email.
"These reductions are not in any way reflective of work performance but were unfortunately necessary due to the impact COVID-19 has had on our business, like many others," McFarland wrote on LinkedIn in announcing the decision.
Companies have been careful about letting go of workers remotely after startups like the e-scooter service Bird soured relationships with former employees after a poorly planned layoff round.
McFarland said that demand for this service will surge once schools reopen because it offers socially-distanced, safe transportation for schools looking to limit bus capacity.
"Schools will need to prioritize the students we primarily serve more than ever — students with special needs, students experiencing homelessness and students in the foster care system," she said. "These are the students who are likely to have the biggest learning gaps due to Covid."
LAUSD begins its entirely virtual school year on August 18.
"Schools will come back, and when they do, we are poised to take off. We will be in a position to create more opportunities for kids, for CareDrivers, for families and for our team than ever before."
Until that happens, McFarland says the company will continue operations with its partners in markets that have opened schools. It'll also support seniors with mobility needs and partners looking to use the service to fulfill meal and technology deliveries.
McFarland and two other L.A. working moms founded HopSkipDrive in 2014 to help parents juggling hectic schedules. Unlike rideshare companies that bar underage riders, HopSkipDrive was designed for children as young as six.
In February, HopSkipDrive announced a $22 million funding round to expand its operations in new cities, dot.LA reported. Months before, in November of 2019, the company relocated its office to ROW DTLA and began a sizable hiring push across departments.
The service, now offered in 14 markets across eight states and Washington D.C., is expanding to Midland, Texas this coming school year to support Midland Independent School District.

From Your Site Articles
Related Articles Around the Web
A new study quantifying the impact of COVID-19 on American small businesses confirms what many have suspected. Black small business owners have been ravaged by the pandemic. They were nearly twice as likely to have shut down in the last several months compared to the national average. Latinx, immigrant and female owners have also fared poorly.

The research, published this week in a working paper by the National Bureau of Economic Research, examines data from the U.S. Census Bureau and U.S. Bureau of Labor Statistics to compare small business ownership between February and April of this year, with the onset of the pandemic falling squarely in the middle of that timeframe. In doing so, Robert Fairlie, economics professor at U.C. Santa Cruz and the paper's author, reveals how the virus' effects have damaged small businesses in different communities.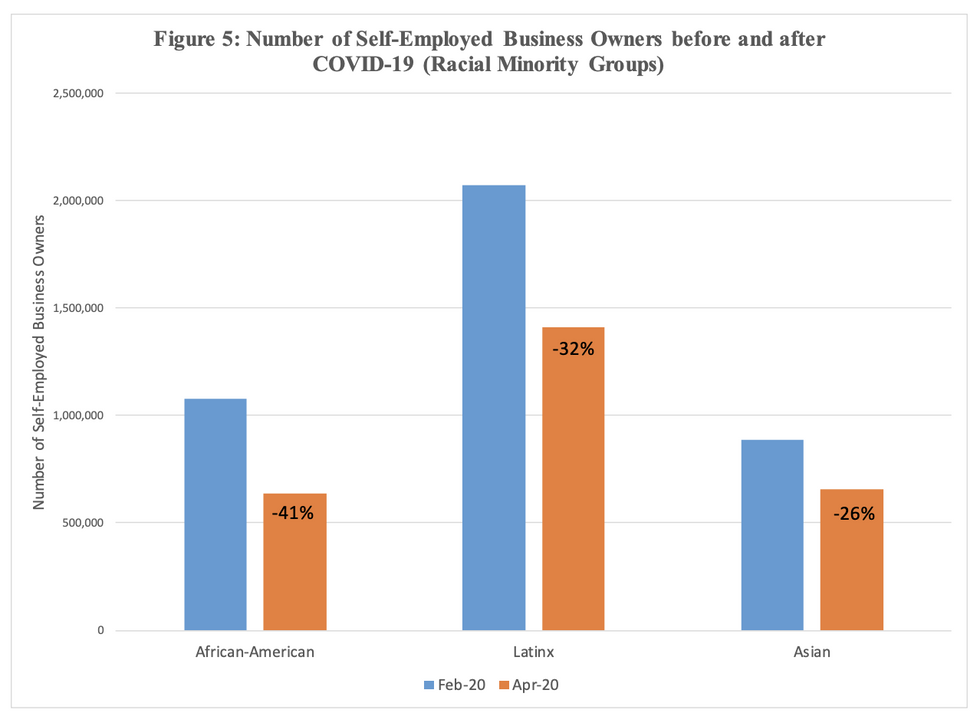 Data from the National Bureau of Economic Research
In the time period studied, the number of people who said the majority of their working week was devoted to their own business fell by 22%. Among black business owners, however, the decline was 41%. That number was 36% among immigrants; 32% among Latinx; and 26% among women.

The analysis does not break the data down by geography, but local experts see a direct connection to what's happened in the L.A. region.
Downtown L.A.-based Camino Financial, a financial services provider, recently published its own study on the current health of Latinx-owned businesses. It examined loan repayment data through May of this year, and found that Latinx businesses in California have had a 40% higher incidence of nonpayment compared to peer companies in Texas and Florida – two of the three other states besides California with the highest proportion of Latinx-owned businesses. The only other state seeing similar nonpayment rates is New York.
"There is a very strong correlation between the impact of COVID on businesses and the overall impact on the area itself," Camino Chief Executive Officer Sean Salas says. What's happened throughout the country is likely to be happening in L.A., he says. Perhaps more intensely, given that 40% of California's population is Latinx, and over 30% of the state's Latinx businesses are in Southern California.
L.A.'s black small business community was hit extremely hard, says Dr. Rhonda Thornton-Crawford, director of the USC Small Business Diversity Office. "Black business has been disproportionately distressed for far longer than the COVID-19 pandemic...We are again face-to-face with the reality of lack, loss, and limited opportunities."
Explaining the Inequity
"I've had perfect credit, I have a six-figure income, I have a degree from a great school. But institutions of all types would still see my name and discriminate," says Lilly Rocha, formally Liliana Patricia Rocha Castellar, Chief Executive Officer of the Los Angeles Latino Chamber of Commerce.
She's seen the pandemic hit her community hard.
"A lot of our smaller businesses...they're gone. They're done."
Latinx business owners have struggled to obtain emergency relief funds and leniency from landlords, among other hardships, Rocha says.
She and Salas both note that the initial implementation of the government-relief Paycheck Protection Program did a poor job of helping the businesses most in need. Some of the damage, however, has been mitigated since the program was expanded, they say.
But in explaining why minority-owned businesses have had less access to relief, Salas points to several factors that make these businesses vulnerable even in normal times.
First, Salas says that such businesses "over-index in operating informally structured companies as it relates to legal formation, cash flow management and other administrative-related tasks." This makes it harder for them to get financing at a level that aligns with their actual business needs, rather than based on what official records show. Undocumented-owned businesses are also more likely to be informal, cash-based companies due to owners' limited formal education and fear of deportation. (For what it's worth, Salas highlights his firm's estimate that, nationwide, approximately 800,000 undocumented-owned businesses generate around $100 billion in sales, "and get zero benefits in exchange.")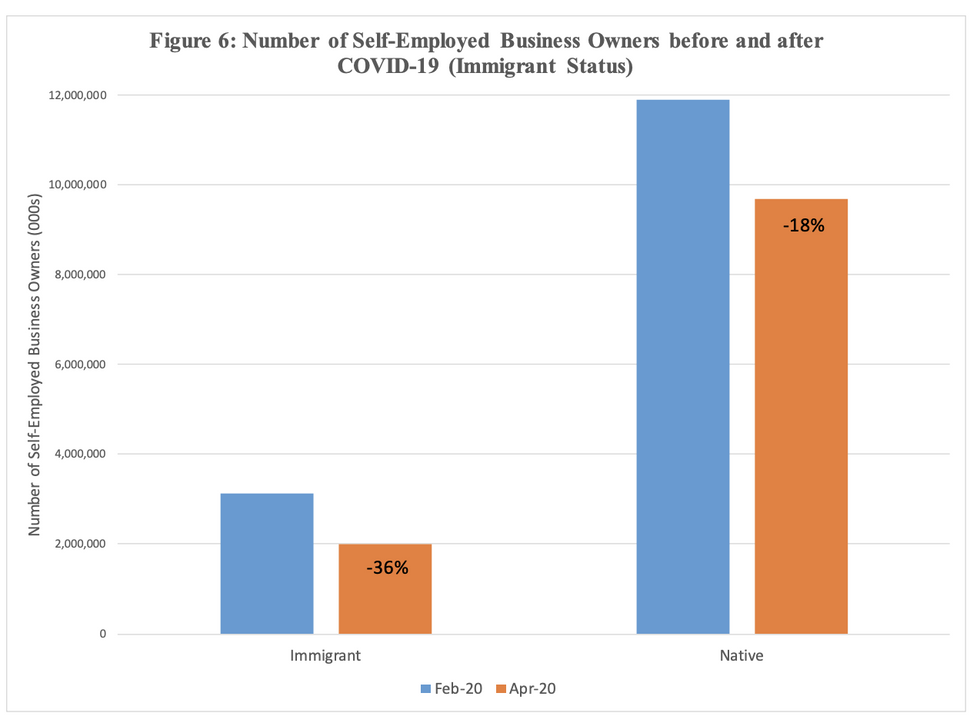 Data from the National Bureau of Economic Research
Minority and immigrant-owned businesses also tend to make less money and have been operating for less time on average, both of which, Salas says, exacerbate their vulnerability.

Jamarah Hayner, vice chair of the Greater L.A. African American Chamber of Commerce, adds that in the black community, "Historic problems like access to capital have been exacerbated... Most of our businesses are smaller and often family-owned, and we don't always have access to in-house or retained accountants and financial staffs, which make loan applications difficult to tackle. Further, we participate heavily in the restaurant, fitness and beauty industries, which were decimated during the shutdown. Lastly, black-owned businesses have found great success in the past decades in the manufacturing supply chain, so we've struggled as factories have shuttered."
What Comes Next?
"The next important question is whether the shutdowns of small businesses are temporary or longer term," Fairlie writes.
Salas sees the situation unfolding in three stages – relief, recovery, and reinvention – and notes that we're just entering the second stage.
"I think there's a silver lining in the reinvention to come," Salas says, pointing to four potential changes that could lay the groundwork for a more equitable future.
One is an accelerated adoption of financial technologies among Community Development Financial Institutions (CDFIs), which are meant to provide financial resources to distressed communities. In tandem, Salas says, the Community Reinvestment Act, a federal law meant to encourage lending to low-income neighborhoods, should be modernized. Its allocation of funding, for example, shouldn't be tied to banks' physical branch locations, which are increasingly closing down as the financial system digitizes.
Salas also points to the need for a realignment of incentives to drive investment from both banks and private investors.
"If we leave these businesses behind," he concludes, "over time it will come back and hurt us."
"Business leaders, businesses and communities must sit down and talk about a cohesive, concrete collective mapping of what is needed," Thornton adds. "The time is now."