'They Built What We Stood Upon': How LA's Rock the Bells Plans to Grow from Hip Hop's History
Apr 24 2021
More than 30 years ago, a young LL Cool J debuted the first single off his "Rock The Bells" album.
At the time, hip hop was still a new cultural force, and few young rappers were thinking about preserving its traditions. Now, many of those who helped build the global culture are gone – from the Wu Tang Clan's Ol' Dirty Bastard to Tribe Called Quest's Phife Dawg to, most recently, Shock G – and LL Cool J is trying to build a brand for classic hip hop, one that pays back some of its artists.
Named Rock The Bells after the song of the same name, the Los Angeles-based company sees itself as a content and commerce brand dedicated to the OG's of hip hop, some of whom have an ownership stake in the company.
---
Its website offers a curated mix of classic hip hop merchandise like Kangol bucket hats, Timberland boots and Gucci and Louis Vuitton accessories, as well as stories and video content. The brand also includes a SiriusXM Radio channel, which launched in 2018.
Former BET and Coca Cola executive James Cuthbert sits at its helm, helping LL Cool J steer the company.
The startup recently raised $8 million through a recent Series A funding round led by Raine Ventures. Cuthbert has big plans for that new cash infusion including a documentary series and live experiences, even a Rock The Bells music festival.
Cuthbert, 39, joined Rock The Bells in October, leaving his job as senior vice president of brand strategy and marketing at BET. He sat down with dot.LA to discuss his role, the new funding, Rock The Bells' mission and how it is uplifting classic hip hop artists for those who grew up with their music as well as those just discovering it.
One thing that LL Cool J has said is that Rock The Bells was intended to uplift classic hip hop artists, many who didn't make the money off their music that some feel they should have. Big Daddy Kane, Run DMC, Eric B, Salt-N-Pepa, Fab 5 Freddy, Risk, Crazy Legs, Roxanne Shanté and Jonathan Mannion all have ownership in the Rock The Bells brand. How does that change what you do and how you carry out your mission?
JC: If you think about it, we're the only brand that's literally owned and operated by a culture that they created. Hip hop evolved to be, literally, the biggest influence on global popular culture. We want to call ourselves the preeminent brand of classic and timeless hip hop and really build the bridges from today to tomorrow. By having these icons that own part of Rock The Bells, not only does that allow us to honor them, but more importantly that allows us to make sure that we shepherd this culture forward in the most authentic way.
Why is it important to honor the OGs of hip hop?
JC: They built what we stood upon. Cultures that survive and thrive and continue and push forward are the ones that continue to tell the stories and have the mythology that it sits under. When you lose your past you can be destined to become defined by what's happening now. When I think about honoring the past, there's an opportunity for us to really just carry the torch, but most importantly ensure that this culture continues to thrive.
It's no different than any other genre you think about, like films. If you only looked at the films that came out in the last three years and said, "hey man I want to make movies now." Or should you go back and say "hey I'm gonna go all the way back and look at what John Singleton or Hitchcock are like, and I want to look at some of these others"? This is a whole level of creativity. There's value in what's happened in the past and the creativity of what was done. And I think it's easy to see that in almost every other facet of our life and hip hop culture is no different.
You talked about honoring the past and then carrying the mission into tomorrow. What are some of the things you've learned that are important to what people are doing today?
JC: One of the things we've learned is this idea of building bridges. This is not just about honoring the past. This is about connecting the culture to the future. So we talk about this idea of sparking intergenerational conversations between fathers and sons, mothers and daughters, where they can speak about the elements of hip hop, what music they like and how that connects to today or even fashion, we think about different retro trends that allow people to connect. There are these natural cultural connections and bridges. Hip hop didn't start because a bunch of people said, "let's make some money and let's come up with a business model". It started to give a voice to the voiceless. It was born out of: "I have a voice, I have something to say and I want to share it with the world."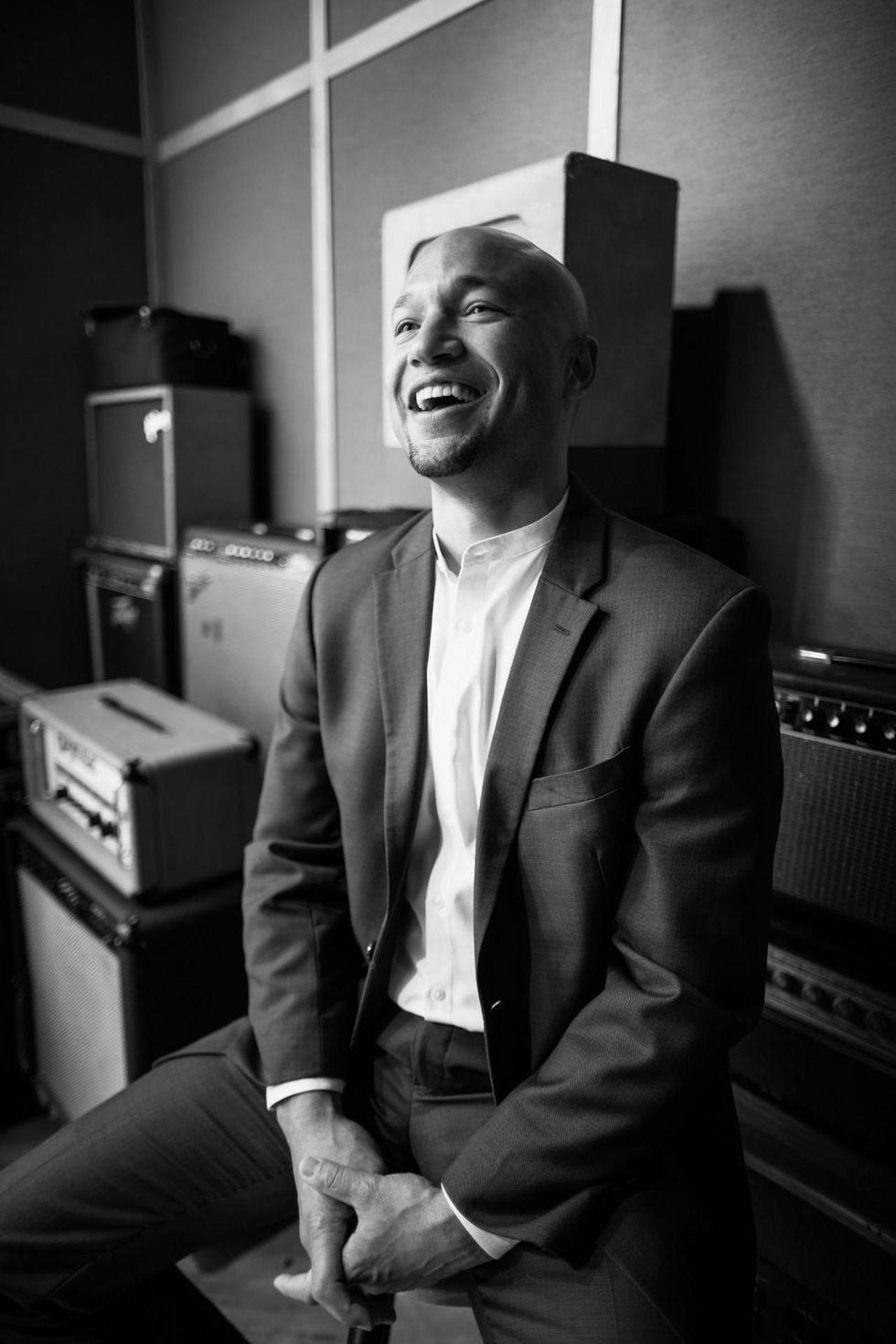 Rock the Bells President James Cuthbert
Image courtesy of Rock the Bells
What are you going to be doing with the new funding?
JC: A lot of what we'll be spending the money on is building out a world-class team that can work across all three pillars. The way that we think about marketing is content, commerce and experiences. The future of content is commerce, the future of commerce is content. Those two are integrated. When you do an experience, of course there's going to be a commerce element. And if you do an experience, you should be creating content, maybe a documentary around it.
How are you expanding your direct-to-consumer business?
JC: From a content perspective, you're going to start seeing custom content being created. You'll see episodic content that ties back to classic hip hop. We're going to see that start to roll out at the tail end of this month and early into May. You'll start to see long-form docuseries and content currently in development, some really cool, big ideas and some amazing talent that we're beginning to partner with to create that. When this culture is elevated, there's such amazing stories and given the care that it deserves, it wins in the marketplace.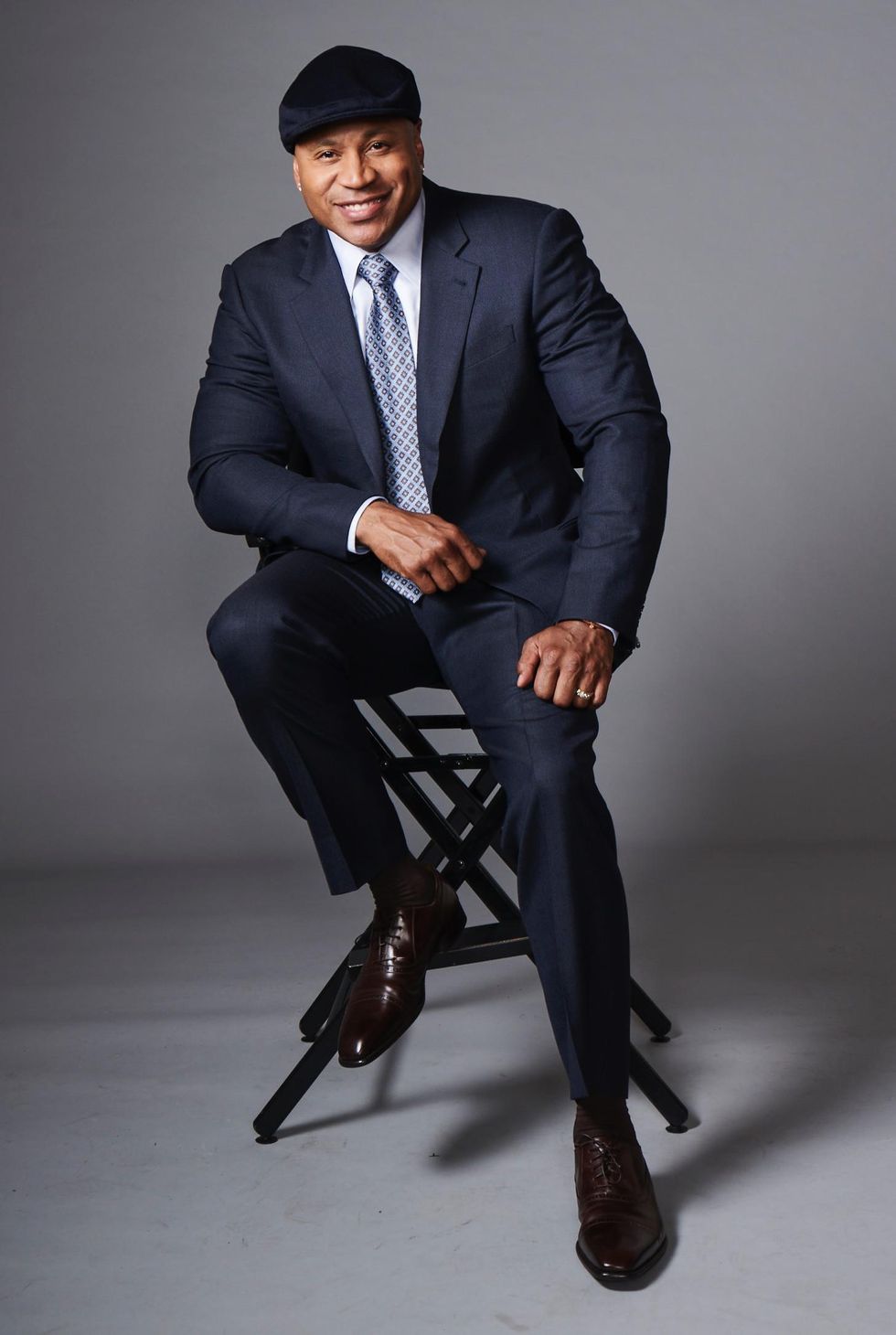 Hip hop icon and Rock the Bells CEO LL Cool J
Photo by Peter Yang
How does being in L.A. influence what you're doing?
JC: We're positioning ourselves to be global, but hip hop is also hyperlocal. There's amazing talent and a hip hop culture that lives in L.A. Obviously, there's some amazing things that happen on the film side in L.A. so being there especially when you think about content or long-form content, is kind of being on the tip of the spear of new technologies that allow us to really engage our audience.
Some of hip hop's most iconic rappers have been lost in recent years. Thinking about everyone from Phife Dawg to Ol Dirty Bastard and most recently the death of DMX. What is the impact on your audience?
JC: DMX had such a powerful story, ODB as well, but when you really dive in, these people highly impacted our lives. Their sincerity, their authenticity, their ability to overcome, their voice, their uniqueness. And as you listen to the music over and over again and watch the interviews, they impact your journey. When somebody passes away that lives within the lexicon of classic hip hop, oftentimes you don't realize the impact until they're gone. You're like," I have never met this person but feel like somebody punched me in the stomach," so how can we honor them and lift them up and make sure their stories continue to get elevated?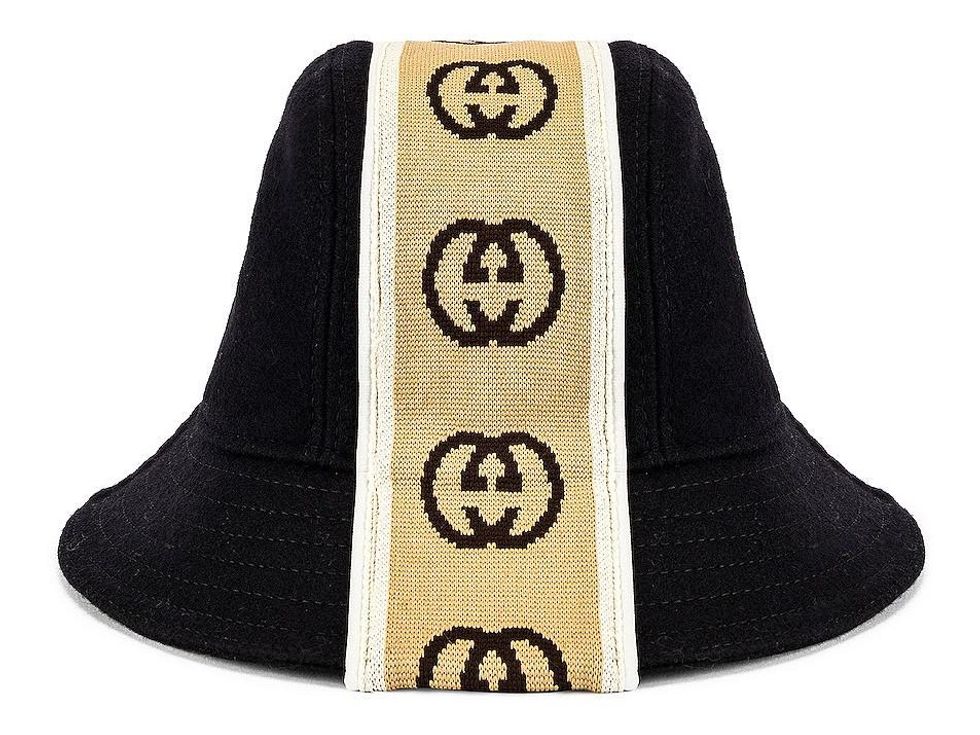 How has the death of George Floyd, Duante Wright and so many others along with the wave of protests and national conversations about racial injustice altered the way you look at your work?

JC: As a Black-owned company and a culture-first company, when I look at the employees, you're still coming into work, but you're dealing with so much weight. Racial injustice is something that's been a cancer on American society for a long time and when it percolates it kind of comes into the zeitgeist and you think about how that's vocalized in a very unapologetic way through hip hop.
It first affects the human beings that are working at Rock The Bells, but most importantly there's a responsibility for us to amplify those voices and make sure that we're pushing towards justice. What is some of the good work that needs to be done? What's our role in doing that good work for the community to make sure that that doesn't happen again?

Have you seen an influx of support as a Black-owned business? You're elevating Black brands?
JC: In some respects, we've seen some of that. LL Cool J put out a really impactful freestyle today that's still one of the highest performing pieces of content we put out because it was honest and it was true, talking about injustice. What I have seen is different companies and brands and potential partnerships where people are starting to unveil and not be afraid to say what's true, which is always good to hear. You're seeing some behavior changes and some actual sweat from some of these different partners in the community. For us, we kind of live it everyday. We're not necessarily looking for incremental support, but what we're looking for is positive change.
Rock The Bells launched during the pandemic. There's been a decline in global retail sales of licensed products because of the cancellation of live music events during the pandemic. How has this affected you?
JC: I would say we're a little bit early on as we start to license some of our products out. I'll say that we're actually doing pretty good. I think we're going to exceed our plan on our commerce business this year. There's a lot of new trends and things that are happening, live commerce is one of them, which has kind of exploded in places like Asia. How are you entertaining people? How do you also allow them incremental opportunities to buy? How is that commerce integrated in the content in a way that doesn't feel forced? People will continue to purchase if you're driving significant value and they believe in what your brand stands for.
What is the most profitable part of the company? What do you see growing?
JC: Some of the "experiences" stuff is fairly profitable. The business model for virtual events has been rejiggered, but there's an opportunity to share a really meaningful, impactful and engaging experience online. Rock The Bells merch has been incredibly profitable for us. We have rocked it with our SIRIUS XM channel. Rock The Bells [channel] has been working very well for us and it's really allowing us to speak out our brand proposition on radio and creating a meaningful, highly curated listening experience for fans of classic hip hop.
What's on the horizon for Rock The Bells? You already talked about the docu-series. Is there anything else we should be looking out for?
JC: In general, when you think about Rock The Bells, you should always see classic hip hop through a modern lens, which is classic hip hop elevated. What you'll continue to see is us taking this culture, and doing the best that we can do to elevate it. I'm going to do something that won't just appeal to the people that are kind of like raised with it, but the whole next generation is going to be able to enjoy these stories, enjoy the commerce items and the really cool merch and eventually come to some experiences that will be able to see it come to life.
From Your Site Articles
Related Articles Around the Web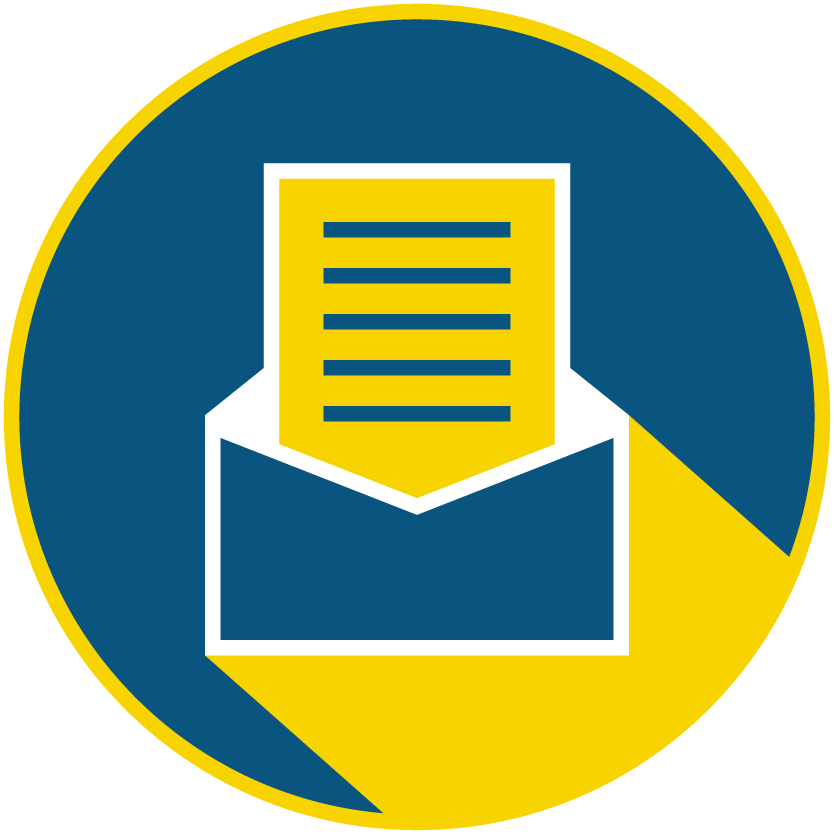 Subscribe to our newsletter to catch every headline.
The orange Gatorade cooler is a staple on the bench of nearly every professional sport. But according to Mubarak Malik, the former New York Knicks training director, there are few athletes who actually drink the cooler's offerings.
"It's a marketing ploy," Malik said. "I'd say about 80% of players just drink water, the other half just just drink hydration tablets."
About ten years ago, Malik started creating his own sports drinks at home. "Back then, I felt like we were just way behind in nutrition," he said. He started a pilot project, creating different formulations and giving them to athletes for testing. Last year, he met Kyle Kuzma, the Lakers' small forward, through a mutual business partner. He gave Kuzma a beverage to test out during the NBA finals. "We decided to become business partners soon after," he said.
This year, both Kuzma and Malik are taking that drink public, with the launch of a beverage company called Drink Barcode (the drink itself is just called Barcode). The company has six full time employees, is headquartered in Los Angeles and raised $5 million in funding (Malik said Drink Barcode isn't seeking additional funding at the moment). The drink is currently available online through Barcode's website, but Malik said it will be available at six Erewhon locations in Los Angeles on June 1.
Barcode consists largely of a combination of coconut water, regular water, and three key ingredients: vitamin D, magnesium, and adaptogens, which are plant and mushroom extracts. It's a bit of a departure from traditional sports drinks, but Malik is betting that athletes, professional or otherwise are looking for something different.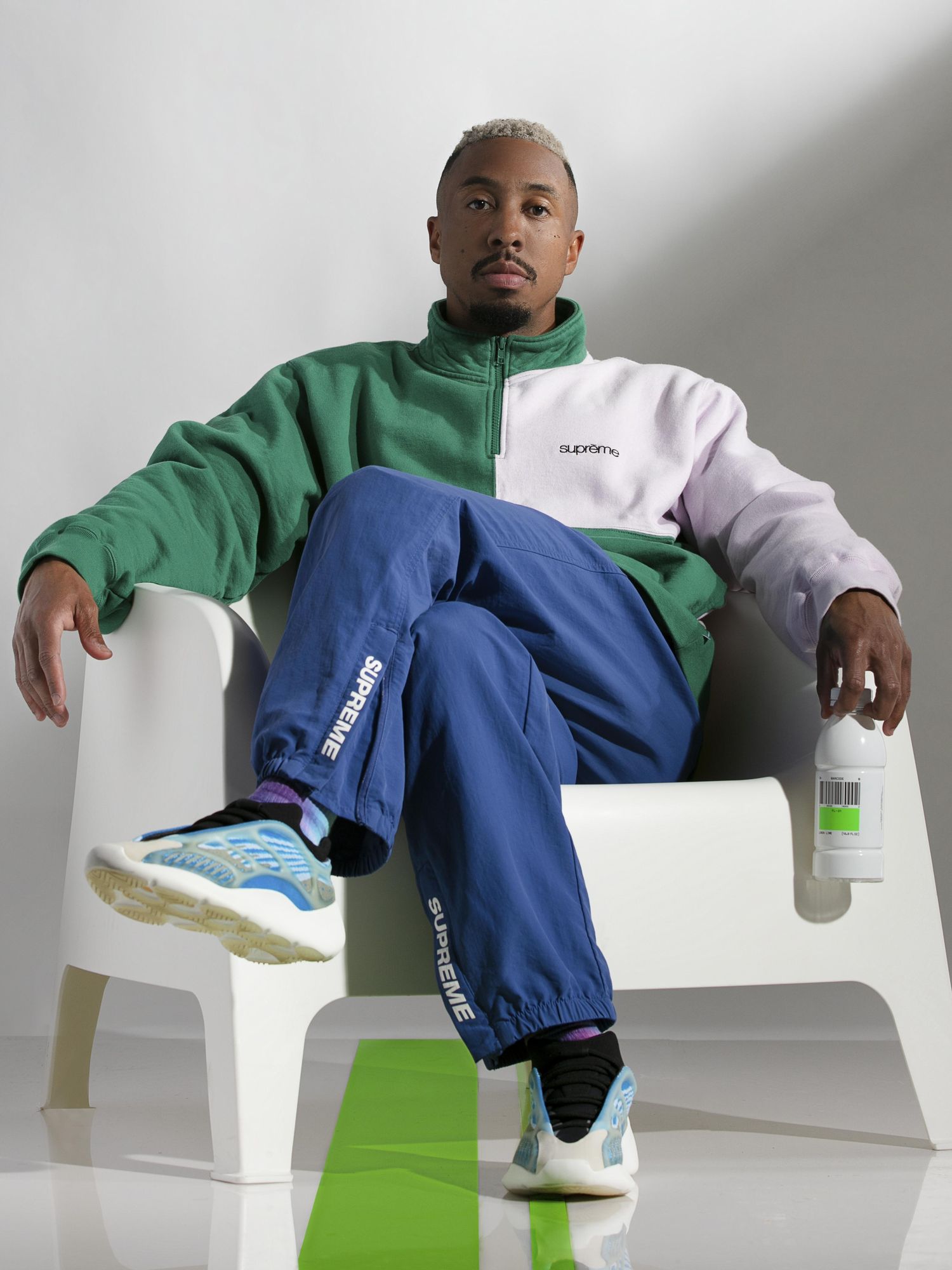 Kyle Kuzmo
Traditionally, sports drinks either help provide a quick burst of energy during a workout, like a traditional Gatorade, or are used to help aid recovery, like Gatorade's G Series Recover. Depending on what niche the drink wants to occupy, it might lean more heavily into one camp or the other. The in-game options might provide sugar and carbohydrates. The post-game option might combine carbohydrates with protein to aid recovery.
A newer generation of drinks, like Barcode, is looking to do things differently. Barcode, Malik said, is supposed to be used during games, before games, or by non-athletes who aren't working out. Carbohydrates, sugars, and proteins aren't the focus – Barcode contains just 2 grams of sugar, 6 grams of carbohydrates and no protein. Malik explains the protein's absence: "The recovery inducing properties come from the adaptogens and vitamin D."
The concept that adaptogens and vitamins might be the next frontier in performance drinks, though not definitively proven, is spawning a new cadre of drinks.

There's Gatorade's Bolt24, which advertises high levels of vitamins A and C, or BodyArmor Lyte, which has no added sugar. These are "functional beverages," intended to be light on carbs, calories and sugar, and, in theory, made for drinking during exercise or during the day, just as Barcode is.

Traditional Gatorade still commands 72% of the sports drink market share, but "functional beverage industry"—performance-oriented drinks that include nutrients —is expected to grow at a compound annual growth rate of 8% after 2021. The largest segment of the functional beverage industry, according to Research and Markets Report, is the health and wellness sector.
Barcode leans especially hard into the wellness aspect of its formula. Barcode's "adaptogen-rich" descriptor refers to the presence of mushroom and plant extract that have been studied in herbal medicine circles, but are relatively new to sports performance drinks. The watermelon version of the drink contains a cordyceps fungus extract. The lemon lime flavor contains extract from a plant called rhodiola rosea, Malik said.
There are a handful of scientific studies on the efficacy of mushroom extracts, particularly for cordyceps. Some do suggest anti-inflammatory properties and immune boosting potential. As for rhodiola rosea, the European Medicines Agency does note that it "can be used for the temporary relief of symptoms of stress, such as fatigue or sense of weakness."
Still, this research is relatively anecdotal. Guillermo Escalante, a professor of kinesiology at California State University, San Bernardino cautions that research into adaptogens is in its early stages. "I would say it's way too early to completely say that they don't work, but it's way too early to say that they're the next greatest thing, he said. "I think the verdict is still out."
Adaptogens aside, Barcode may be able to bridge the gap between sports drink and wellness drink because of its low sugar content. One of the most common criticisms of sports drinks is that they're more like sodas than performance beverages, and not needed by the majority of athletes, especially adolescents.
If most people have eaten about two hours before exercising, "that's going to cover you during your workout," said Escalante. Those athletes might not need a quick bit of carbohydrates or sugar to keep going.
Barcode, which aims to keep one foot in the world of elite athletics and one in the regular world, does seem to have kept sugar and calorie levels low enough to stay out of soda territory.
It contains about 2 grams of sugar and 30 calories compared to Bolt24's 19 grams of sugar and 80 calories, and BodyArmor's 21 grams of sugar and 90 calories.
"Athletes are being funneled to healthier food during the season, so their palettes are being trained to have a healthier product that's not super sweet. But it also is sweet enough to feed that need of having a sugary drink that they've been relying on for years," he said.
Barcode's sweetness has been refined to reflect the increasingly picky palettes of elite athletes, an important step, because it's their reactions to the drink, and use of it that will probably dictate its success—as would on-court achievement.
Sports drinks often become household names through association with athletic achievement. In 1965, Gatorade was invented at the University of Florida. In 1966, the Florida Gators won the Orange Bowl for the first time. In 1969, the Kansas City Chiefs were the first NFL team to use Gatorade. That year they also won Super Bowl IV.
Barcode could have a similar origin story. Malik said he's tested the drink in real games, and confirms that Kuzma was drinking Barcode during last season's NBA finals.
"This product has won a championship," he said.
From Your Site Articles
Related Articles Around the Web
Bird Rides is going public. Apple is backing a Latinx-focused venture firm. PayPal is acquiring Happy Returns. Snap Inc. suspends apps after it's sued for death of teenager. Plus Thrilling, GEM, Jellysmack and other local startups notched raises. Here's a look at this week's top L.A. tech and startup stories.
Can you wheel your shopping cart into a Los Angeles Trader Joe's maskless? A confusing patchwork of rules has left customers and store employees scrambling.
"We've gotten some mixed information," one Trader Joe's employee in Santa Monica said by phone Friday afternoon.
Another said customers are now free to shop inside without a mask.
A day after the CDC lifted mask requirements for fully vaccinated people, the quirky Monrovia-based grocery chain known for Hawaiian shirts and kitschy labelling announced that inoculated customers can shop without a face covering.
But Los Angeles County officials said Thursday that businesses are still required to enforce mask-wearing and social distancing.
Costco and Sam's Club are also lifting mask restrictions, CNN reported.
Precisely how California workplaces handle the issue of masks will be up for debate on May 20, when California's Division of Occupational Safety and Health, Cal/OSHA, is set to review proposed changes to its safety standards. The county cannot introduce less restrictive mandates than the state, said L.A. County Public Health Director Barbara Ferrer on Thursday.
Trader Joe's released the statement Friday on its COVID-19 page, which was a broken link by the afternoon. Spokesperson Kenya Friend-Daniel confirmed the news, adding that the grocer will not require customers to flash their vaccine cards.
"We do not require proof of vaccination, as we trust our customers to follow CDC guidelines," she wrote in a statement. "At this time, masks are still required for our crew members."
The question of how stores and venues plan to weed out unvaccinated people remains murky across the country. Whether businesses implement vaccine "passport" scanning or rely on an honor code system remains to be seen.
The United Food and Commercial Workers Union, which represents 1.3 million workers in the U.S., called the CDC's recent guidance "confusing" and that it fails to consider how essential workers will be impacted by customers who are unvaccinated and refuse to wear masks.
Meanwhile, California officials are set to lift most pandemic restrictions on June 15.
L.A. County Department of Public Health did not immediately reply to a request for comment.
A previous version of this story incorrectly listed Target as a retailer no longer requiring customers to wear face coverings while shopping.