HeyRenee Health Startup Was Born of a Daughter's Frustration Providing Care to Aging Parents
Keerthi Vedantam
Keerthi Vedantam is a bioscience reporter at dot.LA. She cut her teeth covering everything from cloud computing to 5G in San Francisco and Seattle. Before she covered tech, Keerthi reported on tribal lands and congressional policy in Washington, D.C. Connect with her on Twitter, Clubhouse (@keerthivedantam) or Signal at 408-470-0776.
05:05 AM | January 13, 2022
After Renee Dua's father underwent a surgical procedure, he was saddled with a slew of specialists to talk to, medications to take, and lifestyle modifications to make. Dua, the co-founder of Pacific Palisades-based on-demand doctor service Heal, became the person responsible for juggling the different points of care for her father; she began scheduling appointments, picking up prescriptions and reminding him to take his medication.
---
"I'm a doctor and I'm a daughter. I love my father very much. What do people do when they don't happen to have a daughter who's a doctor that can guide them through all of this task management and decision making?" Dua asked dot.LA.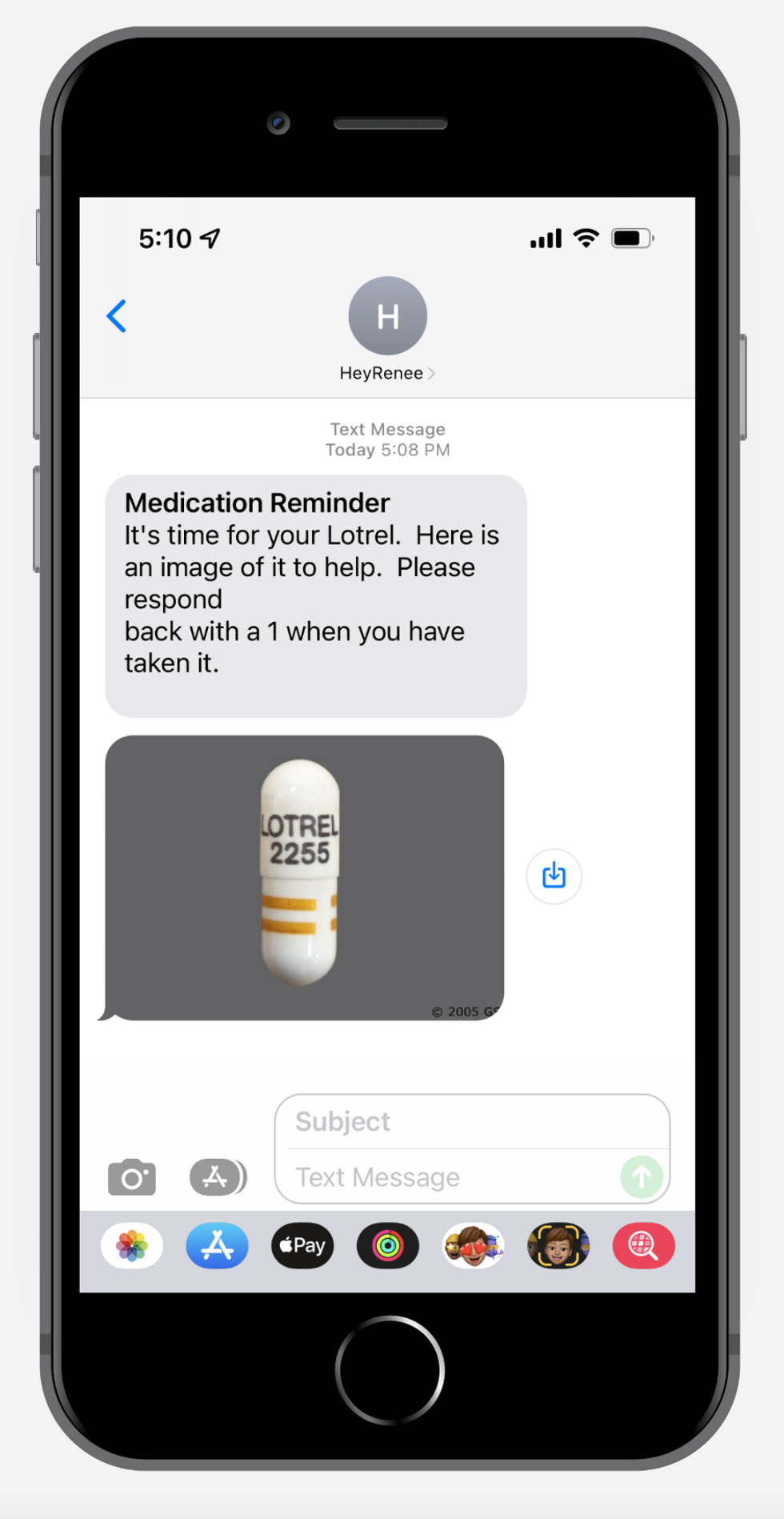 That was the inspiration for HeyRenee—a new venture from Dua and her husband and Heal co-founder Nick Desai that aims to help seniors, the chronically ill and those with disabilities manage their medical care. The startup announced Thursday that it has raised an additional $4.4 million in seed funding led by Quiet Capital, with participation from the likes of Westwood-based Fika Ventures and Santa Monica-based Mucker Capital. The new funding adds to an initial $3.8 million in seed funding that HeyRenee raised in August, taking its total capital raised to $8.2 million.
The company aims to address a problem that the public health ecosystem has long braced for: Baby Boomers are expected to be the longest-living senior population to date, which will create an abundance of demand for health care services as they age. One potential solution to the strain that will be placed on the health care system is preventative care, and ensuring that patients are following doctors' orders when they're not at the doctor's office.
Otherwise, patients "don't take their medications, they don't do their screenings, [and] they forget to show up at doctor's appointments. And then by that time, they're very sick; they're also very expensive," Dua noted. "We can't have it both ways. We can't ignore people and then expect them not to become an expense on the health care system."

HeyRenee essentially acts as a task manager tool. The startup onboards patients by asking them a series of questions about their medical background and conditions; users can then set up reminders to take their medications, pick up prescription refills and go to their appointments. It can also schedule appointments with different specialists that are in a patient's network, and then send blood work or procedure results to their primary care physicians. The platform also loops in physicians, caretakers and family members.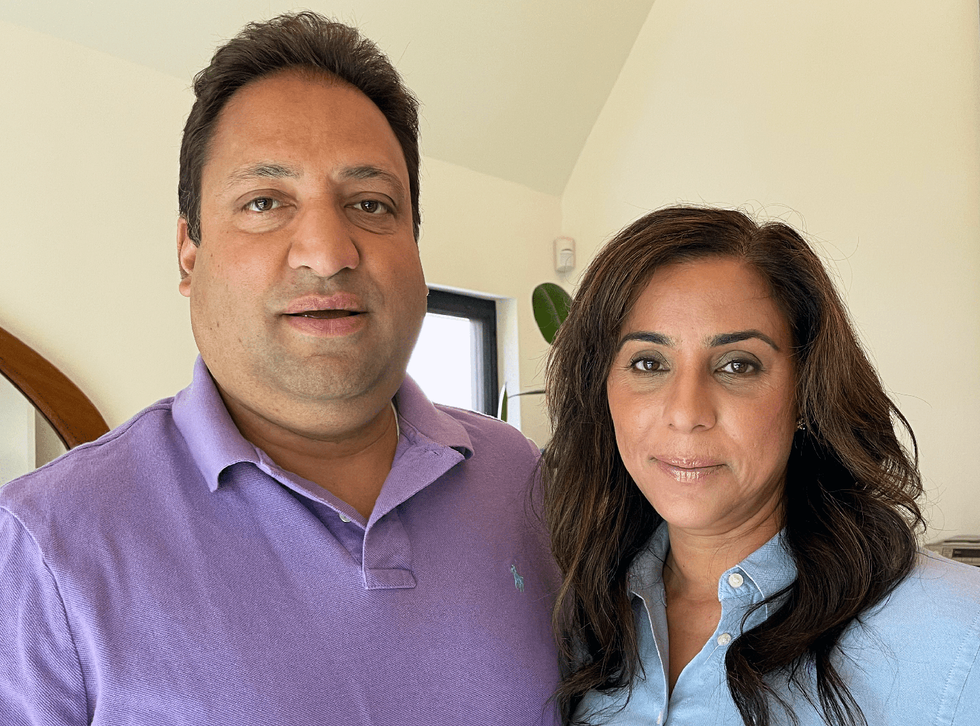 HeyRenee co-founders Nick Desai and Renee Dua.Image courtesy of HeyRenee
The company joins a cadre of other startups aiming to ease access to what can be a scattered and convoluted health care industry. Within Health, co-founded by Los Angeles-based entrepreneur and investor Abhilash Patel, launched in October to coordinate doctors, dieticians and therapists for those recovering from eating disorders. Boston-based Bicycle Health raised $27 million in June to tackle opioid addiction using coordinated medical and behavioral services.
HeyRenee is currently piloting with a small subset of people, including Dua's father. The platform is expected to launch this spring.
Related Articles Around the Web
Keerthi Vedantam
Keerthi Vedantam is a bioscience reporter at dot.LA. She cut her teeth covering everything from cloud computing to 5G in San Francisco and Seattle. Before she covered tech, Keerthi reported on tribal lands and congressional policy in Washington, D.C. Connect with her on Twitter, Clubhouse (@keerthivedantam) or Signal at 408-470-0776.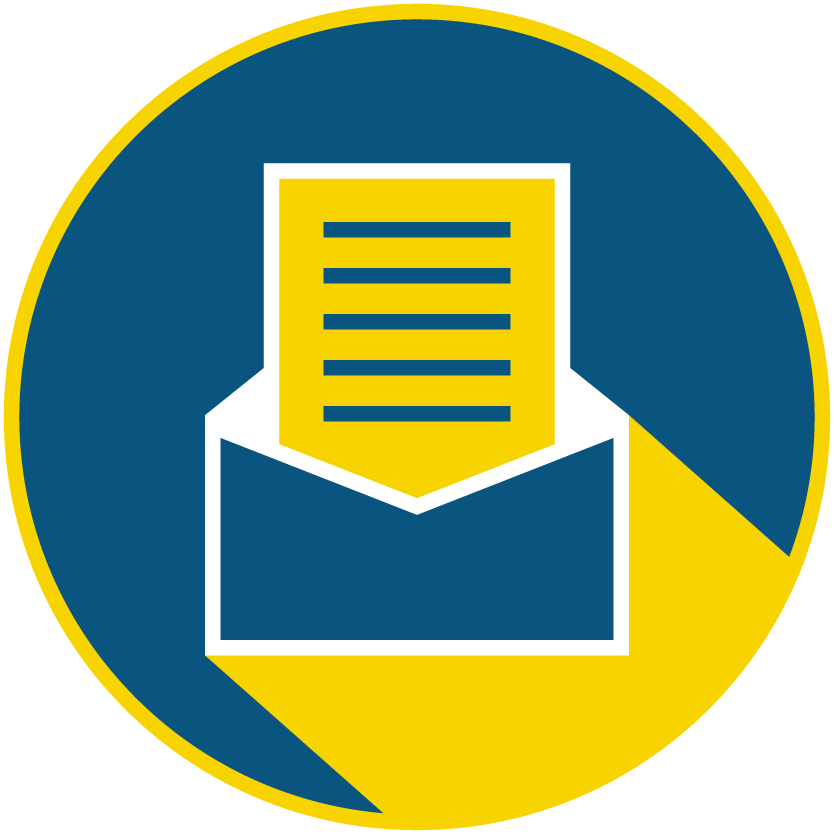 Subscribe to our newsletter to catch every headline.
06:00 AM | January 11, 2022
When Darien Williams and Melanie Wolff opened Brella, their Montessori-inspired childcare center, in Playa Vista in 2019, they were inspired by the likes of WeWork and SoulCycle, which had multiple locations and easy-to-use apps for scheduling meetings and workout sessions. The pair found that parents juggling hectic day jobs with their children's preschool schedules were drawn to a tech-enabled, more flexible way to schedule childcare for their kids.
"The current system can be really punitive to [parents] because it forces them to pay for and schedule childcare that they don't always need, or to schedule childcare that doesn't actually support the workdays that they need to have," Wolff told dot.LA.
Months later, the coronavirus pandemic forced Brella to shut down. But rather than shuttering their company for good, the co-founders saw that the pandemic's new work-from-home paradigm only exacerbated the need for flexible childcare options. Brella reopened in June 2020, and today serves roughly 400 families whose kids, aged 3 months to 6 years, attend the Playa Vista facility for an average of four-to-five hours a day and twice per week.
On Tuesday, Brella announced a $5 million seed funding round that will allow the startup to open more facilities—it plans to expand to Hollywood and Pasadena by the end of this year—and improve its technology. The funding was led by Newport Beach-based Toba Capital and Brentwood-based Halogen Ventures, and takes Brella's total amount raised to date to $8 million.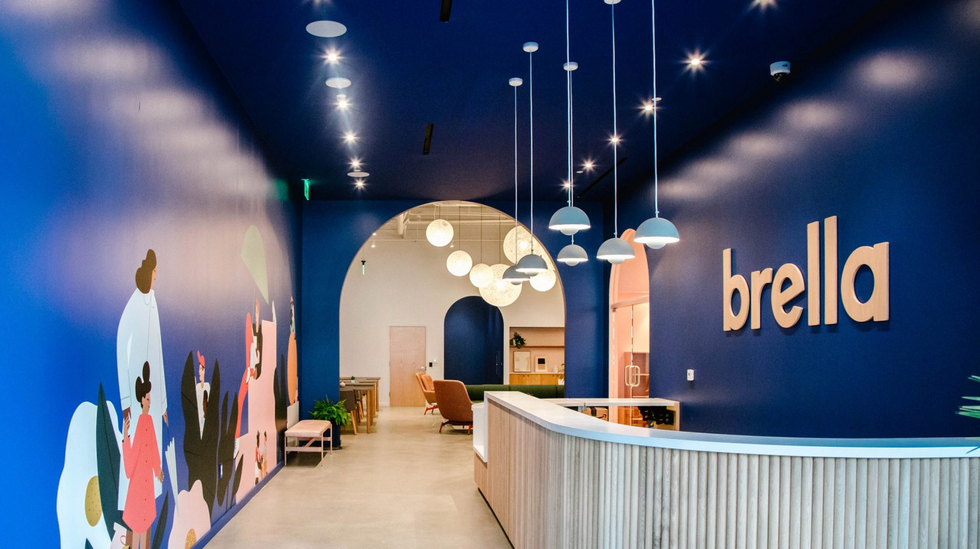 Brella's Playa Vista-based childcare center lobby.
"What we found is that even pre-pandemic, and now especially post-pandemic, families' work lives are really dynamic; they're not always working this 9-to-5, Monday-through-Friday kind of role," Wolff said. "Sometimes their childcare needs can vary day-to-day, week-to-week, and even month-to-month."
Brella is part of a growing industry of childcare startups leveraging technology to help families find childcare solutions. Its ranks include San Francisco-based Wonderschool, which helps families start their own preschools or daycares, and New York-based Otter, which allows parents to crowdsource babysitting resources from other parents.
Through Brella's app, parents can create a profile, upload necessary forms and documentation, and book times to drop their children off at the childcare center for a minimum of three hours. Brella offers different pricing packages depending on how far in advance parents want to schedule childcare and how often they need it.
As a licensed preschool, the curriculum that Brella teaches its pupils is inspired by progressive child development philosophies like Montessori, RIE and Reggio Emelia. The curriculum is adapted to how much time each child spends at the school; Brella's educators create "projects and learning opportunities that can engage a child that might be here for the very first time, or is coming three days a week this week and five days a week next week," Williams said.
From Your Site Articles
Related Articles Around the Web
Keerthi Vedantam
Keerthi Vedantam is a bioscience reporter at dot.LA. She cut her teeth covering everything from cloud computing to 5G in San Francisco and Seattle. Before she covered tech, Keerthi reported on tribal lands and congressional policy in Washington, D.C. Connect with her on Twitter, Clubhouse (@keerthivedantam) or Signal at 408-470-0776.
07:28 AM | January 04, 2021
Despite — or in many cases because of — the raging pandemic, 2020 was a great year for many tech startups. It turned out to be an ideal time to be in the video game business, developing a streaming ecommerce platform for Gen Z, or helping restaurants with their online ordering.
But which companies in Southern California had the best year? That is highly subjective of course. But in an attempt to highlight who's hot, we asked dozens of the region's top VCs to weigh in.
We wanted to know what companies they wish they would have invested in if they could go back and do it all over again.
Startups were ranked by how many votes each received. In the case of a tie, companies were listed in order of capital raised. The list illustrates how rapidly things move in startup land. One of the hottest startups had not even started when 2020 began. A number doubled or even 16x'd their valuation in the span of a few short months.
To divvy things up, we delineated between companies that have raised Series A funding or later and younger pre-seed or seed startups.
Not surprisingly, many of the hottest companies have been big beneficiaries of the stay-at-home economy.
PopShop Live, a red-hot QVC for Gen Z headquartered out of a WeWork on San Vicente Boulevard, got the most votes. Interestingly, the streaming ecommerce platform barely made it onto the Series A list because it raised its Series A only last month. Top Sand Hill Road firms Andreessen Horowitz and Lightspeed Venture Partners reportedly competed ferociously for who would lead the round but lost out to Benchmark, which was an early investor in eBay and Uber. The round valued PopShop Live at $100 million, way up from the $6 million valuation it raised at only five months prior.
Scopely, now one of the most valuable tech companies in Los Angeles, was also a top vote getter.
The Culver City mobile gaming unicorn raised $340 million in Series E funding in October at a $3.3 billion valuation, which nearly doubled the company's $1.7 billion post-money valuation from March. It is no coincidence that that was the same month stay-at-home orders began as Scopely has benefited from bored consumers staying on their couch and playing ScrabbleGo or Marvel Strike Force.
The company's success is especially welcome news to seed investors Greycroft, The Chernin Group and TenOneTen ventures, who got in at a $40 million post valuation in 2012. Upfront Ventures, BAM Ventures and M13 joined the 2018 Series C at a $710 post-money valuation.
Softbank-backed Ordermark, which flew more under the radar, also topped the list. The company's online ordering platform became a necessity for restaurants forced to close their dining rooms during the pandemic and raised $120 million in Series C funding in October.
On the seed side, two very different startups stood out. There was Pipe, which enables companies with recurring revenues to tap into their deferred cash flows with an instant cash advance, and Clash App, Inc., a TikTok alternative launched by a former employee of the social network in August.
We will have the list of Southern California's top seed startups out tomorrow.
Lead art by Candice Navi.
Ben Bergman
Ben Bergman is the newsroom's senior finance reporter. Previously he was a senior business reporter and host at KPCC, a senior producer at Gimlet Media, a producer at NPR's Morning Edition, and produced two investigative documentaries for KCET. He has been a frequent on-air contributor to business coverage on NPR and Marketplace and has written for The New York Times and Columbia Journalism Review. Ben was a 2017-2018 Knight-Bagehot Fellow in Economic and Business Journalism at Columbia Business School. In his free time, he enjoys skiing, playing poker, and cheering on The Seattle Seahawks.
https://twitter.com/thebenbergman
ben@dot.la