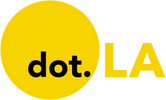 Get in the KNOW  
  on LA Startups & Tech  
X

Design, Bitches
Looking to Build a Granny Flat in Your Backyard? Meet the Firms and Designs Pre-Approved in LA
Sarah Favot
Favot is an award-winning journalist and adjunct instructor at USC's Annenberg School for Communication and Journalism. She previously was an investigative and data reporter at national education news site The 74 and local news site LA School Report. She's also worked at the Los Angeles Daily News. She was a Livingston Award finalist in 2011 and holds a Master's degree in journalism from Boston University and BA from the University of Windsor in Ontario, Canada.
07:10 AM | March 12, 2021
Adding a backyard home in Los Angeles is now nearly as easy as buying a barbecue.
Homeowners who for years have wanted to build a granny flat in their backyard, but dreaded the red tape, can now choose from 20 pre-designed homes that the city has already approved for use.
The shift, made official last week, will speed up a weeks-long process and bring more badly needed units to an overpriced market. It also has the potential to elevate the 14 startups and firms building the next generation of homes.
---
The designs for the stand-alone residences range from a 200-square-foot studio to a 1,200-square foot, two-story, two-bedroom unit. And many of the homes are filled with design flourishes, reflecting the diverse architecture of the city, from a house in the silhouette of a flower to one with a spiral outdoor staircase leading to the roof.
It's no surprise. The program was spearheaded by Christopher Hawthorne, a former architecture critic at the Los Angeles Times and now the city's chief design officer.
The firms are primarily local and startup architecture and design firms, while others are well-known with a history of building granny flats, also know as accessory dwelling units, or ADUs.
The standard plans avoid the Los Angeles Department of Building and Safety's typical four-to six-week review process and can allow approvals to be completed in as quickly as one day.
Some aspects of the plans can be modified to fit a homeowner's preferences. Eight other designs are pending approval.
Mayor Eric Garcetti believes by adding more such units, the city can diversify its housing supply and tackle the housing crisis. Recent state legislation made it easier to build the small homes on the lot of single-family residences. Since then, ADUs have made up nearly a quarter of Los Angeles' newly permitted housing units.
Because construction costs are relatively low for the granny flats – the pre-approved homes start at $144,000 and can go beyond $300,000 – the housing is generally more affordable. The median home price in L.A. County in January was $690,000.
Here's a quick look at the designs approved so far:
Abodu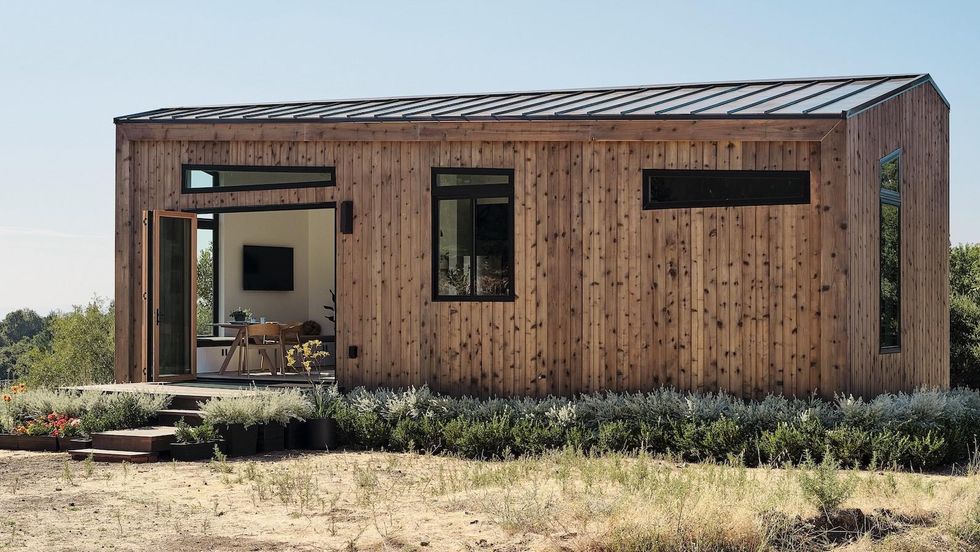 Abodu
Abodu, based in Redwood City in the Bay Area, exclusively designs backyard homes. In 2019, it worked with the city of San Jose on a program similar to the one Los Angeles is undertaking.
In October, it closed a seed funding round of $3.5 million led by Initialized Capital.
It has been approved for a one-story 340-square-foot studio, a one-story one-bedroom at 500 square feet, and a one-story, 610-square-foot two-bedroom.
The pricing for the studio is $189,900, while the one-bedroom costs $199,900 and the two-bedroom is $259,900.
Amunátegui Valdés Architects
Led by Cristobal Amunátegui and Alejandro Valdés, the firm was founded in 2011 and has offices in Los Angeles and Santiago, Chile. Amunátegui is an assistant professor at the Department of Architecture and Urban Design at UCLA.
The firm designs work in various scales and mediums, including buildings, furniture and exhibitions.
Its one-story, two-bedroom with a covered roof deck 934-square-foot unit is pending approval from the city.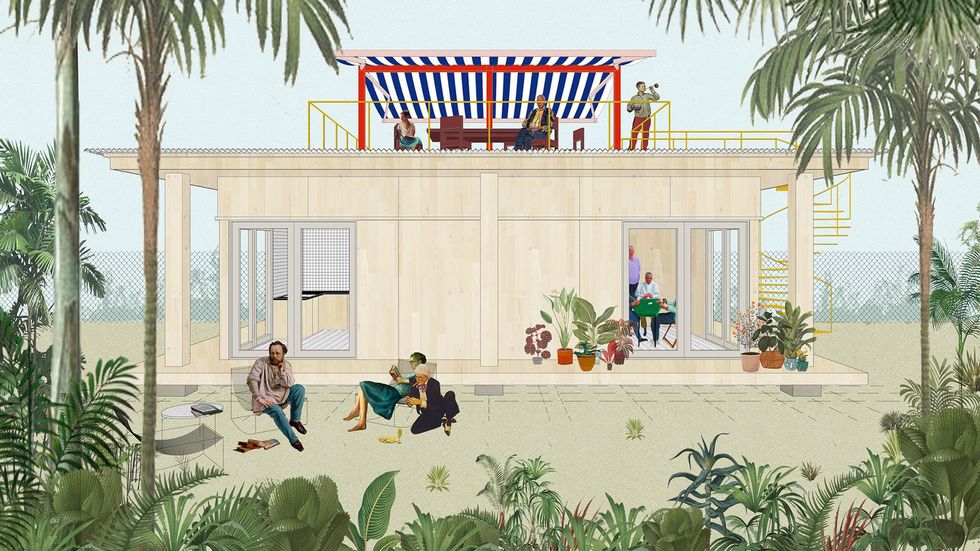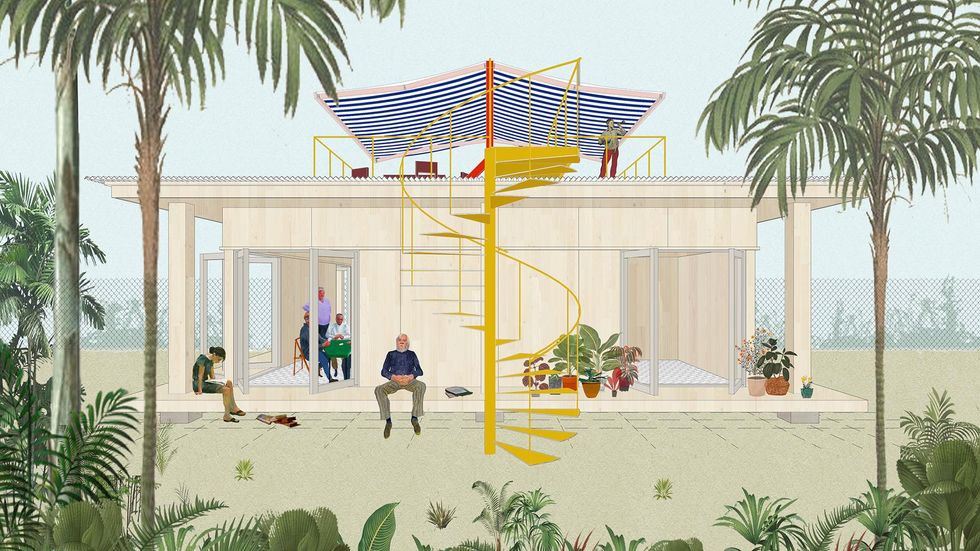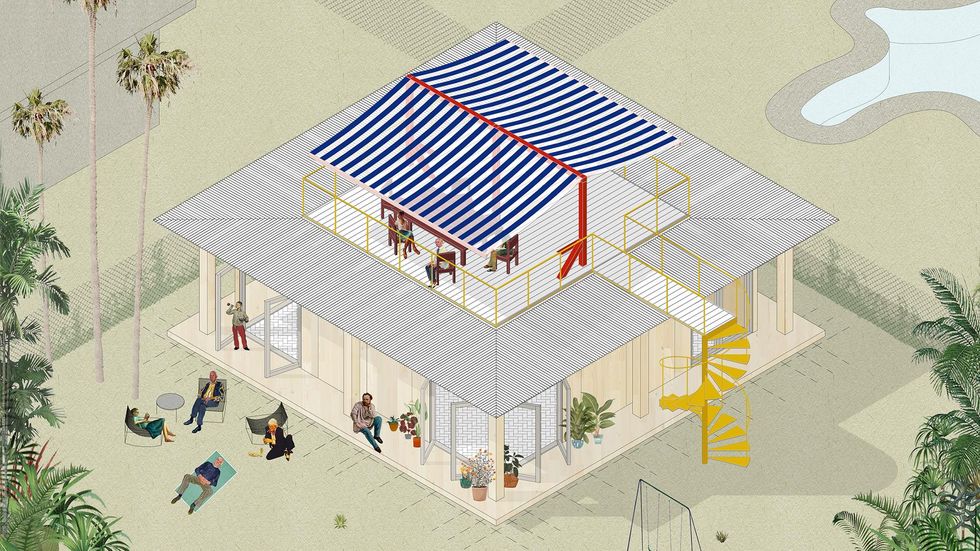 Connect Homes
Connect Homes has a 100,000-square foot factory in San Bernardino and an architecture studio in Downtown L.A.
It specializes in glass and steel homes and has completed 80 homes in California. Its designs have an aesthetic of mid-century modern California residential architecture.
It has two one-bedroom models pre-approved by the city, one is 460 square feet, which costs $144,500 with a total average project cost of $205,000. The other is 640 square feet, which costs $195,200 with a total project cost of $280,000.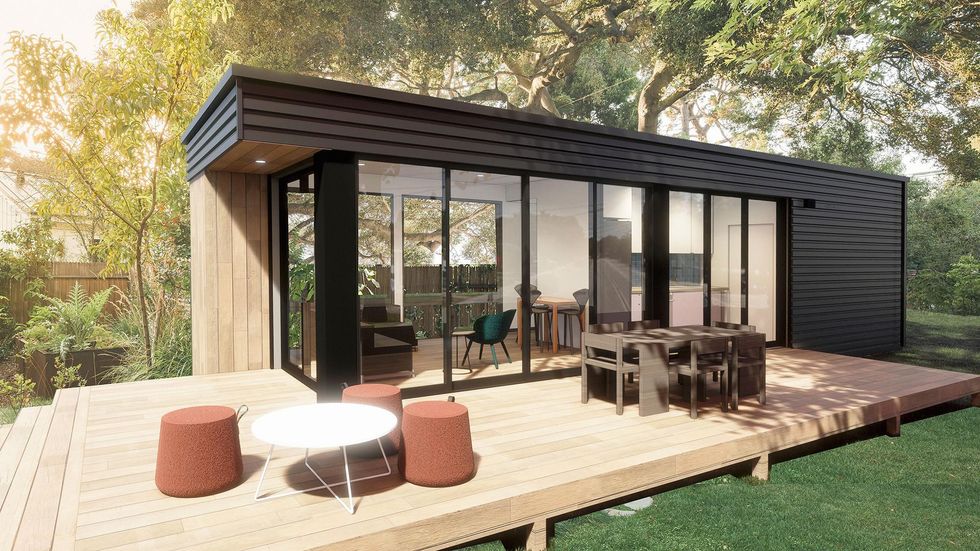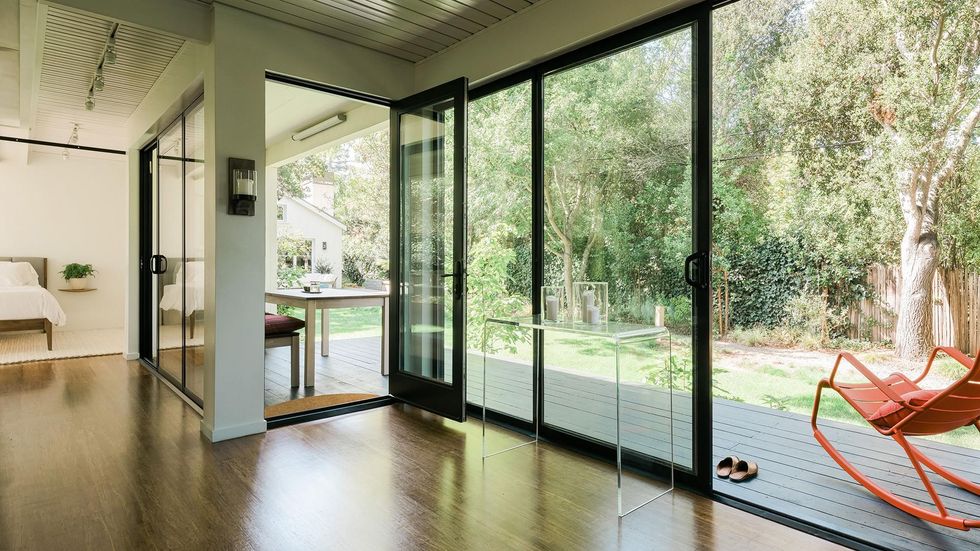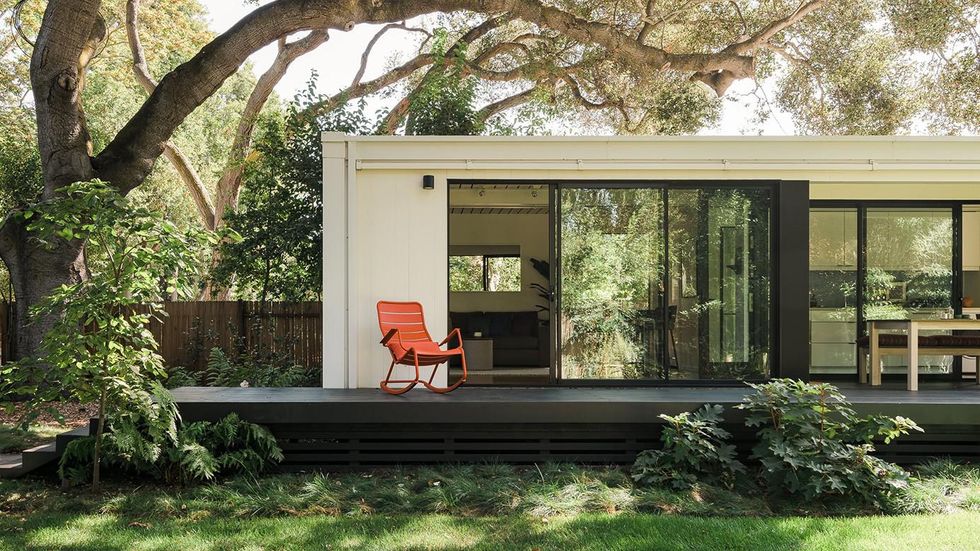 Design, Bitches
The Los Angeles-based architectural firm founded in 2010 describes itself as having a "bold and irreverent vision." Its projects include urban infill ground-up offices to single-family homes, adaptive re-use of derelict commercial buildings and renovations of historic landmarks.
Its pre-approved design, named "Midnight Room," is a guest house/ studio. Its bedroom can be left open for a loft feel or enclosed as a separate room. The design is a one-story, one-bedroom at 454 square feet.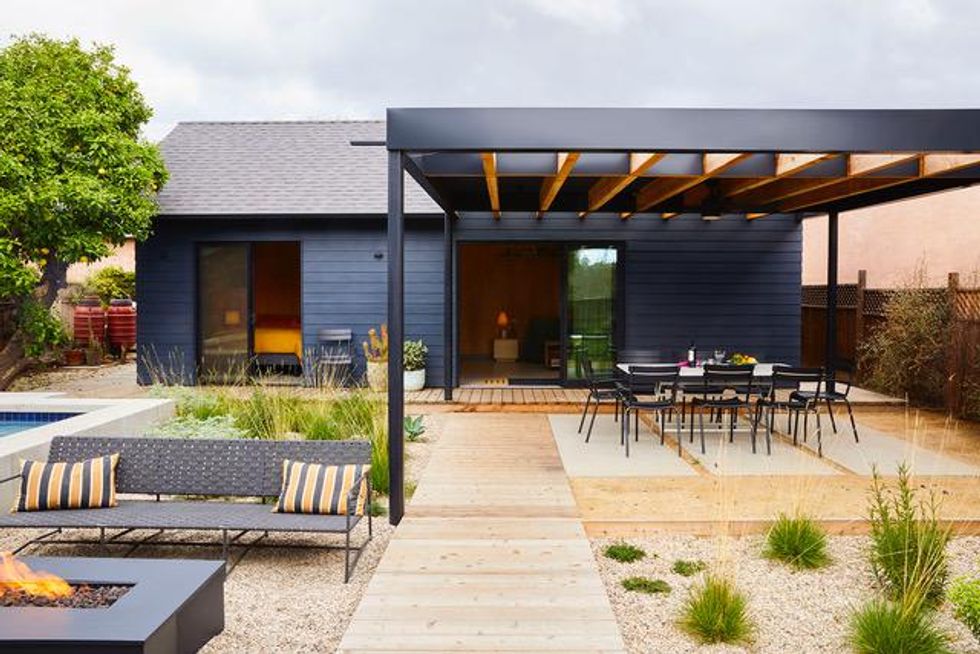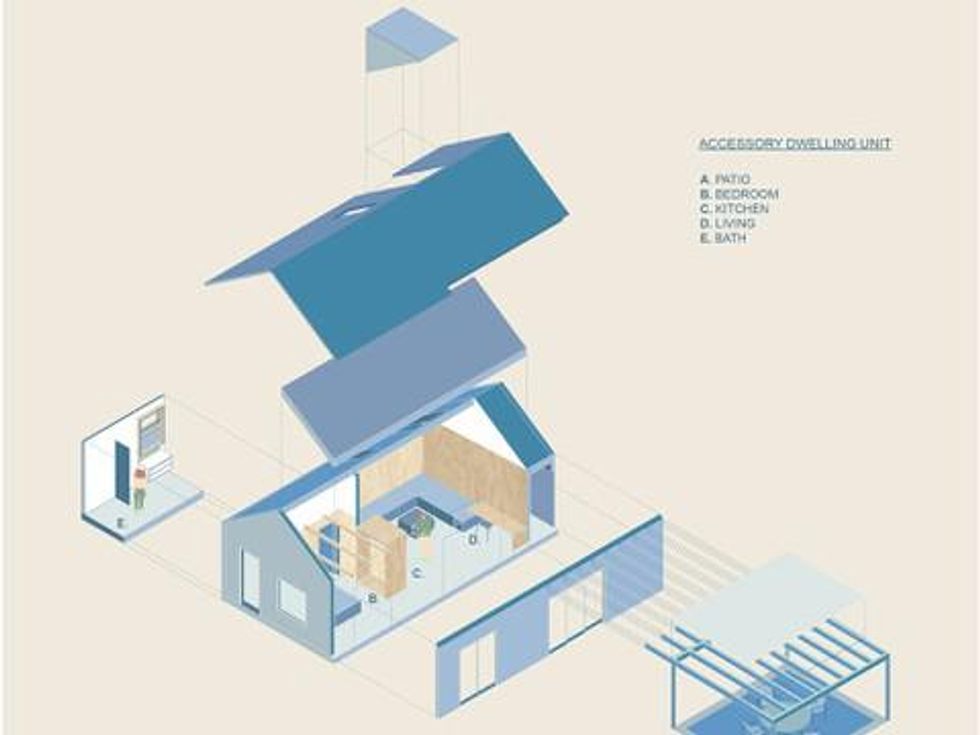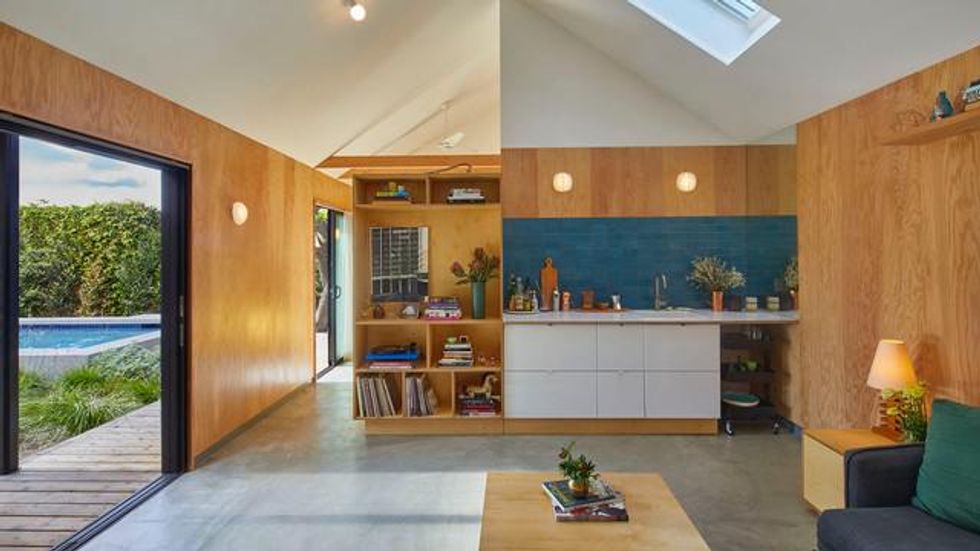 Escher GuneWardena Architecture
Founded in Los Angeles in 1996, Escher GuneWardena Architecture has received international recognition and has collaborated with contemporary artists, worked on historical preservation projects and more.
The company has been approved for two different one-story, one- or two-bedroom units, one at 532 square feet with an estimated cost of $200,000 and another at 784 square feet with an estimated cost of $300,000. The firm noted the costs depend on site conditions and do not include soft costs. Those could add 10% to 12% to the total construction costs.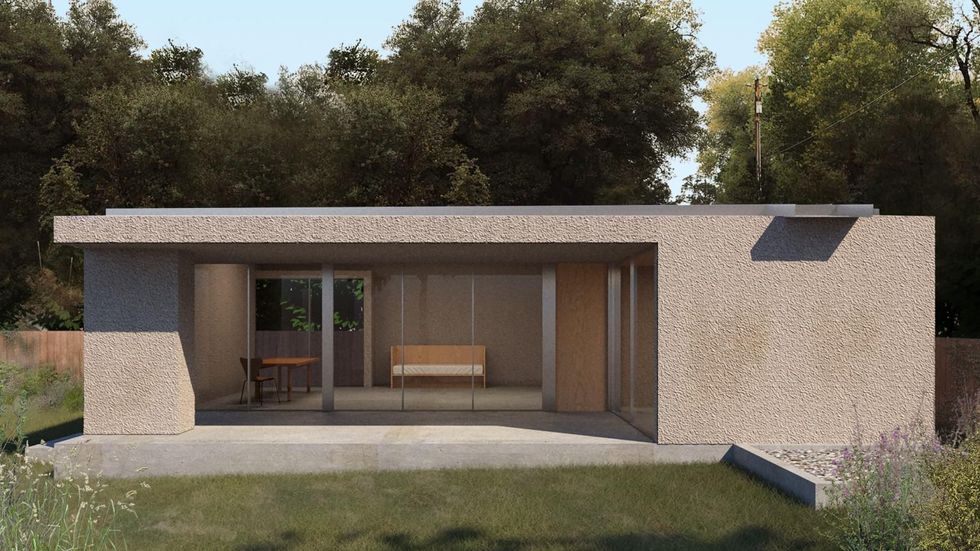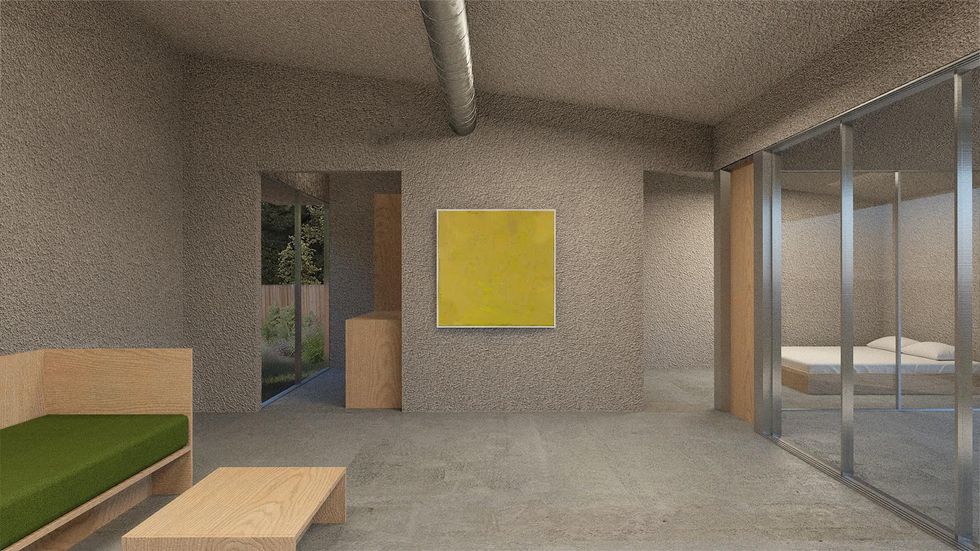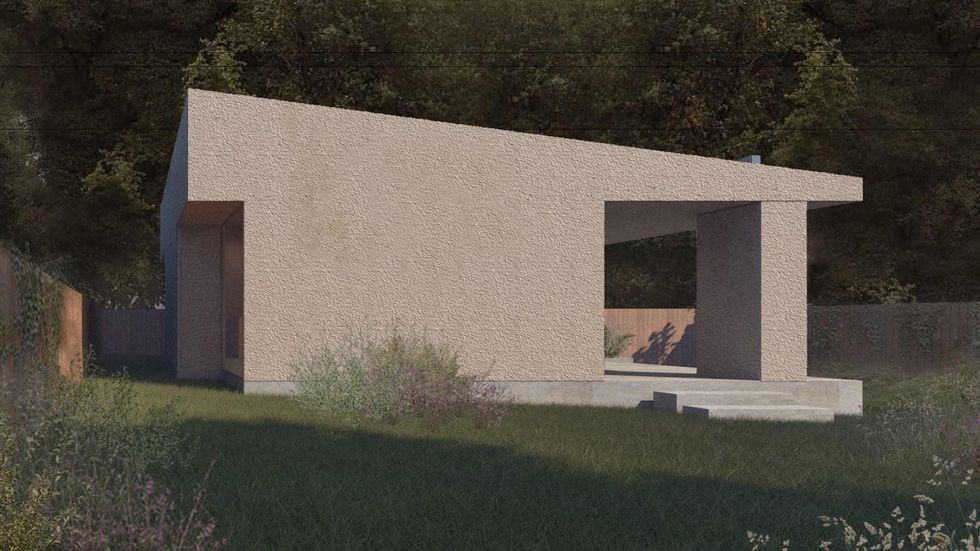 First Office
First Office is an architecture firm based in Downtown Los Angeles. Its approved ADUs will be built using prefabricated structural insulated panels, which allow for expedited construction schedules and high environmental ratings.
The interior finishes include concrete floors, stainless steel counters and an occasional element of conduit.
There are five options:
A one-story studio, 309 to 589 square feet
A one-story one-bedroom, 534 to 794 square feet
And a one-story two-bedroom, 1,200 square feet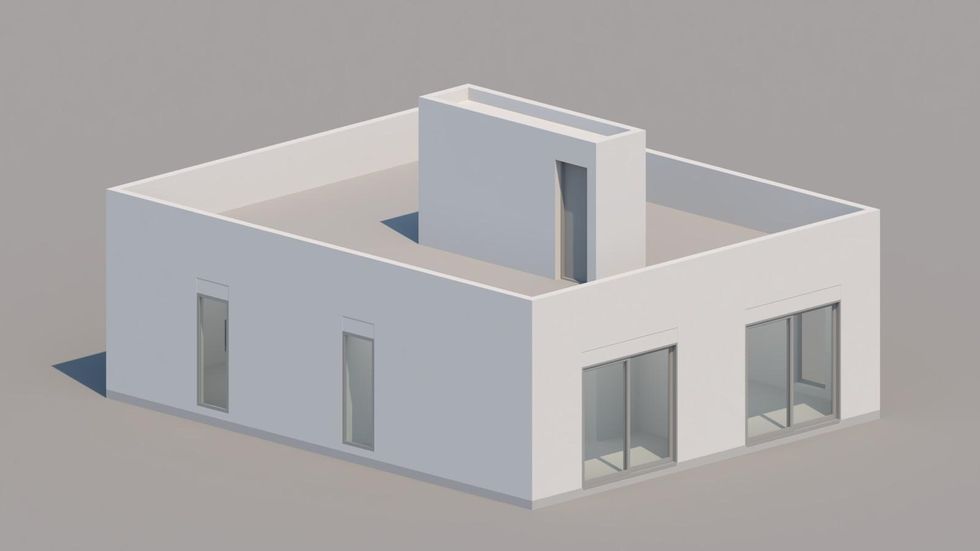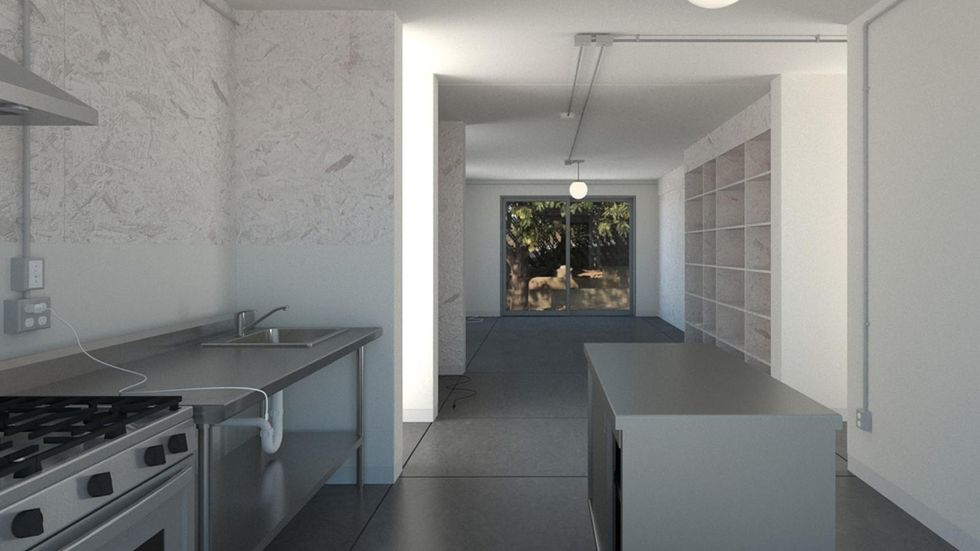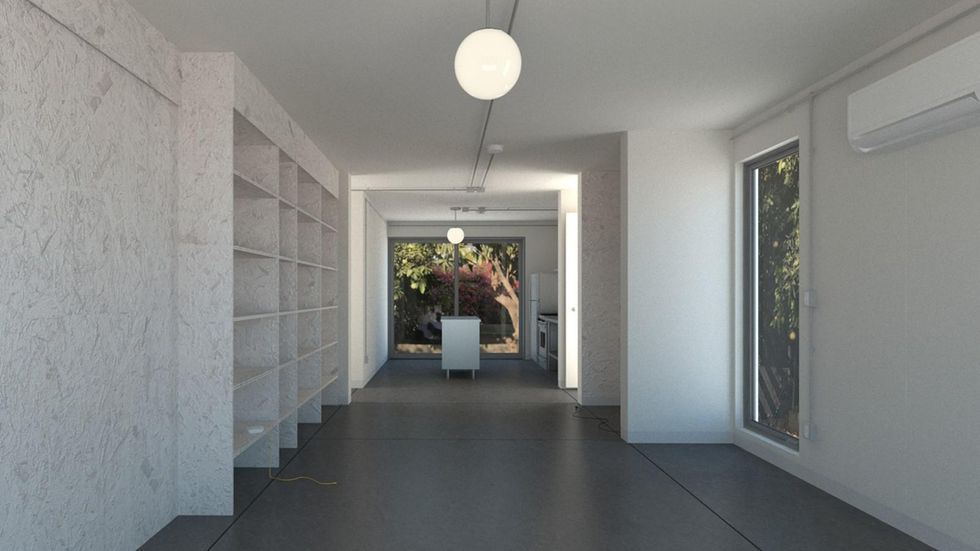 Fung + Blatt Architects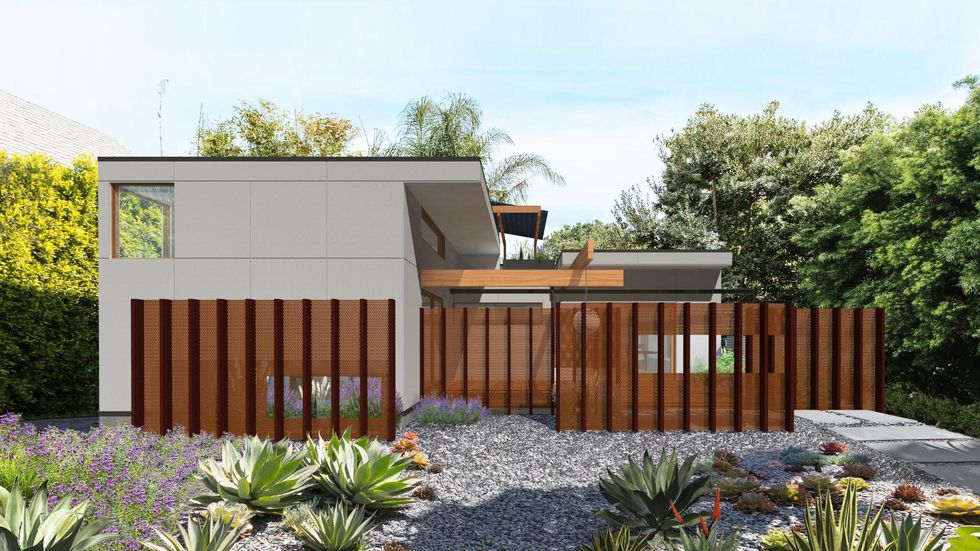 Fung + Blatt Architects is a Los Angeles-based firm founded in 1990.

The city has approved its 795-square-foot, one-story, one-bedroom unit with a roof deck. It estimates the construction cost to be $240,000 to $300,000, excluding landscape, site work and the solar array. Homeowners can also expect other additional costs.
Taalman Architecture/ IT House Inc.
The design team behind "IT House" is Los Angeles-based studio Taalman Architecture. Over the past 15 years, IT House has built more than 20 homes throughout California and the U.S.
The IT House ADU standard plans include the tower, bar, box, cube, pod and court.
The city has approved four options, including:
A two-story including mechanical room, 660 square feet
A two-story including mechanical room, 430 square feet
A one-story studio, 200 square feet
A one-story including mechanical room, 700 square feet
The firm also has another two projects pending approval: a 360-square-foot one-story studio and a one-story, three-bedroom at 1,149 square feet.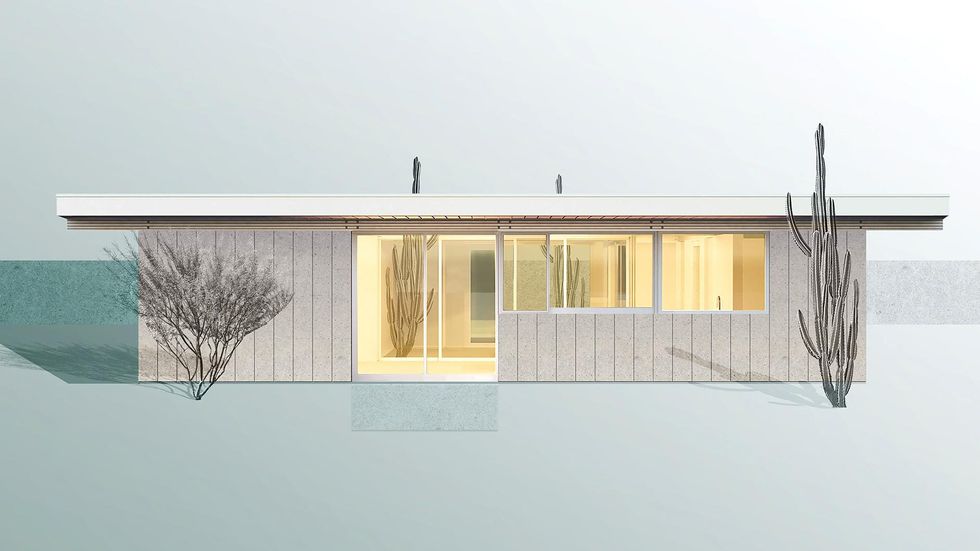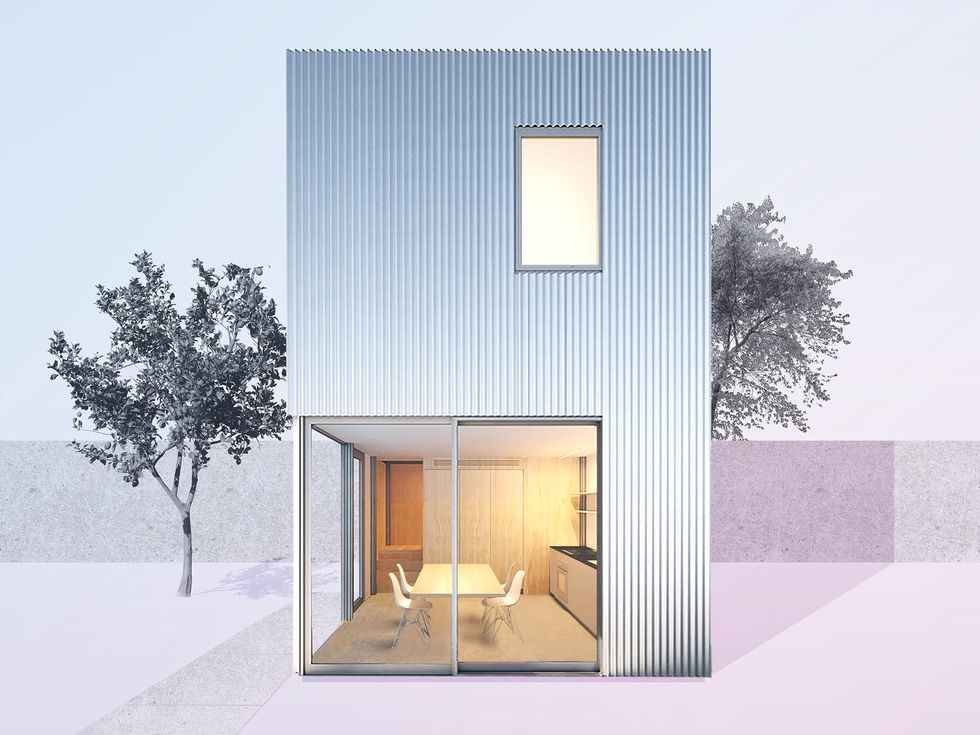 LA Más
LA Más is a nonprofit based in Northeast Los Angeles that designs and builds initiatives promoting neighborhood resilience and elevating the agency of working-class communities of color. Homeowners who are considering their design must commit to renting to Section 8 tenants.
The city has approved two of LA Más' designs: a one-story, one-bedroom, 528 square feet unit and a one-story, two-bedroom, 768 square feet unit. The firm has another design for a one-story studio pending approval. That design would be the first 3D-printed ADU design in the city's program.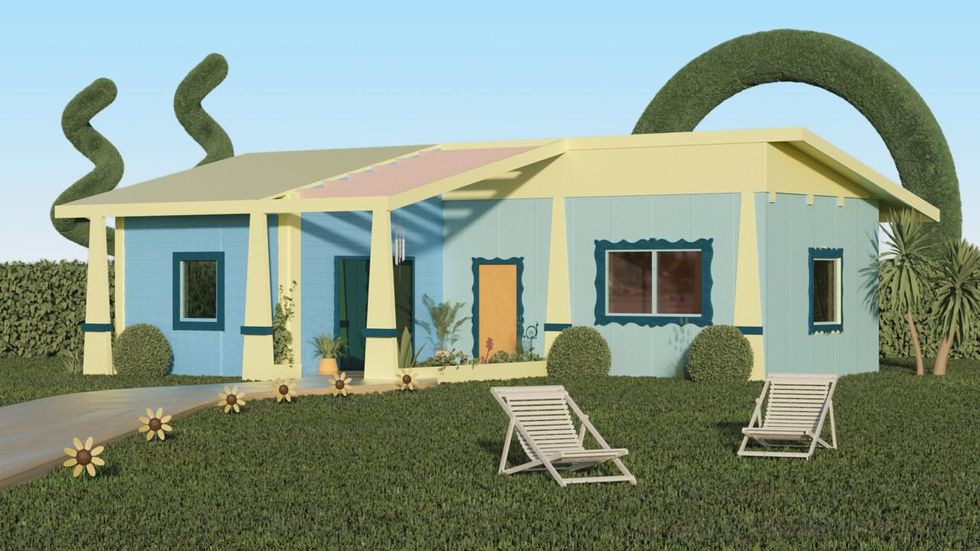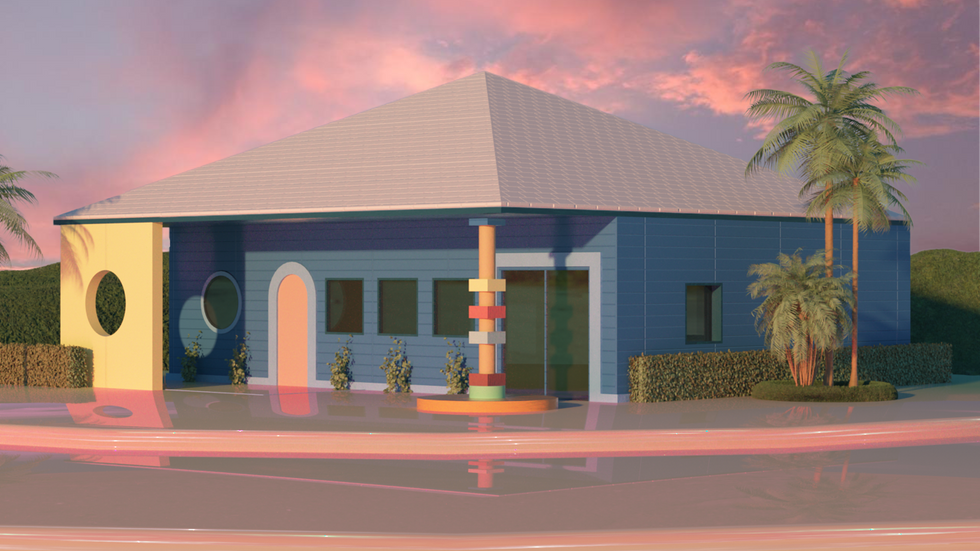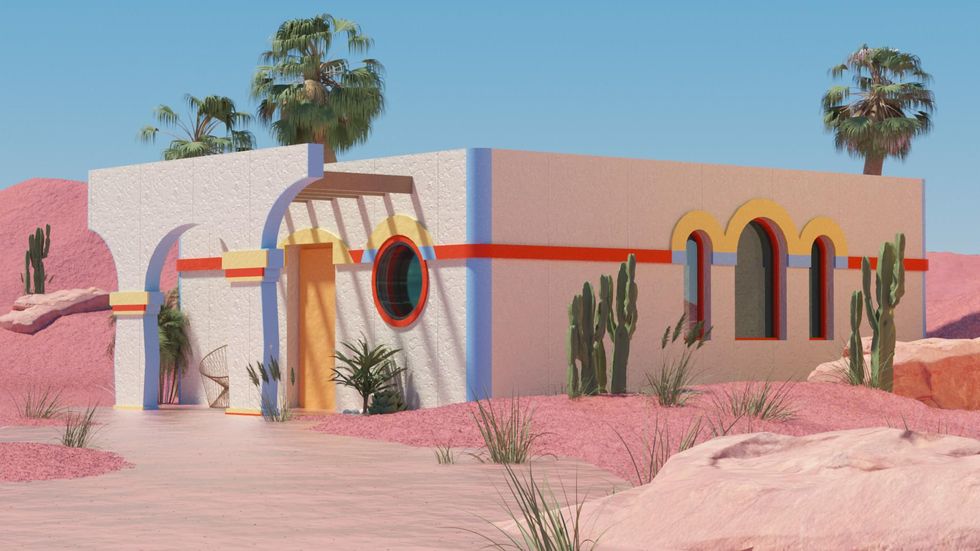 Jennifer Bonner/MALL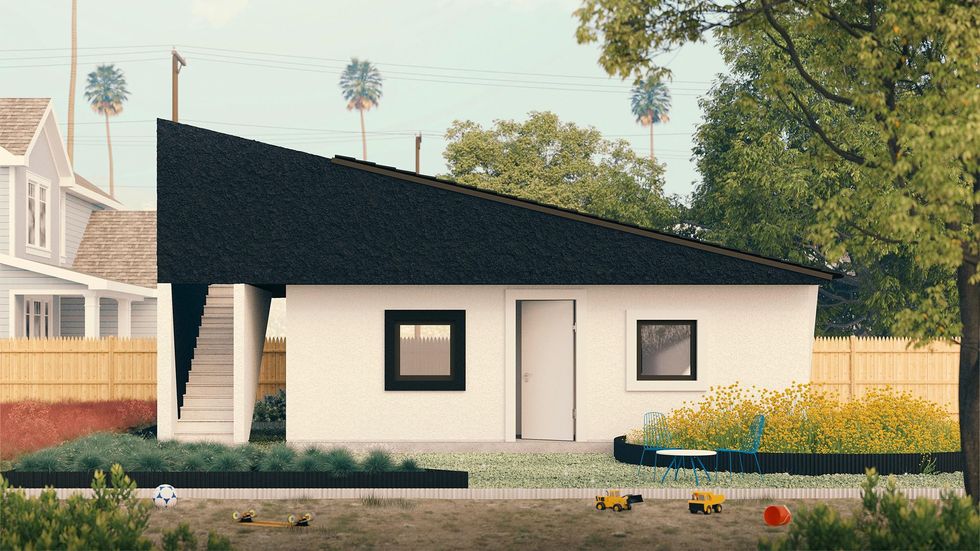 Massachusetts-based Jennifer Bonner/MALL designed a "Lean-to ADU" project, reinterpreting the stucco box and exaggerated false front, both Los Angeles architectural mainstays.
The design has been approved for a 525-square-foot one-story, one-bedroom unit with a 125-square-foot roof deck.
sekou cooke STUDIO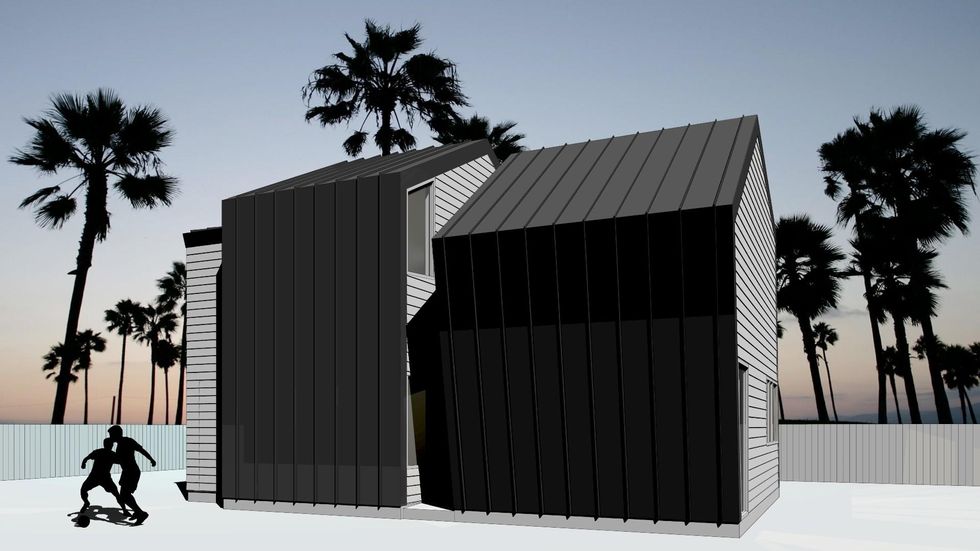 New York-based sekou cooke STUDIO is the sole Black-owned architectural firm on the project.

"The twisted forms of this ADU recalls the spin and scratch of a DJ's records" from the early 90s, the firm said.
Its design, still pending approval, is for a 1,200-square-foot, two bedroom and two bathroom can be adapted to a smaller one-bedroom unit or to include an additional half bath.
SO-IL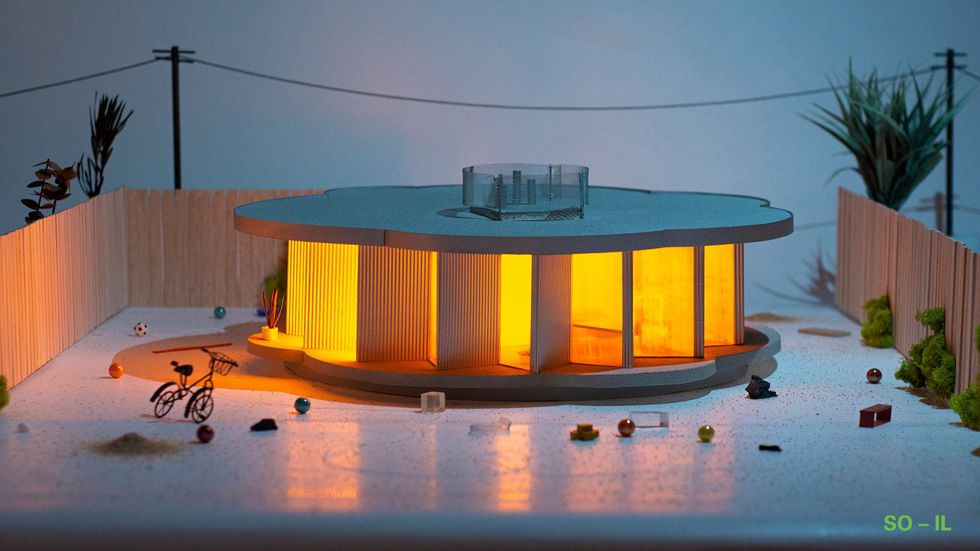 New York-based SO-IL was founded in 2008. It has completed projects in Leon, Seoul, Lisbon and Brooklyn.
Its one-story, one-bedroom 693-square-foot unit is pending approval. It is estimated the construction cost will be between $200,000 and $250,000.
WELCOME PROJECTS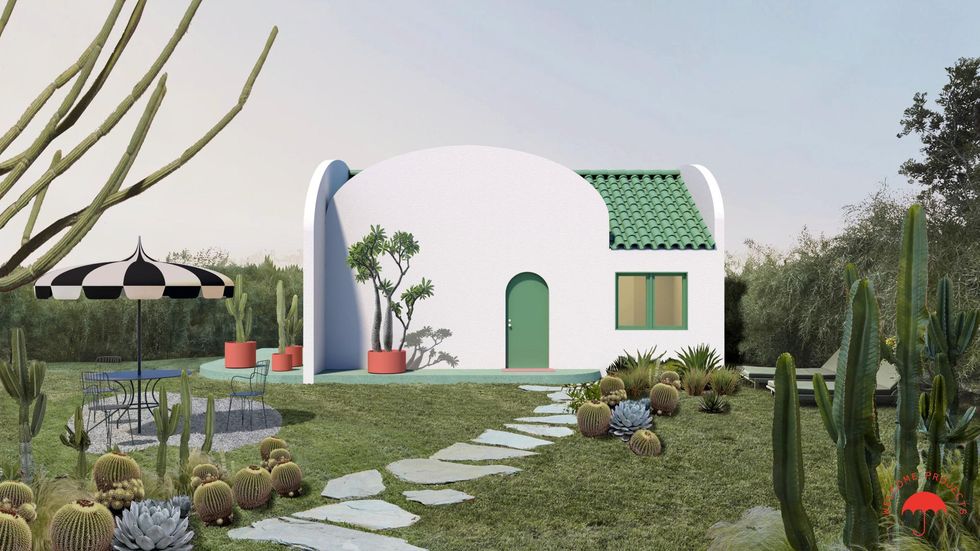 Los Angeles-based Welcome Projects has worked on projects ranging from buildings, houses and interiors to handbags, games and toys.
Its ADU is nicknamed The Breadbox "for its curved topped walls and slight resemblance to that vintage counter accessory."
It has been approved for a one-story, one-bedroom 560-square-foot unit.
wHY Architecture
Founded in 2004, wHY is based in Los Angeles and New York City. It has taken on a landmark affordable housing and historic renovation initiative in Watts.

Its one-story, one- or two-bedroom 480 to 800-square-foot unit is pending approval.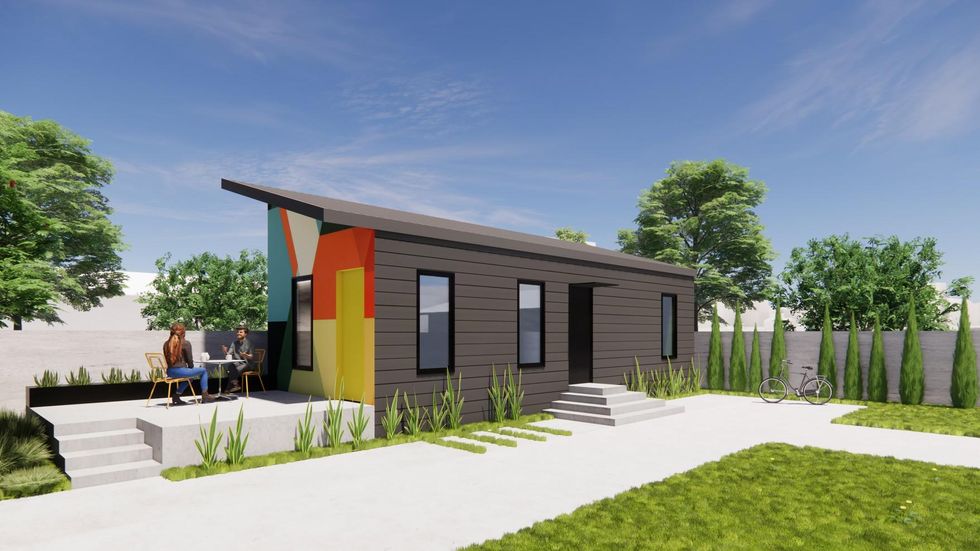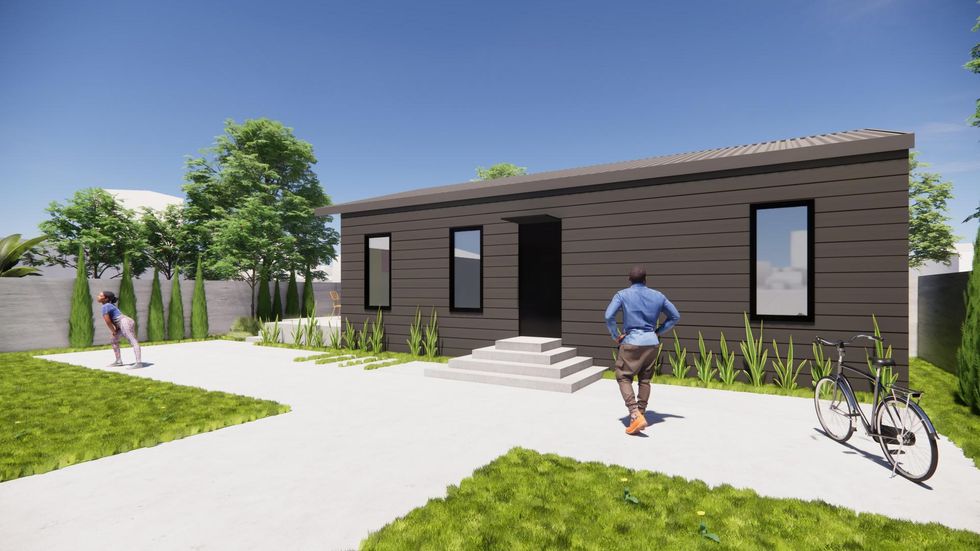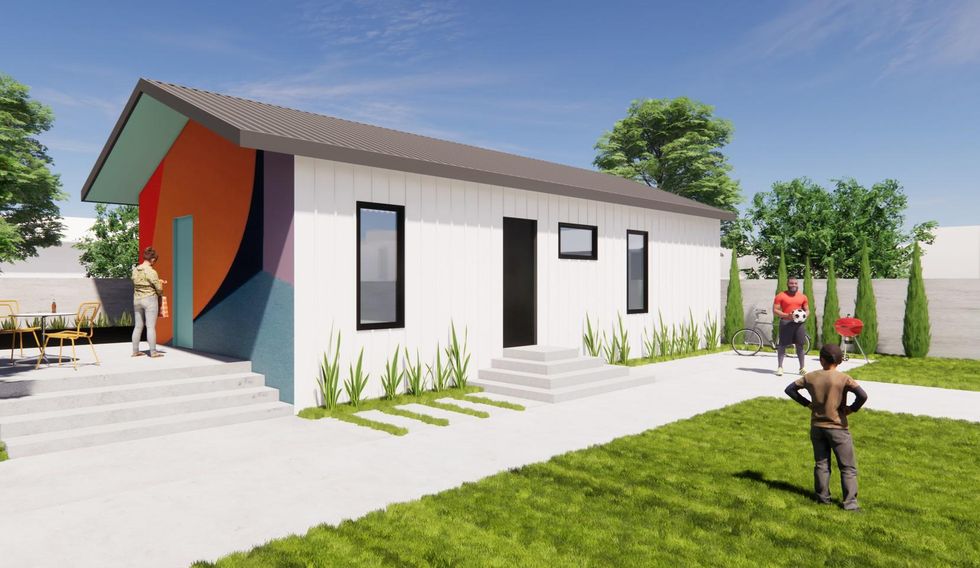 Firms that want to participate in the program can learn more here . Angelenos interested in building a standard ADU plan can learn more the approved projects here.
Sarah Favot
Favot is an award-winning journalist and adjunct instructor at USC's Annenberg School for Communication and Journalism. She previously was an investigative and data reporter at national education news site The 74 and local news site LA School Report. She's also worked at the Los Angeles Daily News. She was a Livingston Award finalist in 2011 and holds a Master's degree in journalism from Boston University and BA from the University of Windsor in Ontario, Canada.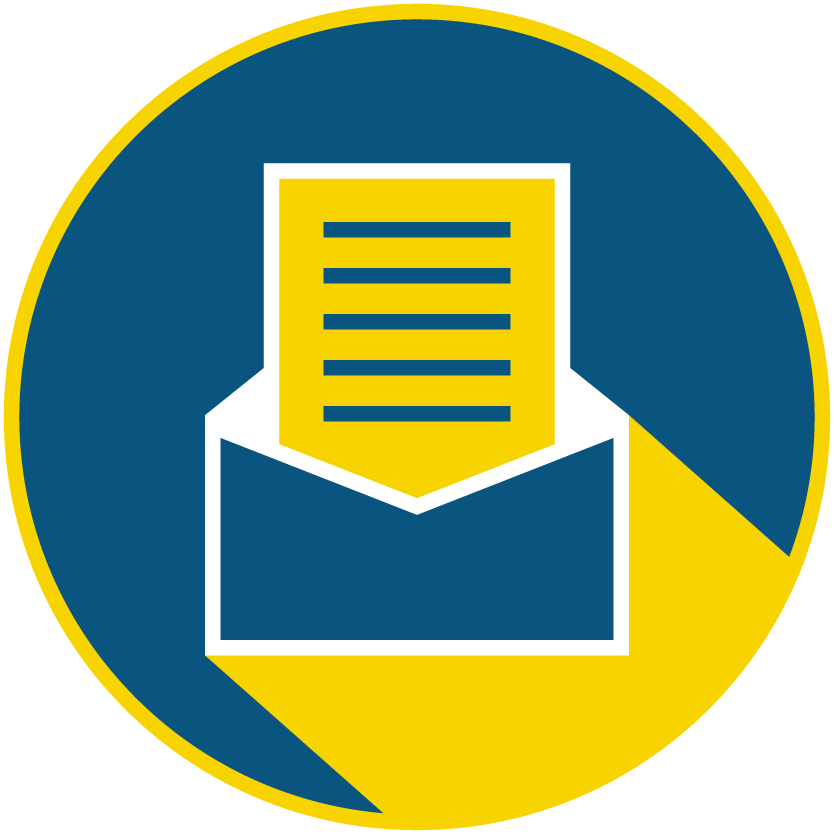 Subscribe to our newsletter to catch every headline.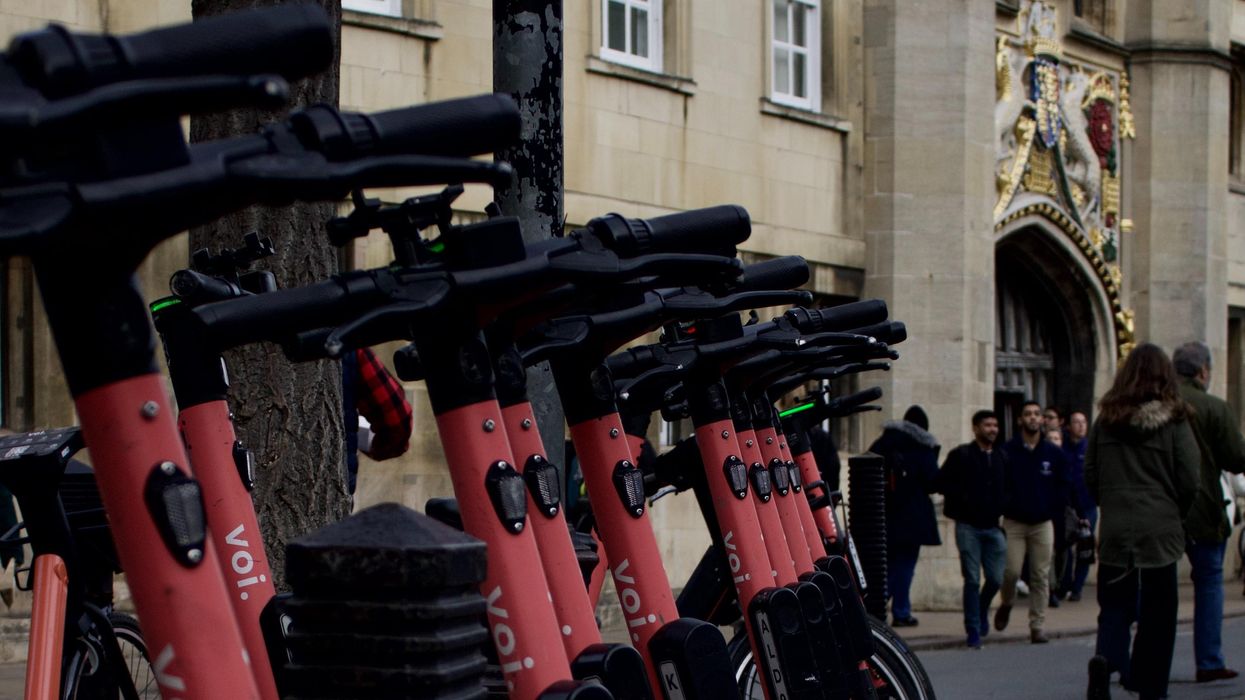 "If you get the chance, make sure to test drive a Toyota."
I'm walking down a row of booths at Electrify Expo at the Long Beach Convention Center on a hot June day. I thank the red-shirted brand ambassador and scurry towards the nearest e-scooter.
Sorry, Toyota. I'm not here for the cars.
Electrify Expo—the biggest outdoor electric vehicle festival in the U.S.—took place this past weekend and e-scooters, e-bikes and other micro EVs took center stage.
At an event focused on electrification, more than half of the companies represented were in the micromobility space. And there's a good reason for that.
According to industry leaders, electrification means significant room for growth in the market as American consumers emerge from the dark years of the pandemic and seek out more active and eco-friendly modes of transportation.
Only 6% of bikes sold in the U.S. are e-bikes, compared to a rate of 17% in Europe and 50% in the Netherlands, said Claudia Wasko, vice president and general manager of Bosch eBike Systems, at the event's Industry Day.
"Last year, 2021, in Europe, almost 6 million e-bikes have been sold; just in Germany, 2 million e-bikes have been sold. And in the US, not even 1 million. But this shows us the huge potential we still have," she said.
Industry speakers also praised European countries for their adoption of comprehensive micromobility infrastructure.
"If you drive around Los Angeles… you'd have a tough time being on an electric bike or an electric scooter or even one of our mopeds, that can hit speeds of 60 miles an hour," said Joseph Constanty, director of global strategy at Niu. "You still feel out of place when a huge Ford Ranger F-150 comes riding up right next to you and you're dwarfed by it. It's an infrastructure problem."
Companies are banking on a cultural shift as Americans get out of their cars and onto an e-bike, moped or e-scooter.
Jesse Lapin, chief operating officer of Magnum Bikes, suggested that it's less of a shift and more of a return. Americans ride their bikes as children and then abandon them in the garage as soon as they turn 16. However, driving itself might be going out of style; millennials are driving less than their elders and Gen Z is in no rush to get in the driver's seat (of a car). And who can blame them? Gas prices have hit record highs with no sign of relief on the horizon.
What are they gonna do, take the bus? JackRabbit Mobility is hoping they take a micro e-bike instead, with a 24 pound, 20 mile-per-hour device marketed to college students and other casual riders. But why stop with one? Lapin sees the future American garage filled with not one, but two e-bikes as the market diversifies.
"E-bikes truly are the best way to communicate and to connect people with other people, people with places, people with views. It's the best way to visit national parks; it's the best way to get out there and connect with yourself," he said.
And there's one other advantage to micromobility: It's hella fun. And with a looming recession and two years and counting into a pandemic, American adults with disposable income just want eco-friendly toys that go zoom. Or at least that's what the industry is banking on.
It's true: When I'm flying around the test track on an e-bike and I hit the throttle, getting that coveted 28-miles-per-hour, I feel like a kid again.
Provide a mode of transportation that you can charge from the comfort of your one-bedroom apartment, one that's fun, good for the environment and lets you fly past stopped rush hour traffic on Venice Boulevard?
Cars could never.
Maylin Tu
Maylin Tu is a freelance writer who lives in L.A. She writes about scooters, bikes and micro-mobility. Find her hovering by the cheese at your next local tech mixer.
08:00 AM | January 11, 2021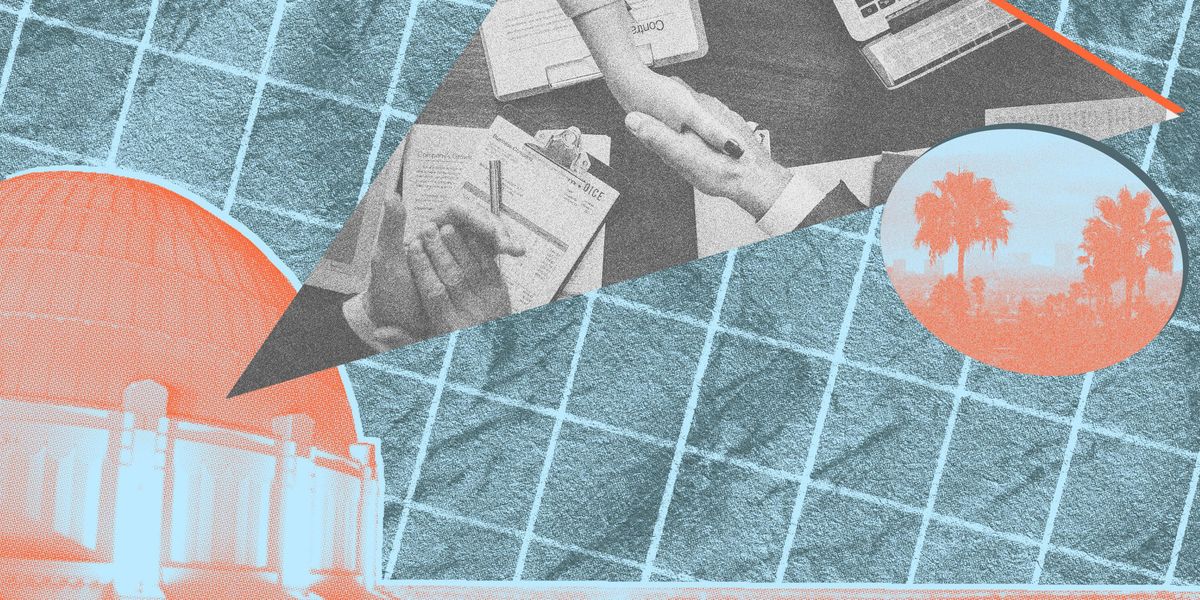 Image by Candice Navi
Though Silicon Valley is still very much the capital of venture capital, Los Angeles is home to plenty of VCs who have made their mark – investing in successful startups early and reaping colossal returns for their limited partners.
Who stands out? We thought there may be no better judge than their peers, so we asked 28 of L.A.'s top VCs who impresses them the most.
The list includes many familiar names. Dana Settle, founding partner of Greycroft, and Mark Mullen, founding partner of Bonfire Ventures, garnered the most votes.
Settle manages West Coast operations for Greycroft, a New York firm with $1.8 billion in assets under management. She is one of only nine of the top 100 VCs nationally who are women, according to CB Insights.
Mullen is a founding partner of Bonfire Ventures, which closed a $100 million second fund in September to continue funding seed stage business-to-business (B2B) software startups. Mullen has also been an angel investor and is an LP in other funds focusing on other sectors, including MaC VC and BAM Ventures.
Below is the list of the top ranked investors by how many votes each received from their peers. When there was a tie, they appear in alphabetical order according to their last name: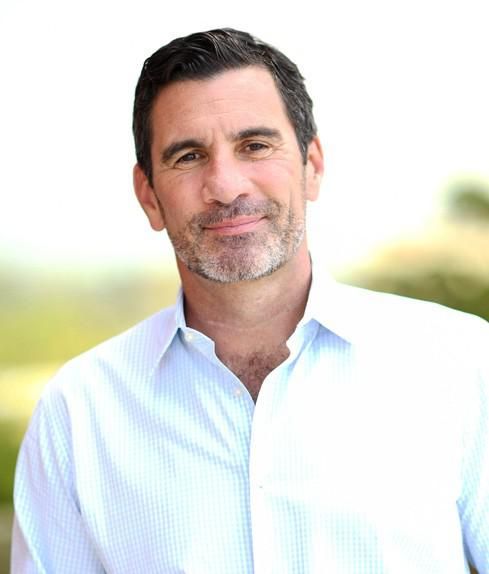 Mark Mullen, Bonfire Ventures
Mark Mullen is a founding partner of Bonfire Ventures. He is also founder and the largest investor in Mull Capital and Double M Partners, LP I and II. A common theme in these funds is a focus on business-to-business media and communications infrastructures.
In the past, Mullen has served as the chief operating officer at the city of Los Angeles' Economic Office and a senior advisor to former Mayor Villaraigosa, overseeing several of the city's assets including Los Angeles International Airport and the Los Angeles Convention Center. Prior to that, he was a partner at Daniels & Associates, a senior banker when the firm sold to RBC Capital Markets in 2007.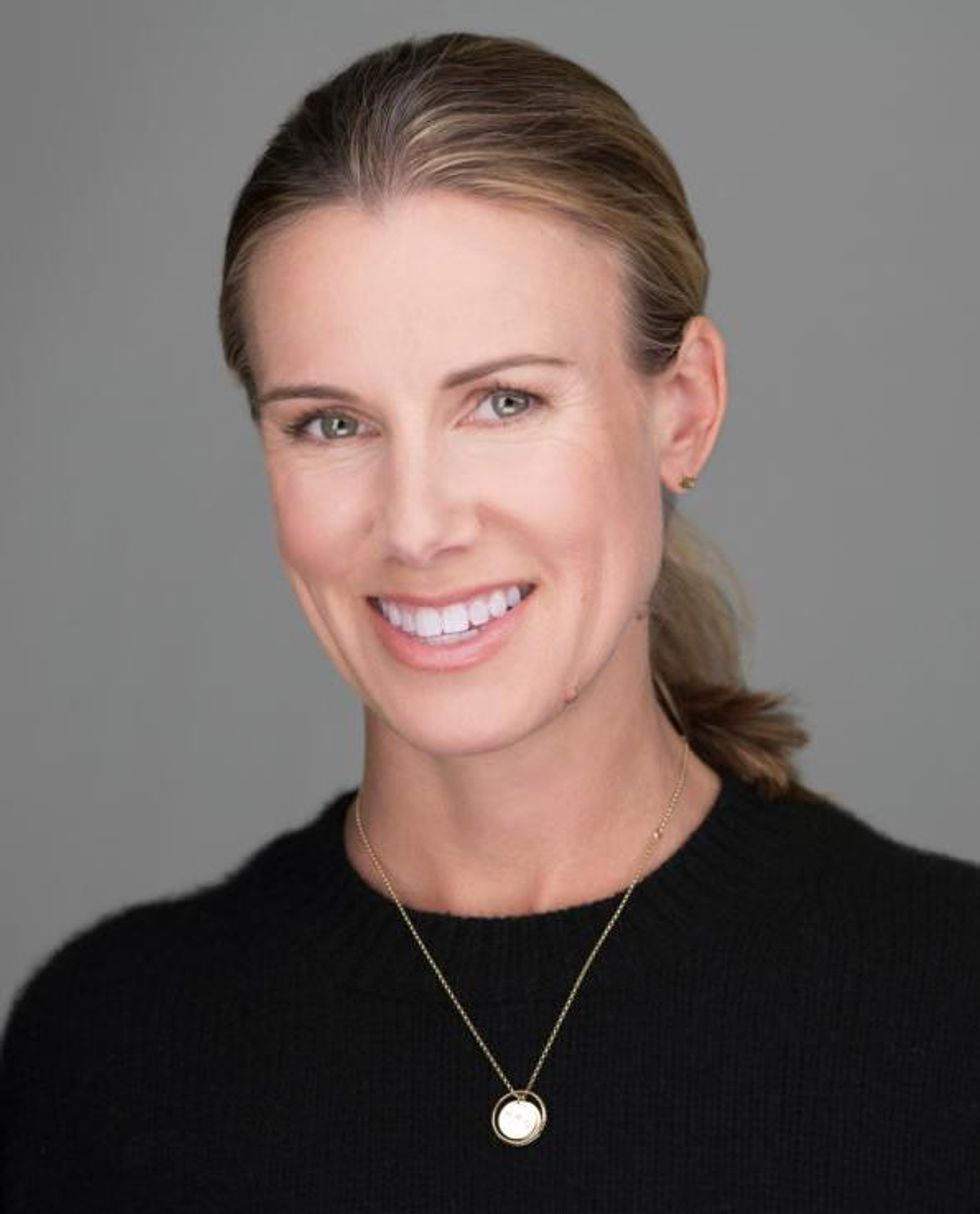 Dana Settle, Greycroft
Dana Settle is a founding partner of Greycroft, heading the West Coast office in Los Angeles. She currently manages the firm's stakes in Anine Bing, AppAnnie, Bird, Clique, Comparably, Goop, Happiest Baby, Seed, Thrive Market, Versed and WideOrbit, and is known for backing female-founded companies.
"The real change takes place when female founders build bigger, independent companies, like Stitchfix, TheRealReal," she said this time last year in an interview with Business Insider. "They're creating more wealth across their cap tables and the cap tables tend to be more diverse, so that gives more people opportunity to become an angel investor." Prior to founding Greycroft, she was a venture capitalist and startup advisor in the Bay Area.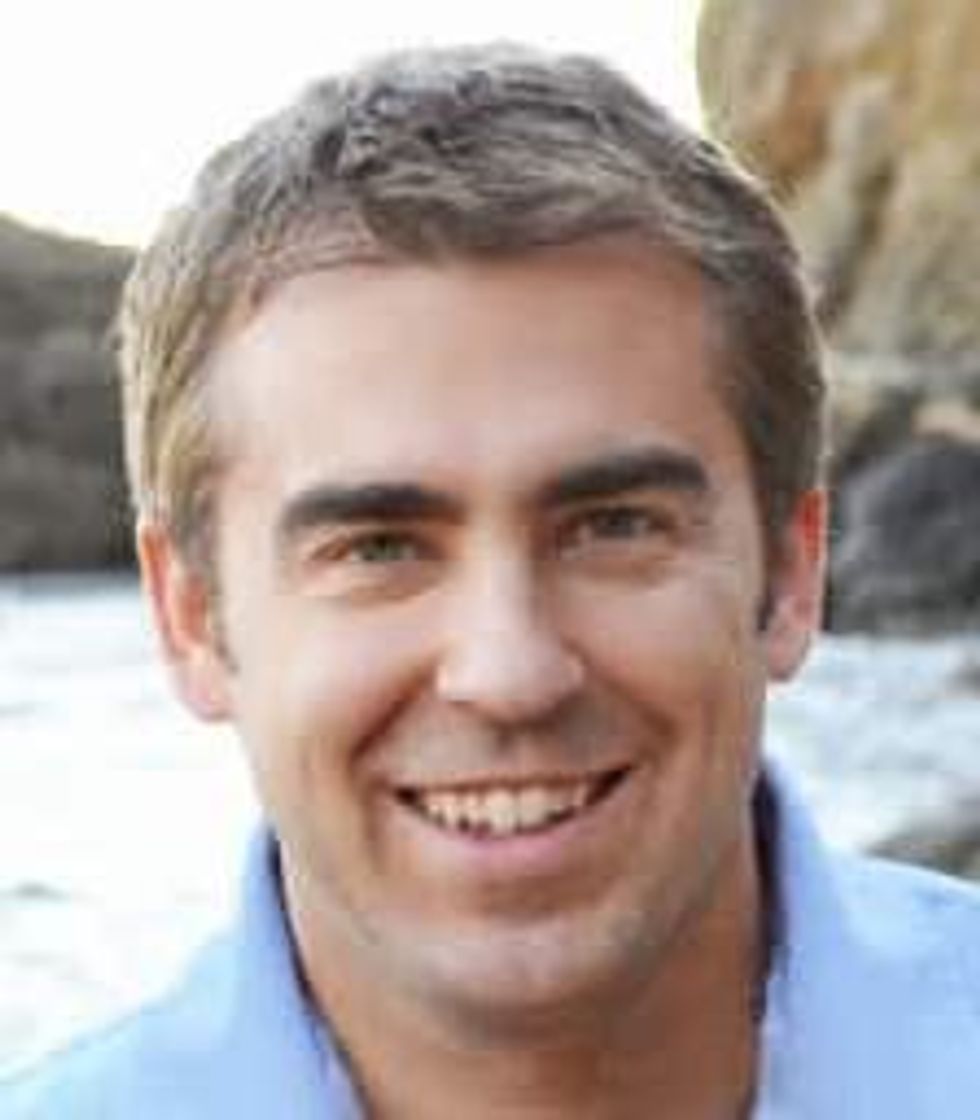 Erik Rannala, Mucker Capital
Erik Rannala is a founding partner at Mucker Capital, which he created with William Hsu in 2011. Before founding Mucker, Rannala was vice president of global product strategy and development at TripAdvisor and a group manager at eBay, overseeing its premium features business.
"As an investor, I root for startups. It pains me to see great teams and ideas collapse under the pressure that sometimes follows fundraising. If you've raised money and you're not sure what comes next, that's fine – I don't always know either," Rannala wrote in a blog post for Mucker.
Mucker has a portfolio of 61 companies, including Los Angeles-based Honey and Santa Monica-based HMBradley.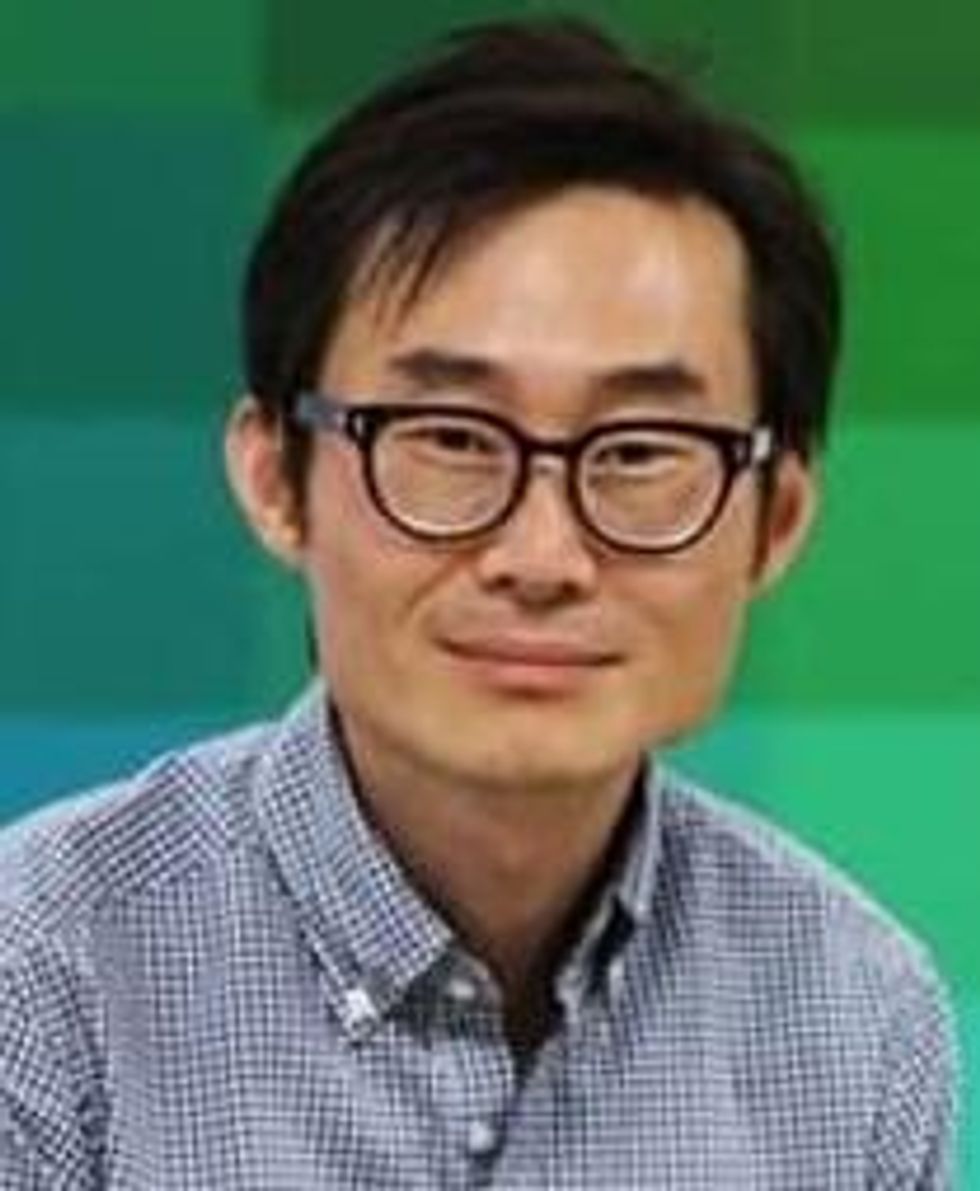 William Hsu, Mucker Capital
William Hsu is a founding partner at the Santa Monica-based fund Mucker Capital. He started his career as a founder, creating BuildPoint, a provider of workflow management solutions for the commercial construction industry not long after graduating from Stanford.
In an interview with Fast Company, he shared what he learned in the years following, as he led product teams at eBay, Green Dot and Spot Runner, eventually becoming the SVP and Chief Product Officer of At&T Interactive: "Building a company is about hiring correctly, adhering to a timeline, and rigorously valuing opportunity. It's turning something from inspiration and creative movement into process and rigor."
These are the values he looks for in founders in addition to creativity. "I like to see the possibility of each and every idea, and being imaginative makes me a passionate investor."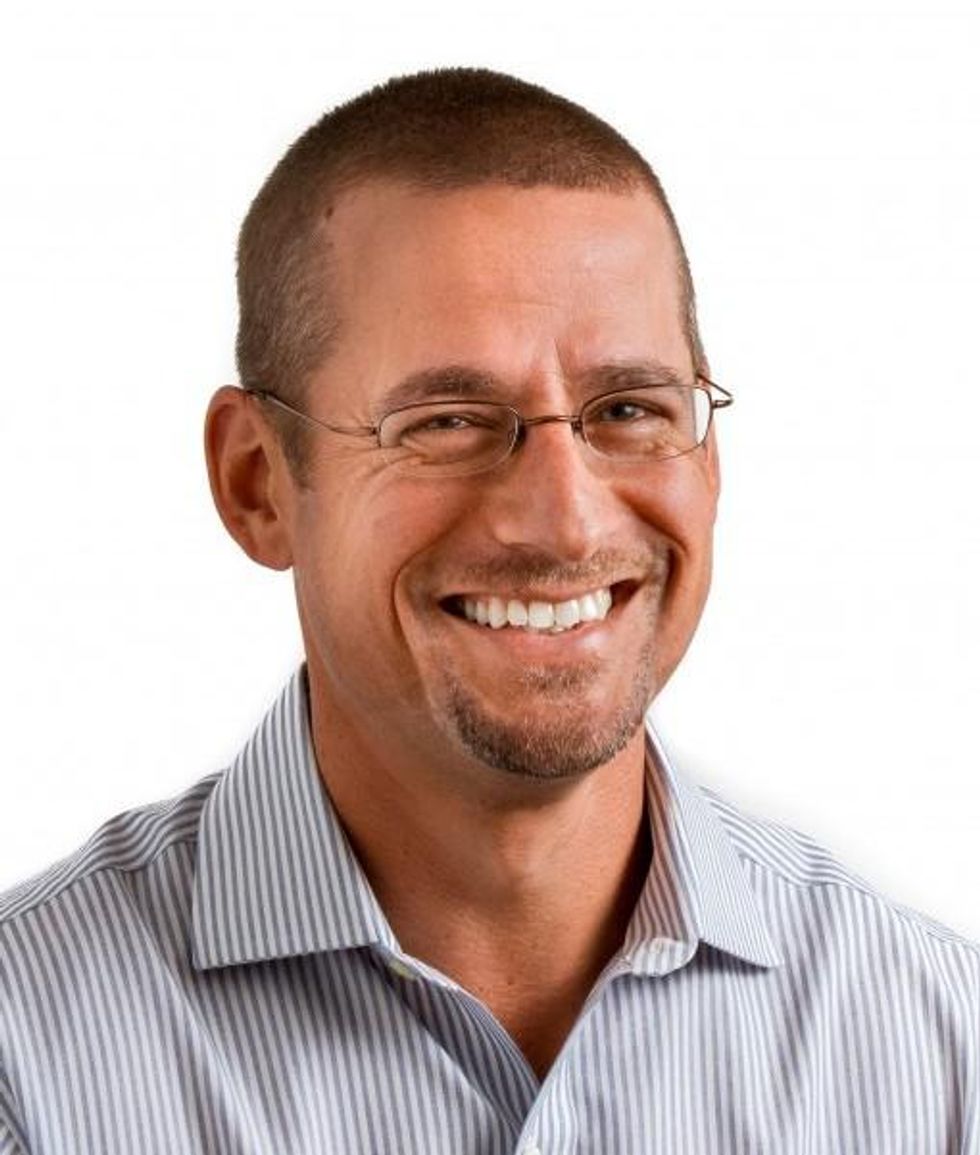 Jim Andelman, Bonfire Ventures
Jim Andelman is a founding partner of Bonfire Ventures, a fund that focuses on seed rounds for business software founders. Andelman has been in venture capital for 20 years, previously founding Rincon Venture Partners and leading software investing at Broadview Capital Partners.

He's no stranger to enterprise software — he also was a member of the Technology Investment Banking Group at Alex. Brown & Sons and worked at Symmetrix, a consulting firm focusing on technology application for businesses.
In a podcast with LA Venture's Minnie Ingersoll earlier this year, he spoke on the hesitations people have about choosing to start a company.
"It's two very different things: Should I coach someone to be a VC or should I coach someone to enter the startup ecosystem? On the latter question, my answer is 'hell yeah!'"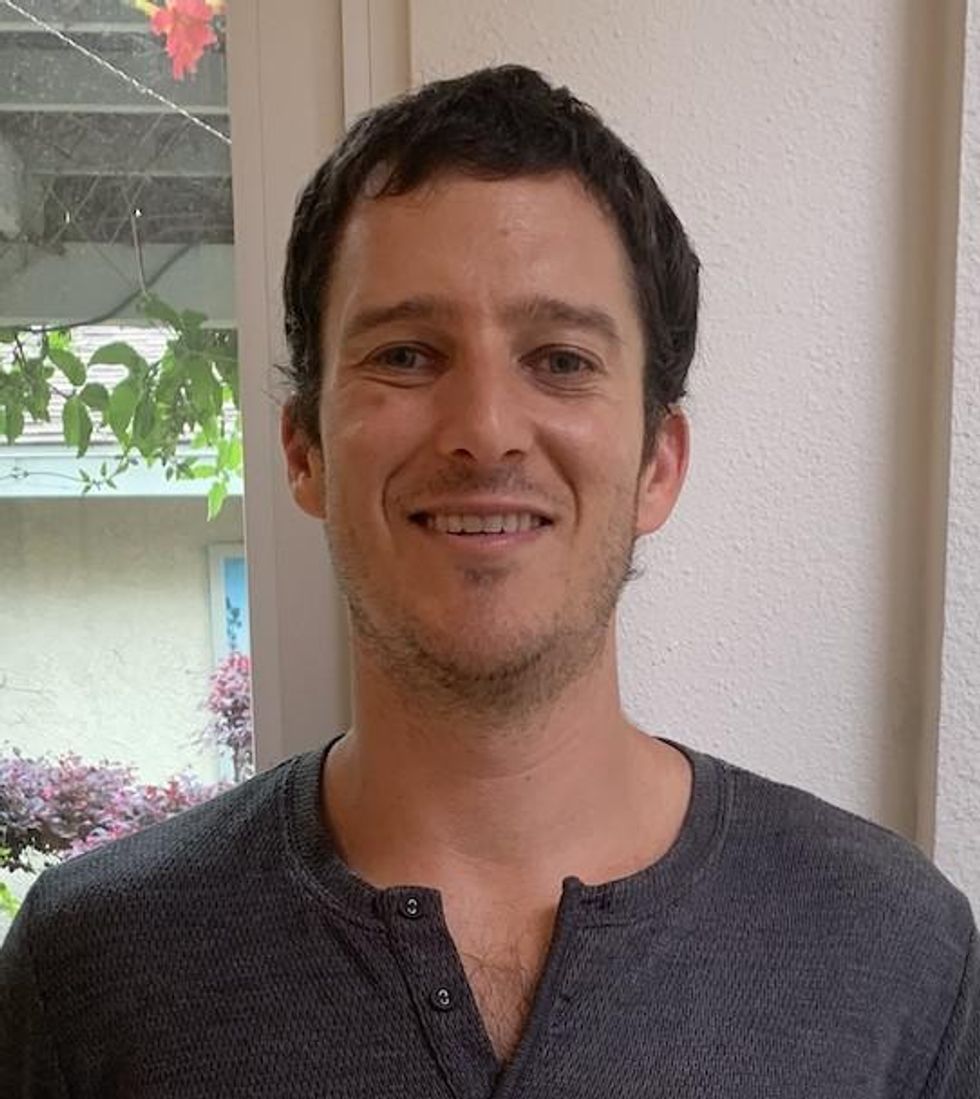 Josh Diamond, Walkabout Ventures
Josh Diamond founded Walkabout Ventures, a seed fund that primarily focuses on financial service startups. The firm raised a $10 million fund in 2019 and is preparing for its second fund. Among its 19 portfolio companies is HMBradley, which Diamond helped seed and recently raised $18 in a Series A round.
"The whole reason I started this is that I saw there was a gap in the funding for early stage, financial service startups," he said. As consumers demand more digital access and transparency, he said the market for financial services is transforming — and Los Angeles is quickly becoming a hub for fintech companies. Before founding Walkabout, he was a principal for Clocktower Technology Ventures, another Los Angeles-based fund with a similar focus.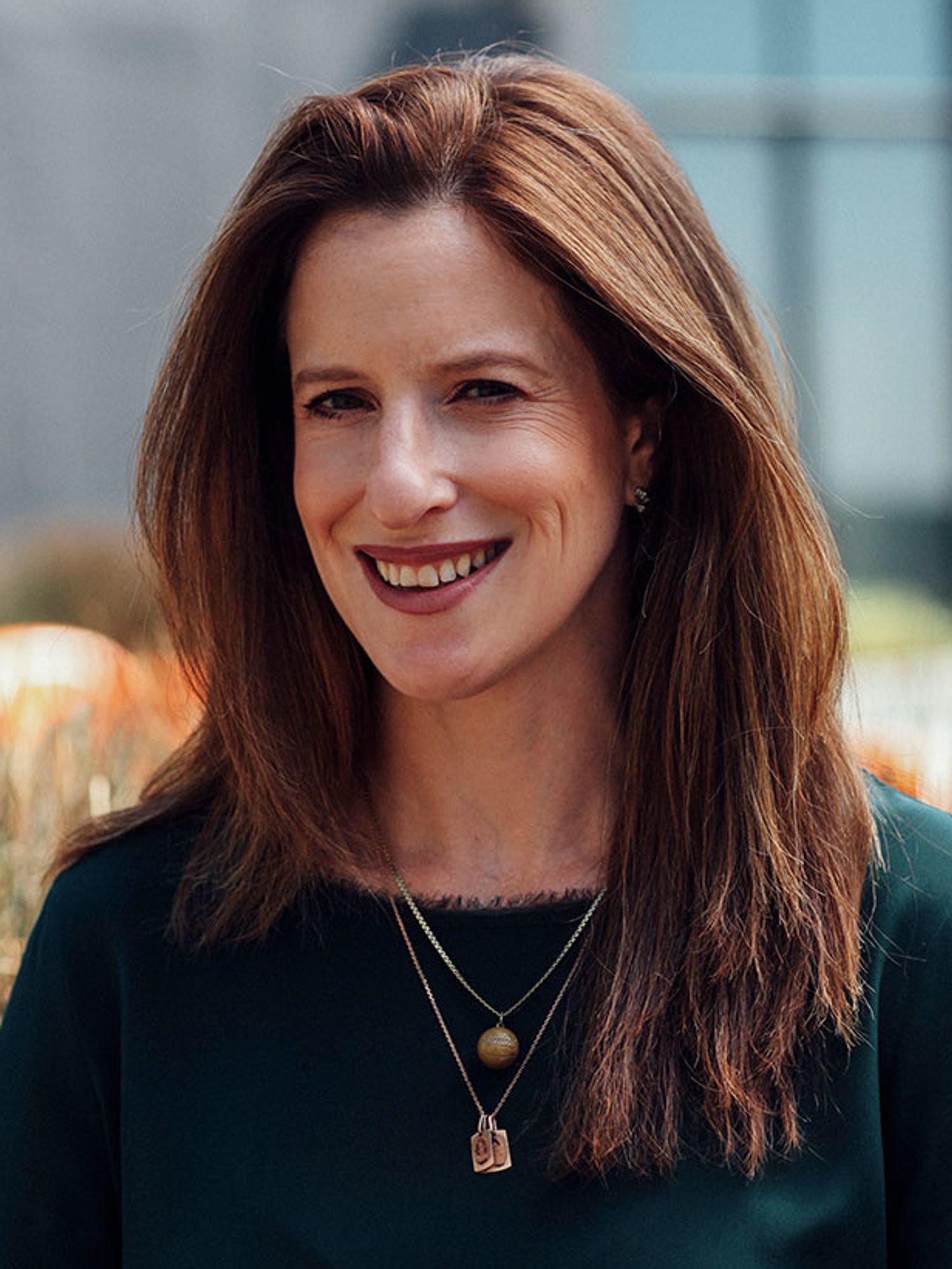 Kara Nortman, Upfront Ventures
Kara Nortman was recently promoted to managing partner at Upfront Ventures, making her one of the few women – along with Settle – to ascend to the highest ranks of a major VC firm.
Though Upfront had attempted to recruit her before she joined in 2014, she had declined in order to start her own company, Moonfrye, a children's ecommerce company that rebranded to P.S. XO and merged with Seedling. Upfront invested in the combination, and shortly after, Nortman joined the Upfront team.
Before founding Moonfrye, she was the SVP and General Manager of Urbanspoon and Citysearch at IAC after co-heading IAC's M&A group.
In an interview with dot.LA earlier this year, she spoke on how a focus for her as a VC is to continue to open doors for founders and funders of diverse backgrounds.

"Once you're a woman or a person of color in a VC firm, it is making sure other talented people like you get hired, but also hiring people who are not totally like you. You have to make room for different kinds of people. And how do you empower those people?"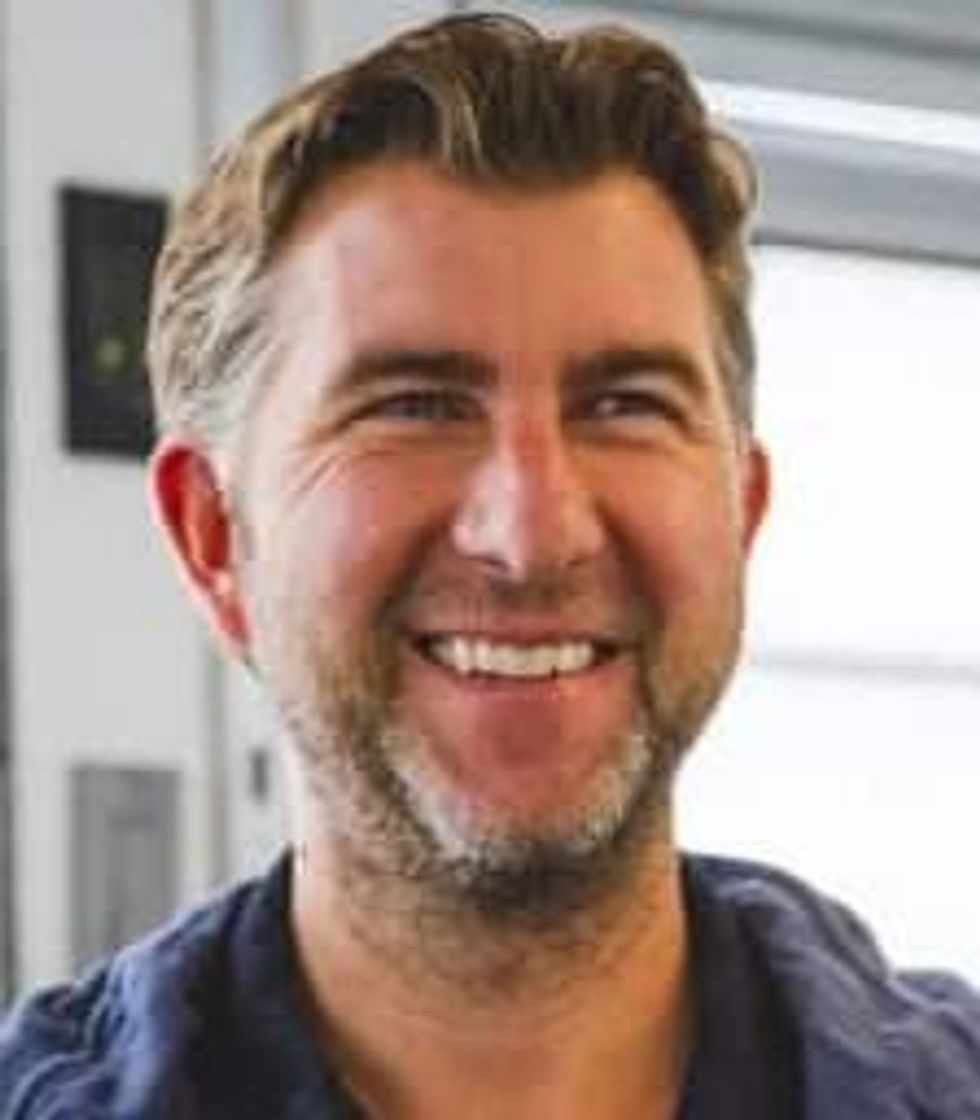 Brett Brewer, Crosscut Ventures
Brett Brewer is a co-founder and managing director of Crosscut Ventures. He has a long history in entrepreneurship, starting a "pencil selling business in 4th grade." In 1998, he co-founded Intermix Media. Under their umbrella were online businesses like Myspace.com and Skilljam.com. After selling Intermix in 2005, he became president of Adknowledge.com.
Brewer founded Santa Monica-based Crosscut in 2008 alongside Rick Smith and Brian Garrett. His advice to founders on Crosscut's website reflects his experience: "Founders have to be prepared to pivot, restart, expect the unexpected, and make tough choices quickly... all in the same week! It's not for the faint of heart, but after doing this for 20 years, you can spot the fire (and desire) from a mile away (or not)."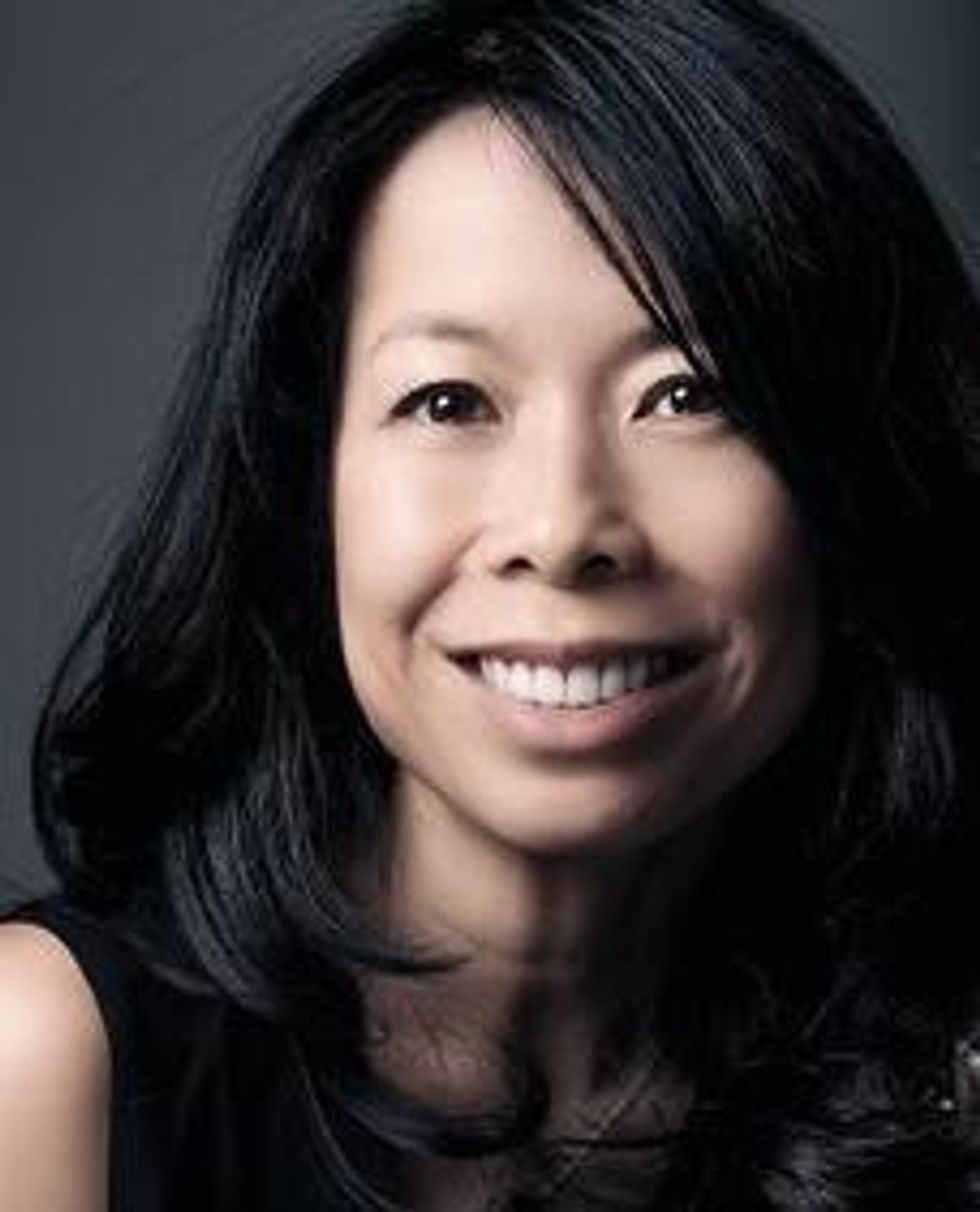 Eva Ho, Fika Ventures
Eva Ho is a founding partner of Fika Ventures, a boutique seed fund, which focuses on data and artificial intelligence-enabled technologies. Prior to founding Fika, she was a founding partner at San Francisco-based Susa Ventures, another seed-stage fund with a similar focus. She is also a serial entrepreneur, most recently co-founding an L.A. location data provider, Factual. She also co-founded Navigating Cancer, a health startup, and is a founding member of All Raise, a nonprofit that supports and provides resources to female founders and funders.
In an interview with John Livesay shortly before founding Fika, Ho spoke to how her experience at Factual helped focus what she looks for in founders. "I always look for the why. A lot of people have the skills and the confidence and the experience, but they can't convince me that they're truly passionate about this. That's the hard part — you can't fake passion."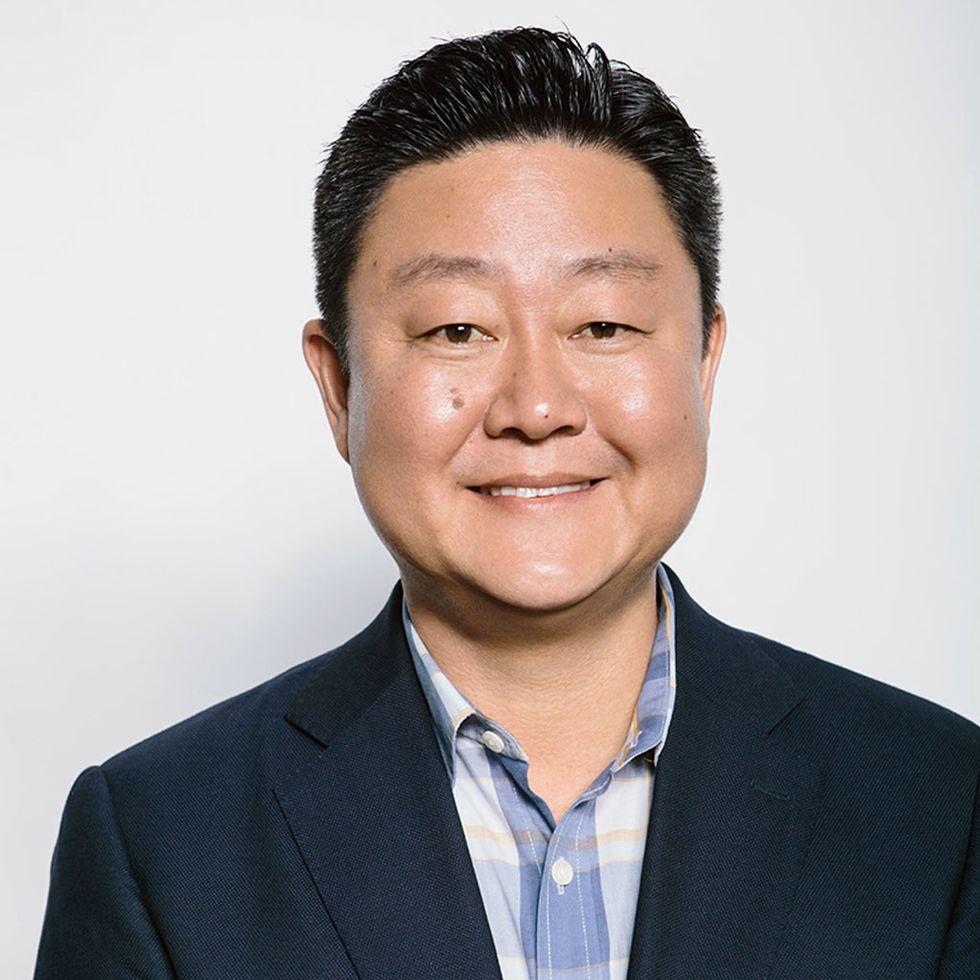 Brian Lee, BAM Ventures
Brian Lee is a co-founder and managing director of BAM Ventures, an early-stage consumer-focused fund. In an interview with dot.LA earlier this year, Lee shared that he ended up being the first investor in Honey, which was bought by PayPal for $4 billion, through investing in founders and understanding their "vibe."
"There's certain criteria that we look for in founders, a proprietary kind of checklist that we go through to determine whether or not these are the founders that we want to back…. [Honey's founders] knew exactly what they were building, and how they were going to get there."
His eye for the right vibe in a founder is one gleaned from experience. Lee is a serial entrepreneur, founding LegalZoom.com, ShoeDazzle.com and The Honest Company.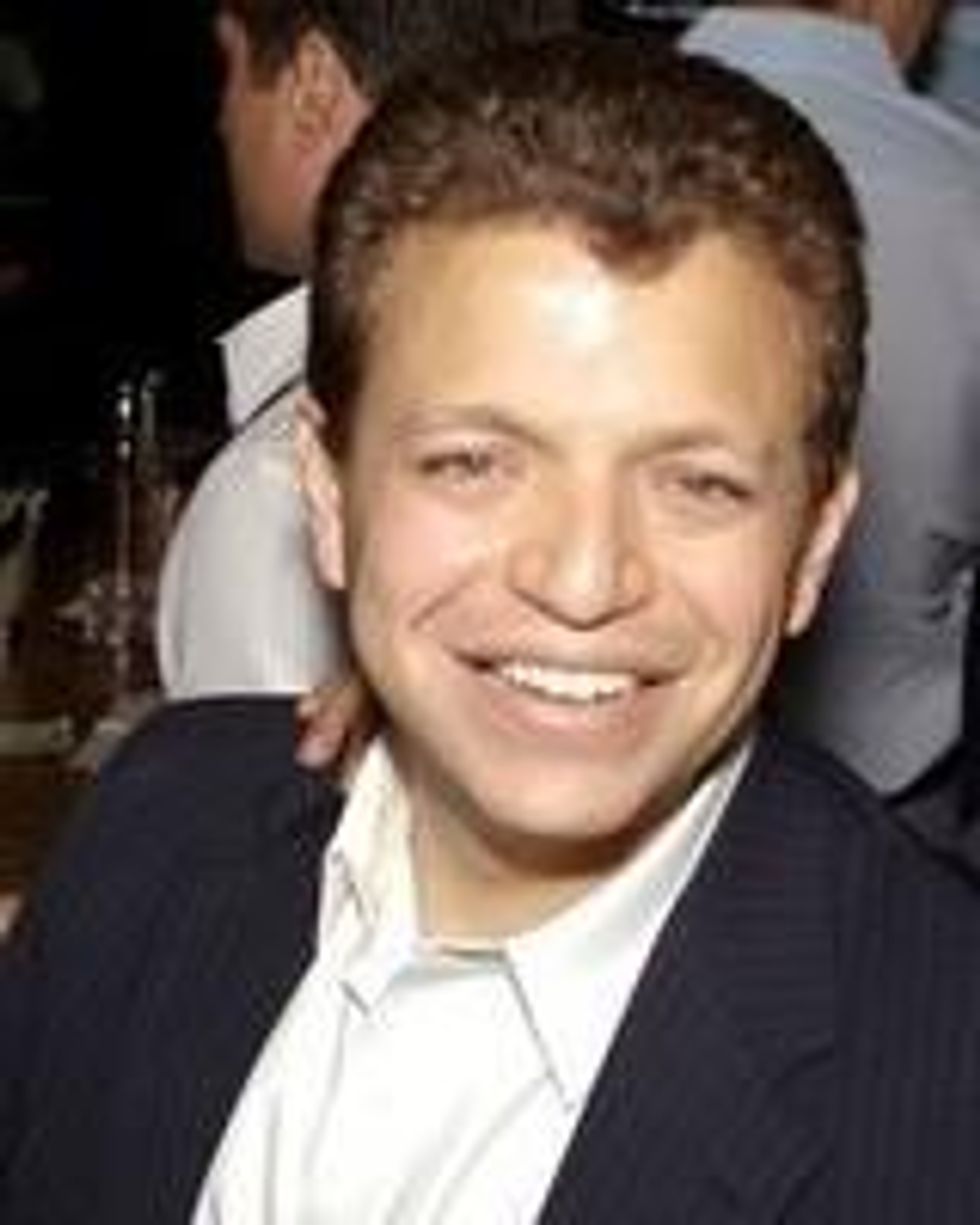 Alex Rubalcava, Stage Venture Partners
Alex Rubalcava is a founding partner of Stage Venture Partners, a seed venture capital firm that invests in emerging software technology for B2B markets. Prior to joining, he was an analyst at Santa Monica-based Anthem Venture Partners, an investor in early stage technology companies. It was his first job after graduating from Harvard, and during his time at Anthem the fund was part of Series A in companies like MySpace, TrueCar and Android.
He has served as a board member in several Los Angeles nonprofits and organizations like KIPP LA Schools and South Central Scholars.
"Warren Buffett says that he's a better businessman because he's an investor, and he's a better investor because he's a businessman. I feel the same way about VC and value investing. Being good at value investing can make you good at venture capital, and vice versa," Rubalcava said in an interview with Shai Dardashti of MOI Global.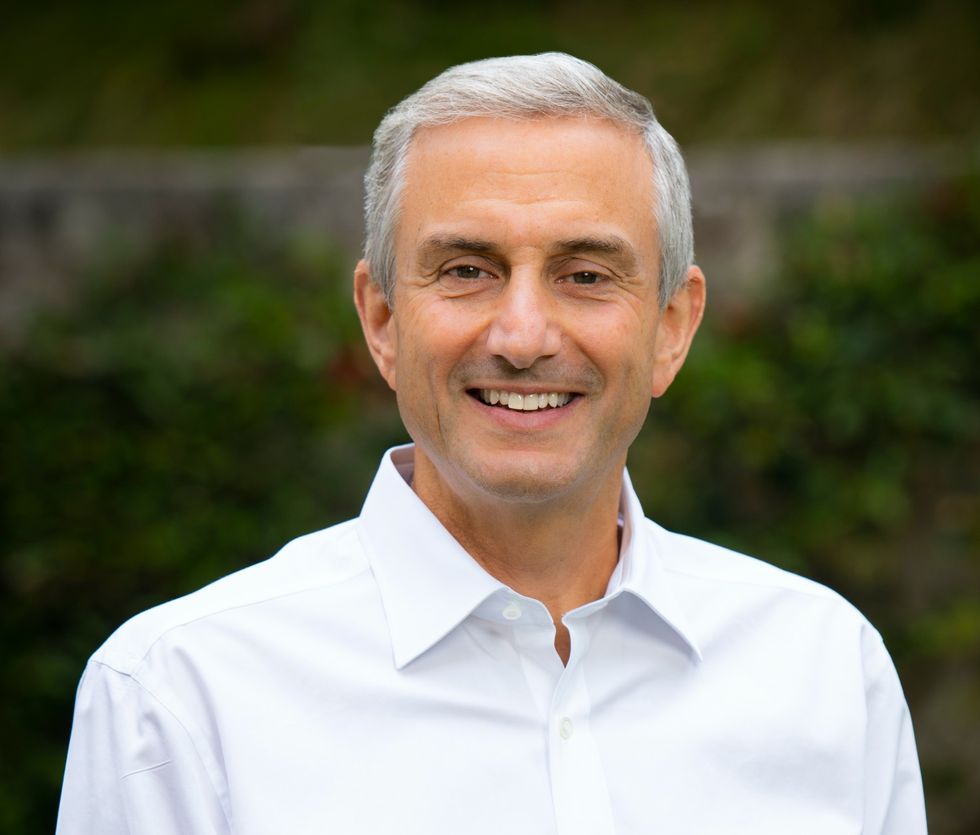 Mark Suster, Upfront Ventures
Mark Suster, managing partner at Upfront Ventures, is arguably L.A.'s most visible VC, frequently posting on Twitter and on his blog, not only about investing but also more personal topics like weight loss. In more normal years, he presides over LA's biggest gathering of tech titans, the Upfront Summit. Before Upfront, he was the founder and chief executive officer of two software companies, BuildOnline and Koral, which was acquired by Salesforce. Upfront backed both of his companies, and eventually he joined their team in 2007.
In a piece for his blog, "Both Sides of the Table," Suster wrote about the importance of passion — not just for entrepreneurs and their businesses, but for the VCs that fund them as well.

"On reflection of the role that I want to play as a VC it is clearly in the camp of passion. I really want to start my journeys only with people with whom I want to work closely with for the next 5–7 years or more. I only want to work on projects in which I believe can produce truly amazing change in an industry or in the world."
Lead art by Candice Navi.
Ben Bergman
Ben Bergman is the newsroom's senior finance reporter. Previously he was a senior business reporter and host at KPCC, a senior producer at Gimlet Media, a producer at NPR's Morning Edition, and produced two investigative documentaries for KCET. He has been a frequent on-air contributor to business coverage on NPR and Marketplace and has written for The New York Times and Columbia Journalism Review. Ben was a 2017-2018 Knight-Bagehot Fellow in Economic and Business Journalism at Columbia Business School. In his free time, he enjoys skiing, playing poker, and cheering on The Seattle Seahawks.
https://twitter.com/thebenbergman
ben@dot.la