Young Angelenos Flood TikTok With News on SoCal's Latest Superstorm
Kristin Snyder
Kristin Snyder is dot.LA's 2022/23 Editorial Fellow. She previously interned with Tiger Oak Media and led the arts section for UCLA's Daily Bruin.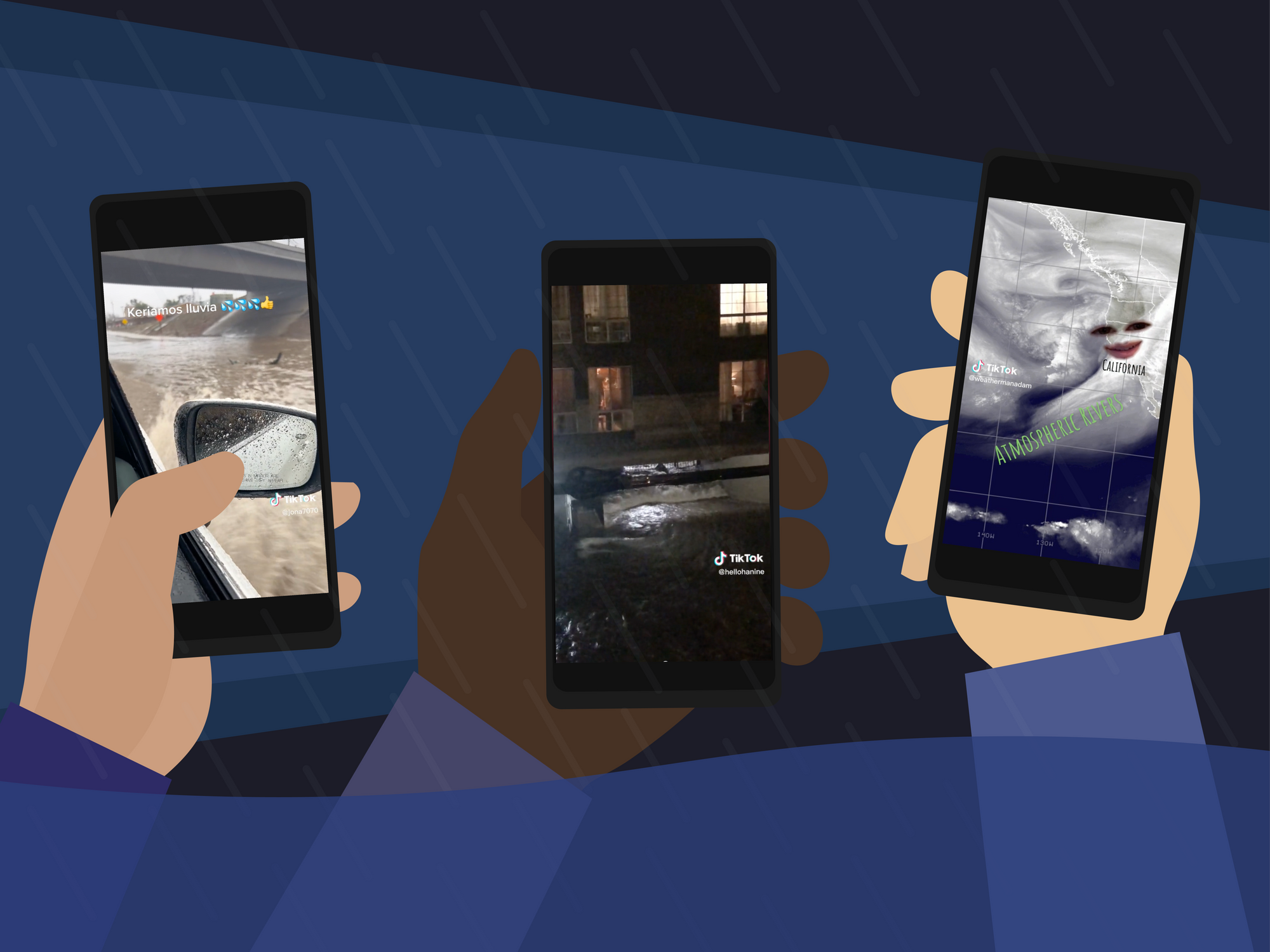 Evan Xie
First came the flooded freeways. Then came the TikToks.
As California copes with the onslaught of rain, people are sharing their views of torrential downpours and raging rivers. Sure, Ellen DeGeneres took to Twitter to share the flood in her Montecito backyard. But, these days, TikTok is where most people share the weather's more dramatic moments: an apartment complex's flooded garage, streets that more closely resemble rivers and completely submerged freeways.
---
While plenty of videos are Californians complaining about the weather or sharing their rainy-day playlists—#losangelesrain has over 1 million views, and #losangelesstorm has over 360,000 views—some of the content is helpful. Users are sharing certain parts of the city that are flooded and showing the surging Los Angeles River. One user shared the flooding on a street corner in the city of Ventura, showing how the water reached the top of her knee-high boots. An influencer encouraged people to "believe the emergency warnings about the flash flooding" as she described the mudslides she saw along the 101 freeway.
Other users are taking this opportunity to share what they know about the weather. One climate scientist defined the atmospheric rivers causing the current downpour as columns of water vapor in the sky, while a meteorologist used a trending audio to demonstrate just how bad the weather is.
For people who might not be watching the news—which, let's be real, is probably a large portion of TikTok's young userbase—these videos likely share information they might not otherwise get.
In Los Angeles, people are even using TikTok to highlight how the city's apartment complexes and houses are unprepared for this type of weather. One user described the elaborate towel system she created to soak up the water coming through her window. Others have shown off water getting through lighting fixtures and damaging their carpets.
That said, Californians are merely the latest to take to TikTok amidst severe weather. When a storm covered Seattle's roads in ice two weeks ago, TikTok users shared videos of people and vehicles sliding down hills. During Hurricane Ian, people donated to Floridians through TikTok livestreams.
As a video-centric platform, TikTok perfectly lends itself to documenting these oft-surreal moments. A short video of water rushing down a freeway or a ceiling caving in is easy content that will likely make it onto local users algorithms as the city posts its way through the natural disaster. And, as the rain continues, expect even more catastrophe content—think get ready with me, storm edition.
Kristin Snyder
Kristin Snyder is dot.LA's 2022/23 Editorial Fellow. She previously interned with Tiger Oak Media and led the arts section for UCLA's Daily Bruin.
https://twitter.com/ksnyder_db