Image by Candice Navi
Are We In a Tech Bubble? Majority of Top LA VCs Say 'Yes'
Harri Weber
Do you know something we should know about L.A. tech or venture capital? Reach out securely via Signal: +1 917 434 4978.
Harri is dot.LA's senior finance reporter. She previously worked for Gizmodo, Fast Company, VentureBeat and Flipboard. Find her on Twitter and send tips on L.A. startups and venture capital to harrison@dot.la.
11:27 AM | October 26, 2021
Many leading Los Angeles-based venture capitalists believe we are in a tech bubble, but that's not necessarily slowing investments, according to dot.LA's quarterly survey of top Southern California-based investors.
---
dot.LA asked dozens of venture capitalists about the pace of new deals that crossed their desks, their outlook on the U.S. economy and other trends in the industry. The results offer an up-close look at how VCs see the market.

Of those who responded to the perennial question — Are we in a tech bubble? — 62.1% percent said yes.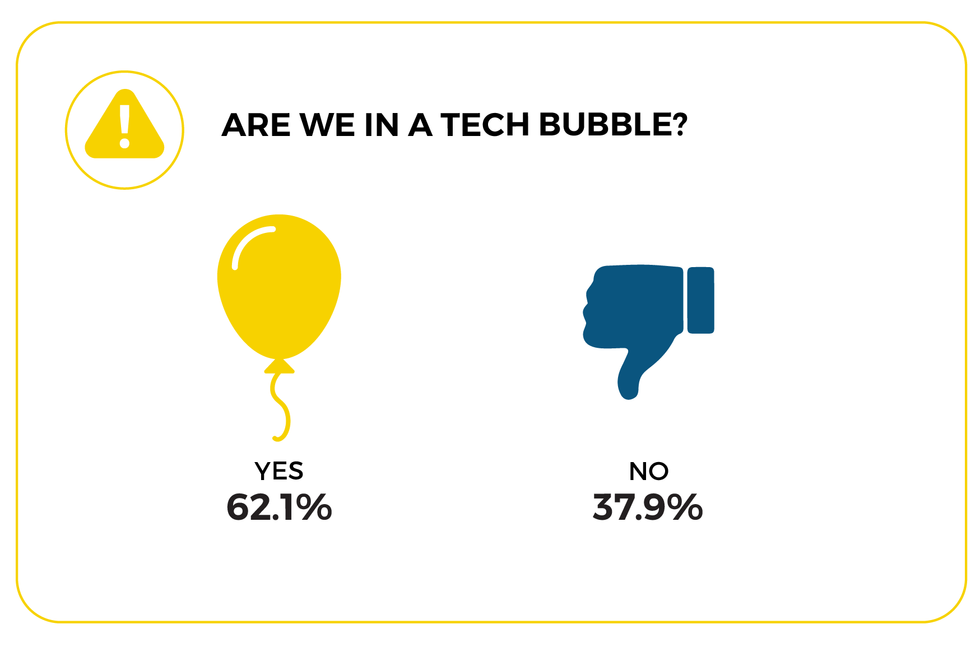 Bubble talk is all but inevitable when valuations and deal counts soar, as outside cash pours into the startup scene, and as trillion-dollar market caps grow commonplace among tech giants. But what is a bubble, exactly?
A bubble appears (and subsequently bursts) when assets such as tech stocks or housing rapidly increase in value and then crash back down to Earth.
The Dot-Com bubble refers to the frenzied rise and collapse of emerging internet companies in the late 90s, many of which did not have profits to match their sky-high valuations. When the market crashed, tens of thousands of workers lost their jobs and the NASDAQ shed 75% of its value, hitting personal and institutional investors alike.
Of those investors who felt we were in a bubble, 56% said they were being more cautious as a result, while 38.9% responded that it had "no impact" on their investing strategy. One VC said they set a "high bar for high priced deals" as a result.
The vast majority (80%) of investors surveyed also indicated they saw higher valuations in the third quarter of 2021 compared to the prior quarter. And a slim majority (53%) said their deal flow increased during the same period. Rising startup value and a boost in deals aren't indicative of a tech bubble on their own, but the trends at least suggest a feverish market.
"Yes, early stage deals have increased in valuations and round sizes have grown considerably in the last 18 months, but I'm not convinced this is a 'bubble,'" said Kelly Perdew, managing partner at Moonshots Capital, a seed stage firm focused in part on veterans with $160 million in assets under management. "There really is more demand (and more capital has to be put to work) so prices are going up across the board. But companies are building faster, moving faster, and disrupting faster. And the winners are being rewarded. I don't believe that is ever going to stop."
Minnie Ingersoll, partner at the early-stage venture firm TenOneTen and host of the LA Venture podcast, sees the market differently — though with similar enthusiasm. "We may be experiencing a bubble around valuations for technology startups but it is simultaneously a revolution for entrepreneurship that is here to stay," said Ingersoll.
"I think anything could happen with the astronomical valuations we are seeing but I think our relationship with work has been reshaped permanently and we are building a society where everyone is empowered with tools and support to be an entrepreneur," she said. "This will have radical implications for how we live and work and I do not think we will go back to single-threaded careers," she added.
While VCs literally have a vested interest in the industry's enduring success, they aren't alone in seeing the upside of a frothy tech market. For one, tech bubbles haven't proved as destructive as, say, the U.S. housing bubble, which preceded the Great Recession. Plus, the Dot-Com era and other frenzied investments in new tech have brought about technological progress, as William Quinn, who co-authored "Boom and Bust: A Global History of Financial Bubbles," pointed out earlier this year.
Still, plenty of livelihoods hang in the balance as fast-growing tech companies disrupt industries and ramp up headcounts, while personal investors clamor for a piece of the action.
More Q3 Survey Takeaways: Startup Hiring and the Pandemic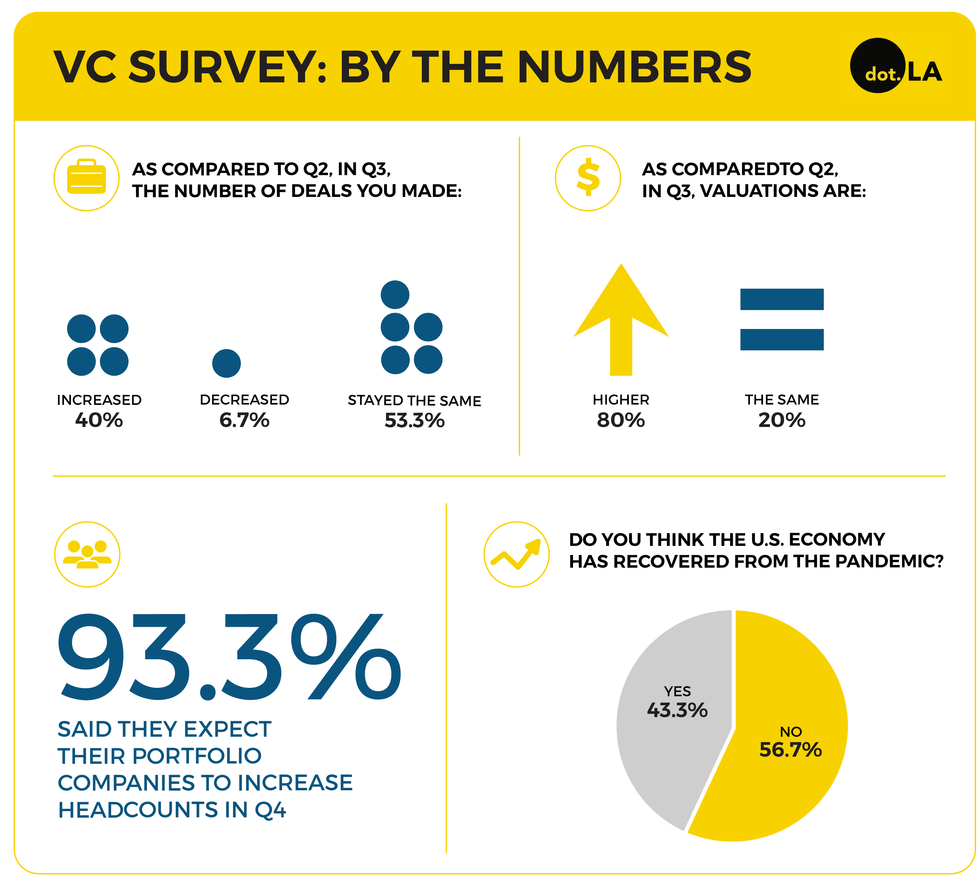 Of the VCs surveyed, 90% said their portfolio companies boosted headcounts in the third quarter compared to the previous quarter. And 93% said they expected their portfolio companies to increase headcounts in Q4.

However, most VCs surveyed (57%) said the pandemic and its aftermath had an impact on their portfolio companies' ability to retain people.
The same percentage of VCs also said they do not think the greater U.S. economy has recovered from the ongoing pandemic.
And when asked about a return to physical offices, 62% of VCs indicated they had embraced a hybrid program, while just over 20% said their team planned on staying remote.
Want the results of our quarterly VC Sentiment surveys in your inbox? Subscribe here.
Lead image and graphics by Candice Navi.
From Your Site Articles
Related Articles Around the Web
Harri Weber
Do you know something we should know about L.A. tech or venture capital? Reach out securely via Signal: +1 917 434 4978.
Harri is dot.LA's senior finance reporter. She previously worked for Gizmodo, Fast Company, VentureBeat and Flipboard. Find her on Twitter and send tips on L.A. startups and venture capital to harrison@dot.la.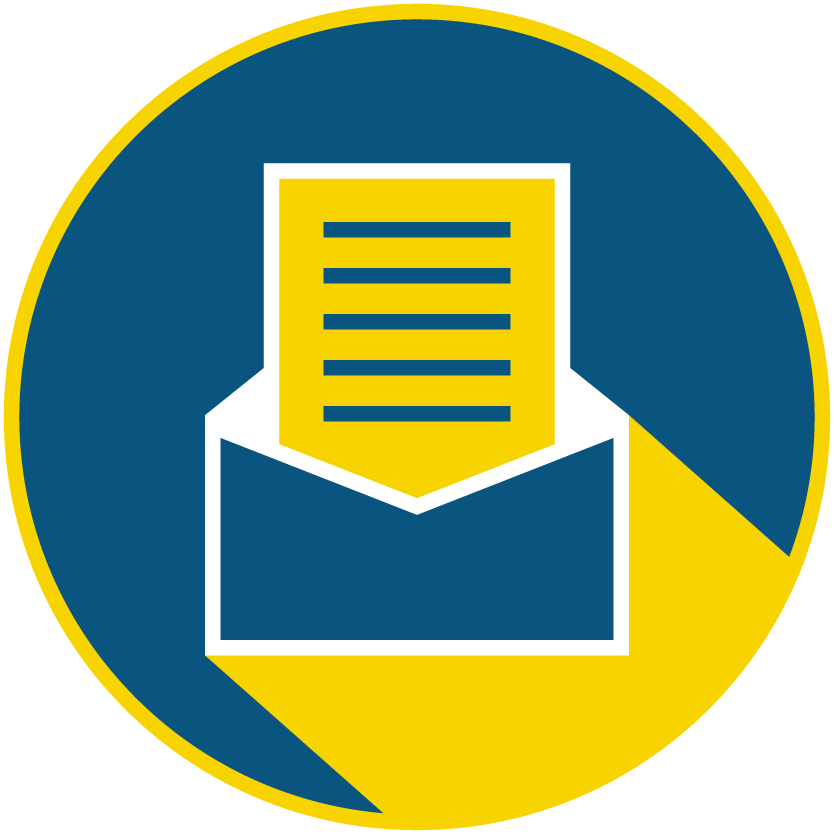 Subscribe to our newsletter to catch every headline.
05:00 AM | November 30, 2021
Behind Her Empirre
Dr. Mary Pardee has made gut health her life's work, leading her to found Modrn Med, a telemedicine and virtual wellness company based in Sherman Oaks.
And it was her own personal experience with intestinal issues that led her to become the kind of doctor that wouldn't tell her patients that "there's nothing else we can do," she told the Behind Her Empire podcast this week.

"I wanted to be the doctor that was nurturing, that gave alternatives and that really had an honest discussion about how mental health affects your gut health," she said. "So this has kind of been my journey, but is just in my own personal healing story to become the doctor that I didn't have."

As a doctor who specializes in integrative gastroenterology, hormones and gut-brain health, Dr. Pardee sees how stress impacts the gut health — and by extension, the overall health — of CEOs, moms, homeschool teachers and women in other high-stress environments.
"So you can see if you're in a period of chronic stress, which most people are, that you may not have a good libido, you definitely may not want to go to the bathroom because your digestive system is shut off," she says.
In this episode, Dr. Pardee also delves into the impact that gut health has on hormones, mental health and physical health and the importance of prioritizing self-care.
Hear more of the Behind Her Empire podcast. Subscribe on Stitcher, Apple Podcasts, Spotify, iHeart Radio or wherever you get your podcasts.
dot.LA Audience Engagement Editor Luis Gomez contributed to this post.
From Your Site Articles
Related Articles Around the Web
Yasmin Nouri
Yasmin is the host of the "Behind Her Empire" podcast, focused on highlighting self-made women leaders and entrepreneurs and how they tackle their career, money, family and life.
Each episode covers their unique hero's journey and what it really takes to build an empire with key lessons learned along the way. The goal of the series is to empower you to see what's possible & inspire you to create financial freedom in your own life.
04:00 AM | October 29, 2021
Pejman Nozad, a founding managing partner at Pear VC, joins this episode of LA Venture to discuss Pear VC's current initiatives, including its accelerator and fellowships. He's seen as one of the most successful angel investors in the area, and for good reason: he has made more than 300 investments in his lifetime.
"I'm a child of revolution and war and difficult times," said Nozad of his upbringing in Iran during the revolution.
Nozad went to college before dropping out. That's when his brother told him about his dream to go to America. After his brother was denied a visa multiple times, Nozad went himself to the embassy and got lucky; the woman in charge of the process liked him enough to approve him.
"When you're in [your] early twenties, you don't analyze much of the future. And then your risk-takers. I came to America in 1992 with $700 and I didn't speak any word of English," said Nozad.
Nozad went from working at a carwash, then a yogurt shop, to a (now famous) Persian rug store in Palo Alto. Many of his clients happened to be CEOs and venture capitalists; Nozad wanted to be part of that community.
"I was very lucky because I had access to people who normally nobody can see them, but I was hanging out with them at Sunday barbecues while selling carpets," said Nozad.
In his early days as an investor, Nozad bet on companies that included Dropbox and DoorDash. He said he took inspiration as a venture capitalist in lessons he learned from his time playing professional soccer in Iran.
"In soccer, you can score minute one, or you can score at minute 90. Both of them [are] one goal and you can win the game. So, when you go to fundraise, don't get disappointed if you hear a lot of nos, because the yes could be the last meeting after the whole two months," he said.
Want to hear more L.A. Venture? Listen on Apple Podcasts, Stitcher, Spotify or wherever you get your podcasts.
dot.LA Engagement Intern Joshua Letona contributed to this post.
From Your Site Articles
Related Articles Around the Web
Minnie Ingersoll
Minnie Ingersoll is a partner at TenOneTen and host of the LA Venture podcast. Prior to TenOneTen, Minnie was the COO and co-founder of $100M+ Shift.com, an online marketplace for used cars. Minnie started her career as an early product manager at Google. Minnie studied Computer Science at Stanford and has an MBA from HBS. She recently moved back to L.A. after 20+ years in the Bay Area and is excited to be a part of the growing tech ecosystem of Southern California. In her space time, Minnie surfs baby waves and raises baby people.