ucla anderson
University of California, Los Angeles economists say the glass is half full for the U.S. economy — at least for now.
The quarterly UCLA Anderson Forecast released Wednesday wanly touted a "better-than-expected outcome" for the U.S. economy in the near term, a major upgrade from the last report's forecast of a "depression-like" crisis for the economy. But the new, relatively optimistic assessment is highly reliant on how the pandemic progresses, the authors cautioned.
California's economy is broadly expected to mimic the nation's so long as pandemic-related shutdowns dissipate in 2021. Still, the optimistic outlook doesn't expect a full recovery for California until after the end of 2022, when economists forecast state unemployment will remain close to 6%, compared to just under 5% for the U.S. overall.
Part of the reason for this improved forecast is that the economy opened up earlier than anticipated and there were no new shutdowns, despite multiple states experiencing a surge in cases over the summer. Moreover, consumers and businesses adapted quickly to new technologies and remote working, while the Federal Reserve committed to near 0% interest rates until labor market conditions recover. In fact, borrowing rates are at historic lows, below even the levels reached during the Great Recession.
The economic bounce-back was always expected to be big, as temporarily laid-off workers returned to work. Because the economy reopened earlier than USC analysts predicted, recovery numbers, which had been expected in 2021, came instead in the third quarter, leading to "stronger 2020 growth and weaker 2021 growth," the report said.
GDP is expected to grow 0.3% in the fourth quarter with real GDP declining overall to 4.2% for all of 2020, the authors wrote in an essay entitled "The recovery is losing momentum." For context, that's 50% steeper than the decline of 2.8% from the Great Recession in 2008. But those numbers are far better than the annual 8.6% decline forecast in mid-June. The forecast for 2021 is 3.5% growth and 4% growth for 2022.
"That there's more economic activity than we expected that's good news, but it's not something that you'd say we're out of the woods, because we're not," Jerry Nickelsburg, the director of the forecast, told dot.LA. "The economic outlook depends critically on the trajectory of the pandemic and the public health response to it."
Nickelsberg forecasts that it will take the U.S. until the first quarter of 2022 to achieve the same level of economic activity that it saw in the fourth quarter of 2019.
He expects 2020 fourth quarter growth to be relatively weak, with more bankruptcies and layoffs. And winter will put a damper on economic activity in many parts of the country where it has been moved outdoors, Nickelsberg said.
Unemployment isn't expected to reach pre-pandemic rates until late 2024 at the earliest.
And that's with some rather optimistic assumptions, including that there is widespread availability and usage of an effective vaccine in early 2021 or that the pandemic has a relatively mild impact on economic activity in 2021 and 2022. The report also assumes another, more limited federal fiscal stimulus round before the end of 2020.
"None of these assumptions are assured, and if they do not come to pass, our forecast, presented here, is too optimistic," the authors wrote.
Though employment recovery has been fast as workers returned from temporary layoffs, sectors that rely on more human contact have seen a rise in permanent layoffs. In those sectors, employment "won't fully recover until consumers and businesses return to old habits, which won't be for some time, if ever," the forecast said.
But it's on theme that the forecast is a little more uncertain, as Nickelsberg said, "there's a higher probability that we are too optimistic than that we are too pessimistic."
California's leisure and hospitality industry have been hurt by the drop off in international tourism. But home sales have bounced back after a precipitous first-quarter drop.
"There is heightened uncertainty now, uncertainty about the pandemic, uncertainty about fiscal policy, another stimulus package or not out of Washington, uncertainty about the election, there's lots of uncertainty in the economy right now," said Nickelseberg.
A Dive into L.A.'s Tech and Gig Economy
The forecast noted that the gig economy in California has been hit harder by the pandemic in terms of overall unemployment.
L.A. County has more than one million gig workers as of 2018 — roughly one gig job for every four traditional jobs — and the numbers are growing faster in this segment than the U.S. overall.
That helps explain why L.A. has seen steeper drops in overall employment during the "pandemic-induced recession," the report states, especially since a greater share of its gig workers are in transportation, arts, entertainment and recreation, which have been hit especially hard.
Many have been buoyed by the unemployment benefits provided by the coronavirus stimulus bill.
That's especially relevant because gig workers tend to make less than their conventional counterparts. Gig workers in the professional, scientific and technical sector in L.A. earn an average of $52,000 annually, compared to their counterparts who earn $142,000.
The forecast examined tech industry jobs, with five large clusters led by the Bay Area and followed by Southern California, then Boston, Seattle, and Manhattan. The report noted that tech jobs increased dramatically in most of those areas from 2005 to 2020, while in Los Angeles there was only a moderate increase of 36,000 tech jobs.
Although L.A. County ranked second out of 20 counties for having the most tech jobs in the U.S., it was 11th on that same list for average pay. Tech workers in L.A. earned an average salary of $142,000, slightly above the national average of $135,000 for the industry. In Santa Clara, tech workers received an average salary of $287,000, while in Manhattan that number is $205,000 and in Seattle $200,000.
Though the tech industry has done well amid the pandemic, the forecast noted that it could be harder to see a near-future increase in tech workers in the Bay Area and New York, with high costs of living, as companies experiment with remote working.
__
Do you have a story that needs to be told? My DMs are open on Twitter
@latams
. You can also email me at tami(at)dot.la, or ask for my Signal.
From Your Site Articles
Related Articles Around the Web
Riders Share is AirBnB for motorcyclists.
The motorcycle rental platform that launched two years ago as a way to help fanatics enjoy a ride without the high cost has now raised $2 million in Series A funds led by LiveOak Venture Partners.
Created by a UCLA alumna, Riders Share will use the cash infusion to expand their customer service and marketing, along with developing new products. The company operates a sharing platform where users can rent out their own motorcycles or rent someone else's. Based in Austin, the company already has more than 10,000 listings. Los Angeles, where it was born, is among its largest market.
The idea for the Riders Share came to founder Guillermo Cornejo — who has worked as an analyst for Nissan Motors, General Motors and Hyundai — after experiencing sticker shock when he tried to rent a motorcycle himself.
"You know, bikes, they are not really sophisticated," said Cornejo. "They are more like a toy that you use on the weekend for fun. And when I tried to rent one, it cost over $200. That's when I started looking into rentals as a way to make motorcycles more affordable,"
The company is among a growing list of car-sharing companies such as Turo competing in a crowded marketplace. Cornejo says that since the pandemic broke out, he's seen a jump in motorcycle rentals. He suspects many of them are using the vehicles to deliver food, as demand for delivery services has risen amid stay-at-home orders.
The average rental fees range from $36 to $97 per day. The company rents everything from Harley-Davidson to Triumph, Ducati to Honda motorcycles.
When it first launched Cornejo only had $20,000 to invest into Riders Share, which made it difficult to grow.
"It was really hard. We had $40,000 in credit card debt," he said. "I had pitched my business and no one wanted to invest."
Originally from Peru, Cornejo attended UCLA's Anderson School of Business. There he began to build a network including investors. He lucked out when he entered a pitch competition at the university and scored his first investment, which eventually led him to Los Angeles TechStars.
The biggest obstacle for Riders Share was insurance costs, which can be high for motorcycle riders.
Riders Share renters and owners are covered by the company's insurance. The company uses machine learning to understand the background of their riders, which Cornejo says can drive down insurance costs by as much as 50%.
If the driver has their own insurance, they are free to use that instead.
"Guillermo and the Riders Share team have managed to address the insurance risk problem while also bringing motorcycle owners and renters together all across the United States, and they did so with very little help," said David Stewart, Venture Partner at LiveOak Venture Partners. "We are confident we can help Riders Share scale and modernize the way people interact with motorcycles."
Cornejo moved his business to Texas, home to several similar companies where, he says, costs would be cheaper.
Related Articles Around the Web
The U.S. economy is in a "depression-like crisis" and it will take at least three years before its GDP and unemployment rate return to the levels it saw before COVID-19 pandemic struck, University of California, Los Angeles economists reported Wednesday.
Their 126-page UCLA Anderson Forecast for June 2020 anticipated a 42% annual rate of decline in real GDP for the current quarter with a "moderate recovery" that resembles a "Nike swoosh." The GDP won't return to 2019 levels until early 2023, it said. The unemployment rate, which rose from 3.5% in February to 14.7% in April, is expected to hover around 10% in this year's fourth quarter and remain above 6% into the fourth quarter of 2022.
The forecast assumes there will be no additional nationwide shutdowns due to the novel virus; that U.S. public schools will reopen in the fall, enabling parents to fully work and that vaccines will become available in early 2021. Should any of those factors change, for better or worse, then the forecast would also likely change.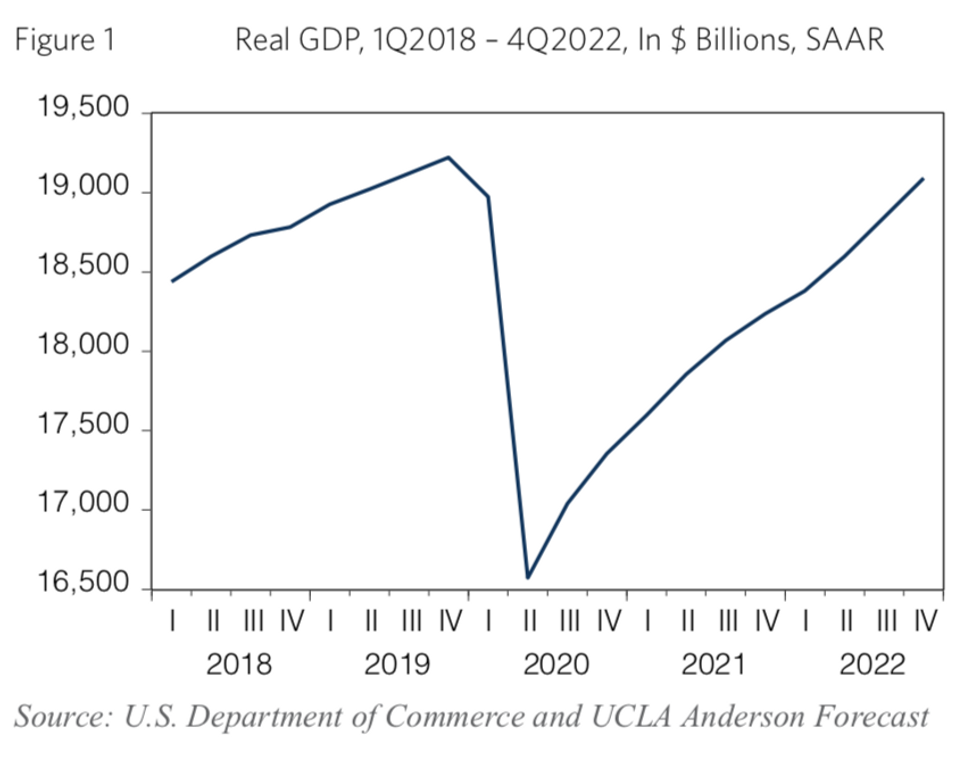 UCLA Anderson forecast's the national GDP won't return to pre-pandemic levels until 2023 at earliest.
Recovery will be "sluggish because too many things in the economy have broken," said David Shulman, senior economist for the forecast, in an interview with dot.LA. "The drop we've had in economic activity is unprecedented and it wasn't caused by the macro economy. It's more like a natural disaster, but it's a natural disaster hitting the whole country at once."

The report notes that though 22 million nonfarm jobs were lost between March and May, the Federal Reserve Board's speedy fiscal policy moves and the $1.8 trillion CARES Act passed by Congress may help offset long-term economic decline.
Still, "despite the Paycheck Protection Program, too many small businesses will fail and millions of jobs in restaurants and personal service firms will disappear in the short-run," the forecast said, adding that it took more than two years for air travel to return to its prior peak after 9/11.
State and local budgets have also suffered a "revenue collapse," the report states, that may take years to recover from, even with federal assistance. Businesses have taken on a huge amount of debt during the pandemic, so it's likely that new capital spending will take a backseat to paying off loans.
Air travel has also been "totally disrupted" by the pandemic. Air travel "collapsed," with the number of daily passengers falling from roughly 2 to 2.5 million in 2019 to 100,000 in April, the report states. As of June 11, the report finds that the number of passengers was at about 500,000 people daily, still 80% shy of normal. That impact to air travel also impacts tourism and hotel stays.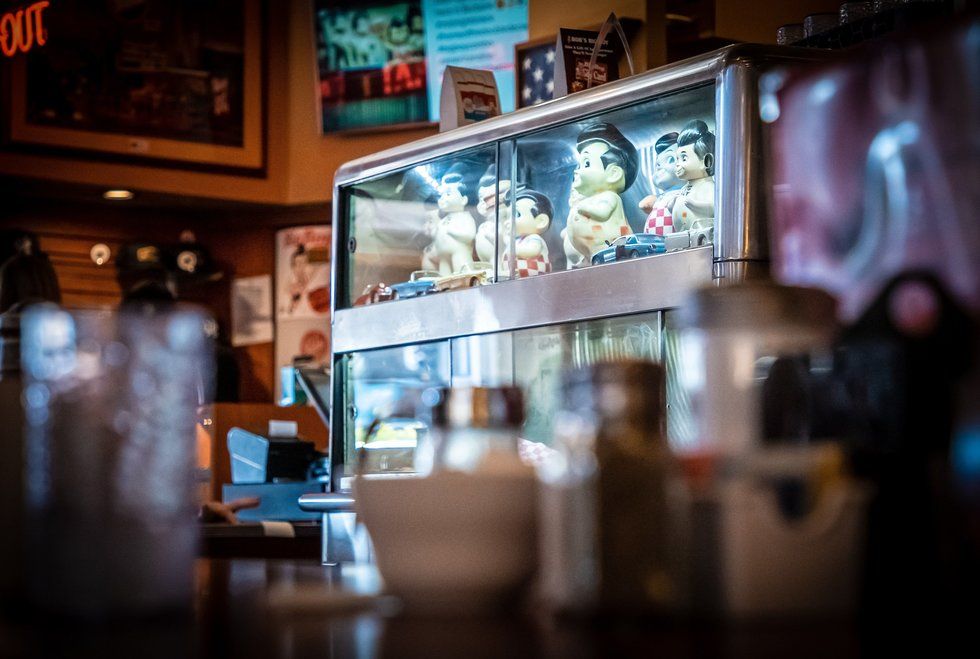 California's restaurant business is still 65% 70% below what it was during the same week in 2019.
A comparison of Open Table reservation data found that the restaurant business has bounced back faster than air travel, but is still 65% below what it was during the same week in 2019; in California that figure is 70% below law year's level.

The economists also reviewed Google's released mobility data to understand the broad impact to the economy. Per its data, mobility reduced by as much as 87% in Kuwait and 35% in Italy, whereas in the U.S., mobility declined on average by 24%. In California that drop in mobility was 41%, which also correlated with a deeper decline in employment.
Interestingly enough, the Bay Area had a larger decline in mobility, which may be tied to tech companies allowing employees to work remotely through the year's end and enabling them to leave the high-cost area.
The mobility data overall indicates that "the Global Recession is a sure thing and that the U.S. and China cannot expect many buyers for their experts around the world in the near future (when) no continent could escape the pandemic."
A review of the U.S. Census survey of the small business community found that Los Angeles small businesses have seen a slower recovery of revenue compared to the U.S. and California overall. Between February and April, California lost 2.56 million nonfarm payroll jobs, a 15% drop that's nearly double the job loss during the Great Recession in 2008 and 2009. The brunt of those losses were in leisure, hospitality and retail.
"While the mandated closure of restaurants, event spaces and touristic sites were the catalyst, the expiration of the closure ordinances will not act as a switch to bring all of those unemployed back," the report states. Customers and tourists need to "feel safe" before they will venture out again.
The pandemic appears to have accelerated earlier trends toward increased digitization of the economy, with brick and mortar stores facing a likely even worse fate than had been feared pre-pandemic. Amid a "new cold war" with China, the U.S. will likely favor resilience over efficiency and bring its factories and supply chains back to the United States in the South and Midwest, and most of it will be automated, the forecast said.
The report found that the novel coronavirus' effects and tenant protection laws are "becoming interconnected as cities and states pass moratoria on evictions for non-payment of rent." If landlords become wary of these, they may decide to exit the rental market altogether, limiting the overall stock of rental properties.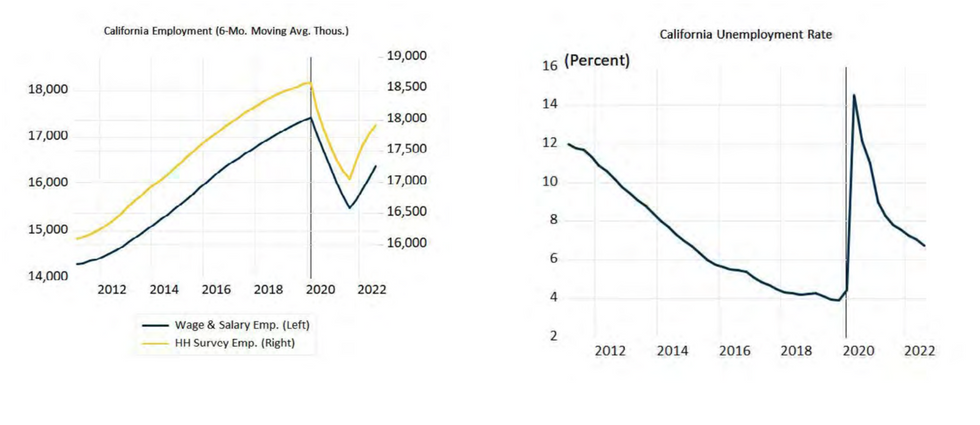 UCLA Anderson's projects for California show the state more deeply affected by the pandemic shutdown than the country as a whole.
In the meantime, recent technological advances, including easy video conferencing and prevalence of internet connections, have demonstrated that working from home is possible for many people. As a result, workers at some companies like Twitter will be allowed to work from home permanently, which will lead to a shift in economic and housing activity from large urban areas to mid-sized cities and the suburbs, which are often cheaper and easier for social distancing.

Companies are already reevaluating what their office spaces should look like and if they should ever return. With less commuting times, carbon emissions are expected to drop.
"Simply put, dense pedestrian-oriented environments and mass transit (both horizontal and vertical as in elevators) do not work in a socially distancing environment," the report states.
Even with a vaccine, "the shock of the shutdown and the fear that the virus or another virus may return has been seared into the consciousness of the citizenry."
__
Do you have a story that needs to be told? My DMs are open on Twitter
@latams
. You can also email me at tami(at)dot.la, or ask for my Signal.