tcg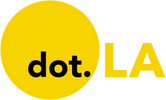 Get in the KNOW
on LA Startups & Tech
X
tcg
Sugerman is now in charge of Sketchy's operations, content development and growth. He'll be working to increase Sketchy's reach and expand its subject matter beyond medicine.
He will build upon his experience as executive vice president of Disney's global digital media and publishing arm. Part of his role there was to spread Disney's franchises across multiple formats, including comics, books, mobile apps and social media.
He'll also draw on his education experience. At Disney, for example, Sugerman led a program to teach English as a second language to 30,000 students in mainland China. And prior to joining the House of Mouse, he spent seven years building distance-learning products as president of Swedish company EF Education First.
"There are a lot of learning companies that exist," Sugerman said, "but what separates Sketchy from all of those is the ability to create and tap into its visual learning platform."
Sketchy uses images like this to teach complex concepts
Founded in 2013 by medical students for medical students, Sketchy uses image-based pedagogy to help with memorization. As CEO and co-founder Saud Siddiqui has said, "Our brain has evolved to be really good at visual spatial recall."

Sketchy's teaching technique boosts information retention by 30%, according to Siddiqui. Since launching, the company has acquired 30,000 users.
As part of his growth plan, Sugerman wants to transition Sketchy from a product to a service.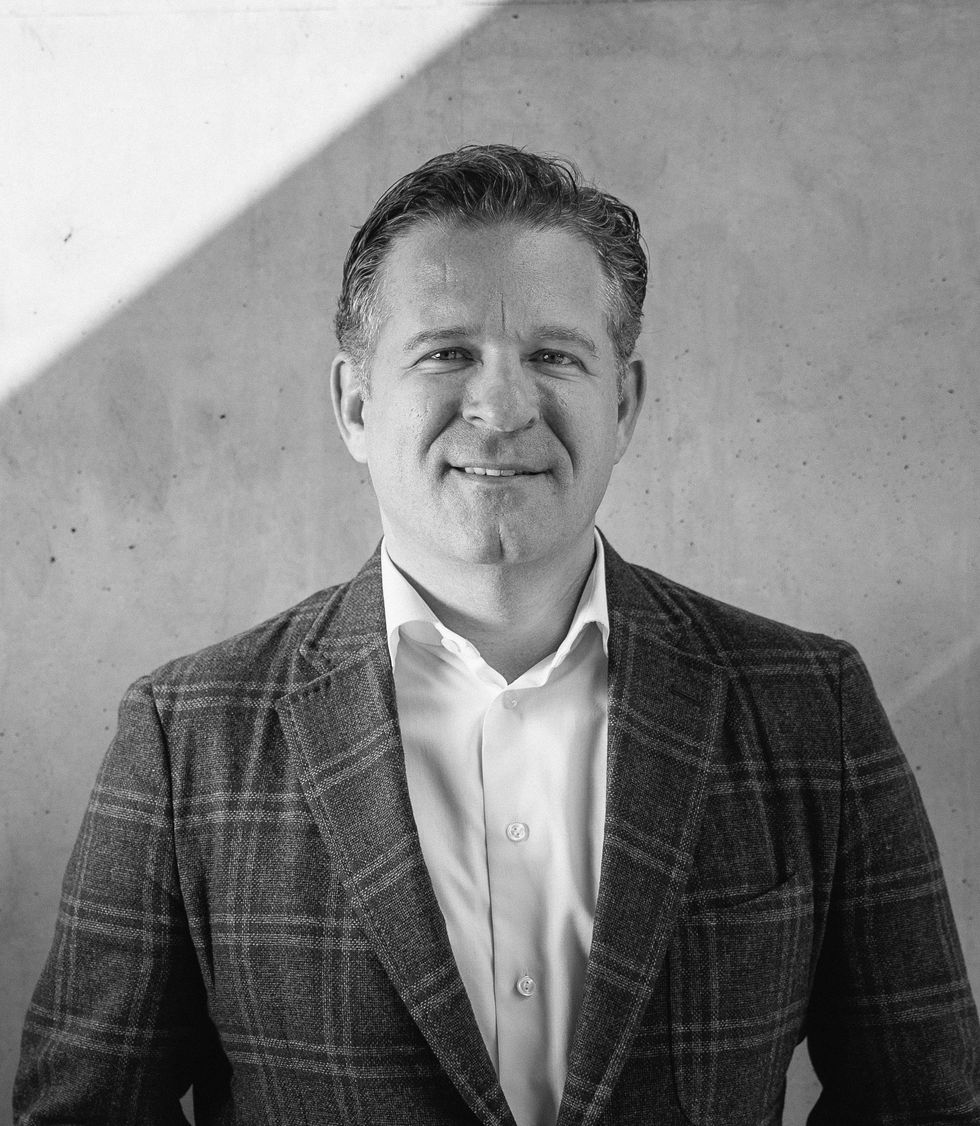 Former Disney executive Andrew Sugerman is the new head of Sketchy.
"When Sketchy started, it was helping students to prepare for a specific exam – a product for a defined period, for a defined outcome. Where we're looking to make a broader change," he said, "is to make Sketchy a program for a student who can start as early as undergrad, when they're preparing for pre-med or in the sciences, then making their way to the MCAT, into med school, into an adjacent program – and Sketchy will be there from the minute you start, all the way through."
A new price tag may accompany such a change, Sugerman said. In the past, new prices emerged when Sketchy bundled formerly separate courses on microbiology, pharmacology and pathology. Something similar may happen as the company explores new ways to package its offerings.
"Pricing is an active conversation right now," Sugerman said
To this point, Sketchy has had a tiered pricing structure, ranging from roughly $230 to $550 for up to two years of programming.
Sketchy's team will be growing as well. Sugerman wants to hire people for product, sales and marketing and engineering roles. The recent fundraise puts the company in a good position to hire such roles, he said, and "build out everything we'll be building over the next 12 to 24 months."

One other buildout in Sugerman's plans is creating new characters, to try to arouse "an emotional connection" in learners.
That effort aligns, he added, with another Disney experience of his, when his group relaunched the "Muppet Babies" to "make our dreams come true" again, and created a new character, Summer Penguin.
"I view the future of Sketchy as combining story content and character development into one unified opportunity for learning that can have a major impact," he said.
From Your Site Articles
Related Articles Around the Web
The unnamed king wears a crown and large pink robe as he grasps a tissue to his nose.

No, this isn't some Netflix show on the quarantine lives of the rich and famous; it's actually a method SketchyMedical uses to help students recall complicated concepts.
Such images by Los Angeles-based online education startup SketchyMedical have helped catapult the company to cult status among the med school set, who dress up in their drawings for Halloween. One fan even got a tattoo of SketchyMedical's pencil representing penicillin.
On Thursday, SketchyMedical announced its first outside investment stake, a $30 million shot in the arm from former Hollywood executive Peter Chernin's investment firm TCG to help establish an in-house animation studio that will bring to life those famous sketches and expand its team of 30 employees.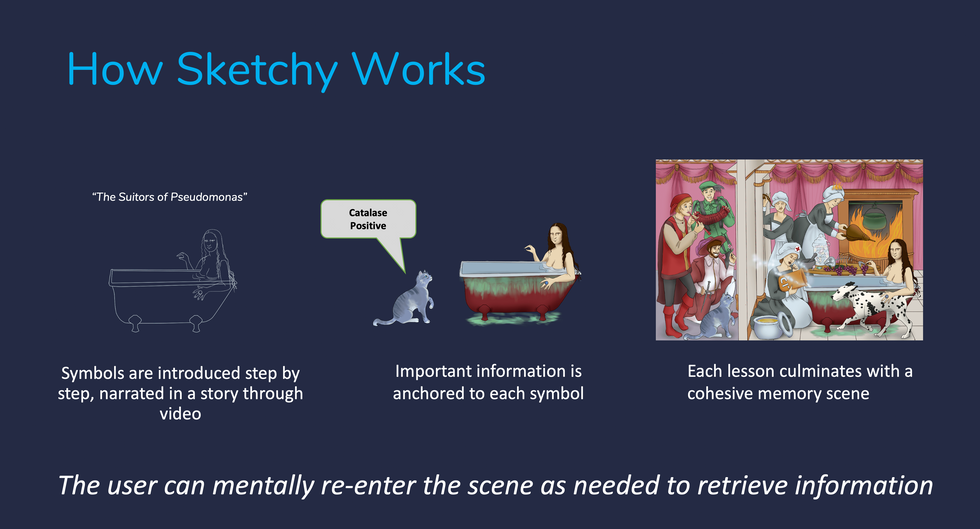 The funds will also help SketchyMedical bring its symbolic characters and scenes to other health professions, as well as create new ones for students preparing for the MCAT in the short term and new subjects like law over the next few years.

"We are reintroducing this method in modern education that's really been lost, and the students have noticed, and it works and they're using it," said CEO and cofounder Saud Siddiqui. "We're really looking forward to expanding our reach, making this accessible no matter what they're studying."
SketchyMedical's success is part of the recent trend toward the consumerization of education — a trend that has been rapidly accelerated by the pandemic.
Students pay thousands annually for medical entrance and licensing exams, flocking to big name test prep companies and paying thousands more to prepare. As the internet has provided myriad more ways to connect and learn, it's become a buyer's market for students looking to differentiate themselves from their peers and ace those exams.
The company was founded by medical students for medical students in 2013 after its four co-founders used similar techniques with great efficacy while preparing for their board exams.
SketchyMedical has been profitable since its early days through its subscription model, which offers tiered pricing — from roughly $230 to $550 for up to two years of programming — that includes video lessons, review cards and quizzes. The company currently has more than 30,000 active subscriptions.

Sketchy Medical relies on the "memory palace technique," from an era when oral tradition meant memorizing long stories passed on from one generation to the next. Med students are given a simple visual way into the material through characters, storylines and humor.
For example, in one sketch a naked Mona Lisa sits in a red-colored bathtub by the fire, petting a dalmatian and holding grapes.
She represents the bacteria known as pseudomonas aeruginosa, which thrives in aquatic environments and is classified as a gram-negative bacilli. It produces a fruity grape-like odor when plated and has swarming motility
In another four-minute coronavirus lesson, the crown represents the "coronaviridae" family of RNA viruses, the robe represents the fact that it is enveloped, while the tissue represents how they cause the common cold. The image shows up in pictures whenever a coronavirus becomes relevant.
Siddiqui said the company found students had a 30% improvement in recall using its method. Anecdotally, he said even the non-medical artists at the company are getting 100% on the preclinical quizzes from working on the images.
Cofounder Andrew Berg, speaking in front of a Zoom backdrop featuring the company's pencil (penicillin) drawing, said professors across the country have also integrated the company's sketches into lecture slides.
And Siddiqui said the company has seen more institutions using SketchyMedical during the COVID-19 pandemic as they've tried to find creative ways to supplement their traditional lectures.
"We argue that everybody is a visual learner, that our brain has evolved to be really good at visual spatial recall," Siddiqui said. "It's necessary for survival to know where that fruit grew or where that dangerous predator was, or our cave. This is the same for animals. This bird can remember the location of 30,000 seeds across the landscape."
TCG vice president Michaela Venuti said the consumer-focused investment fund has been diving deep into the education space for the last year and a half and seen students take ownership of their education, picking and choosing among a wealth of new products tailored to their interests, area of specialty or aspirations.

"Consumers can make decisions about what supplemental tools they want to use and build their own education," Venuti said. "A lot of that has been accelerated during the pandemic, and Sketchy fits well in this broader scheme of consumers choosing."
Venuti said TCG interviewed graduate and med school students as part of its work in the education space and 100% of the students they talked to mentioned Sketchy as a crucial tool to get through med school. That known brand name should help the company as it expands into other types of content and categories of education.
While it's hard to quantify exactly how large the market is for supplemental spending on education, TCG looked at another early leader in the direct-to-consumer space: Santa Clara, Calif.-based Chegg Inc. is a publicly traded company that began in the textbook rental space and now offers tutoring among other student services.
Venuti said she could certainly see SketchyMedical going the way that 2005-founded Chegg has, ultimately offering a suite of student services. Chegg reported 3.9 million subscribers in 2019 and a current $8.7 billion market cap, but the company believes the total potential market opportunity for their services is 102 million students in the U.S., Canada, Australia and the United Kingdom. The company has seen a 39% compound annual growth rate over the last five years, and its total revenue of $153 million is up 63% year over year for the second quarter of 2020.
TCG believes Chegg's outlook on market opportunity is similar to what SketchyMedical could expect, Venuti said. However, she added that SketchyMedical's "secret sauce" is the content the company has built, its method for teaching students and its passionate and engaged user base.
An internal analysis by TCG estimated a total addressable market of 93,000 medical students and adjacent medical specialties like dentistry and pharmacology, who are already using SketchyMedical's content for studying overlapping topics. TCG also discovered an "ever-increasing amount of global edtech unicorns — such as VIPKid, Coursera, Duoling, ByJu's, Quizlet and more — with consumer-facing supplemental tools valued in the billions.
The analysis also found that in the medical school market supplemental tools are becoming so important that "students are skipping class to instead study via supplemental learning tools."
___
Do you have a story that needs to be told? My DMs are open on Twitter @latams You can also email me at tami(at)dot.la, or ask for my contact on Signal, for more secure and private communications.