Photo Illustration by Sebastian Miño-Bucheli, Photo of L.A.'s skyline by Camiloarenivar and Photo of Milkyway Galaxy by Kristian Pikner
As Southern California continues to endure a brutally hot summer and the state's grid struggles to keep pace with the energy demand, residents are also grappling with their responsibilities to reduce consumption.
Thanks to a series of pleas from the California Independent System Operator, which runs the aging electrical grid, the state avoided rolling blackouts despite the record-setting heatwave. Citizens conserved roughly 2,000 megawatts on Sept. 7 alone by following the agency's guidance, sent via emergency text to millions of Californians. This reduction was vital to avoiding rolling blackouts, but pales in comparison to the record 52,061 megawatts the state used in total that day.
But one question keeps echoing among Angelenos: Why should renters or homeowners be forced to lower power usage, cut electric vehicle charging time and turn the thermostat to 78 degrees when across the city, mostly vacant office buildings are keeping the lights on and HVAC systems blasting?
"I was actually delighted to see that people are willing to have a little bit of inconvenience. Rolling blackouts are bad for everyone, and everybody pitched in," said Rajit Gadh, a professor of mechanical engineering and director of UCLA's Smart Grid Energy Research Center. But Gadh noted that long-term, a more sustainable solution is needed, including making the city smarter and pipelines for electric vehicles to give back to the grid.
Encouraging urban commercial buildings to go totally dark at night isn't always as easy as flipping the switch off. Houston residents angrily posed this same question to lawmakers during Texas' crippling power blackouts last winter, and some buildings did find a way to cut power in response. But in Los Angeles, the city is still figuring out how much responsibility commercial building operators and tenants should have over their energy usage.
Since the coronavirus outbreak prompted many offices to shift to remote work, most skyscrapers downtown are empty, but that hasn't stopped them from cooling their spaces.
When asked for comment on what the mayor's office could possibly do to regulate commercial energy use, Mayor Eric Garcetti simply said in a statement he was confident the grid could hold up. "Los Angeles has a history of successfully steering our power grid through intense strain like we are experiencing right now," Garcetti said. "Not only have we been able to avoid planned outages, but we've provided power to the state to help stabilize the grid and prevent blackouts across our region, all while maintaining record levels of clean energy."
Not everyone agrees with Garcetti's rosy assessment of LA's energy usage, though.
Joseph Liccardo, vice president of field operations for data center management firm CoreSite, said "our power needs are extreme." Prior to working at CoreSite, Liccardo worked as an environments and infrastructure manager for real estate giant CBRE, and has experience working to cut down on larger properties' power usage.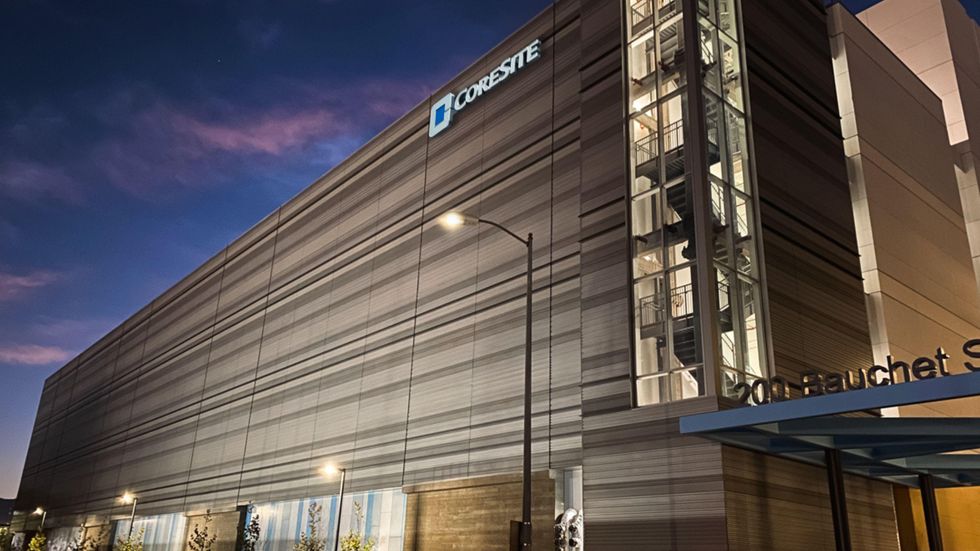 Photo of CoreSite Data Center. Photo courtesy of Coresite
As the operator of massive data centers across the country, CoreSite is definitely a huge consumer of energy. The firm runs three data centers in Los Angeles, including several floors of the One Wilshire building downtown, though Liccardo noted that although they're staffed around the clock, there's very few people inside at any given time. Liccardo proposed one solution to conserve power when offices are manned by a skeleton staff: timed lighting.
"It's easier said than done to take a 40-story skyscraper and turn all the lights off," Liccardo said.
There'll always be personnel who work late or as cleaners or security, and so maybe a more realistic expectation is for office towers to rely only on emergency lighting and timed HVAC systems or entry lights, which switch off after a sustained period of inactivity.
CBRE, which manages over 40 million square feet of office space in Los Angeles said it is looking for ways to try and reduce its energy usage.
"We have taken advantage of the cooler overnight temperatures to circulate more outside air when the buildings are not occupied [and] that reduces the energy load on the startup of the equipment each morning," CBRE's director of property management in Los Angeles Lara Saab told dot.LA via email. "We've worked with building owners to invest in building management systems, cooling equipment upgrades, lighting controls, and other capital improvements that put our buildings in the best possible position ahead of this situation."
Liccardo said that CoreSite's backup diesel generators – used normally to keep critical servers running in case of a power outage – can be used to sell electricity back to the state's grid in emergency situations. It might not be the cleanest energy, but it's a much-needed jolt to the system on critical days, and on one day, CoreSite supplied up to 30 megawatts of power.
The idea of rerouting electricity from private sources back to the grid in exchange for government incentives (Liccardo clarified CoreSite does receive state stipends for the energy it provides) is one that applies to both commercial and residential tenants. It's also the focus of the California Energy Commission's Demand Side Grid Support Program.
For over a decade, Gadh has helmed research at UCLA that explores the possibility of using electric car batteries to supplement the grid. "[You] can get data from the environment, from [EV] charging stations, and then manage the whole infrastructure in a smart fashion," Gadh added. "For example, how can you automatically take millions of EVs to send power back to [to the grid] without upsetting it?"
Gadh also proposed using electric vehicle batteries to supplement the grid during peak usage hours between 4 p.m. and 9 p.m.
"In the future, instead of the head of the [CAISO] having to send alerts, they could just send an alert to your vehicle and you can get paid" for offloading power from your charged car, he said.
That's not a far-fetched idea: Ford's new electric F-150 Lightning has a battery capable of powering a house for three days on full charge. But it would require appropriate financial incentives to entice EV owners to give their vehicle's stored energy back to the grid.
In the short term, Angelenos can likely expect more alerts begging them to tamper power usage as the heat rages on. But looking towards the future, it's possible – though challenging – to begin to make the grid more efficient.
"Based on my calculations, the owner would only have to be willing to share 25% of their maximum battery energy," Gadh told dot.LA, adding that, "by buying an EV, not only [are you] helping remove CO2 from the air, removing tailpipe emissions but [you're] also helping the grid become green."