childcare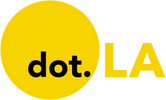 Get in the KNOW
on LA Startups & Tech
X
childcare
Photo courtesy of WeeCare
Sign up for dot.LA's daily newsletter for the latest news on Southern California's tech, startup and venture capital scene.
In 2020, as the pandemic shuttered daycare centers and social distancing requirements made it near-impossible for babysitters to work, Marina del Rey-based startup WeeCare partnered with the city of Los Angeles to provide childcare for essential workers.

Now, the five-year-old company has looked to build on that work by raising $17 million in new funding, according to an SEC filing on Friday. WeeCare landed the money from a total of 14 unidentified investors, per the filing. The new funding follows WeeCare's $4 million seed round in 2018—which was led by Silicon Valley investor Chamath Palihapitiya's Social Capital venture firm—and takes the startup's total amount raised to more than $21 million, according to PitchBook data.
Representatives for WeeCare did not respond to requests for comment.
Co-founded in 2017 by CEO Jessica Chang, CTO Jesse Forrest and CMO Matt Reilly, WeeCare operates akin to an Airbnb for childcare. The company's platform connects parents and caregivers to thousands of childcare providers in more than 30 states across the country, and helps them find daycare and babysitting options based on criteria such as their schedule, finances, their child's age and any special needs or language requirements.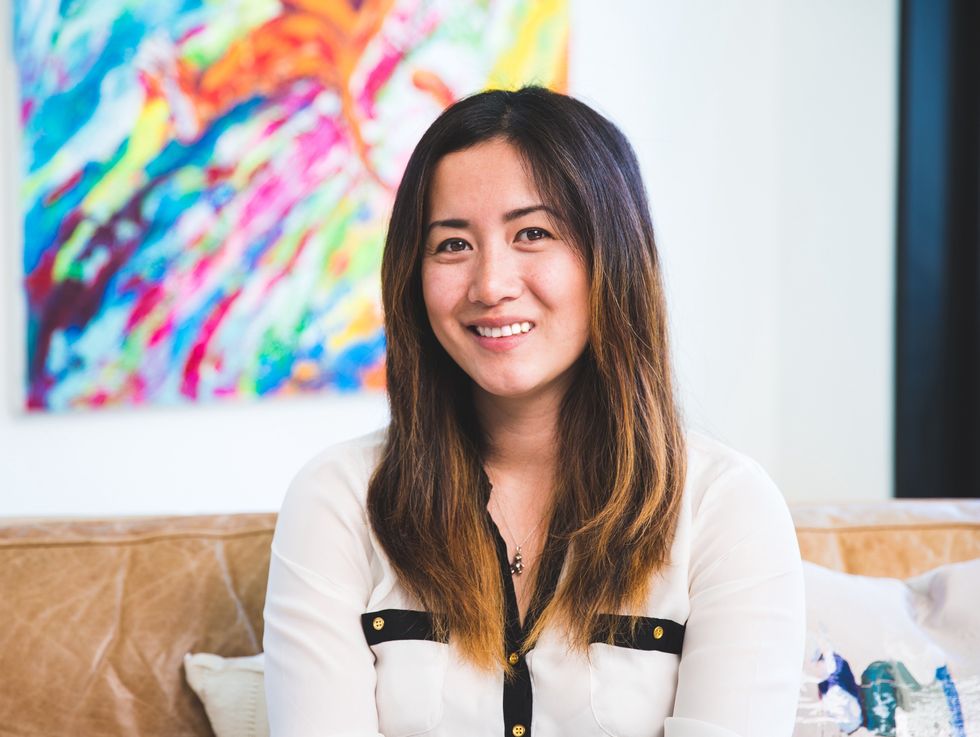 WeeCare CEO Jessica Chang
WeeCare advertises its partner daycares as having smaller student-to-teacher ratios, while parents can receive photo and video updates on their children via WeeCare's app. The startup's technology is part of the reason it was able to weather the pandemic and keep 97% of its daycares open in 2020, it says: Fever Free, its in-house, AI-based app, allowed workers, parents and their children to submit daily virtual temperature and COVID-19 symptom checks
WeeCare also helps people start daycares by guiding them through the process of getting their homes licensed for daycare services, managing billing on their behalf, helping them create a curriculum and allowing communication to parents through its app.
The coronavirus pandemic was initially a curse for childcare startups, which had to deal with the disruption of social distancing regulations. But the hybrid work model that has emerged post-pandemic has opened a need for flexible and accessible childcare solutions; funding for childcare and pediatrics startups spiked threefold, from $394 million to $1.2 billion, between 2020 and 2021, according to PitchBook data.
Playa Vista-based Brella is another locally-based childcare startup that has benefitted—raising $5 million in January to provide flexible options for parents juggling unpredictable work schedules.
From Your Site Articles
Related Articles Around the Web
When now-former SpaceX Dragon mission director Erin Beck became pregnant with her first child roughly four years ago, the company's "generous" benefits were just not enough.
She wanted to be home full time with her daughter and arrange her work life flexibly so she could raise her, but with the loss of income from leaving her day job she couldn't afford to.
That's how the Wana Family Network was born in 2017. Beck, who's founder and CEO of the Los Angeles-based public benefit corporation, looked to the parent-helping-parent, cooperative kind of childcare she was raised on as a kid. But she couldn't find any such app.
So she decided to build one. And it had been growing rapidly, by about 500 families a month without any advertising, prior to COVID-19. The network, where parents can use points to trade for help with childcare duties, is home to 25,000 families worldwide and has offered essential services workers a free way to get childcare during the pandemic.
By the end of 2019, Wana Family Network was able to expand through acquisitions with some of the largest players in the cooperative childcare space, including their flagship product Komae out of Ohio, founded by Amy Husted and Audrey Wallace, and Sitster in London, founded by Laura Farnsworth. They also hired the team of a fourth company, L.A.-based Helpkin, founded by Shar Ghoudsifar, that is no longer in business.
"This brain trust has allowed us to iterate so much faster than any single one of our companies could do before," Beck said.
But the timing has also been a little tough.
It's perhaps an irony that the company Beck created is predicated on parents that have to leave home for work. COVID-19 has changed all of that. With the vast majority of families at home amid the pandemic, usage of childcare services dropped in April by 80% to 90%. The network has had to work hard to be creative and stay afloat as non-essential workplaces closed their doors in March. Wana Family began by offering essential workers the ability to get free childcare.
"It's been slow, and this is across the board, for any childcare companies that we have seen," Beck said
With the phased reopening of some businesses in California, it's unclear how the network's usage might change, as traditional childcare centers have been hit even harder by the closures. Beck said the company is now offering free childcare to all parents and has seen an uptick in families joining, up from 10% to 50% of the activity they would have seen pre-COVID. But that hasn't yet translated to an uptick in usage.
"What this tells us is that parents are getting prepared and examining their options so they will be ready as their city reopens and they return to work or more normal daily life," Beck said. "We're here and ready!"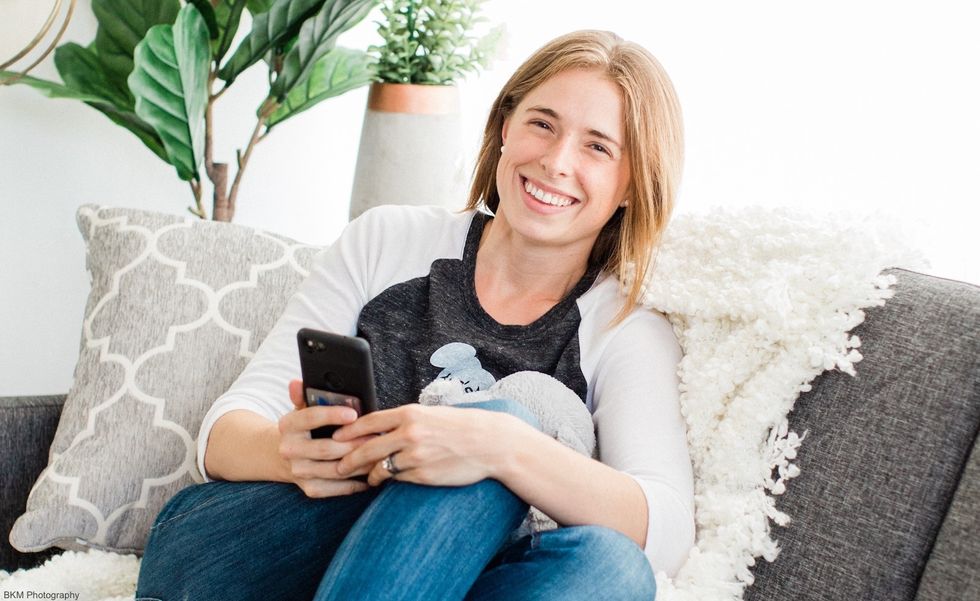 Wana Family Network founder Erin BeckBKM Photography
Beck said that a babysitting co-op has turned out to be an excellent closed system for babysitting in the time of COVID, where you often have coworkers trading care with other coworkers.

"You're limiting the (viral) exposure into or out of that organization by having those coworkers trading time," Beck said.
It's also a way for kids to socialize with the kids of other parents with perhaps similar exposure risks.
Wana Family forgoes the traditional 9-to-5 office with nearly the entire team of nine or so staff working part-time and some keeping other jobs on the side. The arrangement is an homage to the company's roots — to cater to the flexibility parents need by allowing them to choose the number of hours appropriate for them and decide what the best skills they have to offer are. The idea is for Wana Family to have an employee's " top 10% at the top 10% of their time."
How it works
Generally speaking, the network functions through a point system. Parents trade their time babysitting for points, rather than dollars. Those points can be used to "purchase" time for someone to babysit their own kids. If a family doesn't babysit for other families, they will ultimately run out of points and to continue participating in the platform they can buy more.
The company charges $5 a point, which equates to roughly $5 for an hour of babysitting, way below the typical childcare rate that's between $15 and $30 an hour. During the pandemic, parents using the app have not been charged any points.
For parents who are worried about in-person babysitting, they can arrange for "virtual babysitting" via Komae's platform.
"Maybe you're doing charades with your friend's child on their iPad when their mom needs to take a phone call or just wants to take a shower, but just doesn't want to leave their three-year-old unsupervised," said Gabrielle D'Addario, a parent of a 4-year-old preschool boy, Charlie, and 6-year-old kindergarten girl, Gracie.
D'Addario, who's director of the Silicon Beach Parents Group in Playa Vista, Calif., set up a group of parents on the app last month who could communicate together and share "virtual babysitting" via the app. The app can also be used to create virtual playdates for kids.
"Everybody's in the same boat right now, just having your kids home 24/7 it's so hard, especially work from home parents," said D'Addario, who's a creative director for a media company. "Like, oh my God, my kids want my attention all the time. I used to send them over to a friend's house to do a playdate, but now you can't do that."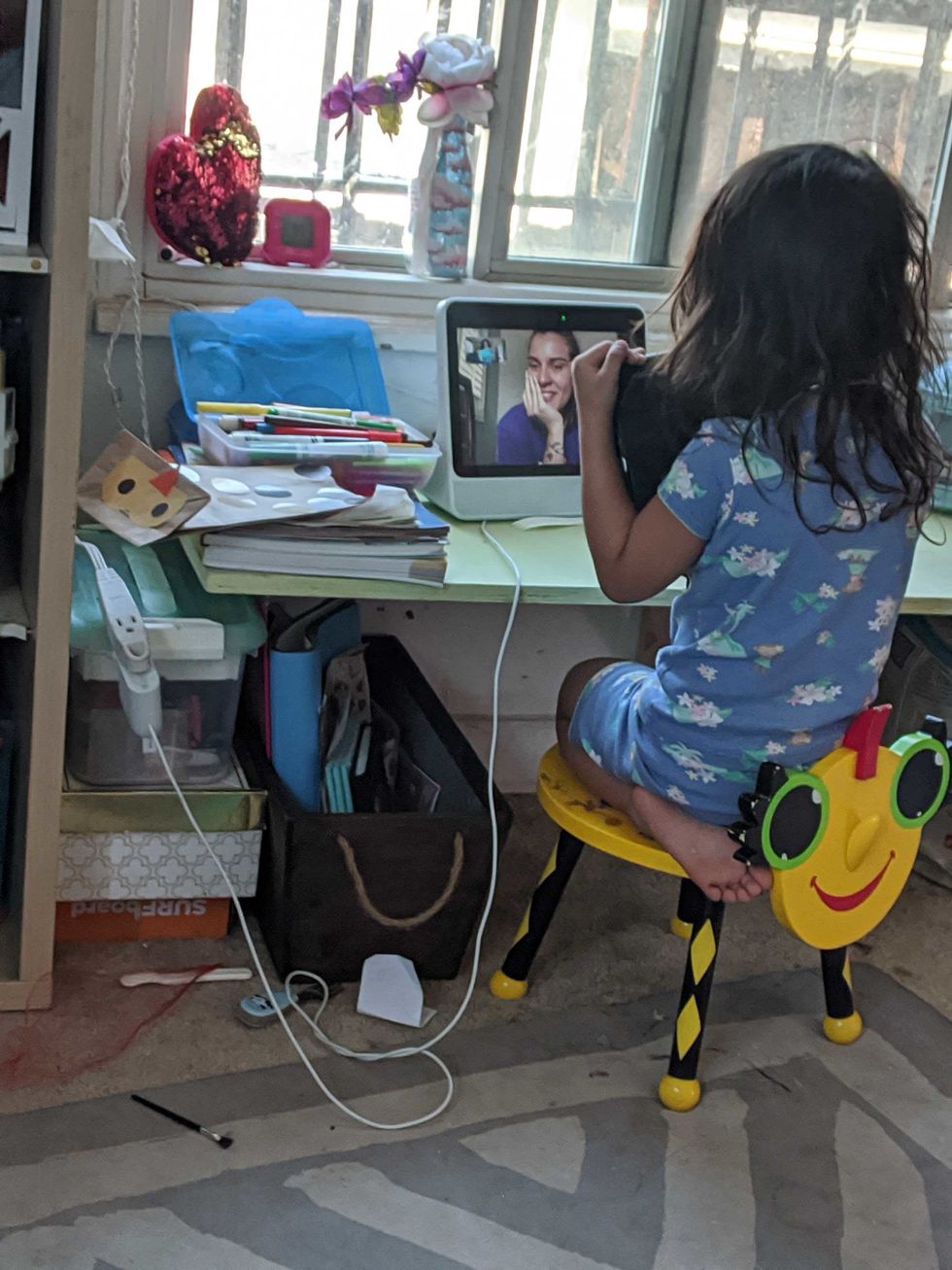 Beck's child during a virtual playdate
Wana Family Network has also developed new brand partnerships with parent and women-owned small companies with special gifts that can be purchased using points that parents have earned, for those who have an abundance of them to spare. Some examples include a white noise maker for young children as well as a stuffed "pillow pet" that can be home for a kid's pajamas and guard their bed by day while teaching them to clean up. Those brand partners are ultimately going to be charged a marketing fee for getting the word out about their items.
The company had planned to hold off on introducing a marketing fee, but the pandemic severely disrupted its intended revenue streams. So, Wana Family has sped up the timeline for introducing such fees on the brand marketing side, Beck said.
Wana Family received a check from the Paycheck Protection Program on Monday. They have not yet heard back regarding the Small Business Administration's Economic Injury Disaster Loan.
Meanwhile, Beck and other founders in the famtech world, including Tot Squad, Mahmee, HopSkipDrive, Special X, Robyn, Needed, WRK/360, UrbanSitter, Winnie, Motherly, Milk Stork and others, have been leaning on each other for support and to trade survival tips like how to get PPP funding approved.
Wana Family and a handful of other such companies have also created a special single-source resource for parents in California who need help with childcare during the pandemic. The group has been working with USC and UCLA chapters of the larger MN COVIDsitters, which matches medical personnel with student volunteers for childcare support.

__
Do you have a story that needs to be told? My DMs are open on Twitter @latams. You can also email me at tami(at)dot.la, or ask for my Signal.
From Your Site Articles
Related Articles Around the Web
Photo courtesy of WeeCare
Erika Metry is trying to figure out how to pay the mortgage on the tidy, three bedroom Inglewood home where she and her mother run a small childcare center that's now looking after kids of frontline workers.
The children she took care of pre-COVID-19 no longer come, but she's one of the lucky small-business owners who can keep their doors open during the pandemic. Metry has stayed afloat thanks in part to her partnership with WeeCare, a Marina Del Rey, venture-backed company that has been connecting essential workers to childcare providers.
As the pandemic has worn on, about half of the nation's childcare centers have closed and about a third of childcare homes have shuttered, according to a survey by the National Association for the Education of Young Children. Meanwhile, half of the employees that made up the industry are furloughed or out of a job.
That could be a major problem in California as everyone from distributors to retail sales clerks return to the workplace on Friday. Safety restrictions have severely cut how many children some facilities can take. So, parents of young children desperate to go back to work may find themselves not only jittery about returning a child to daycare, but there simply may not be room for them.
And the winnowing capacity could strain the budgets of many care facilities with high rent costs and that were already operating on thin margins.
"We don't know what's going to happen next," Metry said. "We are waiting for all this to pass."
Metry's daycare Wonderland WeeCare can accommodate 14 children, but she's only been taking care of three since the outbreak.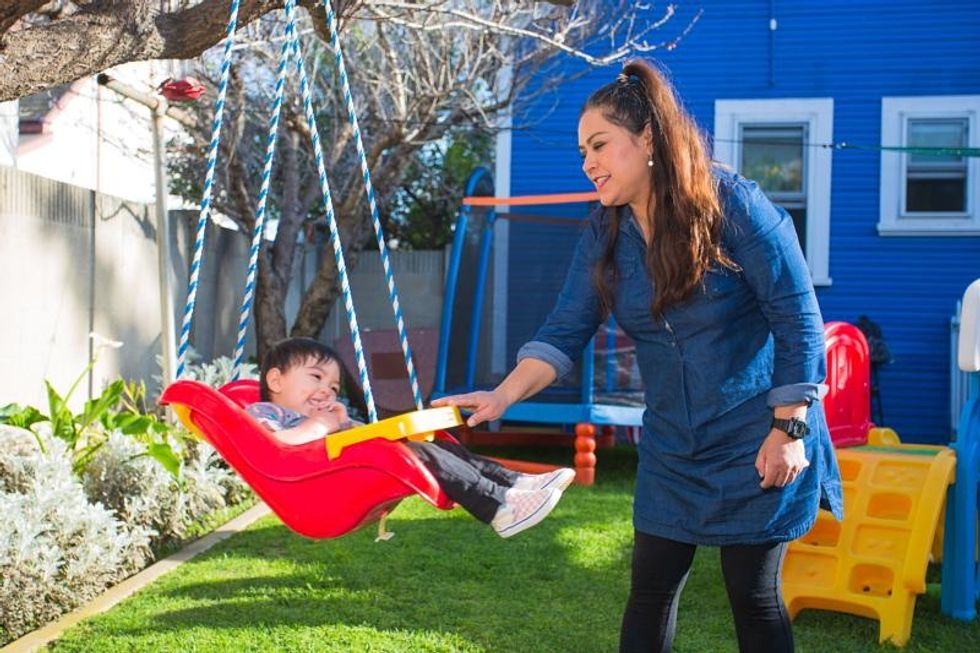 Childcare Providers Are Getting a Lifeline From L.A. Startup WeeCare Photo courtesy of WeeCare
In Los Angeles, childcare facilities have been able to stay open during the pandemic for essential workers, but with parents staying home more than half of centers closed. Meanwhile, many smaller home daycare centers like Metry's remained open.

"A number of the programs that have closed will not be able to reopen once the pandemic has subsided," said Rhian Evans Allvin, chief executive of the National Association for the Education of Young Children. She added that there was already a shortage of daycare before the pandemic swept the nation, and it may only get worse.
"What we don't know is if the overall supply lessens dramatically, how many providers will be left?" she said. "I would imagine that overall there will continue to be far more demand than there is supply."
The Center for American Progress has estimated the pandemic could eliminate as many as 4.5 million childcare slots nationwide.
"I think you could make the argument that larger providers can weather the storm longer because of how they're financed, but we've not been through this before," said Evans Allvin. "So I don't know."
Metry has been able to survive in part because of her association with WeeCare.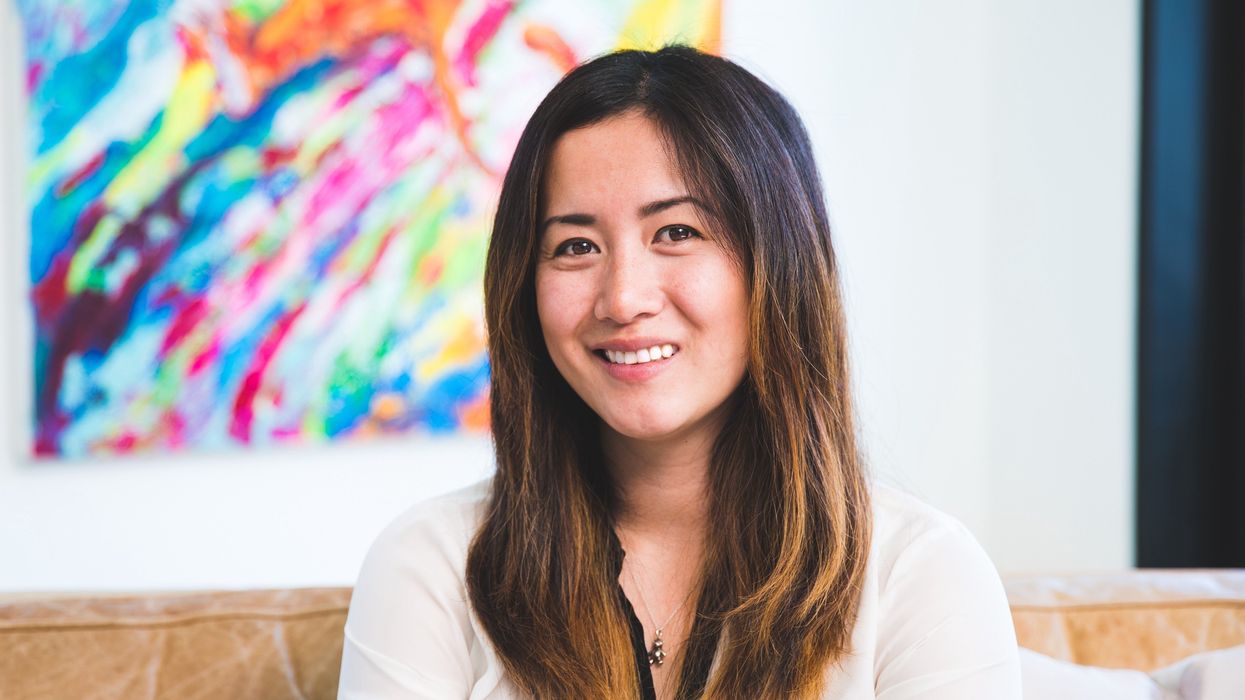 WeeCare CEO Jessica ChangPhoto courtesy of WeeCare.
Founded in 2017 by Jessica Chang, the company takes care of the administrative tasks for home daycare, helping with marketing and other functions. The service helps keep the costs low for the provider, making the service more affordable for parents. Since the COVID outbreak, it has helped ensure that everyone's temperature is checked through video monitoring.

The company, which raised a seed round of $4.2 million led by Social Impact in 2018, is one of two working with Los Angeles Mayor Eric Garcetti's office to find daycares for essential workers.
Garcetti has offered a $100 stipend per shift for qualified hospital employees needing care. The program has provided a steady stream of parents knocking at the door of Chang's network of homecare providers.
It's given Metry some income as her other clients are still at home. Meanwhile, her mother brokered an agreement with the bank to defer mortgage payments. And though she hoped to secure a small business loan, she hasn't been able to get one.
Chang, who previously worked in private equity, started the business after having a child and finding quality care difficult to find. Her idea was to help small mom-and-pop schools — which make the bulk of the market — with billing, marketing, schedules and helping connections with parents. Her network of childcare providers spans 20 states and includes about 2,000 daycare providers, a number that's gone up since the pandemic.
COVID-19, she thinks, can actually help small homecare providers.
"Daycares are really well positioned right now; they naturally have smaller settings and naturally don't have a lot of people coming in and out," she said.
Under new state guidelines, childcare facilities cannot have more than 10 to a group of children and are required to be screened for illness. Larger centers that rely on a bigger population of children can have challenges making the economics pencil out as their capacity diminishes.
"I think what's going to end up happening is people will reevaluate childcare, and they're going to go back to daycare, like home daycare, as an option for their children," Chang said.
In the meantime, the small centers have other challenges.
"Supplies have been really hard for daycare providers," she said. "They're considered essential workers, but not according to Amazon."
Metry said she gets up early on the weekend to hunt for basic cleaning supplies such as paper towels and disinfectants that are still in short supply at stores.
Ahead of the loosening of stay at home orders, Gov. Gavin Newsom announced the opening of a state portal for childcare referrals that could help parents. And last month, he set aside $50 million for cleaning supplies and another $50 million for childcare vouchers.
Max Arias is president of the SEIU 99, which has been organizing childcare providers and sits on a statewide union coalition for childcare workers. His group has been trying to help find cleaning supplies for many who can't get what they need at Costco or other stores.
But he said in the long-term, the industry needs sustained help. He's been pressing Newsom to create an emergency childcare fund similar to Los Angeles that would accept matching funds from the corporations that are putting people back to work.
"There's going to be a high need for childcare as the economy reopens," he said. But with state finance officials projecting a $54 billion deficit, he's worried programs that rely on subsidized child care could lose much needed funds just as the system is at its weakest point. Cuts to the programs would mean "a lot of providers will have to close and a lot of families will lose access to the subsidized childcare."
From Your Site Articles
Related Articles Around the Web