Ambercycle, the Los Angeles garment recycling startup, is turning those itchy white care labels inside your t-shirt into online portals detailing where and how your clothes were made.
The company started printing mini QR codes on the tags of their recycled clothes sewn downtown. And they're doing it with the help of Glendale-based Avery Dennison, who's behind a suite of online tools for clothing manufacturers to digitize an old process.
How was the shirt made? Where did the fabric come from? Companies aren't hiding anything — or at least that's the idea behind the pilot project.
The tags are designed to help brands tell a "garment's story," said Sarah Swenson, the global sustainability manager at the manufacturing giant known for designing labels and adhesives.
The push comes as more consumers expect clothing brands to expose how and where their apparel is made. Avery Dennison pitches the tags as a way for companies to transparently display that data and stay in touch with customers online.
Inside the QR portal, customers are guided through the materials used to make the item and how to best wash it. There's also a guided how-to for disposing of clothes so that years from now, ambercycle can respin the materials into new fabric.
"This label ensures your garment is ambercycleable," reads the special tag, printed above the startup's logo.
It's a savvy solution for textile recyclers like Ambercycle CEO Shay Sethi, who is often left guessing about which materials and dyes were woven into the donated shirts he sifts through at work. His job gets even harder when that white care label has been ripped out.
"We know this problem really intimately," Sethi said. "It's not going to be scalable to do what we do unless we know something about the material."
The partnership with Avery Dennison is a big get for the CEO, who founded Ambercycle after college with government grants from the National Science Foundation and the Department of Defense.
He's already scored investments from the H&M Foundation, Y Combinator and the Lemelson Foundation for his patented technology that breaks down the molecules of textile waste into small pellets that are spun into polyester.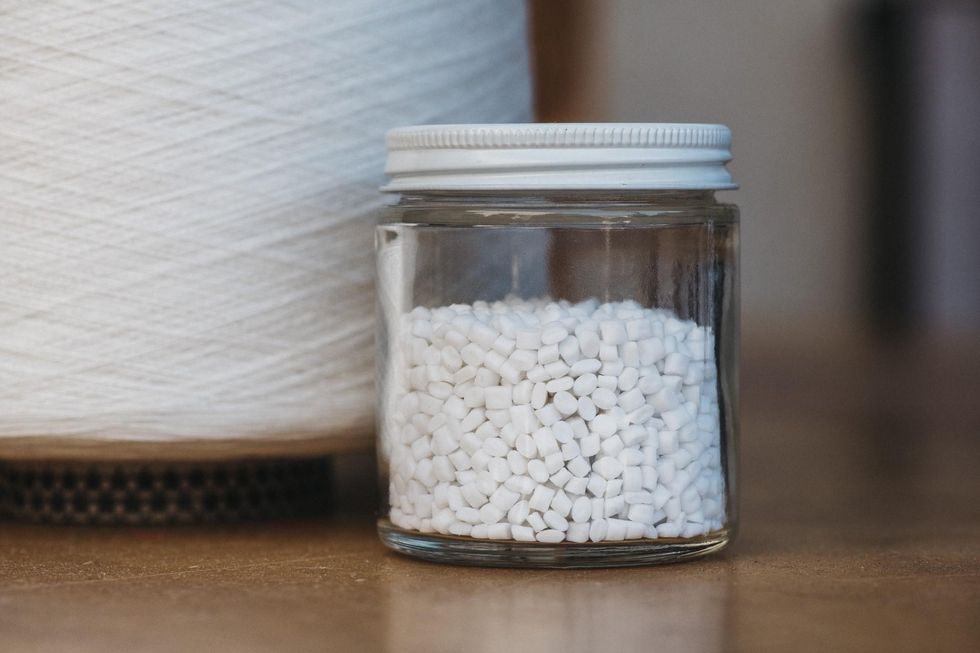 Ambercycle
"The same polyester pellets that you would otherwise make from oil, we're just making from this textile waste," co-founder Moby Ahmed said in a video about the product, dubbed cycora.

Local designers are already using the polyester and the L.A. startup has hinted at a project to manufacture apparel with H&M. The company started selling a small batch of its own designs — just 40 shirts — but plans to sew the special tags into more pieces.
If all goes according to plan, those items will find their way home to Ambercycle's L.A. factory. But the process of collecting old clothes is still a logistical puzzle.
"Essentially you have clothing all over the place, all across cities in people's closets," he said, "and you have to figure out the best way to get them to central locations."
For now, any of his customers living in L.A. can scan the QR code on their new shirt and request a pick-up.
"I don't know how we're going to get the New Zealand one back," Sethi said. "But we'll figure that out."